10+ Email Marketing Templates to Jumpstart Your Marketing
---
Even in the era of social media, email marketing remains one of the best strategies to build your credibility and increase sales. But, for that, you'd want your email marketing campaigns to be irresistible so that they create anticipation among the audience.
Though with the availability of email marketing automation tools for startups, it has become quite easy. But, for making the emails more personalized and engaging, email templates are a necessity.
To help you achieve that, here are 10+ email marketing templates to jumpstart your marketing campaign!
Welcome or Onboarding Template
Your new subscribers don't want to be bombarded with large chunks of content. Rather they must have subscribed to your newsletter for a freebie or discount you promised them. So, you must provide them with what you promised and keep the email short and sweet.
Subject line: Welcome to [brand name]!
Body:
Hi [firstname],
[Business Name] is happy to welcome you to the family!
And we want to thank you with [discount offer] on all our products.
[Avail Now]
[Signature]
If you're a SaaS business, here's one of the best SaaS email templates for you by Todoist!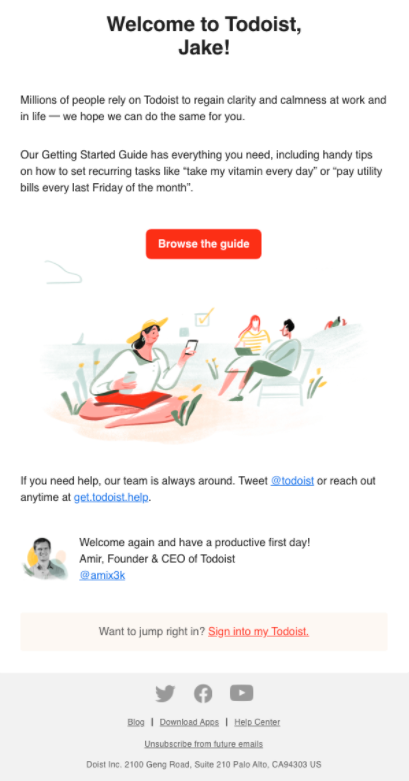 Seeking a Review or Testimonial
If you want to build the credibility of your brand, you must have reviews and testimonials to show to prospects. Having social proof on your website makes you look like a trustworthy brand to visitors. So, if you're providing good services, you shouldn't be hesitant to seek reviews or testimonials.
Here's a template that you can adapt to ask for reviews from your customers:
Subject line: How about giving us honest feedback and getting a discount?
Body:
Hey [firstname],
We hope you had a great experience with your last purchase from us.
We'd like you to give us an honest review for that…
And the best part is you can get 10% off on your next order!
[Avail the Discount Now]
[Signature]
You can also use this simple template by Papier.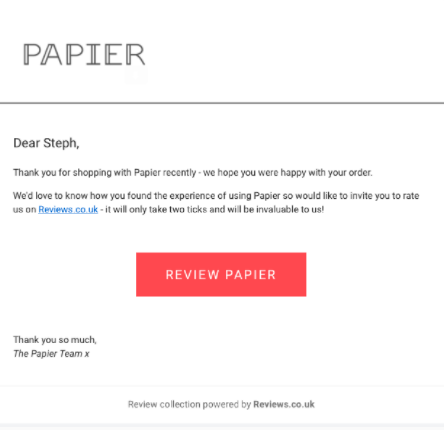 Email Newsletter Templates
A newsletter is the cornerstone of your email marketing strategy. You have to make sure that they are informative as well as promote your products and services. Many marketers struggle to maintain this balance. As a result, they either lose their subscribers or are unable to improve sales.
If you want to share multiple articles from your blog with your subscribers Litmus's following minimalist template would serve best.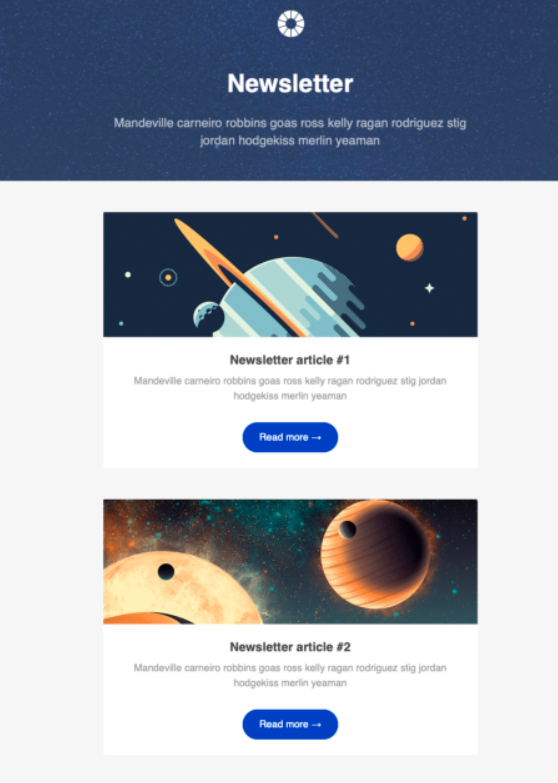 If you share news and trends of your company in your newsletter, this Venngage template can be handy.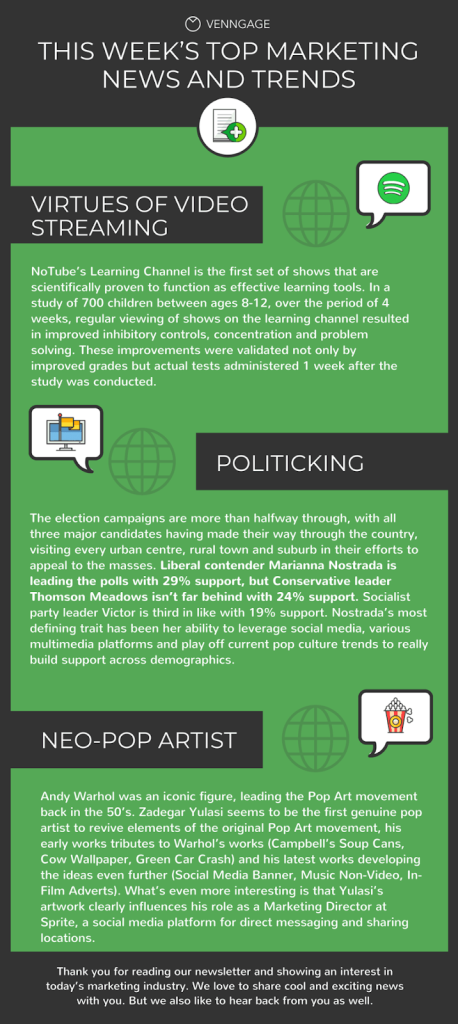 Re-engaging Email Templates
If you have no strategy in place to keep your subscribers engaged, you will lose them over time. Therefore, you must have savvy re-engagement email campaign templates at your disposal. Here's a template and a few examples for you.
Subject line: It's been a while, [firstname]!
Body:
Hey [firstname],
We haven't heard from you in a long time. Hope you're doing great!
While you were away, we made some updates to [brand name] services.
Now, in addition to [old features], you also have [new features], which will help you get [desired benefit].
Luckily, we're also hosting a giveaway for this [particular service]. To get a chance of winning this giveaway, all you need to do is [action you want them to take]!
[Call-to-action]
[Signature]
You can also offer a big discount to re-engage with your inactive subscribers. This is how Stitcher did that: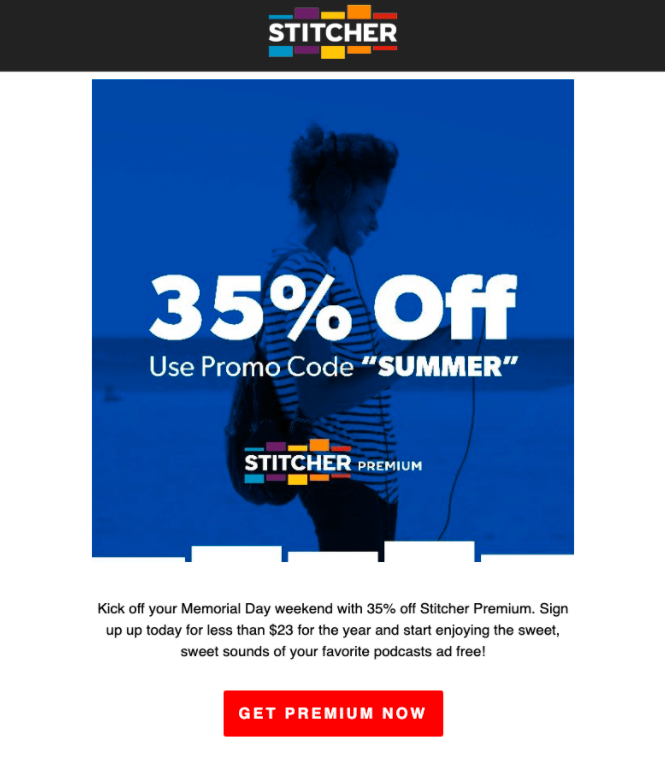 Another way to re-engage is to use emotional appeal and a bit of humor. Take inspiration from
Urban Outfitters!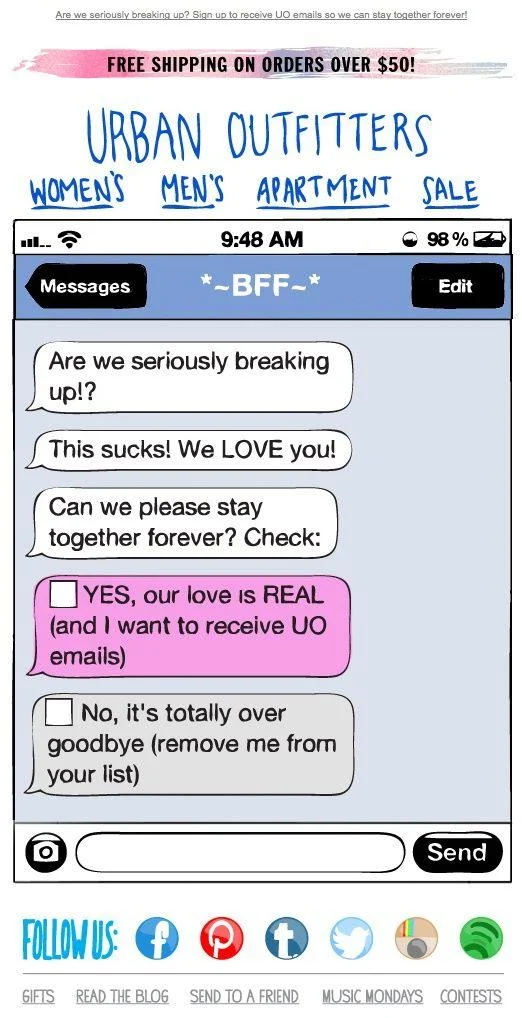 Abandoned Cart Email Templates
You can use cart abandonment as an opportunity to make the visitor a loyal customer. Here's how to do that!
Subject line: [firstname] your [product name] is eagerly waiting for you!
Body:
Hey [firstname],
We understand that life has too many distractions …
But leaving all this cool stuff behind? Isn't it cool!
[List the items]
Fortunately, you can get them by completing your order before they go out of stock!
[I'm coming for my stuff]
[Signature]
Moreover, you can take inspiration from this creative template by Bearsville Soap Company.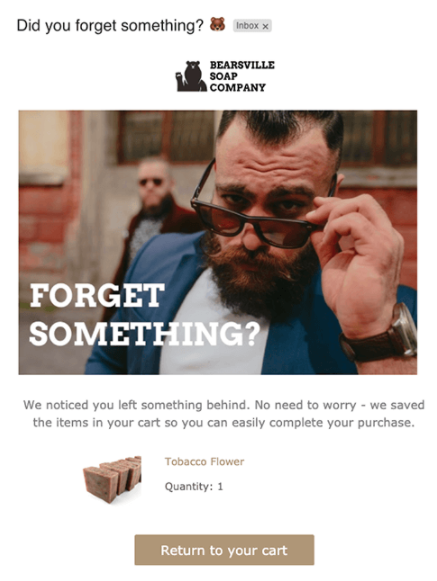 Transactional Email Templates
If you want your email marketing to be successful, you'd also need to ace the transactional email campaign. These are the emails you send out to your customers for specific purposes like sending the receipt, reminding them about subscription expiry, upgrading of plans, etc.
This type of email is mostly used by SaaS startups. This article on SaaS transactional email templates will help you learn some of the best practices for writing transactional emails.
Nevertheless, here's a basic transactional email template for you: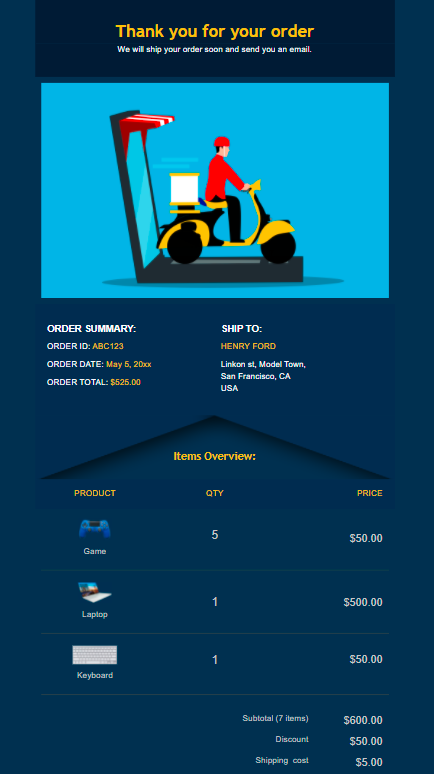 Final Thoughts
Email marketing gives you great ROI, but for that, you have to be diligent about what you send out to your subscribers. No email marketing strategy can be complete if you do not have proper email sequences for onboarding, seeking reviews, re-engagement, cart abandonment, and transactions.
We presented 10+ email marketing templates along with examples from popular brands. Using these, you can build a solid email marketing strategy for your brand.
---