Wincher Review- How Keywords Tracking Comes On a New Level?
---
Creating content can be satisfying and fulfilling, but when it turns out that people don't enter your website or blog and don't read your work, it can be a source of despair and loss of motivation. How to change it? How to make our domain easy to find?
One of the solutions is keyword tracking. We must have some general knowledge about what phrases potential readers may type to find something that fits the subject of our content. Use these words in our text, acquire backlinks, then track rankings and keywords position. How to do that? Here comes keyword research and an excellent piece of software for that- Wincher.
What is Wincher?
Wincher is a Swedish SEO tool. It's a keyword rank tracking app. Simply saying, it provides a possibility to follow the keyword position, which means that it shows how high a domain will be listed up if someone puts the particular phrase in a search engine. Wincher has a lot to offer to company owners, marketers, content creator or solo bloggers. Let's find out what options it contains!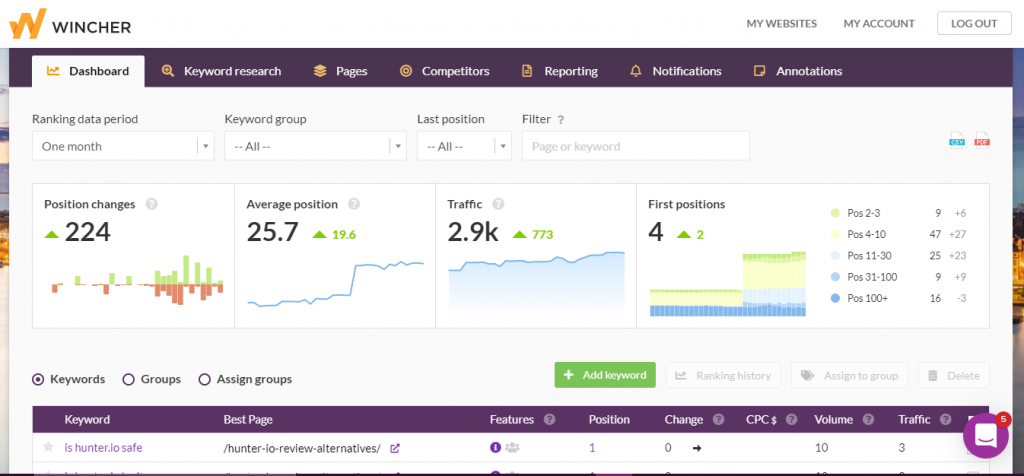 Wincher Rank Tracker Features- Follow, Keep Updated and Stalk the Competition
Daily Updated Tracking
Website data on Wincher is updated every day. It is extremely helpful with checking if search engine optimization works or if there is a need to change tactics, for example, when the keyword rankings go down.
Keyword Research
You can work with Wincher to discover what connected key phrases your audience may type into a search engine to gain information about a topic. Consequently, you optimise your content and create backlinks using these keyword suggestions. This makes it possible to find your website under many different phrases in a search engine like Google. It's possible to create keyword groups and save time on checking keywords individually.
Multiple Pages Rankings
Wincher allows following the position of many pages. For this reason, there is no need to have separate accounts for every website. Adding a new domain is easy, just go to My Websites tab in the right-hand top corner and click the green button +Add website.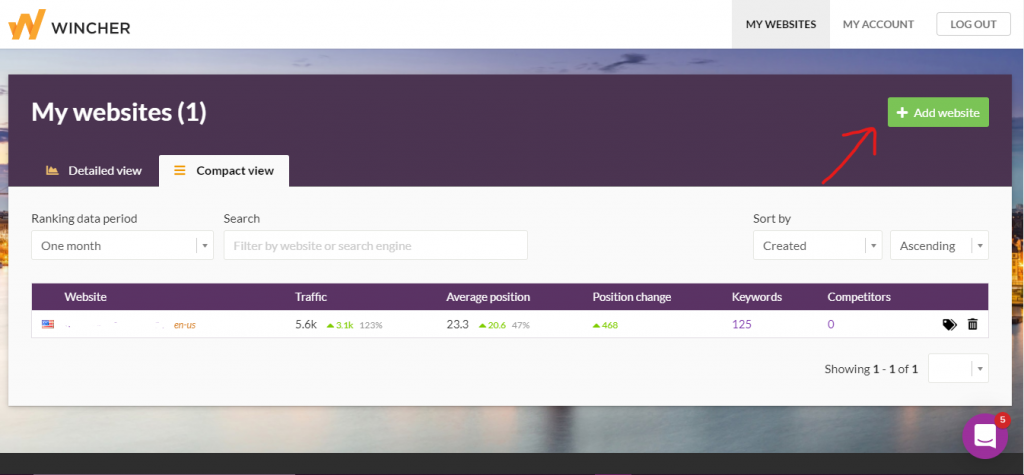 Reporting
Outside marketers or experts often lead campaigns for companies. For them, this feature is incredibly useful. They can automatically set reports to be sent via email. It can be done daily, weekly or monthly. Settings are intuitive. You can choose which information will be included in the report or add the company logo to make it more formal as a document.

Keep an Eye On Opponents
One of the top features of Wincher is the opportunity to follow up the competitor page or a few of them. You can see a position, compare, beat them and when their position changes, Wincher will let you know about it.
Notifications and Annotations
Wincher tool doesn't require you to be logged on into it all the time. Thanks to the email alert system, the rank tracker notifies you about your successes, the competitors that are chasing you or a sudden drop in your results. SEO is not easy, and there many things to remember when it comes to online marketing. Annotations bookmark helps to register significant changes which have an impact on rankings. Your notes are visible on charts on a dashboard. It allows deciding if a particular situation influenced keyword rankings, such as changes in search engines' work characteristics due to a core update.
WordPress PlugIn
Many content creators may find this feature an excellent addition. Integrating Wincher is not a problem. WordPress is arguably the most popular platform for web hosting, so this one really comes in handy if you do use it.
How to Start? How Much to Pay?
Creating Account
Wincher is an easy tool, and it is nothing hard in creating an account in Wincher.
Go to www.wincher.com website.
Fill the form on the left.
Click the "Get a free trial" button.
Verify the email address.
Use Wincher for 14 days for free.
Price
After a free trial, the price range differs from 10 to 157 Euros, and it is as follows:
For one domain with 100 keywords, the cost is 10 Euros per month.
For 20 domains with 2000 keywords, the package cost is 67 Euros.
For 50 domains with 5000 keywords, the package cost is 157 Euros.
These are not only options of your account, but it's also possible to personally set the number of supported domains.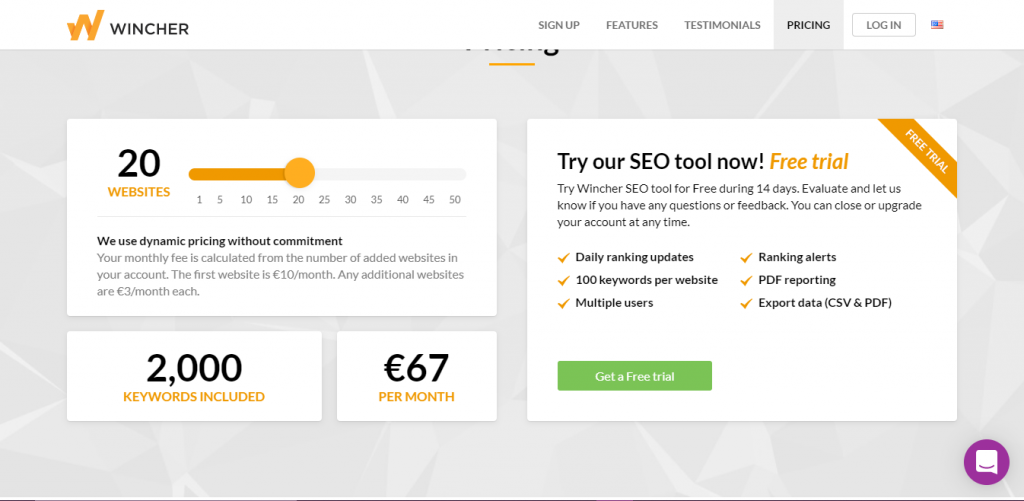 A business owner with one webpage to keep an eye on will probably consider this price as reasonable. Content marketers and search engine optimization experts with more domains to follow can be more sceptical, but they have the knowledge to find and test alternatives for Wincher.
Wincher's boon and bane
Boon
It's affordable, especially for solo writers or one business owner with one website.
It isn't necessary to have expert knowledge about SEO to use this tool. Just general information about how keywords and search intent works.
Checking the whole group at once, instead of every keyword separately, is very time-saving.
You don't need to log on all the time. Alerts will inform you about significant changes even when you're gone fishing or at home.
They gave Wincher a 4,9/5 result, and that's great.
Connecting Wincher with WordPress is excellent facilitation.
Notifications and Annotations
Wincher keeps you updated all the time and allows you to put your events on tracking timeline.
Bane
Little differences with data from Google's similar tool
They are small and not significant anyway, but it may be considered an issue if someone likes to be informed to the letter.
Sometimes it could be useful to check on demand if there are any changes, but it's not a must-have.
Competitors to Wincher
SEMRush
SEMRush offers their customers over 20 features for between $99 and $399 monthly. Its keywords database is huge, and it can work in over 118 countries. It has a keyword research tab, search volumes, rank tracking and many more. Price can be considered high, but the quality and tools it provides make it affordable if we want to lead our SEO campaign professionally. Wincher is much easier, cheaper, but it is a rather basic tool.
Authority Labs
It has a similar number of features to Wincher. There is also reporting bookmarks with the possibility of adding a logo on a document but only in Pro plan. It can be connected with Google Analytics. Price is much lower than the SEMRush, but it includes fewer tools. Cost is between $49 and $450 monthly.
Madwire
Madwire has powerful analytics and also includes tools like content generation, search volume, keyword tracking, and ranking analysis. It's better for business than for solo content writers. Its cost is given upon request, so it's personalised according to what are the needs.
SE Ranking
SE Ranking is an SEO platform with three plans for $18, $42 and $89 per month. It has services such as search volume, keyword suggestions, website ranking, backlink monitoring and competitors analysis. It is cloud-based, so there is no need to install it in the device system.
Hubspot
This one uses an intuitive search engine optimization tool, so it makes measurement and optimisation easy. Hubspot includes, among others, rankings, keyword and competitors' results research. It costs between $33 and $2624 each month.
Chia Lab
Chia Lab helps with creating, optimising content and researching how your competitors are managing now. It has a keyword research tool and provides help with increasing organic search traffic. Pricing is on request, so it will depend on what you need.
Four Dots
Four Dots' dashboard is easy to use, and this is not only a keyword tracker, but it also connects all of your SEO activities. It has a number of tools, and its pricing is personalised for you on request.
Agency 360
Agency 360 is a powerful white label reporting platform with pricing available on request. Its features are web analytics, keywords' ranking, web leads and more.
Moz
Moz is popular worldwide, and it costs between $79 and $99 monthly. It helps with the SEO campaigns with its numerous perks.
Conclusion- Why Wincher Is Useful In Content Marketing?
Wincher is a super useful tool for solo writers, businessmen or online marketing beginners as well as for experts and bigger businesses who want their page or blog to be on top. And it's not only me who says that. Other SEO influencers such as Milosz Krasinski agree that it's a great piece of software. It wins with its clear dashboard, affordable prices and features such as keyword research, WordPress plugin and a possibility to add more websites. Its competitors can be professional and provide more tools, but if people don't know how to use all of them, why pay for that? Wincher is the cheapest within all rank trackers and has enough tools to watch over your page on a daily basis.
---