Uscreen Review: Is It The Best For Video Monetization In 2021?
Video monetization is getting a lot of attention in 2021. Video creators and businesses are looking for ways to shore up revenue and income streams, and transferring knowledge into video for sale is a smart option.
Thing is, there's no shortage of video monetization platforms. And when shopping for one, it's easy to feel overwhelmed by concepts, features, and functionality.
How do you know which to pick?
Uscreen's been around since 2015, and in that time it's become the choice video monetization platform of 11,000 creators and brands. That makes it a well sought-after tool.
But why is that?
This Uscreen review covers all you need to know about Uscreen. You'll find it easy to read, and as far as value goes, it's packed with enough to leave you feeling like you know what to expect from a video monetization platform.
Let's start at the beginning.
What is Uscreen?
Uscreen is an all-in-one video monetization platform. It helps you share your videos with the world and get paid for your content in various ways. You can monetize video using subscriptions, one-time purchases, rentals, sell video bundles, pay-per-view, and live streaming.
It's also packed with a collection of features designed to streamline selling video online. From the must-haves like payment provider integration to analytics and marketing tools to engage and turn your audience into a community.
Uscreen also helps you increase your reach and visibility by launching branded OTT apps for mobile and TV devices.
How Many People Use Uscreen?
As of May 2021, Uscreen has over 11000 video content creators across 195 countries. That's a large base of customers who rely on the platform. What's more awesome is that Uscreen has enabled creators to reach over 8.5 million viewers globally.
Who Can Use Uscreen?
Uscreen attracts a broad audience. From individuals to Fortune 500 companies, customers are large and small and spread across different business industries. Take the faith and spirituality segment, Uscreen is used by Inspiration TV, a faith-based entertainment, teaching, and discipleship organization.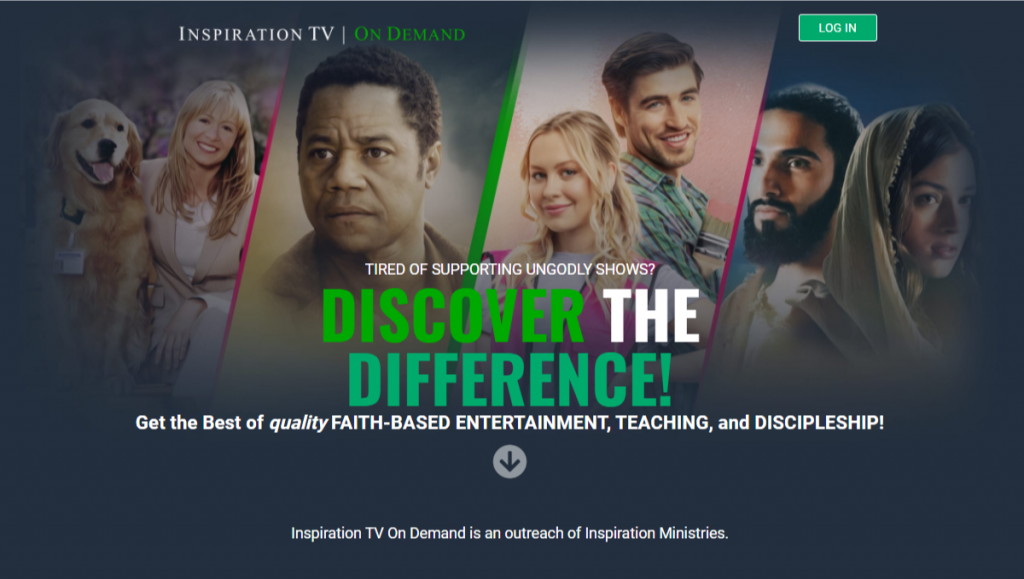 On the eLearning front, Magic Stream uses Uscreen to sell on-demand videos on how to perform a variety of magic, from mentalism to street magic, cardistry, organic magic, and more.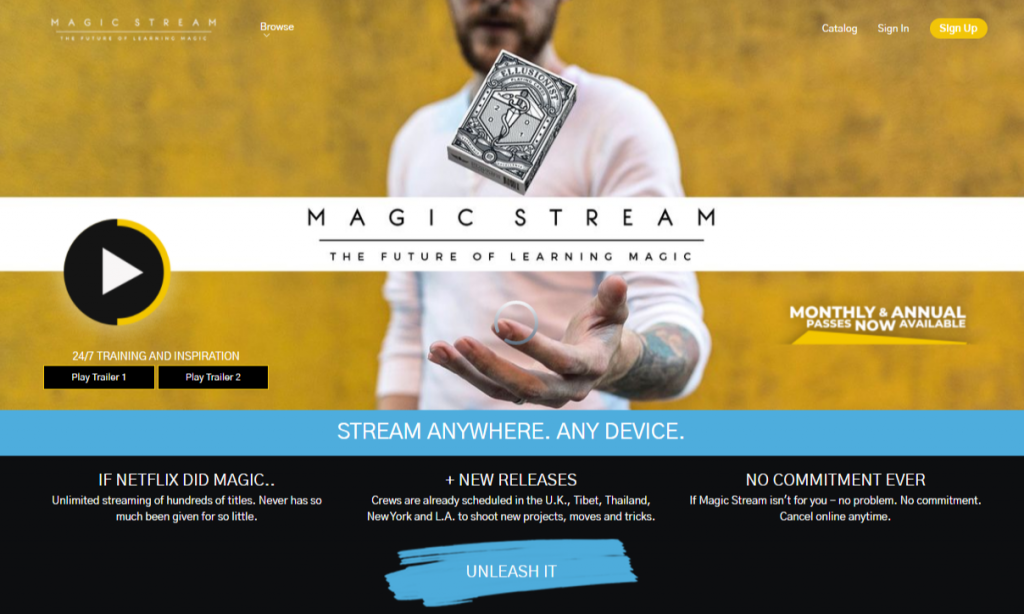 Health and Fitness and Yoga and Lifestyle are growing industries. Uscreen is home to major brands like Birditime, a golf video class provide, and Yoga with Adriene.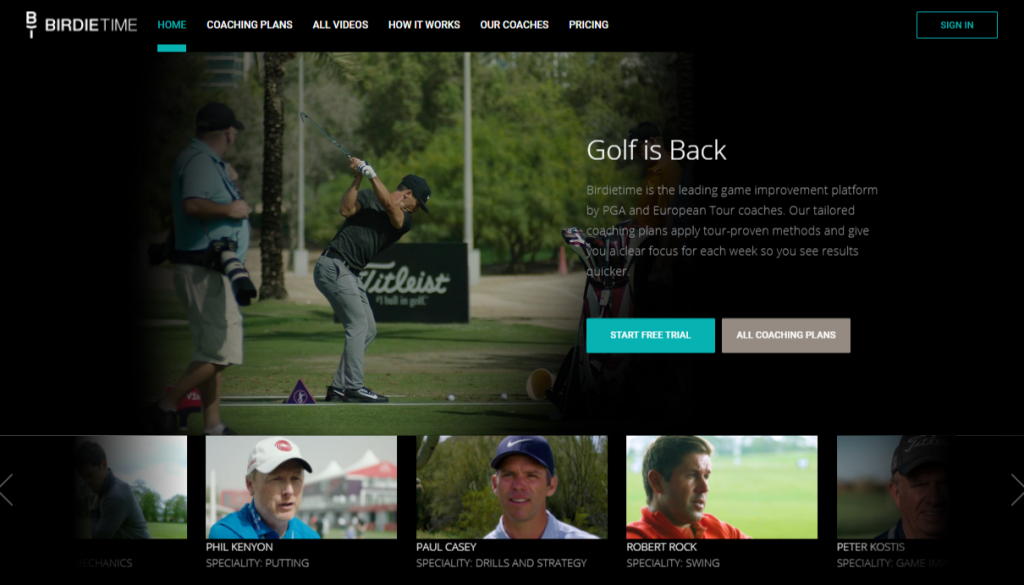 Uscreen Review: Key Features
Uscreen's features are a drawcard for anyone who wants to make money selling videos online. It takes more than just recording and uploading videos. You need to promote, sell, and track content performance, without compromising on content quality or the safety of your customers.
Here's a look at some of the features the platform offers:
A Video Content Management System (CMS)
Managing a growing video library can be a pain without some kind of system. You could name content canonically, but that's also a little tedious. To solve this problem Uscreen offers playlists, chapters, series, and episodes.
Uscreen's video CMS also does more than video hosting. It can schedule content for release, or expire and remove it from view. You can add downloadable content like PDFs, upload videos in bulk, sync with your DropBox, add custom thumbnails to videos, and add meta-data that helps users quickly and easily find your work, and optimize videos for search.
And for viewers, they also get filters for quick searches on the catalog: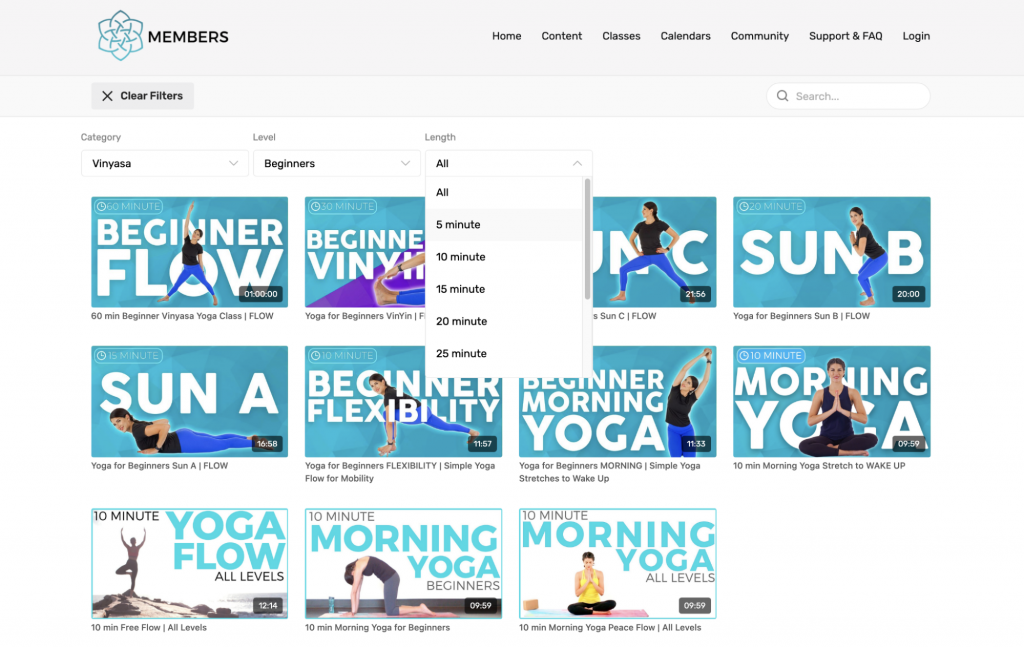 Video Monetization
Monetizing videos can be a tricky topic to wrap your head around. Uscreen offers extensive monetization options to help you run your video business the way you want.
Monetization options include:
Free trials
Offer a freebie for viewers to try before committing.
Subscriptions
Create monthly, quarterly, or annual subscriptions. A really smart feature is its multi-tiered subscriptions model. As an example, it lets you create Bronze, Silver, and/or Gold plans to cater to different customer buying preferences. (You can customize your subscription plans as much as you need)
Pay-Per-View
Offer gated on-demand or live videos and charge viewers per each view.
Rentals
Rent on-demand videos for a set fee and Uscreen handles rental expirations.
One-Time Purchases
Sell videos or bundle of videos with lifetime access – This is very helpful to creators offering single courses.
Monetizing Audio-Only Content?
Creators and brands know that omnipresence is a smart way to grow a community. To be everywhere, you need to offer your content up in different formats. Regrettably, if you're a podcaster or looking for a platform to monetize your audio content, Uscreen isn't for you.
At this point, monetization is strictly video-based, and that's not too big of a drawback since we're covering a video monetization platform.
Getting Paid
Flexibility is often hard to come by when monetizing content. Most platforms offer one or two providers. Uscreen provides Stripe, PayPal, Authorize.Net, and their own payment solution if you don't have a Stripe account.
All payment options and Uscreen accounts are secured by strong SSL encryption technology, so customers are safe when transacting with you.
Each payment provider also supports credit card payments, so you can be paid by a global audience and process payments for subscriptions and rentals, too.
Sales and Video Performance Reporting
Something refreshing about Uscreen is how key features are all within reach. Like reporting, you can quickly gather sales performance data, or tell which videos get the more attention.
Sales Reports
Sales figures are displayed in a graphical format, showing monthly performance. And if you want to drill down deeper, you can find out which OTT sources bring the most revenue, filter results by month, and also by product type.


Video Performance
Video Performance stats come in 6 reports. You'll see the following for each video you publish:
Watch Time
Views
How video collections perform
Which countries viewer tune-in from
How content is performing by author (if you collaborate)
Which devices viewers use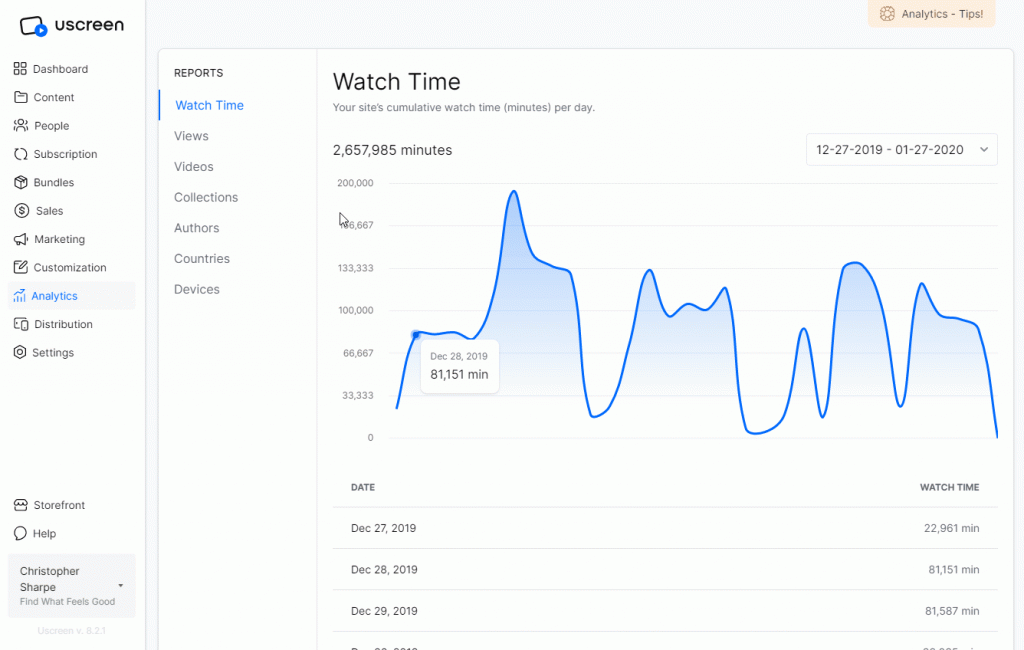 Marketing Tools
Customer data ownership is a big deal. It means having access to contact details you can use for marketing. Be it to run surveys for content ideas or an email marketing campaign to promote your new series.
Uscreen's marketing suite includes some key tools that are conveniently rolled into its platform:
Lead Generation Using Funnels and Upsells
The Subscription Upsell feature is step-based, making it easy to follow and design upsells in minutes. These also appear as attractive incentives in the form of pop-ups when viewers are about to pick a plan.
Uscreen also comes with a built-in funnel called Leadzen. It can be used to offer free content in exchange for email addresses, and then begin a sequence of emails with offers.
Coupons
Coupons are a smart and easy incentive tool. In your dashboard, they can be issued with a percentage or dollar value you'd like to offer and applied to all or select monetization options.
Email Marketing
As a video monetization platform, Uscreen's done a good job of covering all transactional email aspects of managing a video business. You'll be able to customize templates by adding fields to personalize everything from order-related emails to password resets and welcome emails.
Marketing emails?
You'll need an integration for that.
Uscreen has native integrations for Drip and Mailchimp, and they both have affordable plans that start at around $19/mo and $9 for premium accounts. Mailchimp has a free account for up to 2000 contacts.
Reduce Churn Tool
Losing customers is something every business experiences at some stage, but this loss can be limited. Uscreen's Churn Tool can be activated to set off a sequence of emails with win-back offers. Stats on how many customers are saved are also available, helping elevate your content.
Try Again for Free and Abandoned Cart Sequences
Losing customers at checkout isn't fun. It's actually costly and can see you miss out on as much as 70% in business. Using a set-and-forget 'try for free' and 'abandoned cart sequence', Uscreen takes the slog out of making more sales.
This feature is easy to set up and really is something you don't have to look at unless you want to customize it further.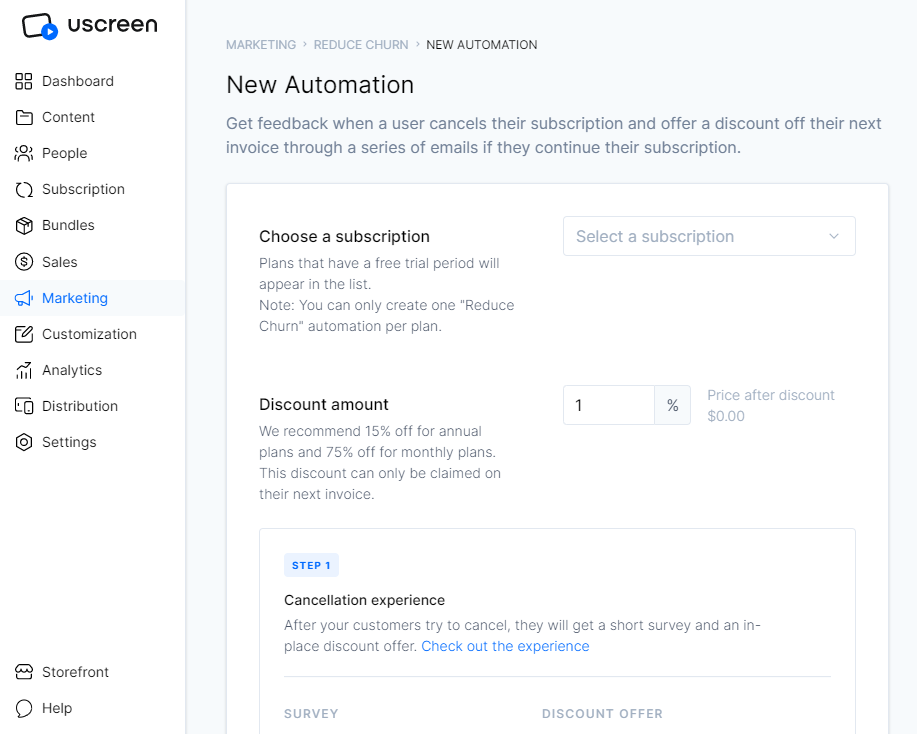 Landing Pages
Most all-in-one platforms battle to bring features together. Often, they lack the functionality standalone apps have, or they just aren't easy to work with or nice to look at. Uscreen's landing page builder isn't like that.
It's clean, comes with editable blocks of content, and you can customize headings, body fonts, backgrounds, and sections, and delete whatever you don't want.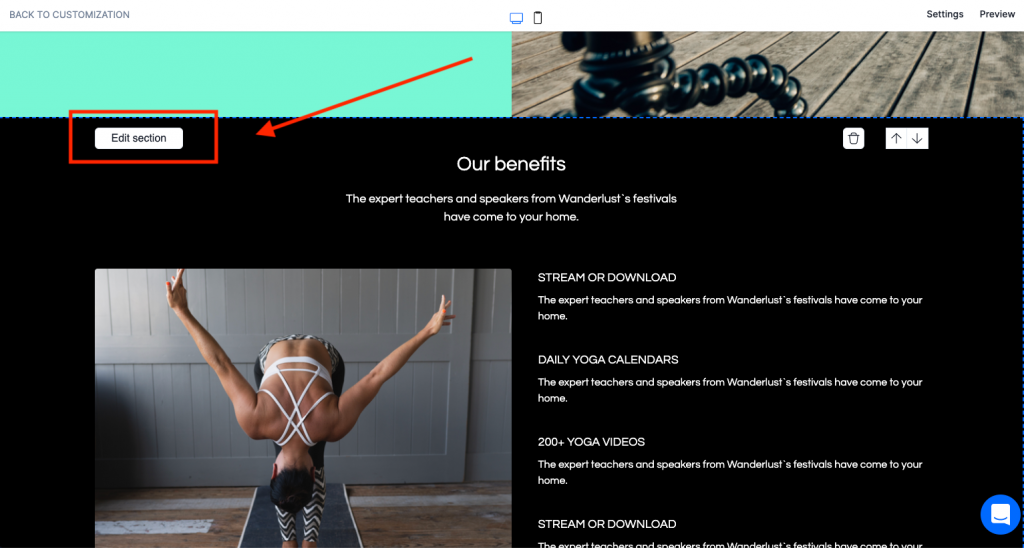 Gift cards
Everyone loves a good gift card, and you can make them available to your customers. Uscreen's also streamlined the setup and purchase process, so buyers can buy instantly.
Analytics
Knowing your numbers is non-negotiable. Uscreen goes the extra mile to offer as much insight as possible to show where business is coming from. You can connect Google Tag Manager and Google Analytics alongside social platforms like Facebook, Twitter, and LinkedIn to track pixels.
What's Missing in the Marketing Suite
Surveys, polls, and quizzes. Sure, these may not be at the top of your list of feature requests, but they could work well in Uscreen. And when it comes to online courses, it would be great to see quizzes because they improve knowledge retention and the overall learning experience.
Good news: while these aren't native features, they can be integrated using Outgrow and Typeform. Outgrow is behind some of the most effective interactive content you'll see online and makes for a smart way to build in the marketing features you need.
The not-so-fun news: most integrations on the market come with a monthly subscription. This means you'll spend a little more money.
The best course of action: integrate tools only after the revenue from your content can cover them. This way, you'll find it easier to justify the additional cost, and you'll also know that people are taking to your material well enough to have a say about what they want more of.
Integrations
There's no getting around integrations. They make doing business easier. The great news is that Uscreen does them well. The platform offers 12 native integrations and 2000+ additional apps that you can connect through Zapier.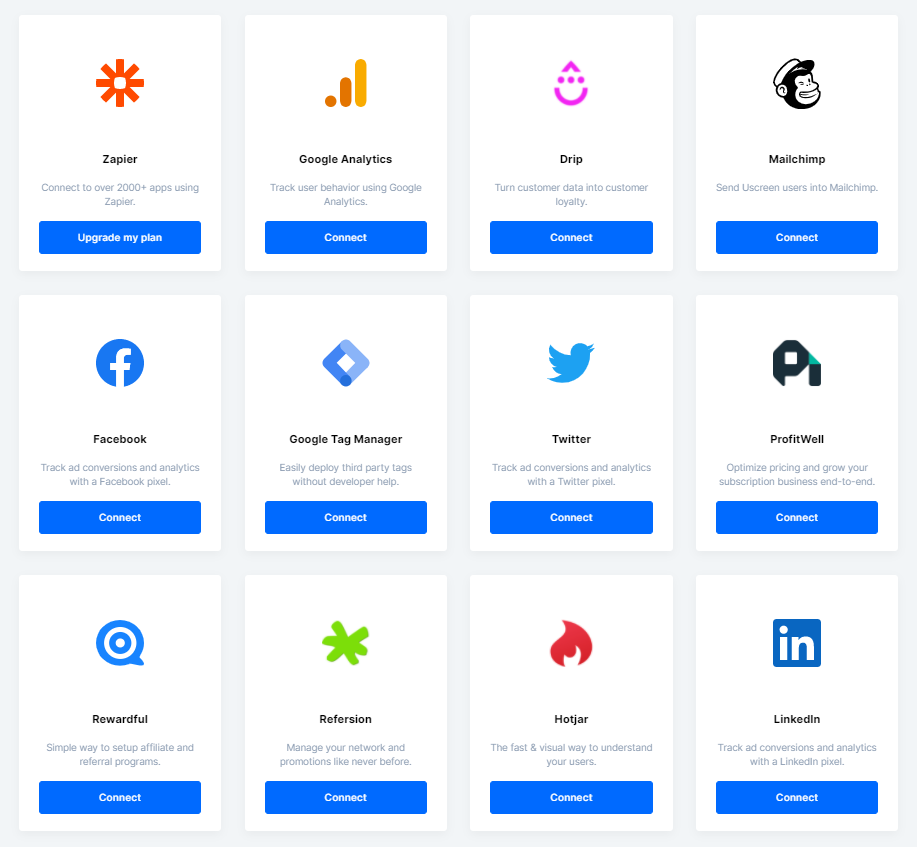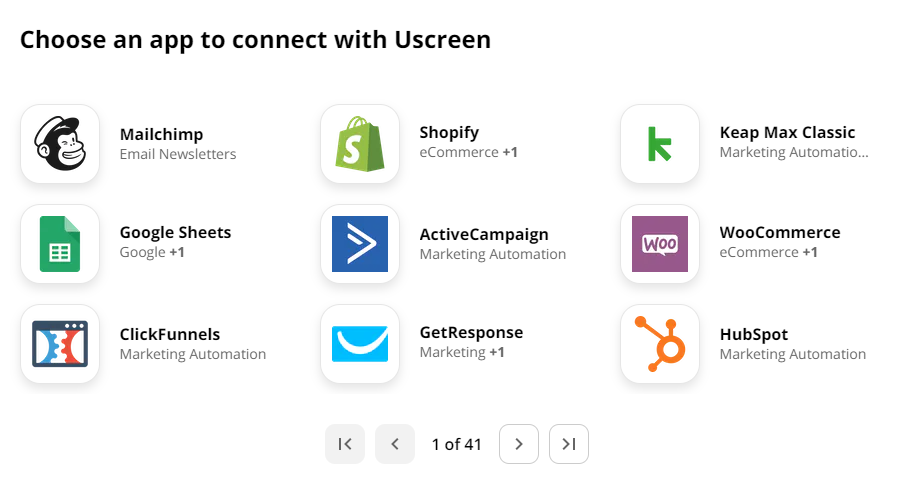 Website Builder, Built-In Themes, and Customization
If shopping for a video monetization platform has left you wondering about website development, e-commerce, your custom domain name, SEO, and how that all fits together, none of that is an issue with Uscreen.
The platform comes with a collection of 12 professionally designed and completely customizable themes. Like the landing page builder, you have full control over every element to brand your website.
But that's not the best part.
You don't need coding knowledge to work with them, and if you're on a strict budget, that saves you costly developer time.
And while you'll use a theme, that doesn't mean you can't build a site optimized for search engines either. You can add relevant keywords and make settings adjustments to rank as high as possible.
You can also tie your site to your personal domain name. And if you don't have a domain yet, Uscreen will give you a sub-domain (yourbrandname.uscreen.io) for free.
Branded Video Streaming Apps
When you think about OTT apps, you're likely to think of streaming services like Netflix and Hulu, their TV apps, or apps for iPhone or Android smartphones. Uscreen's OTT platform gives customers the chance to launch their own apps.
Why?
OTT or Over-the-Top video streaming apps are designed to make content access easier for viewers. And Uscreen's internal research shows that customers with OTT apps make 30% more revenue and up to 50% more engagement.
The idea of owning one may sound expensive and complex, but it isn't. Uscreen's turned the conventional OTT app model upside down. Customers can launch their own branded apps, and not worry about coding, maintenance, or video hosting.
OTT apps are available for iPhone, Android smartphones, Apple TV, Android TV, Roku, and FireTV, and getting your app is simple. Uscreen's team will complete the entire setup. All you need to do is upload video content as usual.
Branded Apple Watch Fitness Tracker
In the health and fitness niche? Uscreen's created an Apple Watch app that will put you ahead of the competition. It's designed to give viewers control over the video player, without having to stop mid-movement. Think of it as launching your own Apple Fitness + streaming service.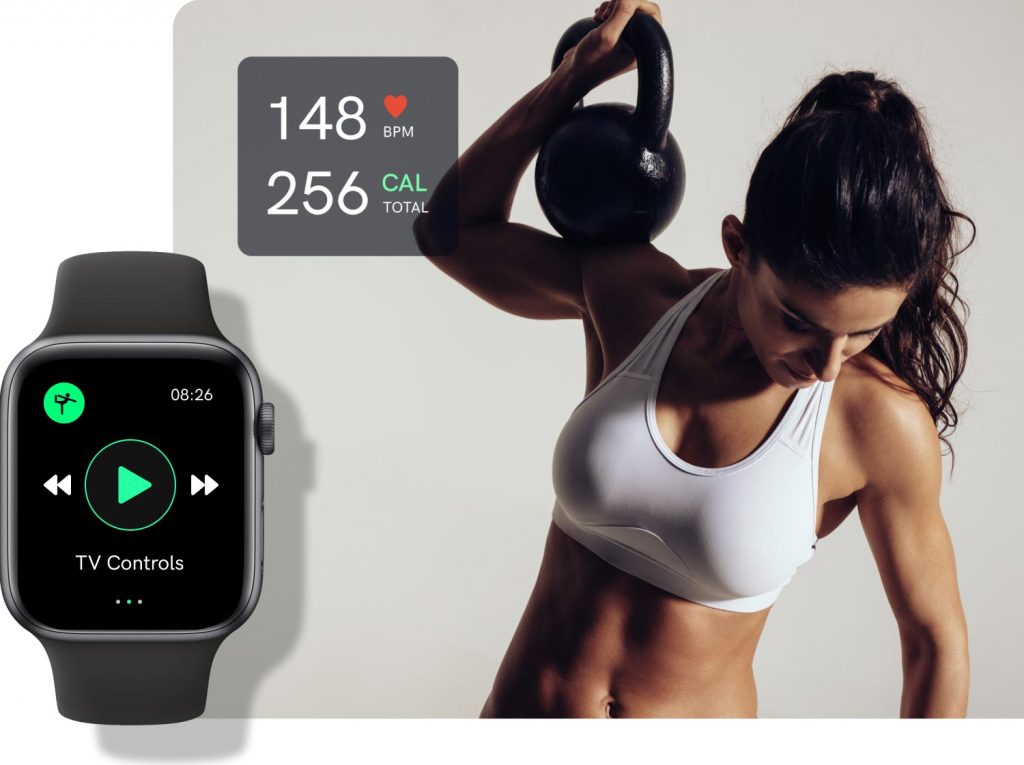 Usability
What's it like using Uscreen's platform? In a word: easy.
When logged into your account, you'll find Uscreen's layout simple to follow. It actually becomes more intuitive as you start clicking through items in the left-hand menu.
Here's a look at some of the common features you'll use and what it's like to work with them:
Uploading Video
Uploading content is a cinch. You can drag and drop or select files from your computer (Uscreen handles all transcoding). Once uploaded, you'll need to edit or create your video info. Add a title, full and short descriptions, pricing, add a thumbnail, choose to allow downloading or not, add subtitles, and assign categories.
Going Live
Live streaming requires a few more moving parts, like setting up your storefront (to sell your live stream), connecting your live video software (think OBS, Wirecast, Livestream Studio, etc.), and any marketing communications to let me know about your live stream event.
A side note: Uscreen's done a stellar job of documenting all you need to know about using its live streaming platform. They have set-up knowledge base articles for everything you need, the process is done in a couple of minutes, and customer support is on standby to help.
Sorting Videos in Your CMS
Uscreen's video CMS was covered earlier, but it's worth mentioning just how clean and easy it is to sort videos. Categories make a difference, and allow you to seamlessly find videos and build bundles, series, and more, really fast.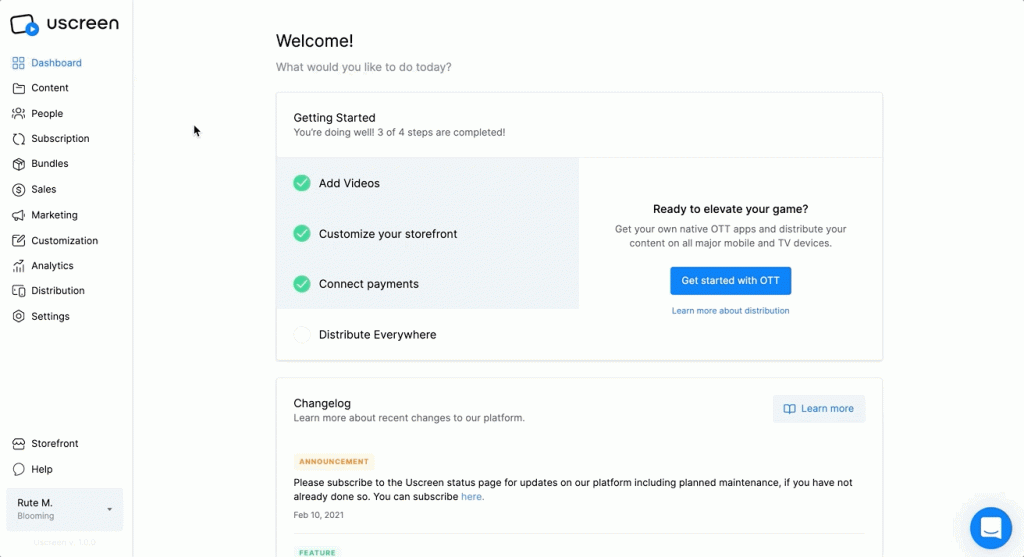 Using Reports and Analytics
A feature you'll find yourself paying a lot of attention to is reporting. And Uscreen offers enough for you to draw valuable insights about how well your content performs. With 6 report types (covered under Video Analytics above), you'll see what your audience loves, and analytics are updated every 24 hours.
Managing Your Community
If there was something that Uscreen lacks, it would be community features. You can engage customers through live chat and email, but creators and brands that want more community features like creating channels or groups, gamification to drive engagement, or the ability to set and manage member permissions and moderate with greater control will miss those features.
Right now, these features aren't available, but that's not too much of a setback. Uscreen's community features are enough to get started. You can encourage feedback from viewers, exchange ideas, like and flag messages, use emojis, and members can add personalized avatars.
Setting up Video Monetization
Getting paid for your content is something Uscreen handles really well. From setting up your payment provider to creating a storefront, it's really nothing like the complex undertaking most would imagine.
You'll be pleased with how simple the builder functionality is when customizing a storefront. You can move from tweaking a navigation menu to updating your footer, dashboard, or sign-in page in minutes.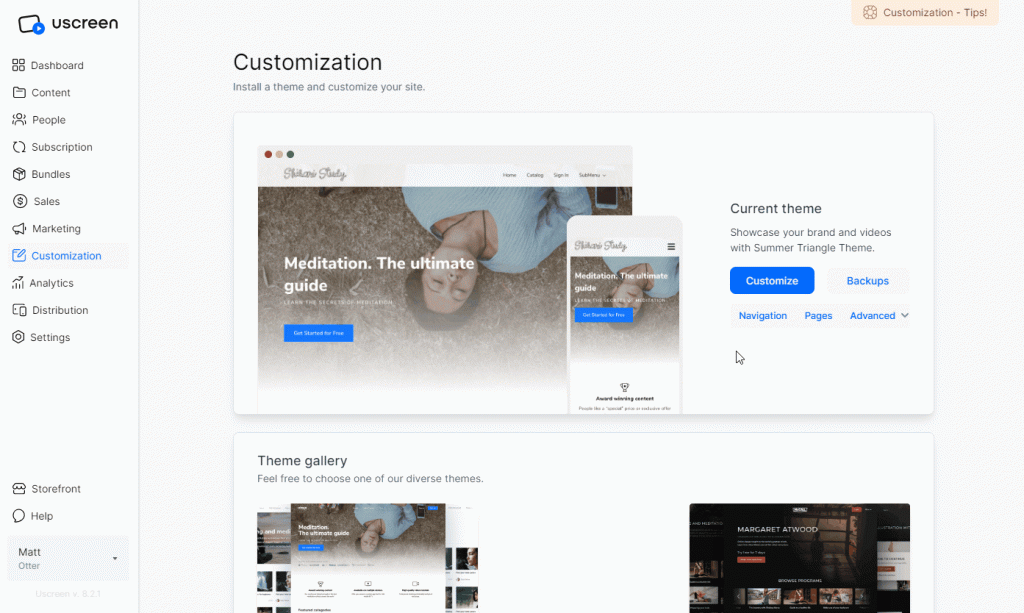 Video Player
As video players go, we're all looking for pretty much the same thing. We want something that's easy to navigate, plays videos smoothly, lets you control the speed of what you're watching, offers autoplay, and supports HD.
Uscreen's player does all of that. And if you're more technically inclined, it's an HTML5 player that's fully white-labeled (you can customize it to match your branding), supports VVT captions, and runs on ES6 JavaScript (code that lets developers write fewer lines but achieve much more functionality. Basically, it's a fast player).
Uscreen's also been smart about the quality of video they stream. Using CDNs (Content Delivery Networks) around the world, they've effectively eliminated the all too common video buffer problem. Wherever your viewers tune in from, they'll be able to enjoy the quality video.
Uscreen Pricing
Uscreen offers a 14-day free trial. It requires a credit card, which might be an issue for some, but considering everything we've seen about the platform thus far, it's worth it.
There are three plans; Basic, Amplify, and Enterprise. Each offers a core set of features, with Amplify and Enterprise including more. Without detailing all features (and there's a lot to get through), here's a summarized look at what you'll get and the extras on Amplify and Enterprise plans:
A responsive video player
Platform security that prevents malicious account attacks and encryption for viewers
Comprehensive payment and monetization functionality
Customization through a website and landing page builder (Basic plans holders don't get custom filters and localized languages, and keep Uscreen's 'Powered by' footer)
Video CMS (Basic plans customers can't live stream)
Usage limits apply to video storage for each plan (Basic customers can store 3000 minutes, Amplify 7500 minutes, and Enterprise 7500+)
Built-in sales and marketing analytics
Marketing tools
A full suite of integrations is available for Amplify and Enterprise clients, with Basic plan clients receiving Mailchimp and Google Analytics
Developer tool (API access and Webhooks) are only available to Enterprise customers
Support comes in the form of an uptime SLA with an impressive 99.9%, 24/7 email, a well-documented online help knowledge base, and a one-on-one onboarding call. Enterprise customers receive end-user support (for an extra fee) and get a dedicated account manager
Pricing is structured to include a base fee (billed annually or on a pay-as-you-go monthly basis). The base fee is heavily discounted for annual payments.
Base fees are as follows:
Basic Plan: $99/mo (charged monthly) or $49/mo (billed annually)
Amplify Plan: $499/mo (charged monthly) or $399/mo (billed annually)
Enterprise Plan: Call for pricing
Subscriber Fees
Plans also come with a per-subscriber fee of $0.50, an amount charged for every active subscriber to your content, and a TVOD (Transactional Video-on-Demand) fee of 5% charges for all one-time purchases.
What About Upgrades and Downgrades?
Scaling your business will be a thought that crosses your mind and something that's possible. Plans make it easy to figure out where you should start out, and moving up or down plans scale is easy. Just contact Uscreen for help switching plans.
Customer Onboarding
Onboarding and support were touched on briefly, but there's so much more that goes into both. On the onboarding front, Uscreen will assign an account manager who's serious about seeing you succeed. They also know their stuff. You get a call to get started, and then there's tons of helpful content to see you through.
You'll Love Video Business School
New to the whole idea of running a video business? Uscreen created a complete library on how to get started, marketing and distributing your content, and amplifying it with OTT apps.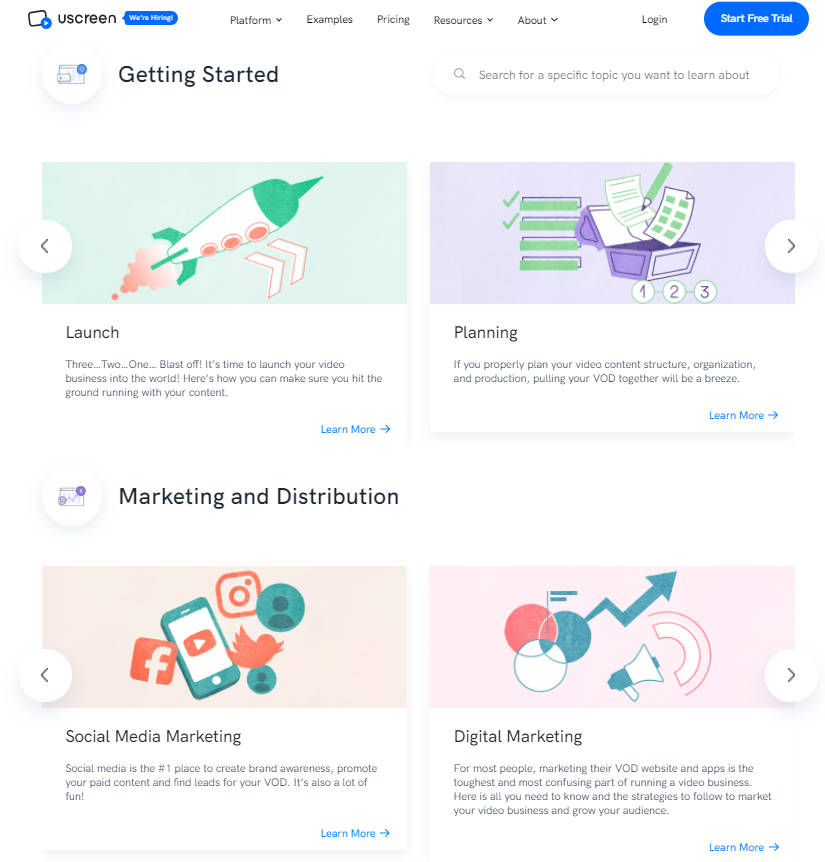 Moreover, Uscreen offers accelerator programs to customers in specific industry verticals such as eLearning, health, yoga and fitness. These programs include over dozen hours of video content that cover A-Z of launching a successful video business.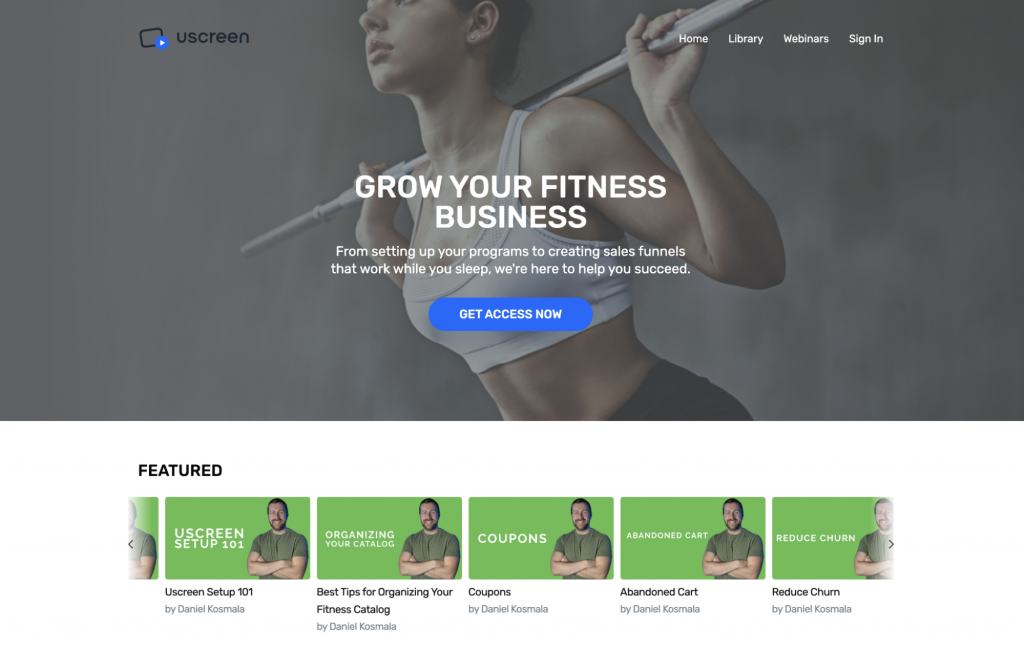 Uscreen Pros and Cons
If you've made it this far, kudos! Before we wrap up this Uscreen review, this pros and cons list should help settle any last questions or uncertainty you have.
Uscreen Pros
Comes with a sleek, fast, and customizable video player
Multiple payment gateway integrations + a Uscreen option
Monetizing video is a breeze and you get six options (subscriptions, bundles, rentals, one-time purchases, PPV, and live streaming)
Clean and easy to navigate interface
Video CMS comes with categorizing feature to quickly source content + allows drag and drop and bulk video uploads
Viewers get a filter to find videos fast
Website and landing page builders deliver responsive content for all screens and are designed to be used by anyone (no coding required)
Coupons, discounts, and gift cards available as incentive tools
Has a built-in funnel to upsell customers
Includes a churn reduction tool to retain customers
Built-in analytics and reporting + Google Analytics and Google Tag Manager integrations are available
12 native integrations and 2000+ through Zapier
Well documented online knowledge base
Email Support, a robust self-help knowledge base, and an account manager or Enterprise customers
Video Business School and accelerator programs to help grow your brand
Uscreen Cons
No built-in survey, polls, or quizzes tool. Integrations are available at an extra expense.
Limited community management tools such as a community feed
Requires email platform integration for marketing emails
Can't monetize audio content
Get rid of the Complexity
As video monetization platforms go, Uscreen's on to something powerful. Making money from videos needn't be complex and that getting started should be quick. You should also have as much control over everything from how you bill viewers to data that drives informed decisions.
If you're serious about launching a video-based business and don't want to run around in circles trying to compare platforms, sign-up for a 14-day free trial. In that time, you'll quickly figure out if Uscreen is the right home for your brand.