Unexpected Uses of Instagram Analytics
---
In this article, we'll show you how to use Instagram Analytics to make better decisions about your Instagram marketing strategy. You'll learn what kind of information really matters, and you'll see examples of different types of metrics.
Do You Really Need To Care About Instagram Analytics? YES!
Instagram is a social media platform used by millions around the world. Businesses use it to promote products and services.
To get more people to see their posts, businesses need to understand how many people view their content, how engaged their followers are, and what kind of value their posts are generating. If you want to maximize the effectiveness of your marketing efforts on Instagram, make sure you're using Instagram analytics to monitor your performance.
I'm sure there are many ways to target the right audience. Posting too often or too infrequently could lead to your account being suspended. Driving irrelevant visitors to your site could cause your account to be suspended. Driving calls from an advertisement type that you only used one time could also block your account.
Ignoring mentions that could lead to future partnerships could result in your account being blocked. Posting during non-optimal times of the day or days could also lead to your profile being suspended. Missing out on opportunities for brand engagement in comments or stories could also lead to your page being blocked.
How To Access Instagram Insights?
Instagram insights are only available to businesses or accounts. You can see how people are engaging with your account. You can also see what type of content gets the most engagement. Once you switch to Business Profile, you're able to see a lot more information about your followers' engagement.
You can also see how many people liked your post or story. Once you open your insights, you'll be able to see tons of metrics and analytics for all of your posts, stories, etc.
Some Unexpected Uses Of Instagram Analytics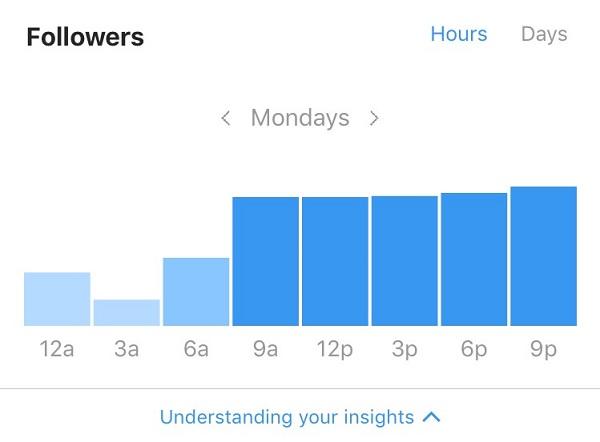 Understand your Instagram followers demographics to make the most of your insight, construct a target persona for your Instagram accounts. Who do you want your audience to be? How old are they, where do they live, what language do they speak? When you've got this target person figured out, use it to check your audience demographics.
If there's a big difference between your actual followers and your ideal follower, you should reconsider your strategy. How can you adjust the style and tone of your posts to better suit your audience? You should use Instagram as an effective marketing tool because it helps you get more followers, increase engagement, and drive traffic to your website.
This metric is crucial for some social media platforms and relatively unimportant for other social media platforms. If your primary goal on Instagram is to drive more traffic, conversions, or leads, then you should focus on analyzing website clicks.
On the flip side, if you're primarily using Instagram to build a community and promote brand awareness, then you probably won't want to analyze Instagram web traffic as closely.
Tracking Of Website Traffic From Instagram
Instagram Insights offers some basic data on how many times people have clicked the link to your website in your bio. While this is a nice start, you can get even more detailed information by using web analytics tools like Google Analytics or Facebook pixel.
To get an idea of how much traffic is coming to your website from Instagram, we recommend adding a UTM code to the link in the description of your post, shortening it with an URL shortener, and checking out Google Analytics data on that shortened URL.
If you're more concerned about analyzing conversions from your ads than you are about optimizing them, you might want to set up conversion analytics with Facebook Pixel.
Understand Actual Audience Reach

Reach is an important KPI for any business. Instagram Insights or other tools show how many accounts viewed your post.
This number helps measure how well your content is performing. Reach is a better measure than impressions because it tells you how many people actually saw your post.
Impressions are based on how often people scroll by your posts, and there's nothing wrong with scrolling past something, especially if you're trying to get rid of junk. Instagram Insights shows you how much content you've posted in the past week in the Activity tab.
In addition, you can see how many people were reached by your post or story in the Content tab for various time periods.
Grow your Follower With Insight
Your followers on Instagram may be a basic metric, but it's an important one too. The number of followers that you have on your Instagram account affects the overall performance of the account in a variety of different ways.
Followers are important because they represent real people who are interested in what you post. Your followers grow when you post more often or share interesting content.
Specifically, follower growth rate is an excellent way to measure the health and success of your Instagram account. You should be tracking both how many followers you've acquired over the past weeks, months, and years, as well as how fast your follower base has grown.
Generate Leads / Sales With Instagram Analytics
You can target specific audiences by gender, age, location, etc. You can also use tools like Social Scrape to get started on finding leads. You can also run targeted campaigns such as adding hashtags to your posts to get more engagement.
Call clicks/email clicks: Phone calls and emails are great indications that conversions are coming. Your followers' activity level increases as well.
Follower hours/days: A follower hour or day is an indication of how much time your audience spends on your page. By running your ads during this time, you'll be able to get more conversions.
Use Analytics To Build A Community
Comments: A community shares ideas. If you want to get people talking, start a conversation on your posts. You'll be able to respond and engage with other community members. Do not ever ignore comments, no matter how good they are.
Story Replies: It's another great way to evaluate whether your community is active. Stories are a great way to get people involved in your content creation efforts. If your readers are taking out the time to comment, this is a good sign.
Engagement: Finally, engagement is crucial when it comes to community-building. You need to track the engagement of your ads and posts, profile, and story so you know where you're going.
We are all busy, and often we need some help with Instagram analytics. There are some third-party tools to ease the task. Some current famous includes: Hootsuite, Squarelovin, Socialbakers, Sprout Social, SocialRank, Margot Whitney etc.
Conclusion
Most of us think that we can't actually grow ourselves directly through Instagram, for that we need some integrations. But we are completely wrong. If we have a look at these Instagram analytics precisely, then we can easily grow.
---