Ultimate Guide to Digital Marketing in 2023
---
This article is for you if you are a digital marketer or a business owner who solely takes responsibility for digital marketing aspects.
In this guide, we will discuss the emerging tips, tricks, and strategies that you should incorporate into your digital marketing strategy in 2023.
Let's get started.
Create Socially Responsible Content
Nothing is more attractive than a business that is socially responsible & that cares for the micro benefits of the environment and people. It gives your target audience an idea that you care for them, their social values, society, and environmental aspects. Create content that showcases your dedication to enhancing the environment, improving social life, promote social responsibility and inclusivity.
You can create marketing materials, and run campaigns around Labor Day, Human Rights Day, Women's Day, Wild Life Day, Sleep Awareness Day, etc. For example, On World Environmental Day, you can create a newsletter and run an email campaign. Choose a relevant theme and add images.
In the newsletter, you can add
A guide around why people should care about the environment;
Promote awareness about trees and plantation
Share tips about a clean environment. Leverage your background, and highlight your skill and experience in creating awareness, and being an industry leader
Promote any events that are happening in your locality on World Environmental Day
Partner with organizations that promote the 'Go Green Campaign'
Partner with businesses or promote a sale they have any products related to plants/plantation/gardening etc
Talk about the hazards of plastic and plastic products, and how to avoid that
Promote User Generated Content (UGC)
As its name suggests the user-generated content comes from anyone who has already used your product. It's a real, authentic, and genuine review or feedback. Small businesses need to leverage this to promote their products/services.
The size of user-generated content is expected to be valued at 18.65 billion USD by 2028. This makes it one of the most sought-after strategies to include in marketing and advertising efforts.
The user-generated content builds trust among your target audience and fosters community. It takes your brand identity to the next level. It may come directly from your employees, brand ambassadors, existing clients, influencers (as a sponsored), and people who you partner with. UGC can be in any form including, a social media post, a testimonial, a review, images, a reel, a video, etc.
Why UGC is important
UGC is important for several reasons. It helps potential customers to make a buying decision with confidence. Since it is relevant, it entices potential customers to move forward in the sales funnel. Before they could make a purchase people often search for online reviews, testimonials, or other forms of content both on social media and websites. And, user-generated content can assist in this regard. This implies particularly for the notorious Generation Z.
It can also;
Improve brand awareness, brand loyalty, and brand proposition among your current clients, and potential clients
Speed up the conversation rates
It is a cost-effective marketing effort
To make the most of it, make sure you keep an eye on UGC and use a tool to promote the content frequently on all your social media channels.
Add Visuals – They Speak Loudly
More than half of what we see or watch on the internet includes some form of images, graphics, videos, animations, etc. There has been an incredible increase in the visual form of content as a major part of marketing efforts over the years. Data statistics from Venngage reveal that almost 51.4% of businesses use some kind of visual content in their marketing efforts.
Numbers never lie, let's look into the statistics about why visual content is the most crucial strategy for digital marketing in 2022.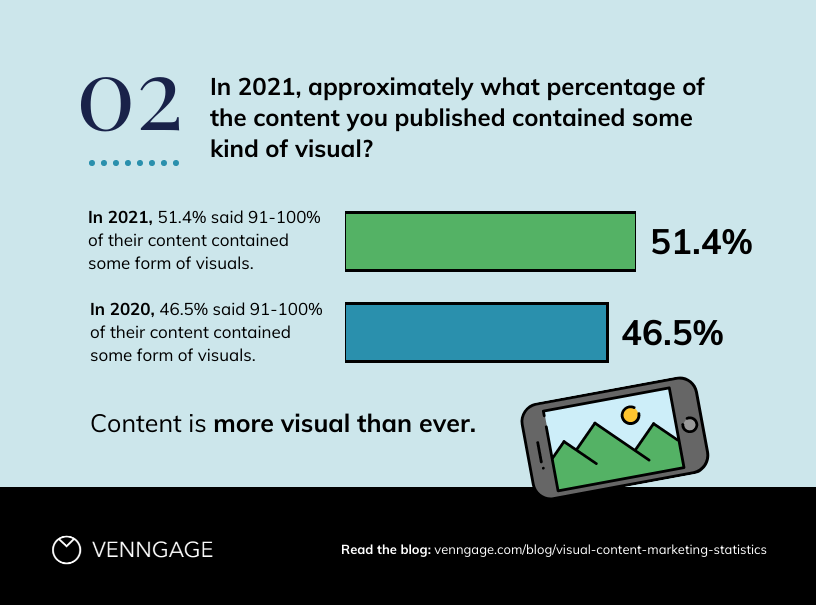 What are the forms of visual content?
Your visual content could be any of these,
Original graphics
Reels
Short videos
Animations
Videos
Presentations
Data charts
Data visualizations
Gifts
Memes
Lead gen documents
Stock photos
In 2021, almost 57.9% pivot their marketing strategy towards creating more visual content. It includes rebranding across all the marketing tools including their website, landing pages, blog, newsletters, graphics, and social media platforms. This was important to create a cohesive approach for the new branding that could result in a great customer experience.
Analyze Big Data to Know your Customer
The power of big data is immense. You can use big data in your marketing strategies irrespective of your industry or target audience. It provides you with analytics to ease the decision-making process to outperform your competitors.
Big Data has been trending lately, which includes structured data, unstructured data, & semi-structured data. Traditionally, the terms were common in financial services, and open banking, today it's used quite frequently in each kind of business. You can collect, process, and analyze the data to make major business decisions. It is called big data because it's a complex set of data sets & it's not possible to process it with traditional methods.
Why Big Data is important for 2023
Big Data is important for 2023 because you are able to better understand your customers and their buying behaviors. Once you do that, you can run accurate digital marketing campaigns to improve your conversation rates. It results in reliable decision-making. If you dig deep into the data and run a campaign based on it, your Google AdWords, or Display Network ads will be more successful. That's why professional marketers make their decisions based on big data.
Big data is the key to identifying product-market fit for your business. It reveals whether the certain product you are launching has the right audience or not. You can collect this data from,
Transaction processing systems
Social media statistics
Internet clickstream logs
Mobile apps
Documents, emails
Medical records
Customer databases
Know that your Customers Want Instant Gratification
"Your brand is not the most important thing in your customers' life – convenience is."
So, how you can leverage this instant gratification? You can be more responsive and introduce conversational marketing to increase conversions rate and improve user experience. Conversational marketing for an improved user experience is one of the trending strategies for 2023.
Conversational marketing is the only way to go in 2023 because Google is going to end third-party cookies. It means as a digital marketing owner you will not be able to gather data from cookies. Therefore, you will have to adopt a personalized strategy to know your audience better and make business decisions.
The more convenient is your brand, the better business you will bring in. In fact, it disrupts the overall business sphere. Since customers want instant gratification it's crucial for brands and companies to focus on improving their response rates. Customers have become impatient over time due to continuous exposure to brands, businesses, and a plethora of information over the internet. They want chatbots, personalized emails, and live chats.
A digital marketing agency that takes days to respond to an email or sort out customer queries will fail to meet its customers' expectations. Alternatively, it should focus on sorting out a query, or an issue within just a few hours. To make it possible, it is important to revise the digital marketing strategy to speed up the response rate – not to lose customers and improve the brand proposition. Instead of making them wait for days, and weeks you should focus on ways that would help the target audience solve their problems with any campaigns before they could actually reach out to you.
Use the following tips to create convenience for your customers.
Be available. Give them customer support 24*7
Provide them free, express fast delivery services
Enable online reservations
Create apps for quick online purchasing
Introduce chatbots
Personalized emails
And, if you fail at any of them, the bounce rates will significantly increase and your business is at stake!
Influencer Marketing
It is a powerful collaboration between businesses, marketers, and influencers. Influencers are individuals who have a huge following based on trust.
Businesses and marketers invest in influencer marketers because they have a niche-focused following. Influencers with a small to a medium number of followers have a relationship that's built over trust over the years, and therefore they trust the choices influencers made. Influencer marketing has a huge potential and it will grow by $16.4 billion in 2023.
Brands need to pay these influencers once their organic reach falls below a certain threshold. Influencers sponsor posts to the targeted audience while making a handsome amount of money.
Below are some of the interesting statistics;
The ROI of influencer marketing is $5.2 against the $1 spent
The term influencer marketing is the most highly searched term on Google with 465% increase since 2016
67% of businesses use Instagram for influencer marketing
Conclusion
The only thing that's constant in the digital marketing world is 'Change.' Changing customer behavior, new strategies, new avenues, new tools, new features, etc. Therefore, it's essential to incorporate these things while designing the digital marketing strategy.
We hope this above guide will help you create a seamless digital marketing strategy for 2023. Focus on each of the above digital marketing strategies to scale your business in 2023. What strategies have you been using for your business? Let us know in the comment section below.
---