Top 8 White-Label Tools for Marketing Agencies
---
Personalization is key to a successful marketing strategy. Taking the same marketing approaches to different businesses is not as effective as tailoring a more personalized marketing strategy for each client. How can one optimize the process, increase the quality of services, and let the clients understand that you take a very unique approach to their business? The answer lies in the so-called 'white-label' marketing tools.
In the technological sense, these are the products or services produced by one company and given the third parties to rebrand as their own. White-label marketing platforms can be customized for the specific agency's needs, so you can apply your own branding, manage multiple client accounts, and provide clients with more personalized marketing services.
To help you in your customization journey, we created a list of the top 8 white label tools for digital marketers, ranging from social media management to search engine optimization (SEO) and email marketing tools.
Data Analytics and Reporting Tools
Databox is a white labelling reporting tool that allows agencies to pull all data from multiple marketing platforms into one place and create visually engaging dashboards and reports that update in real-time.
Connecting data from Google, Facebook, Salesforce, HubSpot, and other platforms and preparing reports for your clients are time-consuming tasks. There is no need to do it manually or hire additional employees for this, Databox will help you perform these tasks quickly and easily.
Reports in Databox are templatized and easy to duplicate. It makes easy to create reports for a number of clients who require similar types of reports.
DashThis is one of the most famous white label marketing reporting tools. It helps gather all data from your marketing platforms and create automated reports for clients.
Using DashThis you can have a few accounts at the same time and send automated email dispatches. White label feature of DashThis allows creating branded marketing reports for your clients.
DashThis has 30+ connected integrations and custom-data manager, giving you the opportunity to keep all of your KPIs and the entirety of your data at your fingertips. With its simple analytics dashboard tool, hours of manual digital marketing reporting dashboard creation is officially a thing of the past.
Marketing Automation Tools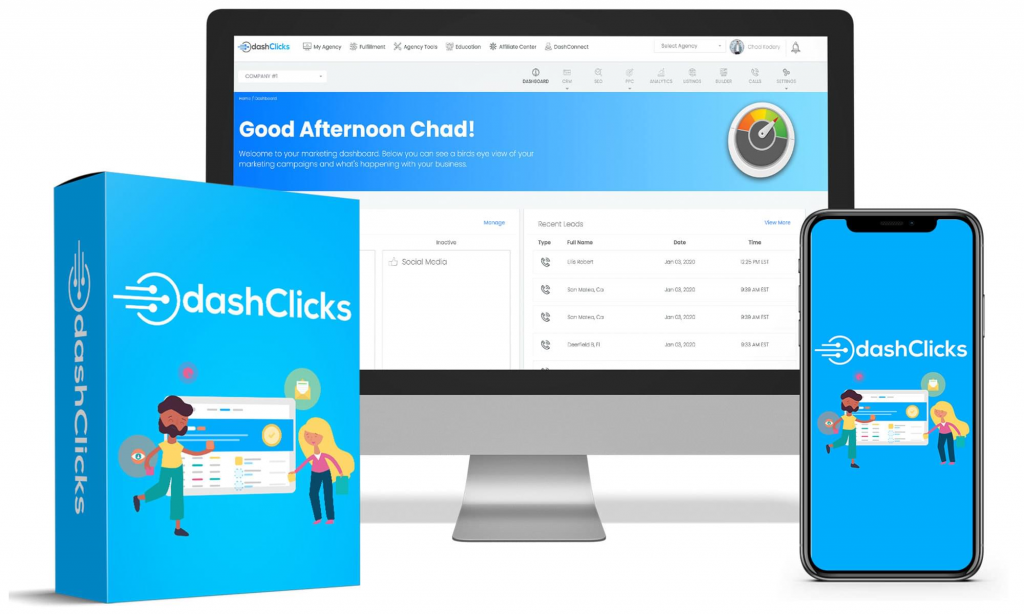 What differentiates DashClicks from other white-label platforms is its agency-centric white-label digital marketing services. In addition, it also offers certified digital marketing experts to fulfill the digital marketing requirements of the agencies all under their brand.
DashClicks platform allows agencies to scale and grow their brand and client base at an affordable cost. It frees agency managers from time-consuming reporting leaving them to focus on other more critical tasks for their clients. In addition, it also saves time and streamlines everything by allowing them to manage projects from a central hub.
The platform enables agencies to offer a fantastic experience to their clients by combining all the necessary tools and software into a user-friendly platform. The visually appealing dashboard can pull data from various channels and automatically onboard and add clients. It allows them to access it from one simple login. In addition, the upsell mode feature helps agencies generate more income by automatically offering other related services.
DashClicks Features:
Real-time reporting for all your clients

Track leads from campaigns

Track the sales funnel from a single dashboard 

Track Facebook and Instagram ads, Google Ads, and keywords

Automatic directory listings on hundreds of directories 

Create dashboards quickly and add clients in seconds

Allows clients access to their data, get real-time updates, and use the upsell feature to offer clients additional services

Assign tasks to team members and track their progress 

Helps clients create compelling content and track all entries into the sales funnel

Allows clients to see leads in real-time

Backend automation makes lead conversion easier for clients

Access numerous training resources such as DashDay workshops, Marketers Mindset podcast, training videos, the Dash Accelerator, and webinars.
Social Media Management Tools
Mention is the white-label media monitoring tool that allows tracking social mentions, conducting a competitive analysis, and collecting tailored market research in one place. It gives you all the data needed for understanding the overall brand's reputation across different media and helps generate ideas for improvement.
By using Mention, you can easily monitor what people say about your brand on the major social networks, blogs, forums, news, and review sites. No need to spend time on monitoring the web manually, Mention will do it for you within seconds.
With Mention, you can conduct detailed competitive research, giving you the possibility to learn from a competitor's strategy and use these hints in your business.
Mention can instantly generate analysis on your competitors, your company, and clients and automatically send to you or your clients. Its white label feature allows you to make all the reports you send to the clients branded with your own branding or your client's branding to let them understand that your agency takes a personalized approach to each business.
If you're sending it to clients, you can white label it with your branding.
PromoRepublic is a white-label social media marketing platform that helps agencies and freelancers improve collaboration with their clients and drive better results by streamlining the content approval process.
PromoRepublic allows inviting your clients into a limited client's Interface where they can only leave comments and suggestions for their social media content without peeking into bulky spreadsheets. No need to have dozens of extra files, all updated client's requests will be conveniently organized in one place.
You can build the authoritative agency's image in the eyes of your clients by branding this social media management platform with your logo, colours and hosting it on your own web domain. Visit this page https://promorepublic.com/en/white-label-social-media-management-software to start managing your clients using a marketing tool that is customized and matched with your agency identity.
Email Marketing Tools
Active Campaign is a white-label email marketing tool that can add a ton of value to your business. It provides a comprehensive suite of email marketing automation services ranging from traditional marketing campaigns to complex automation solutions, CRM integrations, and more.
One more advantage of Active Campaign is that it has a lot of integrations with popular apps such as Gmail, GetResponse, WooCommerce, Shopify, Xero, Geckoboard, ZohoCRM, etc., so you can adjust this email automation solution to a platform used by your business.
This platform offers white-label options including custom domains, HTML/CSS rebranding, custom button colors, borders, font colors, and font size. Some of them are included in each plan without any additional fees.
It's a great white-label solution you can fully customize to match your brand. If you start an email marketing journey with Mailingmanager, you'll get a great opportunity to increase customer engagement with beautifully designed and branded emails sent en masse to your customers.
Mailingmanager can help you win new leads by sending waves of timed emails to new subscribers automatically for maximum impact. Moreover, this tool has advanced analytics that will help you assess email campaign performance and make the right conclusions on what should be improved.
There are also CRM features rolled into the platform and automation workflows created specifically for agencies to turn free trials into paying customers.
Serpstat is an outstanding, all-in-one, white-label SEO platform, providing keywords research, rank tracking, backlink analysis, website audit, and detailed competitors' keywords analysis for digital marketers.
By using Serpstat, you can conduct a competitive landscape analysis to identify the competitor's strengths and weaknesses and how your business can improve upon the competition. This tool gives a list of proven and profitable keywords that your competitors and niche leaders use to make it to the top positions in search results. You can also research your competitors' advertising campaigns and get the highest possible ROI from your PPC activities.
Such type of research will help you supplement your website's content and ads with top-performing keywords and expand your online presence.
SE Ranking is a white labelling SEO and marketing service that allows you to personalize the platform, make it look like it's your own SEO software, and preserve your brand in front of your clients.
It includes a position checker, website auditing, a backlink checker, competitor analysis, and other SEO traditional tools. A white label feature allows you to use your own domain name as a link to the SEO tool and customize the logo, interface, and colour scheme.
You can work with your clients under the brand name of your own company without spending any additional funds for supporting and developing the service.
Marketing agencies aim to create as much personalized experience as possible for their clients and white-labelling tools help achieve that goal. These were our 8 best white label marketing tools that will make your marketing services tailor-made to your agency's and your clients' needs!
No matter what you do, PPC, search engine optimization, social media marketing or email marketing, it's better to make it branded to you or your client's brand identity. It will help you provide your clients with a more personalized experience at every step.
Originally published here – Source
---