Top 5 PDF Converters You Must Try on Windows in 2021
---
With the creation of PDF (Portable Document Format) in the early 1990s, modern day usage of technology has been shaped and defined by this unique file format, thanks to its compatibility, quality and portability.
Currently, we may meet with such a scenario: the PDF you plan to open with Microsoft Word will retain most content but the formatting might look strange. In this case, converting PDF files to MS Word, JPG or other file formats can really become a straw to clutch at for Windows users.
As many Adobe alternative software keep rushing into the market, selecting a suitable PDF converter from this booming industry can be challenging! To dispel your doubts, we have listed down reliable PDF converters for Windows users:
5 Top PDF Converters for Windows in 2021
1. SwifDoo PDF
Despite being a relatively young competitor in the field of document management, SwifDoo PDF has quickly become a rising star and accumulated roughly 4 million global users due to its design simplicity, reasonable price and versatile functionality. Inspired by Microsoft Office software, SwifDoo PDF has taken UX into account and designed its user interface accordingly.
To convert PDFs to other file formats, just click "Convert" and a window will pop up. SwifDoo PDF now enables you to convert PDFs to Microsoft Office formats (Word, PowerPoint, and Excel) and HD images (.png,. .jpg,. .tif., bmp). The number of file formats SwifDoo PDF supports currently, may not be as comparable to other PDF software, however, there is more on the way.
What should be noted is that SwifDoo's OCR (Optical Character Recognition) conversion guarantees you a quick and precise conversion. Apart from this, SwifDoo offers an array of amazing features such as watermark, e-signature, TOC (Table of Contents) extraction within this 10 MB software.
If you are a long-time user of Adobe Acrobat Reader, the uncluttered UI of SwifDoo will impress you. With SwifDoo's intuitive interface, you can find what you want with ease. This makes SwifDoo stand out as a strong contender in PDF conversion software.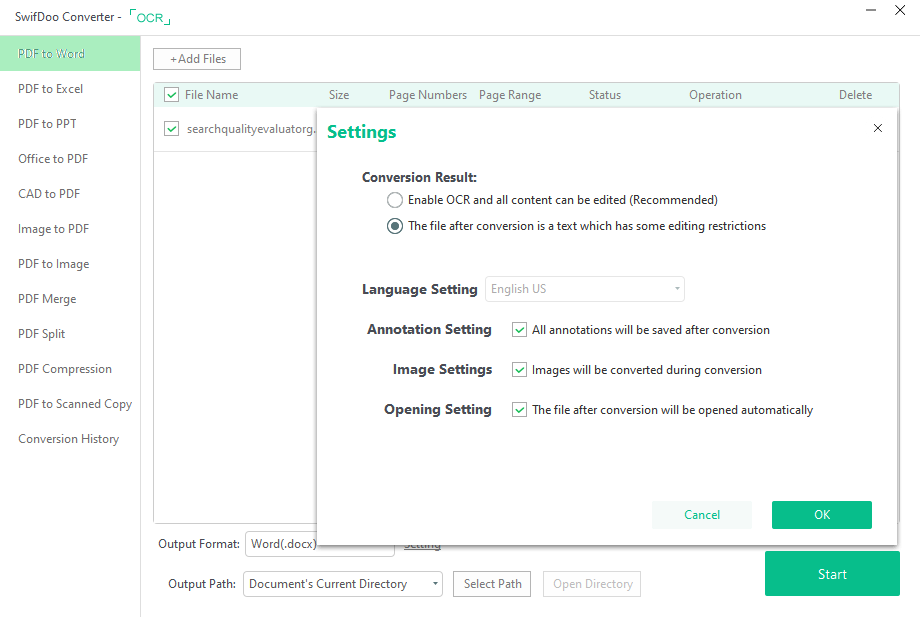 Offering a 30-day free trial, download your free trial today and experience the capability of SwifDoo PDF converter. To upgrade your subscription, the pricing plan is reasonable and straightforward.
For convenience, SwifDoo PDF provides two plans: monthly and yearly plan. For the former monthly plan, the price is 20 USD. As to the yearly plan, it only costs you 69 USD. Even without a membership, SwifDoo PDF is a reliable tool for registered users by providing many useful features.
2. Adobe Acrobat Reader DC
When we talk about PDF converters, Adobe, a pioneer in this field, must be mentioned. While there are some cons with this software, Adobe has transformed the world of PDF documentation.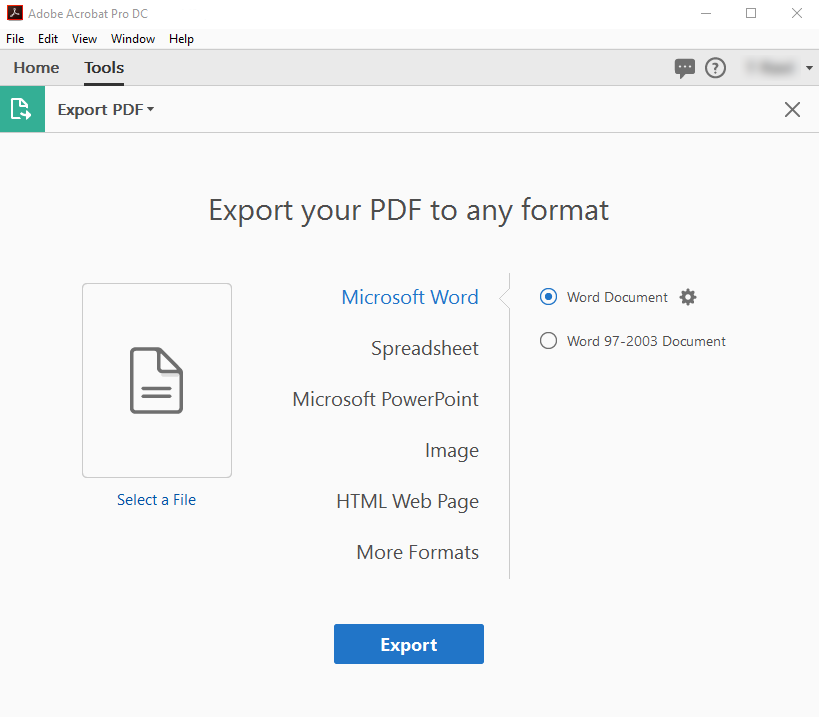 Adobe has a variety of converting features. Adobe now supports conversion of PDFs to almost a full range of formats including Microsoft Office (Word, PowerPoint, Excel), image files (.jpeg, .gif, .png, .bmp, .pcx), rich text formats (.txt, .rtf), HTML web page, and its own Adobe PostScript and Encapsulated PostScript (.ps, .eps, .prn).
However, let's move to another perspective – user experience. Adobe Acrobat is complex to use with a somewhat complicated user interface, requiring special training and a long learning curve. Besides, Adobe Acrobat requires 2.7GB of RAM which results in long downloading process and relatively slow performance.
As for individual users, one has to pay USD180 for an annual subscription ($15.46 per month), making it an expensive option which many will reconsider.
3. Foxit Phantom PDF
Foxit is another popular and trusted name in the world of PDF conversion. As a multilingual PDF tool, Foxit Phantom PDF allows you to create, view, edit, electronically sign and print PDF files. If you are looking for a PDF tool with smooth operation and a smaller RAM usage (less than 300 MB), Foxit might be a good choice.
It can help convert PDF documents to Microsoft Office formats (PowerPoint, Excel and Word) and images (.jpg). Recently, a new online ConnectedPDF Document Management System was unveiled by Foxit, allowing users to convert documents online with just a few clicks.

Foxit offers a wide range of useful features, such as: edit text, change font/size, attach videos and images to the document. It covers all you need for a PDF converter. Foxit Phantom PDF has three pricing plans, with the most popular, the Standard version, at $139 for a perpetual license, a yearly plan at $99 and a monthly plan at $14.99. What are you waiting for? Unlock a 14-day free trial, today!
4. Soda PDF
Developed by Lulu Software, Soda PDF is the company's flagship product among a variety of easy-to-use document management applications. Don't just be captured by its sleek and modern interface – Soda PDF's powerful features will make you fall in love with it!
Soda PDF allows users to review, annotate, send and track documents from a single comprehensive user interface. As for PDF conversion, Soda PDF is an undoubtedly competitive product. Its holistic converter not only exports PDFs to Microsoft Office formats (Word, PowerPoint, Excel), HD image (.jpg, .bmp, .gif, .png), HTML web page, but also to rich text format (.txt, .rtf).
An added bonus, Soda PDF offers an online converting service on its official website. Users can also connect Soda PDF to Google Drive, OneDrive, Dropbox, Evernote and Box accounts, which makes it convenient to download and distribute documents.

Soda PDF is indeed a comprehensive program. That being said, nothing great in life is free and most of Soda PDF's features must be purchased before trying. In addition, what often disappoints users, is when a new update comes out, a notification window pops up each time you open the software.
If you refuse to update, the software will shut down immediately. With regard to prices, Soda PDF has two choices: Desktop Standard at $49.95 and Desktop Pro at $129.
5. Nitro PDF
The last all-in-one solution is Nitro Reader, another famous name in the realm of office and productivity software. Its subtle balance between usability and UI design has left a deep impression. Without barely-used features, its slick interface looks like any other application from Microsoft's Office suite.
Nitro provides a nice platform for carrying out the most basic functions on PDF documents, including conversion to editable Office documents (Word, Excel and PowerPoint) and HD images. Besides that, you can directly convert the content in your emails, email folders, or even attachments to PDF without having to download the documents.
If you feel you are having trouble in getting started, Nitro PDF offers 5 quick start guides for new users upon first launch.

However, during testing, problems arose with Nitro's installation process, including needing to restart the computer a couple of times before it would work. This relatively time-consuming process may make users wonder if there is something wrong with their network connection or computer.
All things considered, Nitro PDF Reader is worth a try if the other mentioned free PDF software programs do not meet your demands. For subscription plans, Nitro PDF Reader provides only one; the Nitro Productivity Suite at $159. By the way, one needs to pay for unlimited product updates. 
Final Thoughts
A PDF on any device is like a piece of paper on your desk. Previously, making changes to PDF documents was a hassle, however, thanks to the advancement of software, these issues have been eliminated.  Today, with the help of these PDF to Word converters, users can create and make changes to PDF documents. 
Regardless of whether you utilize the above software or not, you are certain to get your work done with ease. It completely boils down to your needs.
---