The UX of the Ideal Enterprise Application: 3 Key Challenges and Their Solutions
---
Why should we strive to create the perfect UX for every enterprise application? Research shows that every dollar spent in UX generates $ 100 in revenue, and 90% of users stop using the app due to poor performance. There are other issues as well, such as a lot of ads and slow loading times, but that's not what we're going to talk about today.
Striving for perfect UX design is essential for the good of the app and its users. And the best way to do this is to understand the biggest problems and fix them. More information on this topic: https://fireart.studio/enterprise-web-application-development/ .
Here are the top 3 tips to help you with this:
Objective 1. Provide users with what they need
When developing an enterprise application, it often happens that the designer focuses on aesthetics and vibrant features, rather than an intuitive and user-friendly user interface.
You want users to enjoy exploring your app and find its aesthetics pleasing, but it's important to remember that functionality is paramount. Users will spend hours interacting with the application, be it CRM, billing system, or whatever.
So how do you fix this? To determine which features are most useful or necessary, you need to analyze user behavior.
Test the app with a variety of users to see how convenient it is for those who have not used a similar product before. How easy is it for them to navigate? Can they figure out how to find certain features?
Ask how the design of an enterprise application affects the user experience. Does the dashboard colors seem too harsh, causing eye strain? Is the workspace well organized and is the button layout for smooth operation and navigation? Try to find a way to make the presentation of your application attractive and not distracting.
Objective 2. Do not ignore feedback and correct mistakes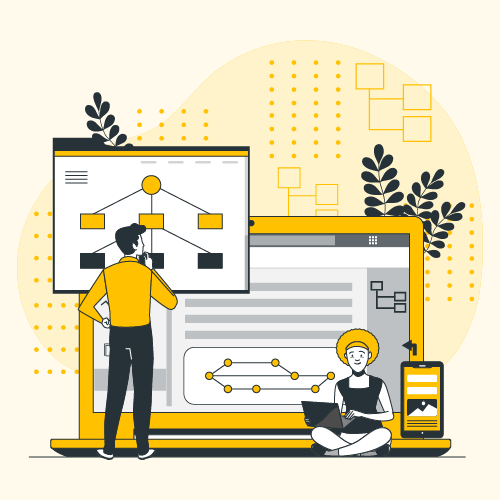 The best SaaS products are built on a deep understanding of the goals, concerns, and expectations of the user. This means doing extensive testing and inviting users to resolve issues that may cause problems in the future. This also applies to SaaS web design or SaaS products for small businesses.
Building enterprise applications is hard work. A lot of hard work. And hearing someone say you did something wrong is incredibly difficult.
It is very important not to let pride influence your work. Leaving glitches or irrelevant design elements in the final application just because you don't want to fix them is a big mistake and can get expensive.
How can you fix this?
Encourage team collaboration and transparent communication. This is to ensure that no one feels intimidated and does not hesitate to ask questions. If designers and developers are free to express their opinions, the work will be more efficient. This will save everyone time and reduce negative user reviews.
Be smart about UX design. Leverage real-time feedback and adapt to changes as needed.
Remember, if a user encounters shortcomings in your application and gives feedback, this is a great opportunity to improve it. Subsequently, you will have a greater impact on the market.
Objective 3. Protect users from over-selection
You create only the most practical and necessary features and get user feedback. Otherwise, you run the risk of creating a product with more elements than required. And that can lead to poor UX.
How to understand which elements are superfluous:
Check out all the add-ons you make to the enterprise app. Analyze user behavior to see if new features and options are actually being used.
Determine why you don't need any unused items. Try to see if they can be customized to provide more value to users.
Remove those elements of the application that do not affect the user experience, and make sure that their absence will not affect the performance of the product as a whole.
The versatility and performance can help users to accomplish a large number of tasks. But failure to overcome the above problems will lead to bad experiences. Follow these tips and take steps to ensure a higher standard of enterprise UX development, or contact Fireart for help.
---