Powerful logo design tips to take your brand to the next level
---
The design of a logo is an important aspect of branding. Your logo is frequently the first recognizable element of your brand or business that people notice, and a great logo is essential for making a good impression on potential clients or customers.
It's critical not to overcomplicate things when following logo design trends. Whether you're launching a new business or revamping an old brand, keep in mind that your logo is one of your most recognizable assets, so it's important to get it right.
On the other hand, the lack of a logo creates a drab appearance that may turn off potential customers. It makes no difference if your products are of the highest quality or your customer service team is extremely knowledgeable. If you are unable to make a good first impression, it will directly impact your ability to grow your brand.
Top-tier companies highly depend on creating a successful brand image through effective communication with their potential customers that ensures sales shortly. That's why business owners are ready to spend a big chunk of cash on building a solid brand identity for their company. The marketers they hire are ordered to create strategies that will allow their business to reach a good level of business engagement with their clients. Nowadays, the logo isn't just an image of your business uniquely designed for it, but rather it's the core foundation of a good and reputable brand image in the business market. An esthetic and purposeful business logo can send the right message to your target audience, making your operations and sales run more smoothly. So, let's help you and your business get logo design service with these FIVE excellent tips! 
Integrate Your Corporate Message
The best logo design is the one that's not only aesthetic and visually appealing but one that also serves a purpose and delivers a meaningful message to the audience. Suppose the company message is successfully delivered to your potential customer base. In that case, they will form a connection with your company that will serve as the basis for bringing them into your customer circle. So, when you hire a logo designer, make sure that they understand your corporate's message, core values, and aim so that your business flag truly reflects what your company stands for. It's also a good idea to have the logo correlate with the type of products and services you are selling so that the audience that wants to buy your offered products and services will be related to your brand logo and be attracted by it.
Complementing Your Company Theme
Another vital aspect to consider when making your business logo is that whatever colors, shapes, and designs you decide to use should complement your existing company's color scheme. For example, the employees' dress code, the color of your shop outlets, office, or factory, or simply the color of your employed vehicles. Whatever aesthetics you have opted for to represent the company should remain consistent with your brand logo's color, shape, and design. So that when in the end everything is put together, it all looks neat, clean, and tidy. Many companies who have created logo designs that do not match with the physical appearance of their businesses have failed to identify themselves using their business flag because a potential customer is unable to connect their logo to the company itself.
The First Business Impression
Keep in mind that your business logo is the first thing your potential customer sees about your company. Meaning, the first impression of your whole organization is entirely dependent on how well designed your brand logo is. If it is not up to the level, it won't create a significant impression in the customer's mind, and they will walk away from your business. Suppose you have created the logo design through a professional expert who has properly integrated modern trends and techniques. In that case, the impression your brand logo creates will be impactful enough for the customer to feel attracted to your company. Creating a good identity in your targeted audience's minds is the first step of ensuring sales and creating a good reputation in the market.
The Font is Just as Important
Earlier, we discussed the importance of the color combination, style, and design of the logo. The font style you use to write the logo description on the symbol itself carries the same level of importance. First, you need to identify your business tone or what type of impression you want to make in the customer's mind. Do you want your business to appear strict and formal, jolly and laid back, trendy, youth appeal, etc.? Whatever the character of your target audience is, that's the tone of your font style should be for the brand logo design. Suppose you can successfully identify and integrate the right font style into your company logo. In that case, your audience can more easily feel connected to your brand because now you have something in common. This factor will help your business increase sales and ensure that your brand image isn't outdated.
The Type of Logo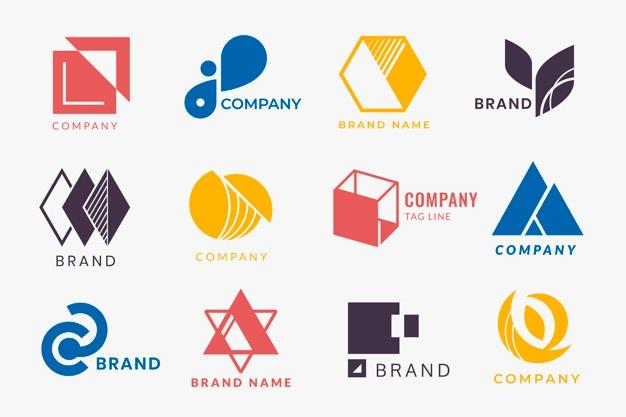 Once you have all the designs and everything ready, you must now decide what type of logo would best fit your company. There is a plain image logo that doesn't bode well in modern times. Technology has advanced and with the customers' expectations from the businesses they decide to buy from. A simple, still logo design will hardly cut it. Then comes a more immersive, colorful, and aesthetic 2D business logo that helps captivate the attention of potential customers through various color combinations and edgy design. Then comes 3D animation. The next-level design for your brand logo introduces the 3D aspects to your business identity giving it a new appeal by making it look more modern. Lastly, we have the animation logo where your brand logo is designed. Then animators bring it to life with motion graphics that are considered characteristic of a professional and a top-tier company in today's market. We highly recommend opting for either an immersive 2D, 3D or animated logo to back up your brand identity.
We strongly hope our FIVE tips can assist you in creating the brand identity that works for your company and takes you to the next level. If you implement your brand logo strategy just right, it will create an excellent first impression in the minds of your target audience, which will make it easier for you to convert them into sales. 
Author Bio:
I am Harry Lawson is a Head of operations at Kro Studio. It's a technology company that excels in Logo design, Web design & development, Ecommerce development and much more. I manage overall marketing activity for the company. I write creative content that engages audiences with a wonderful experience. My articles provide valuable information to readers that groom them in all aspects.
---