Organic Marketing vs. Paid Marketing: Everything You Need to Know
---
Digital marketing is important, whether you're new in business or you've been in the industry for a long time. Over 5.03 billion users are on the internet, and they are spread out across different platforms. Because of that, you need to know what kind of digital marketing strategy will suit your company best.
There's a lot to choose from when it comes to digital marketing strategies. But, at its core, each of them falls into one of two categories: paid or organic. These two provide unique benefits to your marketing efforts. For instance, paid ads services deliver faster results for a more affordable price. Despite that, organic content drives more engagement.
With that said, you need to know how paid and organic marketing benefits your business. It also begs the question: can you use both of these marketing strategies together? This article will answer these important questions about paid and organic marketing.
What is Paid Marketing?
You've seen Google's results pages, and almost always there are ads at the top of these pages. These are paid ads, and as you can see, they're the first thing people see when they search.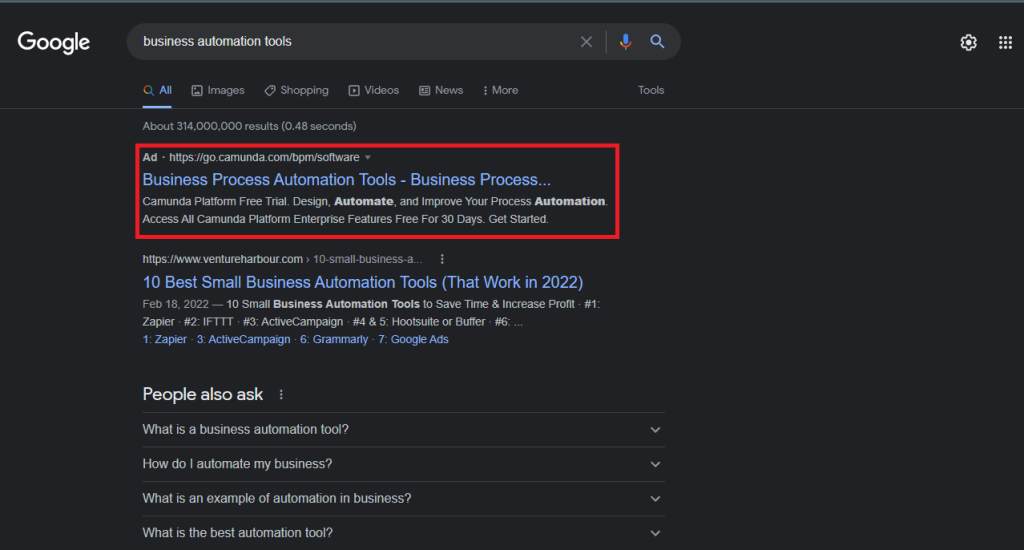 In paid marketing, businesses pay a publisher to post ads for them. The advertisements often target a certain audience and support a conversion route. So, in essence, you'll be paying for the results if you choose paid marketing.
The goal of paid marketing is to achieve a strong ROI quickly. It often includes turning viewers into buyers and hitting sales targets on schedule. To measure its success, you can track conversion and engagement rates for each ad.
To make the most out of your paid marketing campaign, you can use paid ads services.
Most businesses, especially new ones, hire a marketing agency to create ads for them. Performance marketing specialists aren't new in the paid advertising world. This means they can make sense of a lot of your data and create ads specific to what you need.
They can also keep track of your pay-per-click (PPC) campaign constantly. PPC helps a lot in attracting many people to your business. But how would you know that an ad is really worth your money?
Performance marketing services make sure that your PPC campaigns are working. By tracking your campaigns, they can tell you where you need to improve. This insight will help you make profitable decisions that drive your business to success.
What is Organic Marketing?
Organic marketing, or inbound marketing, uses search engine optimization (SEO) to attract users. That means you'll be using relevant keywords and topics to create content so that users can find you on SERPs. This way, your content or profile will appear on top of their result pages. Ultimately, it helps you establish a presence in the digital world.
This type of digital marketing focuses on informing and building trust among audiences. You can assess the success of organic marketing strategies by monitoring:
Search engine result page ranks
Organic traffic numbers
Content-driven leads
As you've noticed, organic marketing is all about creating content. You can publish one on your website, and promote it across social media platforms.
Organic Marketing and Paid Marketing: Key Differences
Digital marketing strategies, whether paid or organic, help you promote your company. While that is true, there are some key differences between paid and organic marketing.
Organic Marketing Focuses More on Content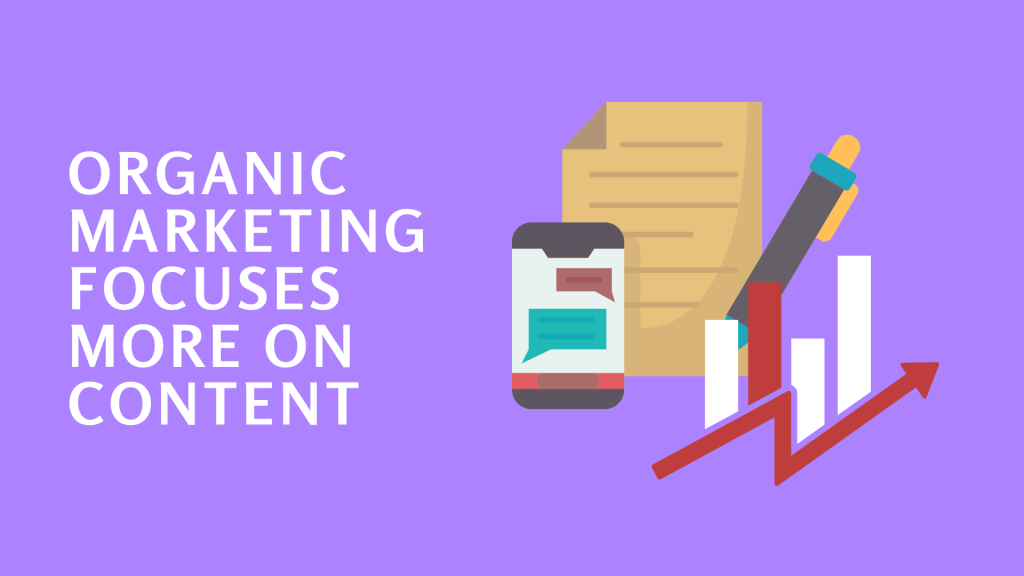 People use Google because they know it provides the information they need when they need it. That's because Google produces high-quality content that is relevant to their searches.
With that, it demands content that is high on authority, expertise, and trustworthiness. This way, it can maintain the best search results for its users. If you're using organic marketing, you need to focus on creating high-quality, relevant content.
Paid Marketing Offers Faster Results Than Organic Marketing
While organic marketing generates revenue for a long time, it does take a lot of time to get it right. It can take weeks or even months before you start seeing results with organic content.
Remember that your rivals are also working to create excellent, SEO-focused content. In other words, no matter how good your organic content is, you'll still be fighting for space on SERPs.
To avoid these challenges, you can use paid marketing. PPC is the best way to guarantee that users will see your brand first on the SERP. But, you need to constantly tweak your ads and follow AdWords' best practices. That's why paid ads services are popular for businesses that use paid marketing.
Paid Marketing Is Short-Term, While Organic Marketing Is Long-Term
Organic content continues to drive visitors as long as it remains relevant. Not all organic content is timeless. But you can create pieces that rank in search results for a long time.
On the other hand, paid advertising only works as long as you pay for it. Your ads will no longer show if you stop paying for them. That means that your website traffic will also end.
How Can You Integrate Both Paid and Organic Marketing Into Your Campaign?
The essence of organic content is to serve and please your existing customers. On another note, paid ads services focus on generating ads to attract new customers. While there are differences between the two, you can use both in your campaign.
Here's how you can combine these two for a more successful digital marketing strategy:
You Don't Need to Use Paid Ads All the Time
First things first: only invest in paid ads services when it will help you achieve your KPIs. Paid ads aren't the only solution to reach your marketing goals on social media. Most of the time, a well-written, organic post can get people to spread more about your brand.
Believe it or not, a unique, innovative campaign will generate buzz on its own. Create an interesting post, pin it to your profile, or, if it's important, include it in your Stories highlights.
With that said, if your organic post isn't impactful enough, then it's time to use paid ads services.
Give Your Top-Performing Organic Content a Boost
Your top-performing posts serve a purpose beyond just boosting your vanity metrics. You can choose one of these posts and promote it to new audiences.
If you're new to paid advertising, then this is the best way to dip your toes into it. That's because it's low-risk and you don't need to create a new ad or ad campaign. Performance marketing specialists say that if you have a hit post, you should consider investing in it.
But make sure you're not only looking at how many likes it gets. You should also look into other performance indicators such as conversions, sales, and profile views.
Use A/B Testing to Optimize Each of Your Posts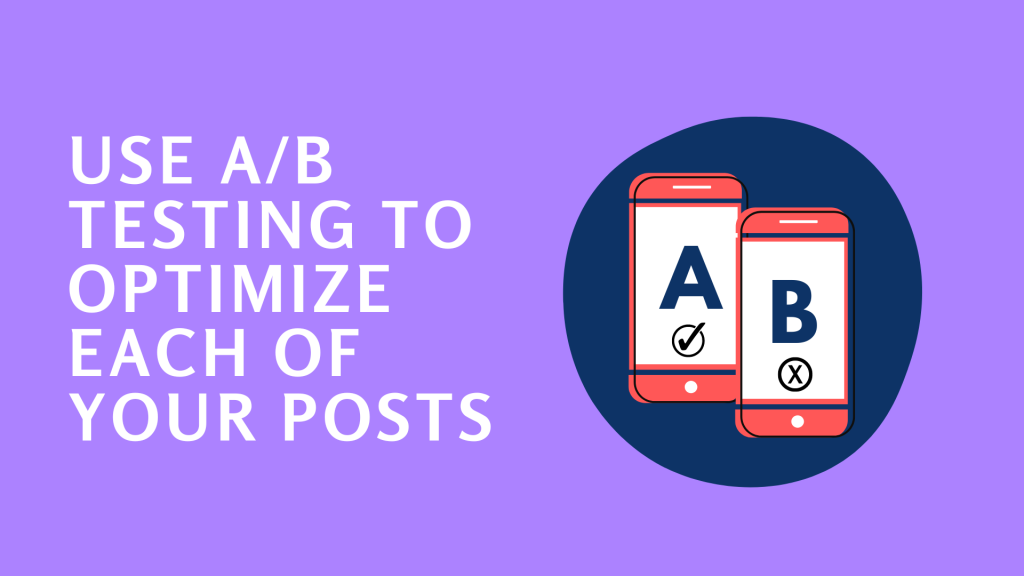 Despite its benefits, businesses often skip split testing when it comes to generating content. It's a good marketing practice to run test copies of the ads in front of a smaller audience to check their viability. Test the call-to-actions, copywriting, graphics, placement, and format. You can even test the audience you're targeting.
Target People Similar to Your Organic Audience
The more natural your social media presence is, the more data you have about your target audience. Some of the most important data you can get with organic content include:
Where they live
How old they are
What their interests are
Performance marketing agencies that offer paid ads services use this data when creating ads. That's because this is when all their efforts in cultivating strong bonds with an audience will start to bear fruit.
For instance, most social media networks let you create customer personas. These are audiences that are based on your best customers. They can be people who subscribe to your newsletter, interact with your content, or have recently made a purchase.
Have a Mix of Both Marketing Strategies
Organic marketing and paid marketing are both effective and can be applied to different situations.
But, in the end, you need a mix of both to develop an efficient marketing strategy. When you use them together, these two balance each other out and let you take care of all your bases. Use paid ads services to reach new audiences, and organic content to keep your current ones interested.
Additionally, you can efficiently develop funnels and more sophisticated marketing tools. This will improve customer experience and increase the quality of relevant visitors to your website.
---