Must-Have SEO Tips to Improve Your E-Commerce Store Visibility
---
Having a captivating design is only the first step to build an E-Commerce store to garner sales. However, to drive website traffic, it is vital to have effective digital marketing strategies in place. And Search Engine Optimisation (SEO) is by far one of the best long-term techniques to reap the profits.
Wondering if SEO is really important for your E-Commerce business?
The Search Engine Journal clearly outlines SEO as an integral component of E-Commerce success, stating 93% of online experiences begin with a search. In a scenario where search engines have emerged as a ubiquitous element for millions of online users, overlooking SEO means failing to target a major share of the market. This can be lethal to your E-Commerce business.
The Numbers Say it All…
If you think you do not need Search Engine Optimisation to boost your E-Commerce business, here are some facts that you cannot afford to miss.
According to a study, an average of 39% of global E-Commerce traffic comes from search. Of this, 35% of traffic comes from organic search (SEO), while only 4% comes through paid search (PPC advertising). Additionally, 70 – 80% of online users focus on organic search results and ignores paid ads.
How could you expect to reach your target audience if you are not 'visible' on search engines?
Thus, it is a clear win-win situation for Search Engine Optimisation. With a growing proliferation of online shopping trend, there are millions of E-Commerce stores vying for the top ranks on Search Engine Result Pages (SERPs). If you sit back and relax thinking consumers will flow in automatically, you are wrong.
Be proactive and adopt these E-Commerce SEO tactics to improve visibility and drive traffic to your site.
7 Hands-on Tips to Boost Your E-Commerce Business
If you are looking to maximise exposure of your E-Commerce store, here are some ideas for you. With better visibility, you will attract more traffic and generate more sales.
Leverage the Power of Content Marketing
Nothing can beat the impact of informative, unique and interesting content on the minds of your audiences. It is no secret that consumers READ before they buy. They read product information, customer reviews, influencer recommendations, prices, etc. to make an informed decision. If the product or category pages of your E-Commerce website only have images, no wonder the bounce rate will be higher. But in the first place, major search engines such as Google will nullify your website due to lack of content.
Search engines attribute high quality score and page ranking to sites that have unique, informative and well-optimised content. To leverage this opportunity, create dedicated pages for Home, About Us, Products & Categories, Privacy & Terms & Conditions, and Contact Us. For product descriptions, do not copy-paste manufacturer's content. Rather, create fresh pages optimised with the right keywords to boost page ranking and visibility.
This is how the website of a popular E-Commerce store appears:

(Source)
Besides having dedicated product pages, the E-Commerce store also provides an array of other information to its customers. This helps build connectivity and credibility which goes a long way in boosting awareness of your E-Commerce business.
Off-site SEO strategies such as article directory submission, press release, blog posting, guest posting, etc. also helps build authority. If the content is one-of-a-kind and interesting, people will share on social media and other platforms, further boosting your visibility.
Embed Unique Title and Meta Description for All Pages
Now you have hundreds of product pages and if you want to rank for all, it is important to have a unique title and Meta description for all the pages. This may be a time-consuming process but you can reap the benefits in the long run. Below is an example of how marketers make the mistake of having the same description for all related pages:

(Sourcehttps://moz.com/learn/seo/meta-description)
This is a BIG mistake!
Meta Title and Meta Description is what your potential customers would read on the search engine result pages when they search for products related to yours. If it is not convincing enough, they would not be inclined to click through the result.
Title and Meta tags also play an important role in search engine page ranking. Therefore, your page title, description and alt tag should be optimised with relevant keywords to help search engines crawl your page when someone uses the phrase to search for products.
So, how to simplify the process of having unique Meta descriptions for your pages, especially if there are thousands of products to cover? If you do not have the resources to write a fresh description for each page, you can use "Concatenation schemas." It helps create a set of rules to automate the process of creating descriptions, while generating unique content each time.
For example, you can use the following rule for shoe retailer StyleNShoes:
Buy PRODUCT NAME at BRAND. BRAND provides SUBCATEGORY and CATEGORY for men, women and children at best prices.
The Meta description will look this originally:
Buy Catwalk Shoes at StyleNShoes. StyleNShoes provides leather shoes and fashionable shoes for men, women and children at best prices.
Integrating important keywords is important here to make it to the top SERP rankings.
Add Pagination to Product Category Pages
For an E-Commerce store that has thousands of products under one category, making it to the top SERP rankings can be difficult. On one hand, you cannot force all the products in one page. On the other hand, if you break up the category page displaying 25-30 products per page, search engines may get confused as to display which category page in search results.
No matter what you do, both your search engine ranking and customer experience will be at stake.
To avoid this, add pagination elements such as "rel=next" and "rel=prev" tags. This tells the search engines how different category pages are related to each other.
You can also provide the option to view all the products on one page, provided you following Google's canonical rules to avoid penalties by search engine algorithm. A great mix of pagination elements is one as shown below: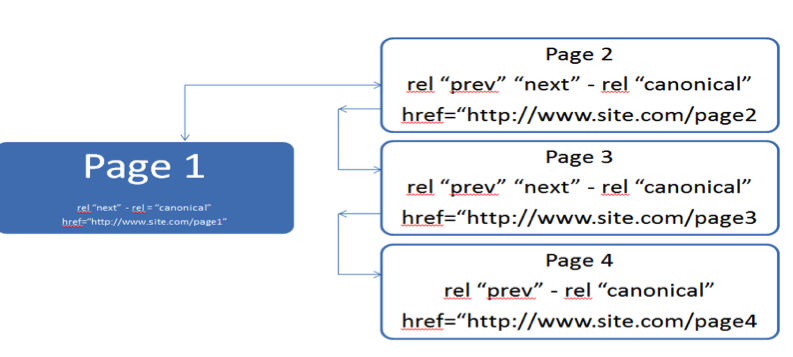 (Source)
Improve Speed to Boost Mobile E-Commerce
Mobile E-Commerce market is expanding rapidly and poised for unprecedented growth. According to an estimate, E-Commerce sales garnered $2.3 trillion in 2017, which is a whopping 23.2% growth over the previous year. Of this, mobile E-Commerce stood at 58.9%, accounting for $1.4 trillion.
In 2021, revenues generated from E-Commerce sales via mobile phones could reach $3.5 trillion, making up to 72.9% of total sales. The following image indicates fast-paced growth & significance of mobile E-Commerce today.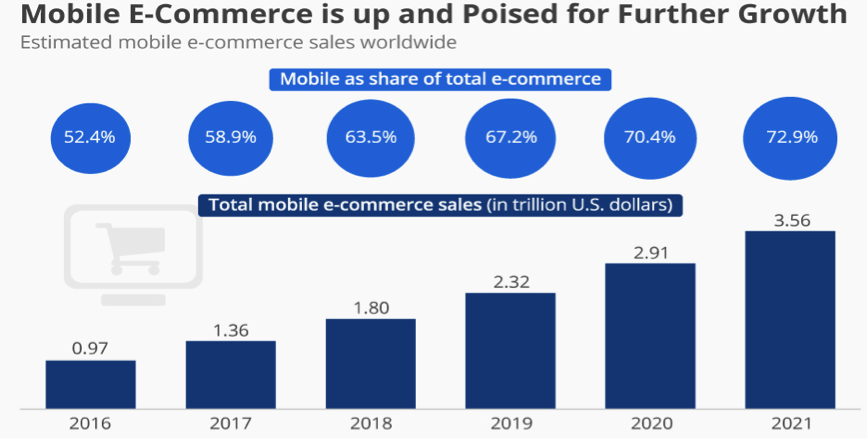 (Source)
As more and more consumers prefer to search or buy through their mobile devices, it has become important to optimise E-Commerce sites for first page mobile search rankings. And to make it to Google's top mobile search results, it is vital to speed up the site, indicates a market report.
Site speed plays an integral role in E-Commerce SEO as well as has a crucial impact on the user experience. A report reveals if your mobile site speed increases by one second, it can decrease conversion rate by 3.5% and increase bounce rate by 8.3%. Page views are likely to drop by 9.4%. Additionally, it can also affect search engine rankings.
Use free tools such as Web Page Tool to monitor page load time, bounce rate and time on page to determine site speed. There are several ways to improve site speed. These play an important role in Search Engine Optimisation, giving your E-Commerce site better visibility on search engines.
Here are some quick tips for you:
Optimise images & videos
Enable compression
Tweak server response time
Minimise redirects
Optimise JavaScript, HTML, CSS codes to boost site speed
Optimise Your Site for Google's Mobile-First Index
As discussed earlier, Google now gives more importance to a website's mobile version than desktop edition to determine quality score and page rankings. If your E-Commerce site is not yet mobile-friendly or not optimised for mobile search, it can significantly hamper your page ranking and visibility.
Running two different websites for mobile and desktop respectively is complex and expensive. Rather, you can re-design or optimise your online store to be responsive and mobile-friendly. A responsive web design is one that delivers the same look and feel when viewed on multiple devices. It is built to seamlessly adapt to different screen sizes and resolutions.
Here are some tips to make your site mobile-friendly:
Create a mobile version of the desktop site using platforms such as Duda Mobile or bMobilized
Build responsive page designs
Improve site speed (as discussed previously)
Optimise page structure, headline and form, images & videos section, content structure and footer
Use mobile plugins on CMS platforms such as WPtouch & JetPack by WordPress, JoomlaShine & Responsivizer by Joomla and MobileTheme & ThemeKey by Drupal
Below is an example of mobile-optimised, responsive web design: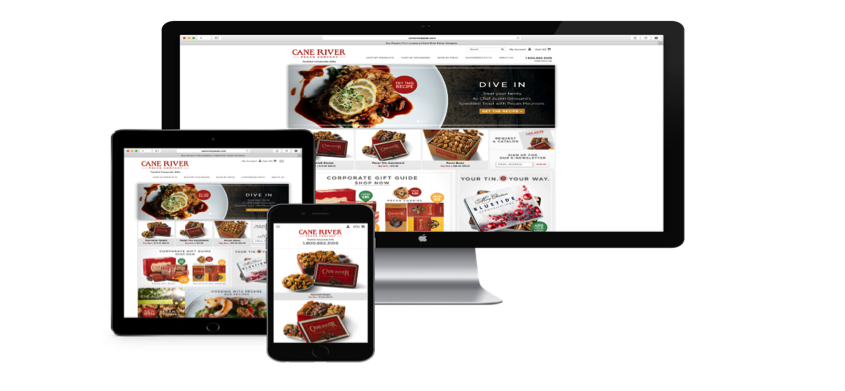 (Source)
Conclusion 
E-Commerce Search Engine Optimisation is one of the most powerful digital marketing tools when done right. It may take time for the results to come, but the above tips can help boost your visibility and reap the benefits in the long run.
Author BIO – Hello, I am Andrella Fehmi. I am a professional writer also expert in inbound marketing, content marketing, and lead generation. I write SEO articles for global business industries who want to see their SEO rankings on top. I love to write about the various digital marketing topics & trends, especially how internet marketing is affecting online market & ecommerce Businesses. All of my writing focuses on balancing informative with online marketing needs but never at the expense of providing a valuable read to users.
---