Magento vs Shopify for SEO
1. Introduction
SEO (Search Engine Optimisation) should be the centre of any marketing strategy for an eCommerce website. Therefore, SEO ability is a crucial factor to consider before choosing an eCommerce platform for your online business. In this article, we will look at the Shopify vs. Magento for SEO comparison, a battle between 2 giants.
As an all-in-one solution, Shopify simplifies as much of the online selling process as possible for its users. This includes offering SEO functionalities by default. And along with basic elements such as meta tags, product pages optimization, site structure editing, etc., it also provides a wide range of apps to improve your SEO performance.
Meanwhile, being a self-hosted platform, Magento offers a lot more flexibility from an SEO perspective and allows you to improve your strategy for maximum output. With Magento, you can take advantage of no-follow links, redirects, and canonical tags. You also can edit permalinks and meta tags and change URLs, etc.
In this article, I am going to show you:
● How the SEO features of the two platforms differ from each other
● How they should influence your decision.
● Which shopping cart you should choose for the following SEO criteria.
And now, stay focused!
2. Shopify vs Magento SEO features
Performance, Load time and Page speed
Performance
When you're running an eCommerce store, site performance significantly affects your potential sales. Most customers don't want to wait too long for store pages to load and are likely to look for another online store to make their purchase.
As mentioned above, Shopify is a hosted solution, so it takes care of the loading time of your website. If you have any issues related to speed, all you have to do is contact the support team.
According to recent research by ecommerceceo.com, in terms of overall performance, Shopify does way better than Magento. This was based on the load time, speed on both mobile and desktop and SEO rating.
| | | | | | |
| --- | --- | --- | --- | --- | --- |
| Platform | Performance | Load Time | Mobile Speed | Desktop Speed | Avg SEO Traffic |
| Shopify | 3.9 | 1.3 | 63 | 75 | 11717 |
| BigCommerce | 4.5 | 2.2 | 63 | 80 | 33626 |
| Woocommerce | 3.1 | 3.4 | 42 | 52 | 72968 |
| Shift4shop | 3 | 2.8 | 50 | 58 | 9703 |
| Magento | 2.8 | 4.8 | 39 | 43 | 19408 |
| Prestashop | 2.9 | 4.62 | 50 | 52 | 33851 |
| SquareSpace | 3.5 | 3.5 | 42 | 63 | 5678 |
| Wix | 3.9 | 3.2 | 69 | 81 | 543 |
| Weebly | 2.6 | 3 | 49 | 59 | 186 |
Performance comparison between popular eCommerce platforms
Load time
Shopify outperforms other platforms with a load time of 1.3 seconds in comparison with the total average of 3.2 seconds. So speed is definitely something you can be confident with when choosing Shopify.
Magento shows us a rather disappointing result. The Magento stores' average load time is 4.8 seconds, which even doesn't meet the average of 3.2 seconds. However, most of the optimizations for Magento were done by you, so that you can improve it by yourself or hire a developer to help you.
Page speed
Similar to load time, Google PageSpeed is also a critical factor that you need to consider before choosing either of these eCommerce platforms.
Shopify's speed is high on both desktop and mobile, but Magento's speed is quite low, scoring a 39/100 on mobile devices.
Shopify has a significant advantage due to the load time and speed by default, but you can optimize those things on Magento. For Magento 2 websites, their speed majorly depends on the chosen hosting services and proper website optimization (codes and images throughout the site). If both of those factors are well prepared, you don't need to worry about the Magento site performance.
"In terms of page speed and load time, Shopify is clearly a winner."
SSL Certificate
It can be sure that having an SSL certificate on your eCommerce site is essential. It shows visitors that your website is verified and that it's safe from hackers. It also improves your SEO rankings.
The superb Shopify is itself capable of providing an SSL certificate to your store after its custom domain has been properly added. SSL certificates are activated by default to any custom domain added to your Shopify store. Once your certificate is activated, all URLs will be upgraded from HTTP to encrypted HTTPS.
While Shopify manages the integration of an SSL certificate, Magento requires you to purchase and install it separately and enable it manually. A hosting provider can manage this process for you, but you'll need to find one first, which may cost you a little time.
"In terms of SSL certificate, Shopify gets 1 point over Magento as it is included already in the plan without any installation process."
XML Sitemap
An XML sitemap is considered a heavy-weighted SEO facilitation factor. A good eCommerce platform will automatically update the XML sitemap whenever a new page is removed from or added to or your website. Maintaining an XML sitemap for an eCommerce website that could contain thousands of unique product pages is not a task that you want to perform manually.
Great to know that Shopify sites have built-in SEO which enables automatic XML sitemap file generation. The sitemap file is located at the root directory of your Shopify site's primary domain name and it is automatically generated and links to separate sitemaps for your products, collections, blogs, and webpages.
With Magento, you also have an XML sitemap that's automatically created in the folder you specify. The configuration gives you the ability to set the frequency of the updates and the priority for each type of content.
"Both Shopify and Magento have auto XML sitemap functionality. However, Magento seems to allow users to have more customized settings. In this case, Magento gets 1 point over Shopify."
301 Redirects
301 Redirect (or URL redirects) is the feature that is used to redirect users or search engines from one URL to another. It helps you ensure your customers can still find what they're looking for after making changes to your product's URL.
Shopify allows users to create a URL redirect when you change the URL of your store. It's straightforward to create one by following a few simple steps.
With Shopify, remember that only broken URLs will be redirected. If the old URL still loads a webpage, the URL redirect won't work.
Magento offers two ways to set up 301 redirects using its built-in redirect system.
The internal URL Rewrite Management system in Magento is the default way to manage 301 redirects. After providing the Request Path and the Target Path, any link that points to the old URL will be redirected.
Your Magento site could also be set up to handle 301 redirects automatically. If enabled, Magento will create a 301 redirect every time you make a change to your product or category URLs.
Magento 2 allows users to map only HTML pages by default, meaning you can't map URLs that have file/extension as part of the URL. For example, the URL path media/photo1.jpg can't be redirected to media/photo2.jpg.
"Both Magento and Shopify have 301 redirects features by default. However, when it comes to bulk redirects, on both platforms, you will need to use an app/extension."
Blog
Blogs help drive more traffic and exchange links, in addition to many other SEO benefits. Some of the eCommerce platforms do not provide blogging as a default feature, but it's not the case for Shopify. It's effortless to set up a blog and create a blog post on Shopify as it is a built-in feature. The blog design is a part of the Shopify site's design theme and can be customized by editing the Liquid code. However, this isn't its most substantial area. Shopify gives you to display categories, comments, an RSS feed, and blog-specific SEO. It doesn't provide you with blogging analytics, archive functionality, social bookmarking, or blog-specific search features.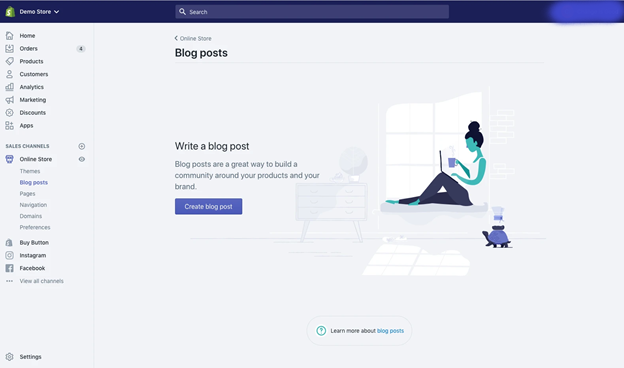 On Magento, it's not that easy to get a blog. You may be surprised to find out Magento does not provide a blogging feature by default. The only way you can write blogs on Magento is by adding extensions to your store. Most of the decent extensions are priced, and it's not usually cheap to buy an extension for Magento.
"Magento or Shopify was created mainly for eCommerce purposes, not content marketing. Both platforms may be considered lacking when it comes to blogs. If you want to have an online business revolving around content, try Woocommerce instead."
Apps, Extensions and Customization Abilities for SEO
From the SEO perspective, Shopify has built-in tools and also SEO apps. So it can bring a solid set of SEO options such as editing meta tags, customizable titles, or auto-generate sitemap.xml.
In addition to the built-in features, you can also expand the possibilities through the integration of SEO apps on the Shopify app store. There are a variety of plug-ins to help you with image optimization, issue scan and suggestions, etc.
Magento, in contrast, has more flexibility with an SEO perspective. Since it is self-hosted and also an open-source platform so that you can dig deep into your website's structure. This makes Magento an extremely SEO-optimized platform with a lot of SEO functionalities. For instance, meta tags, image optimization, canonical tags, edits of robot.txt files, URL.
Your Magento store can be customized and tweaked the way you want. Besides, its SEO modules on the marketplace are also very diversified and can help users dynamically optimize their website.
"In conclusion, regarding App, Extensions, and Customization abilities for SEO, Magento demonstrates its superiority over Shopify because of its self-hosted and open-source nature."
Ease of Use
As a SaaS solution, Shopify is made for ease of use. If you don't have specifically high-tech requirements, chances are you won't have to work with a single line of code. From editing meta descriptions to changing URLs, everything can be easily done via an intuitive interface.
On the other hand, it is much more complicated with Magento as this platform offers more powerful SEO capability. Plus, it allows you to customize the site and entirely change default settings. So you will need to either have enough resources and knowledge, or you'll need to look beyond Magento. If you are a non-techie, be aware that you'll need to edit the robots .txt file and meta robot directives to make that site indexing from search engines switched on.
"If you want something that is easy and intuitive, Shopify is definitely the better choice"
Cost
For Shopify, you'll still need to pay to add SEO apps to your website. The average monthly charge plan for an app available on the Shopify app store usually is around $20, which is pretty reasonable. However, the price is quite reasonable even for those top-ranked apps and some of the apps also provide free plans!
On the other hand, with Magento, you will not only need to pay for labour fees for SEO configurations and coding stuff of developers but also for its SEO modules to expand the SEO functionalities. The price is usually above $100 for an SEO app. This is one of the reasons why Magento is more suitable for corporations than for small businesses.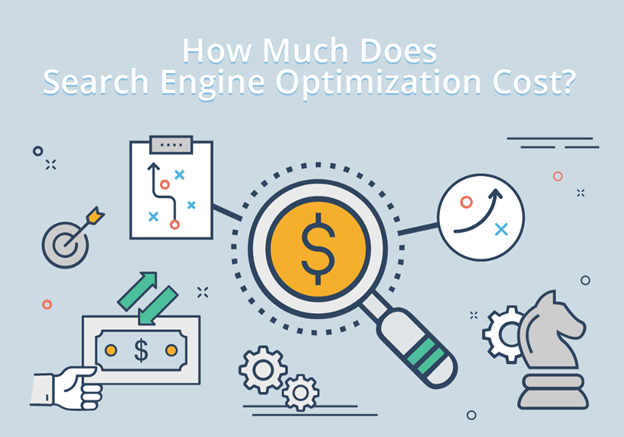 <Alt text: Magento vs Shopify for SEO: cost
Title: How much does SEO cost?
Caption: How much does SEO cost?>
"In terms of cost for SEO, Shopify is definitely less expensive than Magento."
3. Conclusion
Regarding technical requirements for SEO, both platforms are great options to consider and can help you rank high in SERPs.
If you prefer ease of use and just want something simple, go for Shopify as it is an all-in-one solution and can be easily managed. On the other hand, Magento offers you extraordinary abilities for customization and diving deeply into the system and complete control over every SEO aspect of your store. If you have technical skills or don't mind spending extra money and effort to make your website fully optimized, Magento is the option you can't miss.
In case you already have a Magento store and want to move to Shopify for its ease of use and automation, the great news is that you can now do it with just a few simple clicks. There are migration tools that can help you perform the migration from Magento to Shopify seamlessly. Good luck with your decision!To capture the big picture of the eCommerce industry in 2020 and 2021, check out our latest informative research on eCommerce trends in 2021.