Inside Look: Is The Pandemic Affecting Blogger Incomes?
As the coronavirus continues to spread, thousands of industries have been ripped apart by rising unemployment, slashed budgets, and stay at home orders. Nearly every industry has been affected, though the impact has certainly been uneven. 
Some industries, including restaurants, movie theaters, and travel, have been devastated. In other industries, such as tech and education, many businesses have been able to pivot their offerings or successfully transition to a remote work style that allows them to continue serving customers and shipping products. 
The impact of the coronavirus is particularly devastating when you consider that more than 59% of Americans live paycheck to paycheck — meaning they have no savings to fall back on or a checking account that offers rewards just for using it.
But what impact has COVID had on the blogging industry, which relies heavily on online traffic and ecommerce sales? Are all bloggers impacted equally? Most importantly, is there anything you can do to recover the lost income and prepare for an uncertain future? 
The COVID Impact on Blogger Incomes  
According to a recent survey, 7 in 10 Americans have had their income impacted due to the coronavirus — and that includes many bloggers. The economic fallout from COVID has been felt across industries, but the actual impact varies drastically from niche to niche. 
For example, travel-related blogs, such as The Points Guy, have seen their profit streams evaporate as credit card sign-ups plummet, and many credit cards suspended their affiliate programs. 
Bloggers that rely on ecommerce sales may not be feeling the pinch, as ecommerce sales have skyrocketed in recent weeks.  
Bloggers with multiple streams of income — for example, those who sell their own products and earn affiliate income, may experience less of an impact than those that rely on a single stream of income. 
A few other significant trends impacting blogger incomes include: 
The decrease in ad spend, which impacts bloggers who rely on ad platforms like Google Ads to monetize their sites. They are earning less per ad, which means the same traffic is now worth much less. 

A decrease in affiliate rates from big players like Amazon, which has drastically cut revenue for bloggers that rely on affiliate earnings. It is worth noting that most other affiliate programs have not cut rates, which means now might be the time to look for other affiliate partnerships. 

The massive decline in travel, which is impacting travel bloggers, photographers, and many influencers. These industries may not return to their former glory for months or years. 

A

sharp decrease

in online traffic for tourism, luxury items, and retail healthcare is reducing ad income, sales, and affiliate revenue for blogs in those industries. These industries may also take time to recover as people spend less on items they don't need. 
But not all the news is bad.
According to Statistica, sites in tech, media, DIY, and sports equipment, among others, have seen a marked increase in online traffic in recent weeks. Which is great news if your niche involves those topics.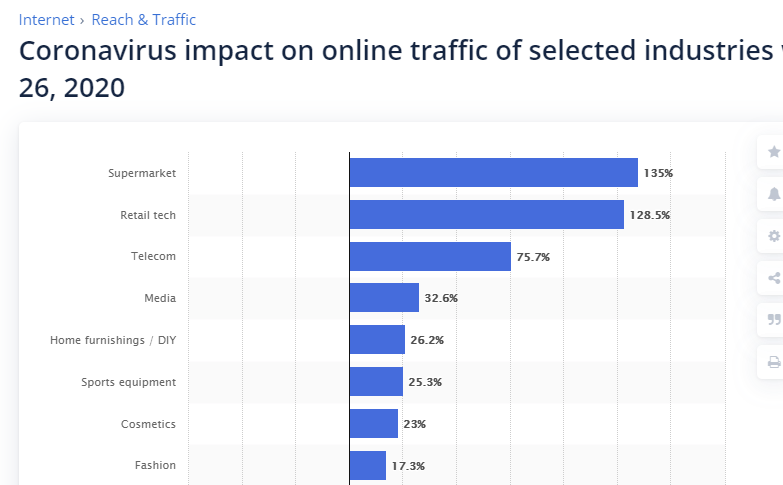 For example, my blog covers digital marketing and SaaS software reviews. As you can see in my May 2020 Blog Income Report, I made over $80k.
Other industries that are faring well in the pandemic include blogs dedicated to learning management systems, schooling and activities for kids, at-home workouts, and work from home tips or products. 
Strategies for Recession-Proofing Your Blogging Income   
For many, the blogging lifestyle is a dream come true. Whether you're an experienced blogger or just starting a blog as a side-hustle, there are a variety of strategies to recession-proof your blogging income — for both today and for future economic downturns.   
Starting a blog can be a very rewarding task, which can help promote yourself, a business, or even provide you with extra income. During these times, it may be more difficult to maintain a stream of income so blogging can seriously help here. However, blogging isn't always a straightforward process. However, there are many only guides helping people run and maintain a blog. One particularly helpful guide was by QuickSprout, who has produced 'How To Start Your Blog', a useful guide which helps you make sense of any jargon and makes it much simpler to run a blog well.
Start by adapting your marketing strategy in the wake of COVID-19 by listening to your customers and refining your content marketing strategy. 
Then, take the steps below.  
Diversify Your Income Streams 
Multiple income streams will always make it easier to weather economic downturns. Just like businesses rely on multiple products or services, a successful blog should not rely on any one source of income — especially when that income relies on a third party like Facebook or Amazon. 
So, how can you diversify your income? It will depend heavily on your industry, of course, but here are a few ideas. 
Consider branching out into podcasting, which may allow you to reach a wider audience and earn income through ads or affiliate sales.   2020 is the year that Podcasts became big business. It is reported that 155 million people listen to a podcast every week, with 24% of the US population (68 million) listening to podcasts weekly and that's without mentioning Joe Rogan signing an exclusive deal with Spotify for $100m.
This demand for podcasts shows that there is huge potential to utilize the medium in many ways which could leave you with many questions if you are considering starting your own podcast.
Podcast How To is a great place to start as they share their experiences, and have you covered in their How To Start A Podcast guide.
If you are relying on a single affiliate program, consider joining other programs, including partnering directly with tools you already use, such as your hosting company, email platform, or marketing tools. 
This is the exact strategy I use to diversify my blog income and in May alone, my blog generated over $60,000 in affiliate marketing revenue through promoting 64 different SaaS tools, which you can read about here. 
If you write for other sites, consider offering SEO copywriting services in addition to ad hoc articles. These services are in high demand as businesses seek to improve their online presence. 
Consider selling your own digital or physical products, such as an ebook, journals, templates, or worksheets. Selling your own products is often a reliable income stream, as you won't have to rely on a third-party site that could change its terms and conditions. 
Maximize On-Site CRO
When users land on your website, what efforts are you putting forth to convert them into a lead, or a direct sales?
Do you use calls to action?
How about mobile-optimized forms? After all, most traffic is mobile now.
When people land on your website, you need to be prepared to take advantage of that traffic.
Most people are looking for more traffic without first focusing on converting the traffic they already have! 
Maximize your website during this time. 
Shift Gears to Become an Influencer 
Many influencers are doing quite well during the pandemic, due in part to brands looking for more authentic ways to reach their audiences. If you are a blogger who has spent time cultivating an audience, you may be able to partner with brands and get paid to promote them to your audience. 
According to a recent report, 57% of marketers intend to increase their influencer budgets in 2020, with 20% stating they intend to spend as much as half of their digital marketing budget on influencers. 
Not sure how to get noticed as an influencer? Start looking for top hashtags, look at the most popular posts, and then analyze the top results to develop your own niche and strategy.
If you are looking to shift from blogging to influencing, consider researching hashtags, then using popular industry tags to extend the reach of your posts. Even micro-influencers (those with fewer than 10,000 followers) can bring in several hundred dollars per sponsored post. 
Focus on SEO 
Search engine optimization has never been more important than it is right now. Here's the deal: online traffic is higher than ever before. People are spending more time at home and more time on the internet — but they might not be finding your content.  
If you haven't invested in SEO before now, it is time. 
If you haven't reviewed your SEO strategy for a while now is the time. 
Start by researching SEO tools like SEMRush or SEO PowerSuite — these tools can help you up your SEO game without investing thousands of dollars in a course or an SEO consultant. 
Utilize time-saving tools like Wordable, where you can transfer content directly into your CMS: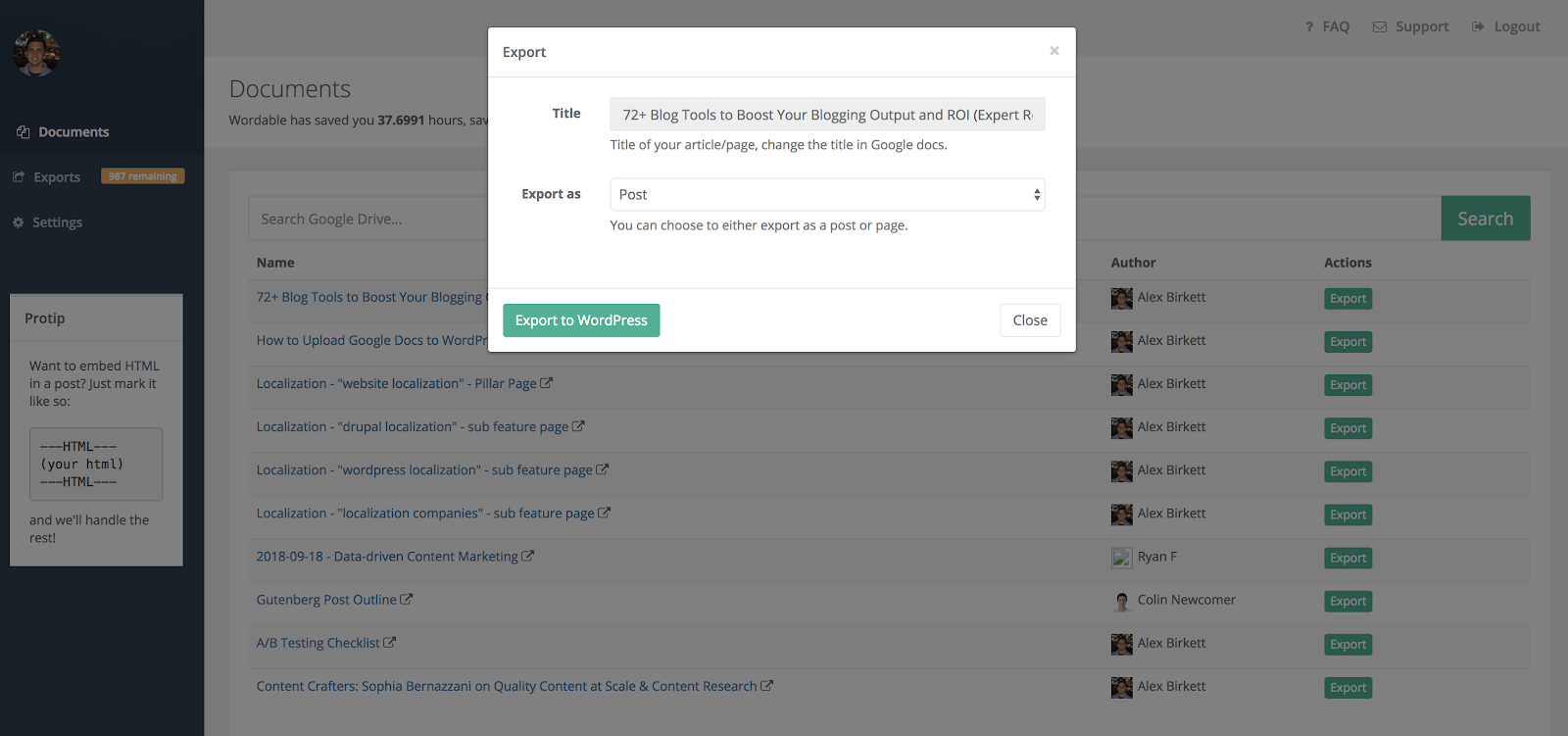 These will not only help you perfect a strategy, but free up time for more content production, and less back-end fine-tuning. 
Here are a few other SEO strategies to improve your site's rank: 
Work to improve your site speed:

According to Google, your site should load in three seconds or less — and that includes on mobile devices, which make up more than half of all internet traffic. 

Fill content gaps:

Look at questions site visitors ask and searches they make through your site search. Create resources that answer those questions. 

Add internal links to newer content:

Most bloggers have been creating content for years. If that is you, go through older content to update it with new stats and information, then add links to newer content. This can reduce bounce rates drastically. 

Add CTAs

: What action do you want people to take after they read your blog? If you haven't created a CTA — or if you are using the same CTA for every page — now is the time to update them. Ask readers to share content on social media, subscribe to your email list, or ask a question. 

Check your headings

: If you aren't using H2, H3, and H4s in your posts, there is a good chance your posts are hard to read. Headings make content easier to scan, which readers prefer, and also carry more weight in Google.

 
In 2020 creating a successful content marketing strategy to help you reach your audience and boost conversions is as essential as ever. By establishing an effective content marketing strategy, you can do just that — and as a result, increase conversions, improve brand awareness, boost revenue and establish yourself as an industry leader. Our friends at theguerrilla.agency have produced this helpful article on content marketing trends to provide you insight on what currently works in 2020, and how you can build on that for 2021
Look for New Opportunities 
If your previous work has dried up, now might be the time to look for new opportunities. Some travel writers, for example, have shifted to sharing advice for navigating the lockdown or writing about traveling in their own countries.  
During COVID-19, more and more companies are hosting virtual conferences, which means more content is needed. If your current work has dried up, consider creating content aimed at working from home, cooking, or at-home workouts. 
Start connecting with people in your niche, too. Send your connections a calendar invite link and just strike up a conversation with them. I've been doing this since lockdown hit, and you'd be surprised at how many wonderful ideas you can generate for new business through simple 10 minute conversations. 
Consider joining sites that post jobs for bloggers, like ProBlogger, or sites that match freelancers with companies looking to hire them, like Gun.io. 
Alternatively, you could pursue a new niche that is less impacted by economic downturns, such as AI, conversational commerce, automation, and machine learning. 
Conclusion  
Like many other industries, blogging has been hard hit by the pandemic. Unlike many other industries, however, blogging is inherently flexible. Influencing, for example, is a surprising bright spot that is showing a lot of promise in the industry and should not be ignored. 
Writers who are struggling to recover lost revenue should shift focus towards topics and content types that are growing fast — such as automation and virtual conference content.