How to Use Content Marketing to Increase Your Sales in 2020
---
For those of us in the eCommerce industry, or even for someone who is looking to get into this field, the question of attempting to reach our audience can be quite an unnerving one. We're all aware of the fact that no business can take flight in today's world without the presence of proper marketing – but in an increasingly saturated digital environment, it's not as easy as that. 
Of the many marketing methods, the one that's continues to pay dividend year after year is content marketing.
While it's a term that's become practically passé, most people still don't fully understand what content marketing really means, practically speaking. No, content marketing isn't just about creating blog posts. I can assure you it's definitely so much more than that. 
Let's take a look at what content marketing is all about, and how we should be applying it to increase our sales in 2020 and beyond. 
What is Content Marketing?
Content marketing can be defined in numerous ways by different people. However, I believe that the Content Marketing Institute has the most crystal clear definition of it: it defines content marketing as a strategic marketing approach that focusses on the creation and distribution of content that is relevant, valuable, and consistent. 
The Marketing Helpline goes a step further in defining it as distinctly different to traditional advertising, because you're not trying to convince someone to buy a product or service from you – rather, your content marketing is aiming to show them that you're an expert in your field.
The aim of content marketing is to attract our target audience and turn them into valuable and long-term customers. There are several types of content marketing we can employ in order to increase our sales, ranging from videos and infographics to podcasts, e-books, and so on.
How to Use Content Marketing to Increase Sales
Are you seeing a new train of followers flocking to your website? If so, then you obviously want to convert those visitors into customers. However, so many of us feel confused about how to go about this process. That's when content marketing comes into the picture.
The good thing is that we don't have to do everything all by ourselves. There are multiple platforms that can assist us in this regard. Systeme.io, for instance, functions as a comprehensive marketing platform and aids us in discovering how content marketing can be used for the benefit of our company.
Here are some ways in which we can use content marketing to increase our sales in 2020: 
 1 Understand the Sales/Conversion Funnel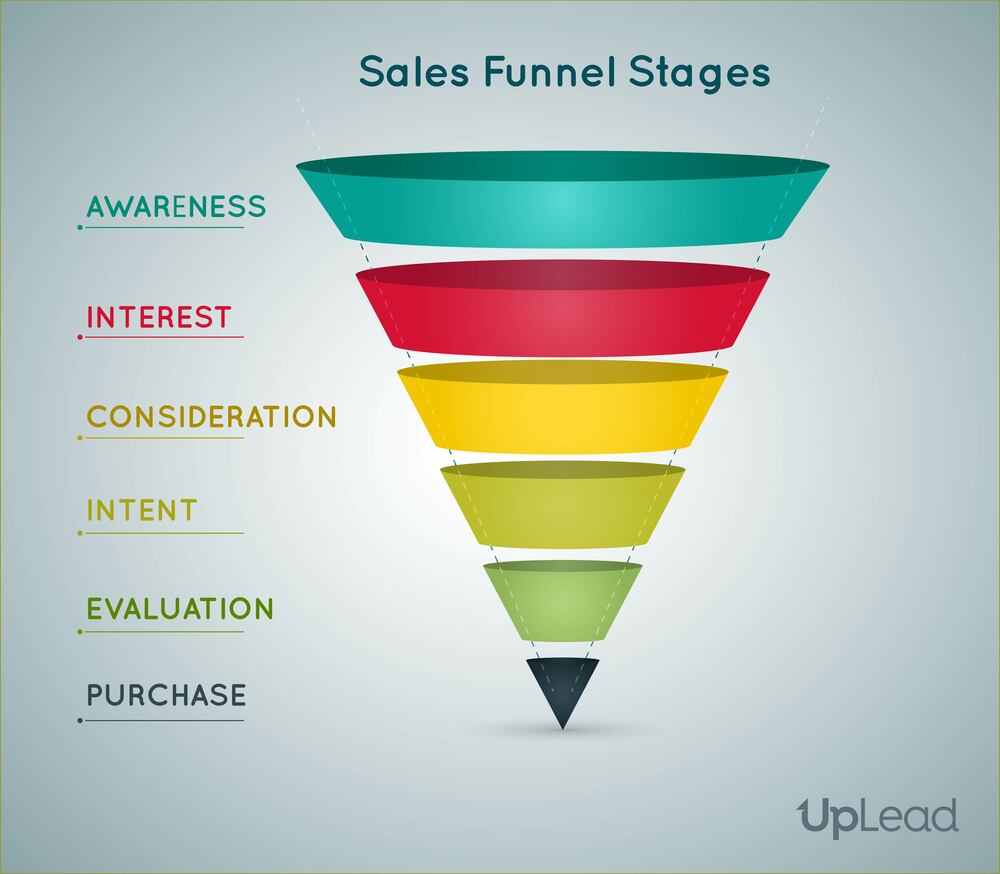 (Source: https://www.uplead.com/sales-funnel/)
Before we start applying content marketing to increase our sales, it's very important to understand the sales or conversion funnel. The various stages of sales funnel are awareness, interest, consideration, intent, evaluation, and purchase. 
Firstly, a customer comes across our brand, and if they like what they see, they get interested in exploring a little more about our company, Then comes the consideration part, where they think that they can probably see themselves making a purchase from us, after which comes the part of giving themselves reasons why they need those specific products.
We then move on to the evaluation phase, where they go through our services and products, thinking what to buy, and ultimately end up making the purchase, which is the final stage of the funnel. It's these final stages where we need to employ our content marketing skills to convince them that our services and products are exactly what they need.
In order to do this, understanding the sales funnel becomes very crucial. Free consultations, quotes, pricing, coupons, free trials, etc. are some of the ways in which content can be used throughout the sales funnel to give our customers the incentive to buy from us.
2 SEO-Optimized Content
Search engine optimization (SEO) is the key to spreading our content across all the important search engines. If the content we create is SEO-optimized, it automatically increases the chances of it getting discovered. 
To begin the process of creating search-engine-optimized content, we first need to look up the keywords that are trending the most related to our field. We should then proceed to add those keywords throughout our content, so that its visibility increases on search engines such as Google.
It's important to make sure that we don't forcefully stuff those keywords into our brand's content, because or else Google will discard us as a brand that's behaving like a robot. The keywords should be added naturally, which is only when they seem organic with the post. Adding the keywords to our titles and meta descriptions is important, too, so that the readers can see it when they look up that keyword on Google.
3 Create Trending and Relevant Content
It's not enough for us to just start creating content. We also need to dig up what content is currently trending, and what it is that our target audience wants to read about. If we just create a blog and begin developing posts that we think are worth it, that won't be our road to success. Instead, we need to focus on the needs and interests of our customers.
In order to do that, it's wise to look up the trending topics, what our competitors are posting about, the content mediums our fellow brands are using, and so on. Once we have done this research, we should proceed to post content that's not just relevant to our customers, but also something that will provide them with information that's not readily available elsewhere.
For instance, if we're a brand that deals with skincare, we can provide them with tips related to how to brighten up dull skin, or the type of products individuals with oily skin should use, and the like. If it's a bookstore we're running, then perhaps a Facebook or Instagram post that briefly talks about the must-read books of 2020 will work, and we can also provide a link to our blog post that talks about these books in detail, and so on. 
4 Add CTAs to Content
When it comes to increasing our sales, call-to-action (CTA) is a vital element to take care of. Whenever we're discussing a topic in any form of content that applies to our products and services, adding a CTA is a good option. 
For example, if we're a brand that sells makeup, and are talking about the makeup products you must-have for your daily makeup routine, we can just add at the end of the blog post, saying something like, "If you wish to buy those products, go check out our XYZ website …" 
Or perhaps our company is into stationery products, and we're making a YouTube video of how to use stationery creatively, the CTA can either be inserted in the right-hand corner of the video, be added a pop-up, or even be spoken about in the description of the video.
It's all about how we blend in the CTA in our content that makes it enticing enough for our customers to click on it. However, we must make sure that the CTA blends in seamlessly with the content, and doesn't look too cumbersome or overpowering. 
5 Make Product Tutorials
Our customers appreciate it when we provide them with useful information. That's what makes them value our brand more, which in turn makes them purchase from us time and again, thereby increasing our sales. This information can be provided in the form of tutorials.
These tutorials can take the form of both written content as well as visual content. We all know that videos attract a lot of attention, and when a tutorial is provided in the form of a video, it increases the traffic to our website, informing more people about our brand, and hence raising our sales and brand awareness.
Make these videos and tutorials engaging, informative, and entertaining. Say, for instance, you have come up with a body scrub that has coffee in it. Now, many might wonder if coffee is good for their skin. In that case, what we can do is provide a tutorial, enlisting the benefits of our product, and also the benefits of adding coffee into that product. We can display how to use that product on our body, thereby ensuring our customers that it indeed is an item worth buying. 
6 Display Testimonials and Intriguing Use Cases
Whenever we want to buy a product, the one thing that encourages us to get it, even more, are the positive reviews we see from other people. Therefore, an element of content marketing that is sure to increase our sales are the testimonials from our customers. In addition to these customer testimonials, we can also choose to add examples of how to use our products.
We must make sure that we add these testimonials and use cases to our website in a manner such that they're visible to our target audience. These serve as social proof, and showcase to our customers that we are thoroughly dedicated to providing the maximum customer satisfaction possible.
Biography : Aurélien Amacker has been a web entrepreneur since 2010. After helping tens of thousands of people to launch their online business, he decided to create the French Clickfunnels in 2018.
Today his software Systeme.io is the leader on the French market and he is now tackling the English market.
---