How to Use Brand Mapping Effectively to Position Your Brand
---
Introduction
Brand mapping is amongst the most effective ways to position your business and build your brand. One of the most challenging things for businesses to do is differentiate themselves from their competitors. That's where brand mapping comes in. By using this strategic tool, you can help your company establish itself as the market leader.
The first step to achieving your brand-mapping goals is focusing on what you want and need to change. Then, identify the company that you'd most like to compete against and how they do it. Next, brainstorm how you can be different from them in each of these areas.
Significance of Brand Mapping & How to Use it Effectively
Brand mapping ensures that your product or service has a unique identity in the marketplace and doesn't face an identity crisis. For example, when we hear about search engines automatically the name Google pops up in our heads. That's the mapping of brand mapping.
In this post, we will delineate ways to competitively differentiate your identity and form a unique proposition in the head of your target audience groups. So, without further ado let's have a look at these five strategies of brand mapping to give your product or service the unique recognition or position that it deserves in the marketplace:
Scrutinize Your Current Position in the Market
When you understand your business in the broader context of the market, it becomes easier to judge what is unique about your offering and how it differentiates your business from others.
Your market position has a big impact on brand recognition. You can establish your business as a market leader and set industry standards.
Before you begin developing a plan to increase sales, it's important to first understand your current position in the market. Ask yourself these questions:
a) Where are you in the marketplace?
b) What are your current customers' buying habits?
c) What makes them buy from you over other companies? Do other competitors offer similar products and services?
d) Are there any advantages to working with your current customers rather than competitive companies?
Image Source: mykpono.com.
Try to find out more about your market before you make any major decisions.
Perform Competitive Benchmarking
Competitive benchmarking is a key part of any marketing plan. There are several ways to do this, from understanding your competitors' strengths and weaknesses to analyzing the actual numbers. Once you've got an idea of how good your rivals are, focus on how good you can be at what you do.
Performing competitive analysis allows you to develop strategies and tactics that businesses in your market use for their products or businesses. It's a way of learning from the mistakes other companies make and avoiding the same ones in case your own business falters.
We've got good news: It's much easier than you think to identify your competitors. The key is to understand the strategies used by companies in your industry so that you know how to match their strengths and weaknesses. Once you've done enough research, you'll be on the right track toward developing a competitive brand positioning strategy that maximizes your chances of growth.
A number of ways can be employed to competitively benchmark your rivals, some of them include performing market research, customer surveys, and employing several social media listening strategies.
Highlight Your Unique Proposition or Unique Selling Point (USP)
Your unique selling proposition (USP) is the primary benefit you offer to your customers, and it's your main channel for communicating with them. Develop a compelling and direct message that narrates your unique value proposition to your target audience.
Your USP should be simple but catchy; it should also be unique to your business. Think about how you can use your unique selling proposition to help differentiate yourself from your competitors. It may sound like a cliche, but an effective USP will attract customers because it's easy to understand and requires no explanation. A good way to increase the value of your USP is by creating marketing materials that include its uses and benefits in actionable steps to help educate potential customers about what makes your offering special.
For example, Power BI is a leading data visualization software from Microsoft; it conveys its unique value proposition as follows: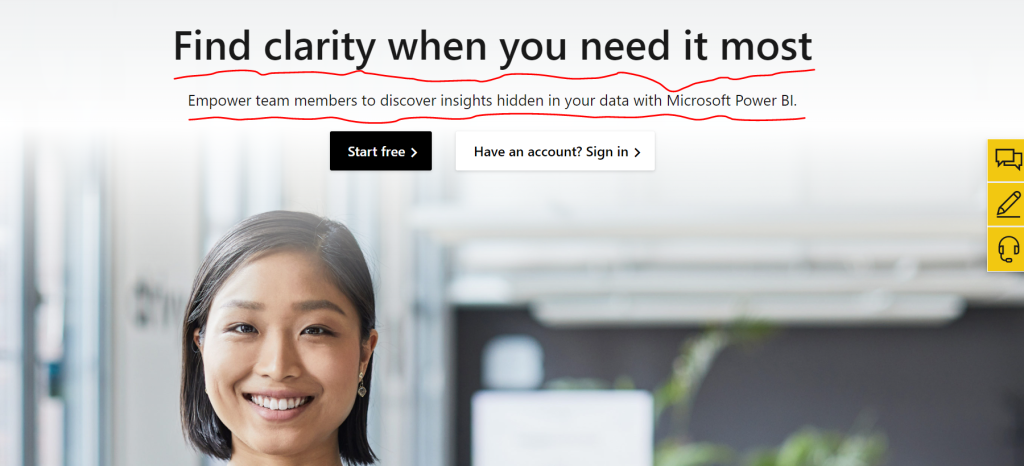 Image Source: powerbi.microsoft.com.
Think about the problem you solve for your customers, and then focus on their pain points. Choose words that describe what makes your product or service special, and how it solves a problem or challenge. You will earn more trust and become more trusted because of your uniqueness.
Your Positioning Statement Must be Meticulously Drafted
Once you identify your USP, it's time to draft a positioning statement. A good positioning statement can help position you in the minds of your customers, prospective customers, and employees. The clear and concise wording identifies exactly what you offer and why people should choose your business over others.
The more concisely you can write a good one, the better your brand will be understood by customers and other stakeholders. A meticulously drafted and compelling positioning statement helps clarify your competitive advantage and can help you attract customers by aligning with their needs.
Before you draft a compelling positioning statement you should ask yourself the following questions:
How does your brand position itself differently than competitors?
How is the product different from the competition?
What benefits your brand offers over its competition that sets it apart from those who are below it on the value chain?
What do you want your customers to feel about your business?
What are the problems that you solve?
Where does your brand fit in the landscape of products/services?
Is there anything unique or different that sets you apart from other companies?
A compelling positioning statement will answer these questions and give your start-up a clear idea of who they're going after and what they have to offer customers.
Use Brand Mapping to Evaluate Your Position
Brand mapping can help you evaluate your position in the market. It helps you understand what drives consumer decisions, and how you rank among other companies in your industry. Understanding this information will help you determine the direction of your brand, as well as whether your brand aligns with your business strategy.
Using the strategy allows you to evaluate your strengths and weaknesses by mapping out what customers value about your product. You can then use this real-time information to figure out where to focus your marketing strategies.
In all, the marketing and sales Analysis brand mapping plays an important role. Some strategies for effective brand mapping are as follows:
Attracting customers by employing the keywords that define your brand's using position and clubbing them judiciously with your branded keywords
Highlight your vision well in a way that resolves or addresses the multiple pain points of your target audience groups
Be futuristic, constantly innovate and delineate your plan of action well in advance for years to come
Here's an example of brand mapping by Gartner for the popular Business Intelligence platforms in 2022: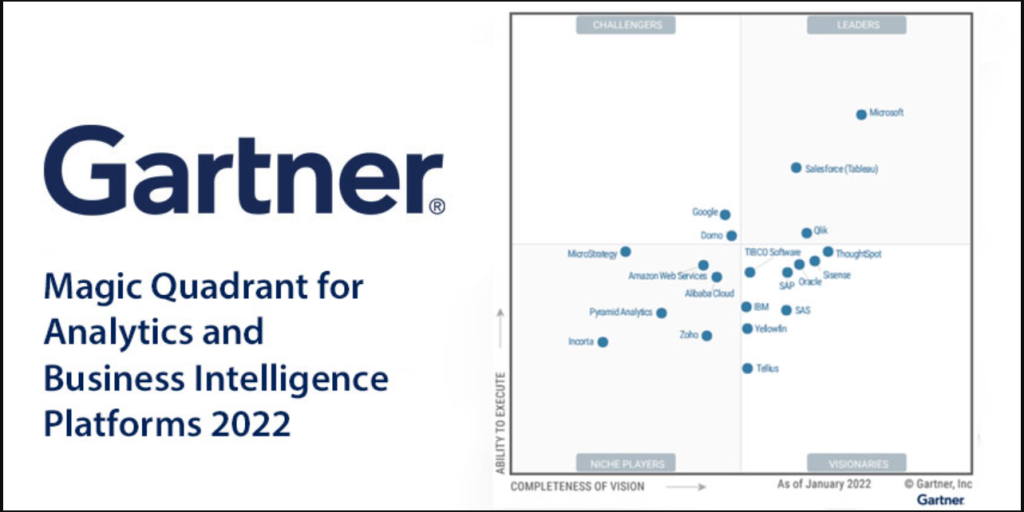 Image Source: Gartner.com.
As evident in the brand map by Gartner, brand mapping is a method for mapping out the perceptions of your brand, competitors, and consumers. By presenting the results of this analysis in a form that's easy to understand and visual, such as an Excel spreadsheet, you can quickly see where there may be gaps in your brand's positioning.
Brand mapping allows you to test what you think about a particular point of focus and see if consumers agree with your thinking. It also helps you see where your competitors are marketing and whether there are any outstanding opportunities in the market.
Though you might use brand mapping to assess your organization's marketing strategy, you can also use it to evaluate how well you're doing with other businesses in your industry. It's a great way to check out what competitors are doing and analyze trends in your market.
Once you've determined your brand's position on the market, use brand mapping to evaluate what other companies in your industry are doing. You can discover how well your marketing strategy is working and whether or not consumers recognize your USP. If there are any trends that need to be addressed, you may need to take action.
In Conclusion
Brand mapping is a process of understanding the attributes and characteristics of your brand. It allows you to see where you are compared with your competitors, and it also gives you an opportunity to evaluate where you want to be. Once you know these two things, we can help create a strategy that fits progress and industry growth.
It's an ever-going process and should be an ardent part of your marketing strategy. It gives your brand team a chance to understand what the journeys of customers are like, and where you are compared with your competitors. Once this information is accessed and analyzed, a roadmap can be created for future marketing efforts.
You should be mapping your brand to see not only where you are today, but also where you need to be in the near future. It gives you an opportunity to evaluate what you're doing as it is now, and where you want to go with your brand.
Author Bio
Priya has about 7 years of experience in Market Research. Currently, she is working for Valasys Media, as an Assistant Manager – Content Strategist, which is amongst the top B2B Media Publishers across the globe. She has been preparing several personalized reports for our clients & has done a lot of research on market segmentation, cluster analysis of audiences & inbound methodologies. She has worked with government institutes as well as corporate houses in several projects. She possesses various interests and believes in a data-driven approach to problem solving. She holds a post-graduation in science also writes extensively on all things about life besides marketing, science, data science and statistics. She is a firm believer in higher realities and that there's always more to life than we understand. She is a psychic healer and a tarot practitioner, who believes in a spiritual way of living and practices Yoga and meditation. When not writing you can find her enjoying music or cooking.
---