How to redesign your logo for greater success in 2022
---
If you ask a person what rebranding is, most likely they will say it is a change in the company's logo. This process is much deeper, because not only the external attributes change. Let's understand what rebranding is, why it's needed, and how to rebrand in 2022.
What rebranding means
Rebranding is a complex of actions and activities that transform the internal business processes of a company and the external perception of the brand by the target audience. That's why a change of packaging design is part of the rebranding, but not limited to it. Components such as:
the company's mission;
market positioning;
the philosophy of the brand.
All this helps companies to stay up-to-date, meet the needs of their audience, to keep up with their competitors as the market itself is transforming.
For example, in the 2000s, the Nokia brand was at the peak of popularity. But with the emergence of new manufacturers and technologies, it began to lose its position. But Samsung has successfully evolved, including changing its logo in 2015.
Reasons for rebranding
Do companies start transforming their internal processes for nothing? Of course, they don't. Several reasons and factors suggest a firm needs to rebrand. Such a factor might be a merger or takeover by another company. Components such as:
corporate identity;
logo;
objectives;
brand mission;
positioning.
A bad reputation in the market is also one of the reasons for rebranding. Sometimes it is cheaper than restoring consumer confidence with traditional methods.
Stagnation in development and degradation of the company are serious «bells», saying that the firm is not achieving its goals, not growing. Rebranding in this case can help revive the company.
The emergence of strong players in the marketplace forces existing brands to constantly change. If you stay in place, don't change products, and don't renew technological, and business processes, you can quickly lose market share. To remain competitive, companies are rebranding to meet new realities.
Another reason for the change is to enter new markets, to change the pricing policy. You can't just start selling premium products when before there were only budget products.
Brand renewal is necessary if a company enters an international market. All the design elements, the mission, philosophy, and values of the company should be understood outside the country.
For example, the French baby food manufacturer "Bledina" entered the market in the 90s. For obvious reasons, the brand did not stay on the shelves.
Rebranding goals and objectives
One of the main reasons for rebranding is the loss of interest in the company's product on the part of customers. And that doesn't mean that the product or service has become worse. Often consumers need to look at familiar products in a new way. What goals and objectives are companies pursuing by rebranding?
To attract new clients, to expand the target audience. It also attracts the attention of existing clients;
To increase the competitiveness of the company in the market, to adapt to new realities of the market;
To make the product modern, trendy;
To demonstrate the uniqueness of the brand, to set itself apart from competitors;
To change assortment, to introduce new products;
To enter new markets;
To form and improve reputation;
Increase revenue.
Goals and objectives are often formulated as measurable metrics. For example, an increase in loyal customers of 10% for the year. Or a 20% increase in revenue for the year. Rebranding failure is also measured by these metrics.
For example, Tropicana redesigned its packaging in 2009, spending $35 million to do so. At the same time, in 6 weeks of sales with the new design, sales fell by about 20%, and the company lost $27 million. The old juice package design quickly returned to store shelves.
How to rebrand in 2022: logo design tips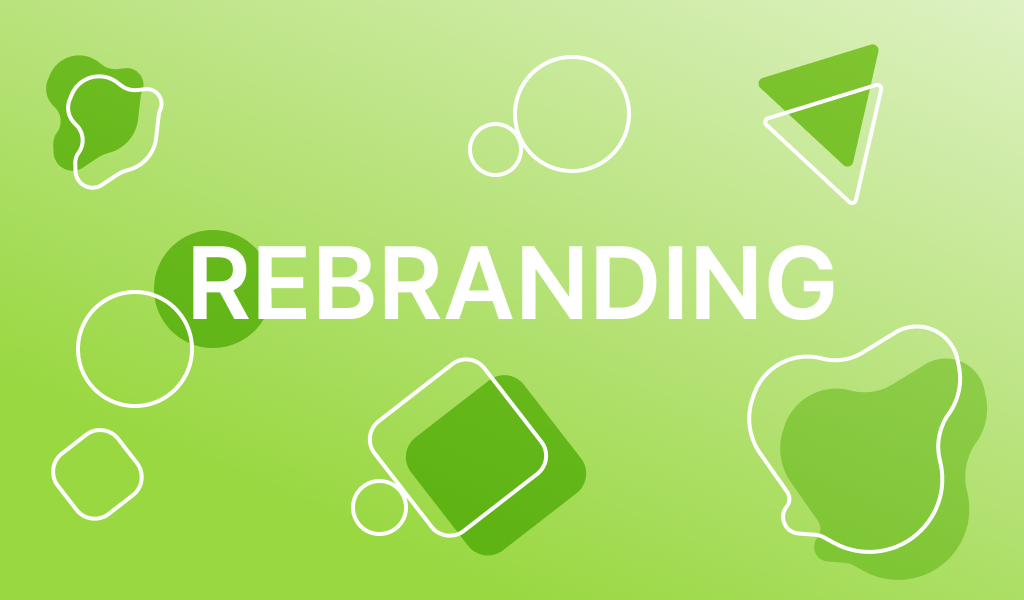 Logo design is an extremely complex process that requires certain knowledge and skills. To understand: how to rebrand in 2022, it is important to use logo design tips. The tips described below apply to all types of logos and all types of companies, products, and organizations.
Keep the logo simple
Simplicity is the most important thing when it comes to great logos. A simple logo is easy to recognize, easy to remember, and easy to use on a variety of products.
Make it memorable
Your logo should tell a story about your brand, so it must stand out, is noteworthy, and leaves a positive and lasting impression.
Choose the right color
Color plays a big role in good logo design. It attracts attention, arouses emotions, and motivates a purchase. So when creating a logo, it's important to think about how you'll use the colors you choose.
Approach trends with caution
If you want your logo to stand the test of time, then try to make it appropriate for everyone to make your design look good 10 or 50 years after it was created.
Make it relevant
Use colors, fonts, and graphics that represent your company. This approach will make the brand more recognizable and attract more customers.
Make it versatile
A logo should attract attention in any form, so you should be able to adapt it to both print and online without losing quality.
Use online resources and tools
You don't have to break the bank or reinvent the wheel to create a great logo. There are useful online tools that can help you create a great logo. Quite often they are free and available to everyone, although you have to pay to download huge logos.
Conclusion
Rebranding is a great tool for companies that want to stay competitive and change with the market and customers. Work must be done not only on the exterior gloss but also on the internal processes. In this case, rebranding will benefit the company. But with an amateurish approach, such an event can turn into a tragedy for business.
---