How To Outrank Your Lawyer SEO Competitors
---
Small law firms struggle with SEO the most. If this is your first time implementing search engine optimization for lawyers, then you know more prominent law firms have already established their online presence. Even small law firms that have started their Attorney SEO way earlier than you might outrank several of your pages.
So, how do you start climbing up the rankings? Here are a few tips from our law firm marketing experts:
How Does Lawyer SEO Benefit Your Law Firm?
SEO is implemented in every high-ranking website you know.
Remember, people use search engines for everything these days. They use it for groceries, looking up reviews, reading the news, researching, and—yes—finding a law firm to hire. This means there's a lot of traffic coming in daily.
If you rank high and get on the first page, that's a lot of traffic for your law firm website. You won't need to pay for people to see your content or website. Not to mention, since people willingly enter the keywords into the search bar themselves, they're likely already seeking out your content.
Why Should You Try Outranking The Competition?
If you're reading up on SEO, you likely already know your basics: keywords, content, links, and CTAs. So by now, you should have a working website with information about you, your content, and your landing pages.
However, it's one thing to just optimize for search engines, and it's another to pour your efforts into ranking higher. Remember, the SERPs rank results based on the most relevant and high quality. So if another page or law firm ranks above you in the SERPs, they're doing something better.
In short, ranking high and reaping SEO benefits means outdoing your competition. If you cannot do so, you won't start climbing up the SERPs.
Lawyer SEO Tips To Stay Ahead Of The Competition
So, how do you overtake the competition? How do you maintain your rankings? Aside from basic Lawyer SEO strategies (like we briefly discussed above), here are a few tips to help you out:
Tip #1: Research Your Competitors
If a page or website ranks higher than you, it means Google thinks they're doing something better SEO-wise. Some factors you should look into and compare with your own include:
Content quality
Legal topics and relevance
Page design
Backlinks
For example, a competitor might outrank you because they generally have better content. Their content might be better optimized, complete, highly informative, or generally better than yours.
Once you've identified the Lawyer SEO aspects that your competitors are better at, you should use that discovery to inform your subsequent strategies. For example, if you find out that your competitor has better content, you should create new content that is way better than theirs. Likewise, if your competitor has a better backlink profile, you should implement strategies to boost and manage your backlinks.
Tip #2: Improve Your Site Design
Remember, optimize for people, not for search engines. While you might have the best keywords and internal links, you won't see much ROI if the website that houses them is terrible.
One of the most crucial aspects of Lawyer SEO is getting people to stick around and explore your website. The more they navigate your law firm website, the more likely they will discover more content, pages, and offers. Conversely, you gain nothing if people immediately click off right after clicking on a page.
Again, search engines will always cater to the end user. So they're pushing for mobile-friendliness, semantic search, and content relevance.
User experience is a part of this, too. If your website is slow or people close the tab or use the back button as soon as they click on your page, then Google assumes your website is not user-friendly and not worth recommending to searchers. Instead, they look for other websites with better designs and rank them above you.
Tip #3: Find High-Quality Backlinks
After you've implemented all your on-page SEO, there's still another half of the equation that you need to optimize: backlinks.
Backlinks are a crucial aspect of off-page SEO. Of course, you could build the best website with the highest quality content, but backlinks give you credibility.
Think of backlinks as "votes of confidence". If another website links back to yours, they're voluntarily associating themselves with your law firm. So, if you have high-quality, high-authority, and high-ranking websites link to you, then Google knows that your law firm website is also of the same quality.
This also works the other way. If low-ranking, spammy, and low-authority sites link to you, then Google will associate your law firm websites with them.
Hence, it would help if you managed your backlinks regularly. Not only should you be looking to get great backlinks, you should also look out for low-quality ones. While a few low-quality backlinks won't hurt your SEO, failing to check and remove them regularly could pile up and eventually affect your Attorney SEO.
Tip #4: Expand Your Online Presence
Traffic is a crucial Lawyer SEO ranking factor. But how can you get it going if you haven't ranked high enough?
One way to boost your traffic is to increase your presence in other online spaces. You can do this through social media, guest posts, law firm review sites, Google My Business listings, and paid ads. This is a great way to give your law firm website a slight boost.
Not to mention, the optimal strategy for each type of marketing venture is different. How you run your social media profiles will be different from how you manage your Google My Business profile. Likewise, different social media platforms, review sites, and guest post submissions will require various approaches.
That said, simply making a social media profile or setting up GMB for your law firm isn't enough. You have to optimize and manage each new account, too. So, you want to be strategic about which promotional strategies you implement.
You don't want to jump into a marketing strategy without proper planning and consistent optimization and management. Otherwise, you won't gain anything from adding an extra workload. For example, it's better to have two well-performing, optimized, and well-managed social media accounts than running ten that don't yield any ROI for your law firm.
Author's Bio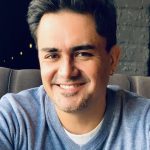 JC Serrano is the founder of 1000Attorneys.com, one of the very few private enterprises certified to process lawyer referrals by the California State Bar. His marketing strategies have continuously evolved since 2005, incorporating ever-changing SEO strategies into lawyerleadmachine.com.
---