How to Leverage BigSpy to Grow Your Home-based Business
---
It's no news that the coronavirus has caused many physical stores to shut down as the social distancing policy has taken effect in most countries. Most notably, businesses are reacting to the COVID-19 pandemic as they fear that the global economy might be heading for rock bottom. While this is a genuine reason to be concerned, however, you're better off seeking alternatives for sustainability rather than allowing yourself to be drowned in hopelessness.  
If you happen to run a physical store, then you would have probably thought of the precarious state this COVID-19 pandemic has put your business in. However, while you may not be able to run your store daily physically, you can leverage the internet to promote your business. Yes, the thought of starting an online business might seem enticing, but we shouldn't ignore the fact that you have some serious homework to do. 
In this article, we'll analyze how you can harness the power of the internet to promote your business despite the COVID-19 situation. Your competitors already understand that social distancing isn't a reason to stay out of business. Many of these brick and mortar stores had already implemented online business with 100% remote working. Thus, to prevent your business from being left behind, we will examine some tips and factors to stay ahead of the competition during the COVID-19 pandemic. 
So, brace yourself as it's going to be a long talk!
What's your business model?
Yes, this should be the basis of anything you're trying to build or promote. You should understand that some businesses will naturally thrive better on the internet as compared to others. No, this shouldn't discourage you as it all comes down to your commitment and diligence. For instance, the download rate for grocery delivery apps has soared since coronavirus intensified in the United States. That should inform you that several grocery stores have transitioned from in-store purchases to online delivery. Undoubtedly, it will be slightly difficult for physical stores to thrive during this pandemic era. But take note, we said "difficult," not impossible. 
A grocery store that direly needs to reach out to its customers might not be able to due to the lockdown. However, while your physical store may be shut down, your online store will continue to be functional with minimal input from you. That shows that an online store could do the trick, and you could end up doing home deliveries for customers who need your products.
So how do you go about opening an online store? Oh, and how will you get customers? Well, we are going to get to that in a bit. Sit tight and pay attention.
Leverage some online tools to start your online store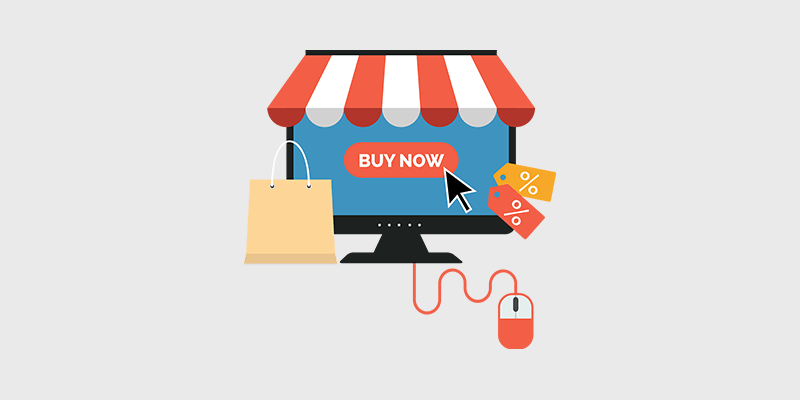 As reported earlier, recent statistics affirmed an upsurge in grocery apps usage. This goes further to prove that people are resorting to online means to tend to their daily needs. If your business is built around selling products used on a daily business, then this might be a wake-up call telling you to get your business online.
With this, you should understand every dire situation comes with clues on how you can still build a thriving business. Now what? You're probably motivated and want to get busy. Well, read on.
Even if you are a novice or newbie in online marketing, you definitely know what a website is. Also, at some point in time, you may have ordered pizza or groceries via an online store. Yes, that's precisely what we are going to be basing our conversation on. When it comes to creating an online store, there are several online store developers you can use.
The beautiful side of this is that most of these store developers start you off with a free plan. For instance, let's consider Wix or Shopify. You can create a free store with Wix, or if you have a buoyant budget, you can try out Shopify. 
Wix is quite simplistic, and you can set it up quickly. If you need help, you can click here to watch a video tutorial on how to set up a Wix website/store. Also, you can try these free platforms to create a free eCommerce website for your store. 
Now you have a store, but how do you attract customers?
Setting up your store is a huge step in the right direction as you now have an online space to market your products. What next? You guessed right, how are you going to attract customers? Before we talk about attracting customers, you should be looking at attracting traffic. And not just any traffic, you want to attract people that are quite interested in your product. 
When looking for specific traffic, Facebook becomes your next stop. Why? This is because Facebook has the data and information of over 2.5 billion active users worldwide. This massive data invariably makes it one of the biggest marketing platforms in the world. To make things easier, Facebook recently launched a Business Resource Hub that is tailored at keeping people safe and informed as regards the coronavirus. The resource hub seeks to issue out grants to entrepreneurs as well as small scale business owners.
You're also going to be receiving insights and ideas on how you can grow and maintain your business in spite of this ongoing pandemic. Facebook will invariably provide you with some useful tools you can kick off with. This should help adjust your budget favorably.
You can also create a Facebook page around your product. This will be particularly helpful in identifying with your old and prospective customers. Feel free to invite them to like and follow your page. If you happen to have other contact details such as their emails and phone numbers, you can send them messages as well. 
However, you need to be careful not to throw our offer to their faces. You must first find a way to offer them emotional support and provide them with hope in the frenzied surroundings of the COVID-19 pandemic. After gaining their attention, you can now subtly introduce your online business and encourage them to follow your pages and other social media platforms.
Advertise your online business
Advertising your business is also crucial to the survival of your business. In this regard, there are several advertisement tools you can use. However, when selecting advertisement tools, one significant fact to pay attention to is the ad creatives. Yes, your ad creative plays a massive role in how your prospective customers resonate with your ads. Let's take a look at the Whataburger ad as regards the current pandemic. The advertisement displayed on their website is quite alluring and resonating. It might interest you to know that this ad creative was gotten from BigSpy. BigSpy has a huge database of ads creatives, when you search with the keywords: COVID-19 and lifestyle, you can find the ad of Whataburger with good performance.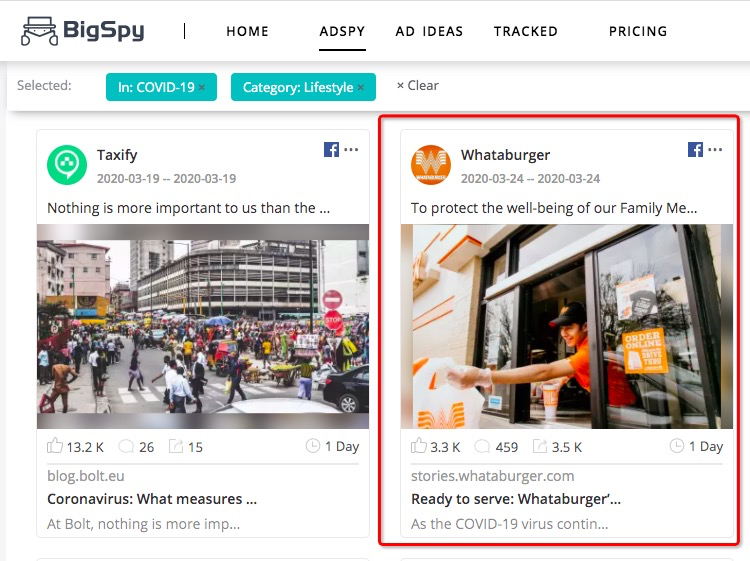 When you try to get some inspiration about ads creatives or struggle on how to advertise during the recession, it would be your smart choice to check BigSpy.  
Try tools to help your Facebook advertising 
Advertising with Facebook is a good way to get the traffic needed for your business. However, advertising on Facebook is quite techy as there are a lot of competitors and other business owners who are looking to promote their products.
To have a good chance at beating some of your rivals, then you need leverage. One recommended ad tool that can give you tremendous leverage is BigSpy.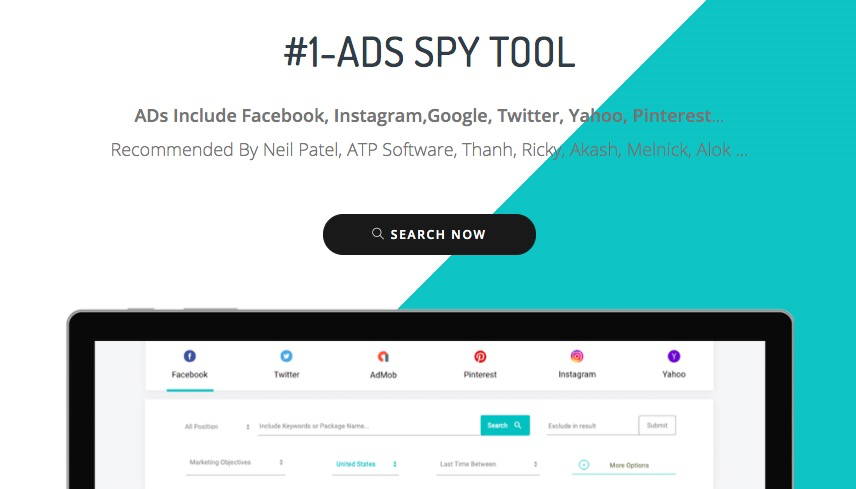 BigSpy works like a Facebook spy tool. This spy ads tool allows you to maximize the effectiveness of your advertisement. This wonderful tool allows you to spy on your competitors' ads and understand how they are converting. That's not all. You also get to monitor and analyze each ad constructively. Once you get several insights into your competitors' ads, you can proceed to beat them at their game. 
ads spy tool with topnotch creatives
Having an ads spy tool with resonating and converting creatives is a huge plus in this advertising. With such a tool, you're halfway close to turning your traffic to customers. As BigSpy can present you with a host of wonderful options, you don't need to spend excess time pondering on the type of ads creatives. As one of its many advantages, BigSpy comes with a simplified filtering and in-depth analysis. Plus, you may have opportunities to get a free trial, as it has rich promotions. 
Cross-platform integration
BigSpy integrates seamlessly with virtually most social media platforms, if not all, these platforms include Pinterest, Twitter, Facebook, Instagram, AdMob, Yahoo, and YouTube. If you would like to check other types of social media marketing, BigSpy would be perfect for you to keep up with other social media networks. Regardless of how you're looking to spy on your competitors or looking for advertising insights, the multifaceted nature of BigSpy has got your covered.
Final thoughts
Yes, this present coronavirus pandemic might be frightening, but your business still has a very fair chance of thriving. Thanks to the BigSpy and other advertising tools out there. You have every resource at your disposal. You should simply reach out and give it a shot as you have better chances of succeeding when you try. Yes, that's it, guys. Remember to stay safe and always wash your hands.
---