How to Conduct a Competitive Content Marketing Analysis
---
You need to always keep an eye on the state of the market if you want to successfully promote a brand or product. You can succeed in this by conducting competitive content marketing analysis. Content marketing analysis provides guidance and pre-made strategies that successfully establish a business.
You may be aware of your company's competitors when developing a content marketing strategy. Are you also aware of your content competitors?
Even though your items may be comparable to those of another business, your content could elevate you to a higher level. Alternatively, your material can be in direct competition with articles created by businesses. These businesses might sell things unrelated to your own. It's crucial to know your content competition and how to outperform them as you design your content strategy.
The success of a business is influenced by a variety of connected aspects in addition to the quality of the items offered. One of the important aspects of a competitive content marketing study. Let's take a closer look at what it is and the appropriate way to go about it.
What Is a Competitive Content Marketing Analysis?
As the name implies, it is a technique for analyzing your rivals' content marketing initiatives and overall business plans. By conducting such an analysis, you can have a more thorough understanding of what they are doing. Also, you can utilize this information to develop your plan. The following three factors will help you understand why you should conduct this analysis:
You'll know how your content marketing stacks up against that of your rivals. Additionally, you'll know what to anticipate from your target market. You'll discover weaknesses in both your content strategy and the actions of your rivals. To determine the most successful strategies, you will compare high- and low-performing material. Your content strategy will also be updated by including new concepts,
Why Do a Competitive Content Marketing Analysis?
You may identify the most crucial metrics and tools for competitive content marketing analysis. As well as the most important indicators (metrics) that you should focus on. You can also use it to easily monitor the trends and requirements of your audience.
The Best Way to Carry Out a Competitor Content Marketing Analysis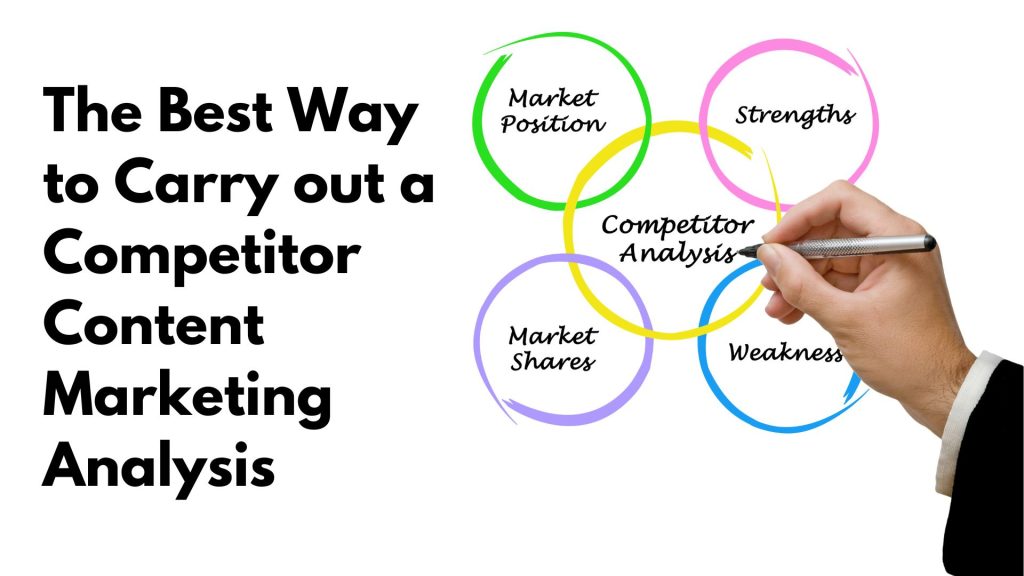 List Out Your Competitors
If you don't already know who your competitors are, the first and most obvious step is to do some research on them and create a list of them. The majority of the time, these are businesses in your particular niche that produce similar material to you.
You will be competing against more than just brands because you are working with the content here. There are probably a variety of media outlets producing content in your industry that are not your rivals. These rivals ought to be included on your list as well because you are in content competition with them.
Analyze Competitors' Products and Services
Analyzing the products and services of competitors is very important in the competitive content marketing process. To grasp this, you must pay close attention to both the subtle and blatant aspects of their online presence.
For instance, the foundational data you used to get started will already offer you a sense of the types of organizations you are up against. Look at their meta descriptions and titles.
Examine the website's linking structure, on-site optimization, and navigation. Look up their profiles on social media. Most importantly, take note of their branding. You can learn how these companies position themselves by looking at all of them. These will enable you to more effectively assess their content marketing efforts.
You can acquire a real competitive advantage by being aware of what your rivals are offering and how the market responds to it. Instead of slavishly imitating the goods or services of your rivals, you should build a product based on market demands.
At this stage, you ought to compile the following data:
The functionalities of competitors' products,
The cost of the product and any discounts offered,
The availability of user reviews, and
The products' weaknesses and strengths.

Take a Look at Competitor's Content Quality
Speaking of content quality, it's a good idea to assess the quantity and caliber of your competitors' content. Both of these are necessary for the success of your strategy as well as that of your rivals.
This is where content marketing services come into play. To accomplish certain corporate objectives, content marketing services include developing a content marketing strategy. It also includes producing, distributing, promoting, and tracking content. Articles, blog entries, ebooks, and other sorts of content are also tracked.
Pay attention to the length and depth of the content. Also, the format it uses, and whether the content is original or curated/sourced all have a direct impact on the quantity and quality of blog content.
Pay attention to the content themes as well. Which are the most well-liked, which are perennial and which are not? The competition content analysis also includes a look at important SEO variables. Consequently, you can spot any content gaps on your website.
Look at the following details to carefully examine competitor's content quality:
The main content categories. It will let you discover the most well-liked content themes in your industry.
Content length.
A key content format such as webinars, infographics, interactive material, reports, films, podcasts, etc.
The methods they are using to draw in a certain audience (such as CTAs).
Involvement of influencers in social media. Make a note of the names and the kinds of content each social media influencer produces if your competitors use them to market their content. You can almost likely get in touch with them to ask for help as well.
Discover how competitors interact with their audiences by learning about content distribution channels. Check out the content shared on competitors' social media pages.
Evaluate the frequency with which competitors post material.
Identify the postings that receive the most interactions: shares, comments, and likes.
Choose SEO Metrics
You can start your analysis once you have enough data on your rivals' websites and content. However, you must first decide on your SEO metrics and requirements for the aforementioned study. The most popular SEO metrics employed in such analyses are listed below:
Top country by traffic,
Domain authority score,
Monthly organic search traffic, and
Average time spent on site.
Estimated number of top keywords, and estimated number of backlinks are also other metrics that you might want to consider. Although you can use other metrics, these should be your primary choice.
You may determine how you perform compared to your competitors by comparing these indicators to the performance of your website.
Analyze Key SEO Metrics
You may now carry out the analysis because you've chosen your SEO metrics and standards. Use one of the many internet tools for analysis that will provide you with the figures for the aforementioned measures for your rivals to do this.
Due to its simplicity of use and abundance of free features, Google Analytics may be the most popular tool in this situation. It will be rather simple for you to obtain all the information you require about your competition if you are already using it for your website. Otherwise, if you like, you may always use a different tool.
Take a Look at Influencer and Social Media Partnerships
Social media is crucial to monitor competitors' social media activity. It is also important to observe what they post and how their audience interacts with them. You should take a look at the social media platforms they utilize. Also track the information they publish, the regularity with which they do so, and the level of participation.
Do users comment on their posts? Commenting, like, or sharing? Is there praise from users? Complaining? You get direct access to what users are thinking through this. Don't forget about it!
Collaborations with influencers can also reveal information about a competitor's content strategy. What kind of influencers do your rivals employ? What do influential people write about them? You might want to investigate whether working with influencers might be beneficial for you since it can be a profitable investment in various industries.
Investigate the Technology That Your Competitors Employ
It would appear that technology is a physical asset that any brand could obtain. Competing companies can use the same eCommerce platform, but they can customize and expand it to provide a distinctive brand experience (intangible asset).
As a result, pay attention to the following when doing your analysis:
Does the business employ open source, SaaS, or headless commerce as its e-commerce platform?
Do they use any unique extensions or plugins?
Do they offer an immersive shopping experience by utilizing cutting-edge technology? Does This cutting-edge technology include AI, Chabot's, augmented reality, or virtual reality?
Is there any way you might deliver a better online purchasing experience by deciding on a different technological stack or putting in place unique integrations?

Look at the Prices and Current Offerings of Your Competition
Perceptual mapping makes it easier to see where you might fit in and how different competitors price their goods. This information provides the benchmark figures consumers are prepared to pay for certain commodities.
Turn Your Competitive Content Analysis Into Action
Outline how you may enhance the content on your website once you have received all of the relevant content marketing data from your rivals. You can analyze your direct competitors and then use that information to analyze your indirect competitors.
Conclusion
An analysis of rivals' business operations can be used to reconstruct your positioning. It can also be used to find target audiences.
The ability to pay close attention to detail and conduct thorough research affects how effective your competitive content marketing analysis is. Use the steps in this article to perform a competitive content marketing study, and then use the results to create a strong content plan.
---