How to Build a B2B Marketing and Sales Funnel That Grows Your ROI
---
One of the main reasons for a business to take off is good marketing. A B2B sales and marketing funnel are one of the most important aspects of developing a successful marketing strategy and it can be used by both SMBs & large businesses. If you are in business, you need to have a marketing and sales funnel. It is the lifeblood of your business and it makes your customer relationships sustainable.
Here are the steps to create your B2B sales funnel and marketing funnel, which helps to grow your business.
How to Build a B2B Sales Funnel?
Building an effective sales funnel isn't easy, especially if you want it to be effective. But it's not impossible. Despite the complexity of the process, building your own sales funnel can help grow your business and bring with it many benefits that automation just won't provide.
Sales Funnel to raise your customers
A sales funnel is a way to get your visitors through the conversion process, step by step. You can use a sales funnel for customer service or get emails in your marketing strategy. The main goal of a sales funnel is to educate customers, ultimately converting them into paying customers
The sales funnel attracts customers
A sales funnel is a tool used to attract visitors and convert them into leads, customers, and repeat buyers. The process starts with an offer or content at the top of a funnel, which you hope will appeal to as many people as possible. As visitors come in, you filter out those who are not interested in adding additional steps in your funnel. Those who make it to the end are your best customers who have shown interest in what you offer, making them more valuable than random visitors
4 stages to building your sales funnel
To sell your product or service online, you need a sales funnel. The sales funnel is the backbone of an effective digital marketing strategy that can be used to generate leads, build your brand and ultimately, make more money. In this post, I walk you through how to build a sales funnel and create actionable goals that can help you achieve long-term success with your business.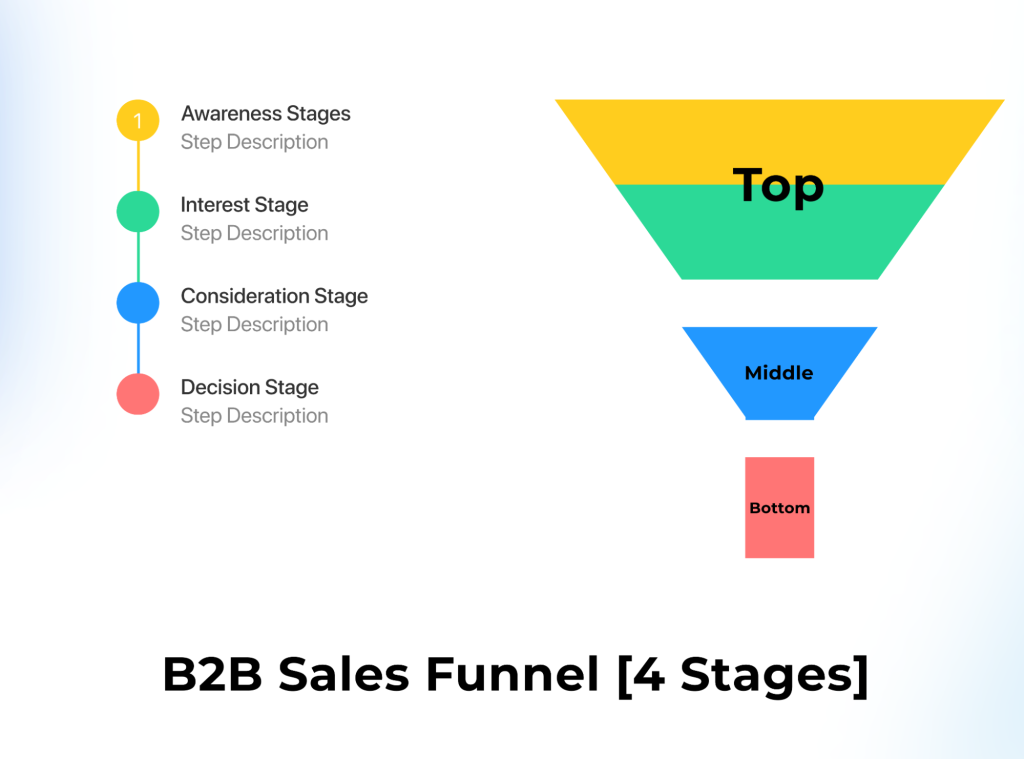 Awareness Stage
The first stage of the B2B sales funnel is the awareness stage. In this stage, prospects receive information about your company through public channels—such as social media posts and articles. This helps you build a list of people who may be interested in what you're selling and in some cases leads to qualified sales opportunities.
During the awareness stage of the B2B sales funnel, you introduce your business and its offerings to new potential clients. You'll set up a lead capture form on your website and send it out to people who are interested in your products or services, as well as publish articles that promote your expertise as a small business owner.
Interest Stage
The second stage in the B2B sales funnel is the Interest Stage. This is when your leads have expressed interest in learning more about your product or service. It's where you convert your prospects from people who know about your product or service to those who are interested in buying it. The content sent during this stage should be focused on educating potential buyers about their pain points and how your product can help them overcome them.
The Interest Stage is all about building relationships, educating your prospects on how you can help them, and creating the desire for the product. You accomplish this by providing free educational materials like ebooks, videos, and webinars that talk about all of the benefits of using your product, who it's for, and why it's better than anything else out there.
Consideration stage
The third stage of the B2B sales funnel is the Consideration Stage. This stage focuses on building interest and continuing to move forward with your contact towards a sale. Think of it as a research phase, where you could help your buyer understand their options.
At this stage, the buyer is seriously considering a purchase but may be shopping around to compare prices and features. Your job at this stage is to encourage them to make a purchase. The primary goal of your messaging during the Consideration Stage should be to educate the buyer on what they'll get when they buy from you.
The goal of the third stage is to advance awareness and consideration for your product or service. This is where you will begin to see a slowing in the lead flow, but not a complete absence. If you have been following our advice from previous articles regarding nurturing opportunities, you should have a healthy list of leads to work with at this stage.
Decision stage
The Decision Stage is the final part of the B2B sales funnel. This is where you close the deal, whether it's signing on a new customer or upgrading an existing one. The decision stage is when you are ready to ask for the sale. This stage requires a certain amount of planning and thought, as it's where you close the deal by getting them to actually say yes or no to your offer.
How to Build a B2B Marketing Funnel?
In today's digital world, attracting the right target audience and converting them into leads is key to a successful business. The marketing funnel provides an overview of your conversion strategy.
The B2B Marketing Funnel allows you to measure sales, revenue, and leads generated from your website. Get answers to all your questions about what is working or not working on your website.
Building a B2B marketing funnel is easier than you think. This article will dive into the different components, how to optimize each step for your lead generation goals, and more.
Steps to building a B2B Marketing funnel
The Ultimate B2B Marketing Funnel is the first and most comprehensive guide for developing a marketing funnel for your product or service. Follow these steps to create a highly profitable B2B Marketing funnel.
Step 1:
The first step in building a B2B marketing funnel is to open a blank spreadsheet or a google sheet and apply the below stages on each of the columns as done before.

Step 2:
The next step in this marketing funnel is to document the high-level objectives for every stage of the funnel.
However, there are some basic goals that many businesses will have. One goal may be to move leads through the funnel and towards conversion. Another might be to generate interest in your product or service. A third might be to increase positive sentiment within your niche market.

Step 3:
The next step in the queue is to determine the KPIs for every stage to estimate your company's success/failure.

Step 4:
Likewise, document your target content ideas, email sequences, and SEO keywords for the various funnel phases (where appropriate)

The above is just a model template to reveal how you'll go about building your B2B marketing funnel. From starting an online grocery business to any kind of business the above sales funnel and marketing will guide you to reach the right target audience with an increased ROI. Don't forget to make sure that you're using the right tools and tactics to create a solid foundation for your business, so that when you do begin your campaign, everything runs seamlessly.
---