How to Align Your Marketing and Sales Teams For Better, Faster Results
Sales and marketing alignment can help close 67% more leads, while a lack of it results in losing 10% of your annual revenue.
When having a choice of giving a boost to your business or letting it stagnate, you should be looking for ways to help sales and marketing work like one mechanism.
However, it is not that easy to convince the two departments to sit together and work out a plan to achieve great cross-team communication and collaboration.
Marketing would blame sales for ignoring the leads generated with marketing activities, while sales would accuse marketing of not delivering better quality leads. However, lead quality is not the only apple of discord between the two. Lack of clarity in the activities of the sales and marketing teams undermines alignment.
Oftentimes, sales doesn't know what marketing is working on and vice versa, or marketing doesn't understand how sales approaches leads. This can cause confusion and information overlap, but with the right data, processes, and tech, your teams can regain the clarity they need to achieve success together.
In this article, we will explore how you can put an end to silos in your organization and use the right tools to skyrocket your company's revenue in the months and years to come.
Before exploring the nitty-gritty of sales and marketing alignment, let's start with defining what sales and marketing alignment is and why it matters more than ever in 2020 and beyond.
What is sales and marketing alignment?
Sales and marketing alignment helps your marketing and sales teams define communication tools, strategies, and goals to unify and optimize the conversion cycle.
Sounds pretty abstract, right?
In practice, sales and marketing alignment means working as one team, calling each other "we" not "them", and designing a strategy for converting more leads into customers. Sales and marketing should be on the same page when it comes to understanding organizational goals as it helps create better targeted content.
Why sales and marketing matter more than ever
A lead does thorough research about your product and compares it to your competitors' solution before talking to a sales rep. The customer journey has changed, and if you want to stay competitive on the market, your sales and marketing need to collaborate closer together in 2020.
What's more, keep in mind that not sharing your institutional knowledge is costing you money, and that goes for internal knowledge between your sales and marketing teams.
Here is how marketing and sales funnels looked before and after the change in the customer journey.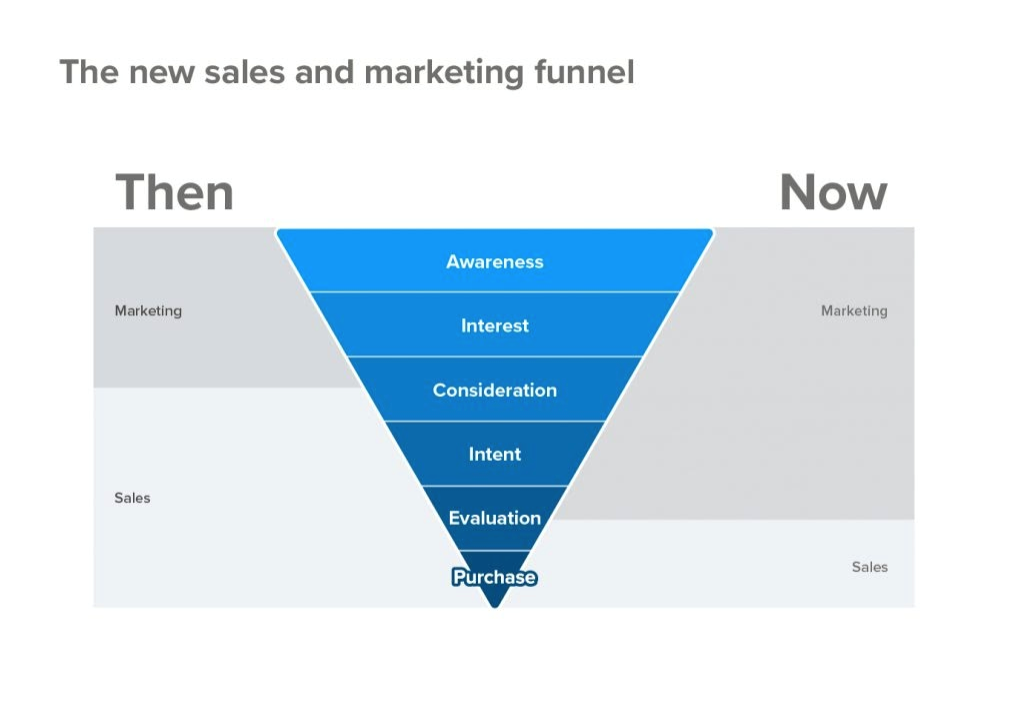 Source: Business2Community
It seems like marketing is responsible for more funnel stages than it was before, right?
However, marketing should not be left alone for the majority of the lead generation and nurturing processes. Both sales and marketing can work together on each funnel stage to close more deals, including identifying friction points in the sales funnel.
It's important to identify friction points in the sales funnel and you can do that by asking the marketing and sales teams to describe the sales funnel. If there are discrepancies between the two teams' perception of the funnel, make sure to discuss why and how you can align their views.
Sales and marketing alignment in practice
I remember transitioning from an organization where sales and marketing played two separate games to a moment when we held a bi-weekly call to catch up on shared objectives for the quarter. We felt like one team.
By discussing real-life customer stories and creating a strategy together, our marketing team managed to better use the materials we created. We were able to achieve this with relative ease using project management software and other communication tools. The marketing content was used in sales calls and had a real impact on our customers' buying decisions.
In one instance, by discussing real cases of customer stories, we could better understand how they buy our software, which helped us create a new page copy that could speak a customer's voice.
Many such examples show how close cooperation between the two departments can contribute to making a real impact on conversion.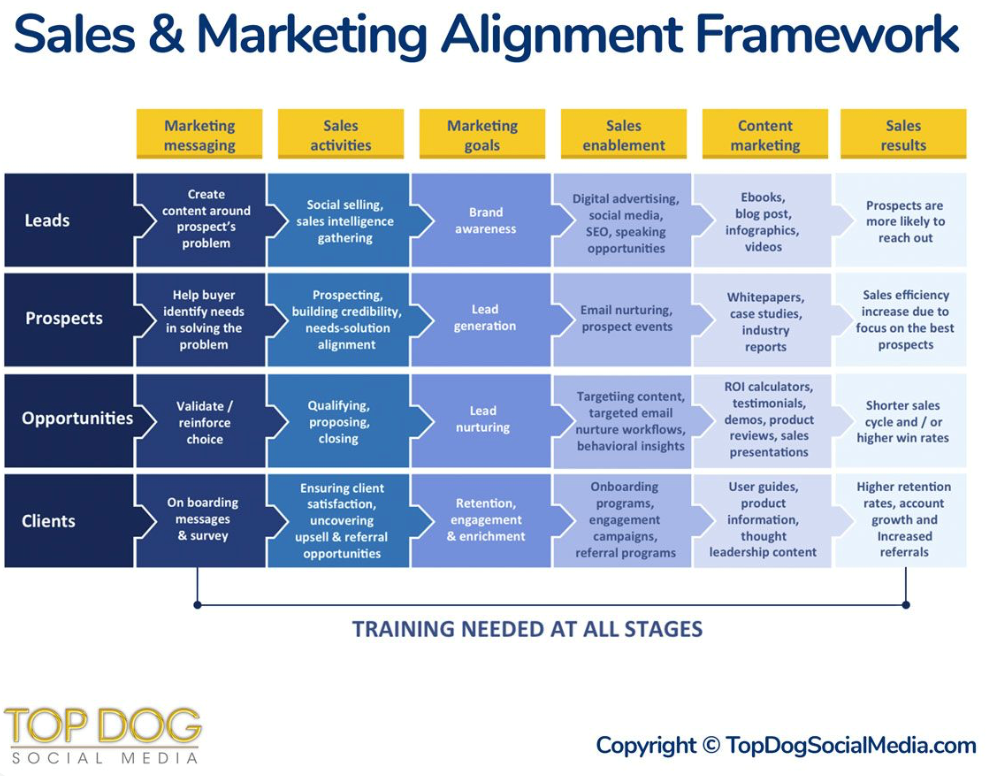 Source: Top Dog Social Media
Let's see the areas where aligning sales and marketing can have a tremendous impact on your company's growth.
Working on a centralized platform
To facilitate collaboration and seamless communication between your marketing and sales teams, you need to use centralized tools that have the features they need to achieve certain goals.
When it comes to promoting your content across the web, PitchBox is a good choice for a centralized work environment that your sales and marketing teams can use to manage campaigns and optimize each step for maximum impact.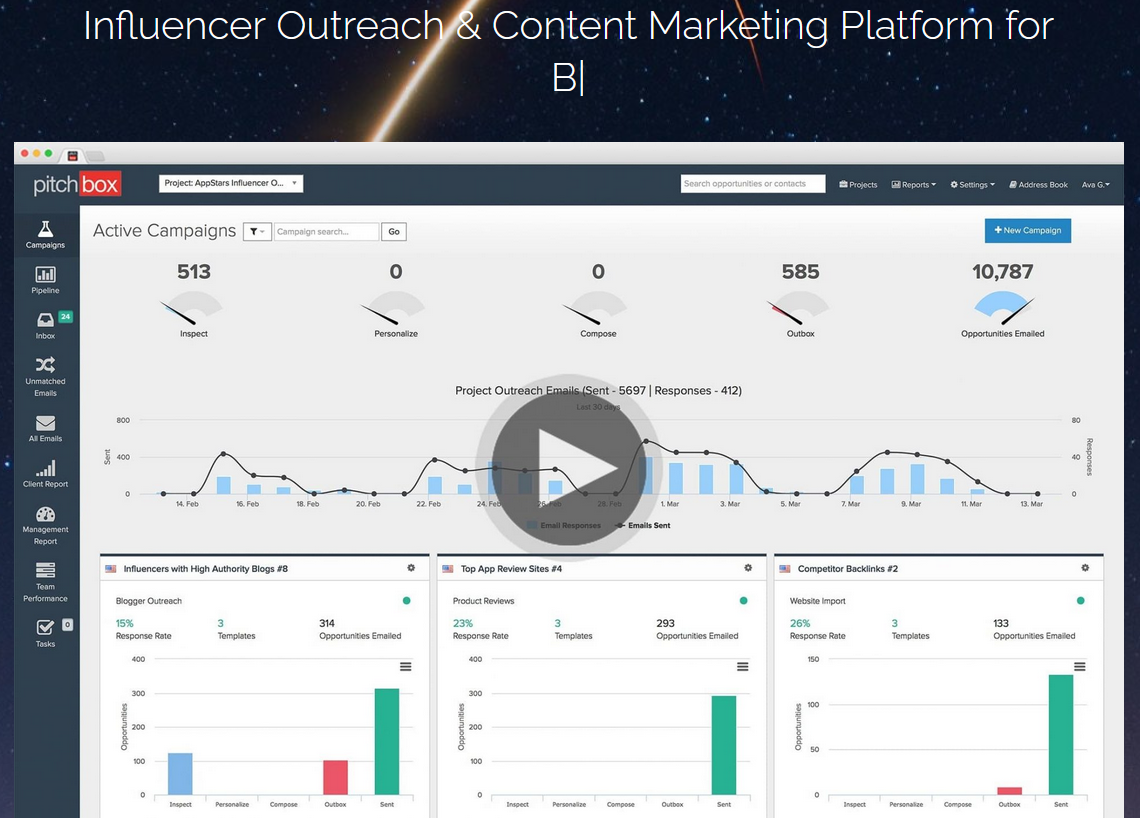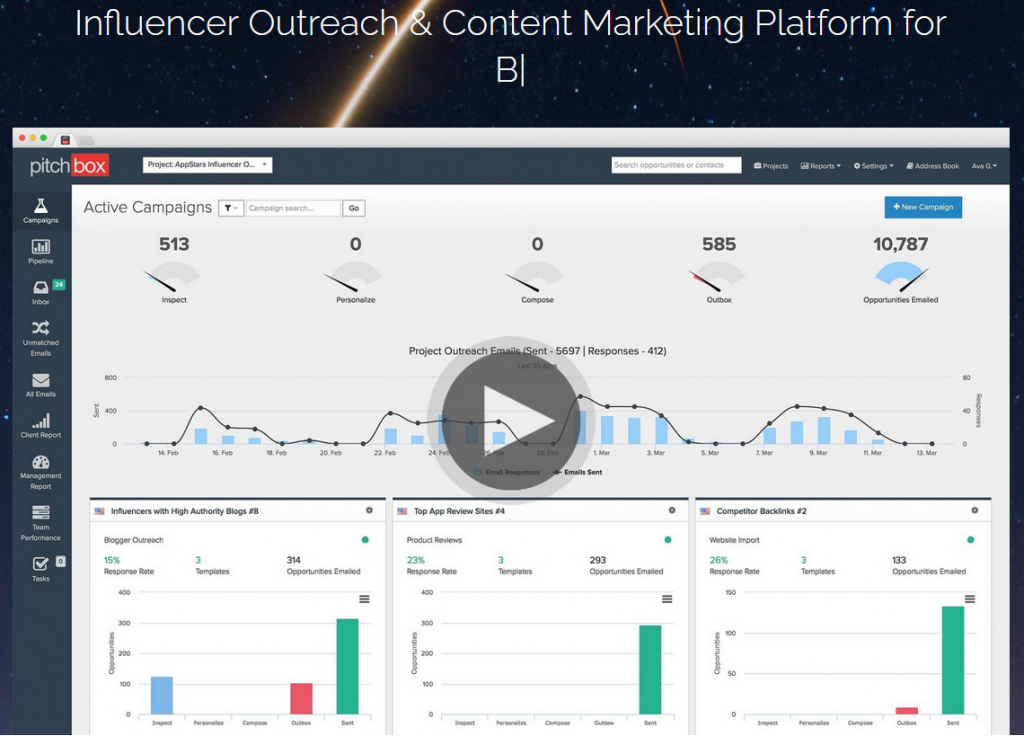 Source: https://pitchbox.com/
The tool allows your marketers to reach out to reputable websites and bloggers around the web for content marketing opportunities, all of which generate relevant contacts that your sales experts can use to continue the conversation and guide the leads towards conversion.
Most importantly, though, a tool like PitchBox allows you to segment your team's work so that everyone can focus on their tasks, but at the same time collaborate and communicate on projects with ease.
Lead generation as a joint effort
B2B lead generation usually entails a longer conversion window and buying cycle than in the B2C industries. A sad statistic says that a whopping 73% of MQLs are left untouched!
There are several reasons for the short life of marketing leads.
A marketing department often targets the wrong type of leads that don't fit with the product their company sells.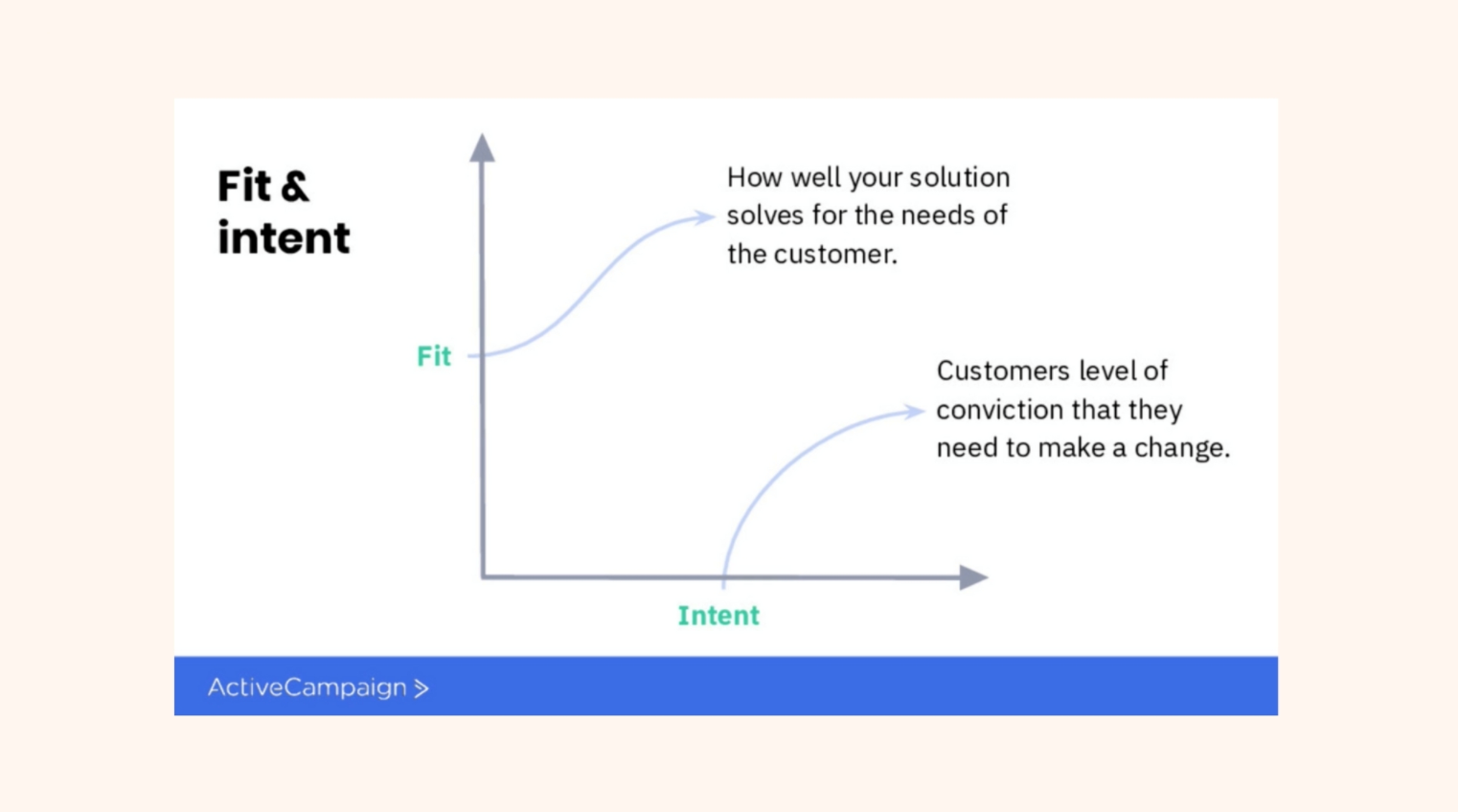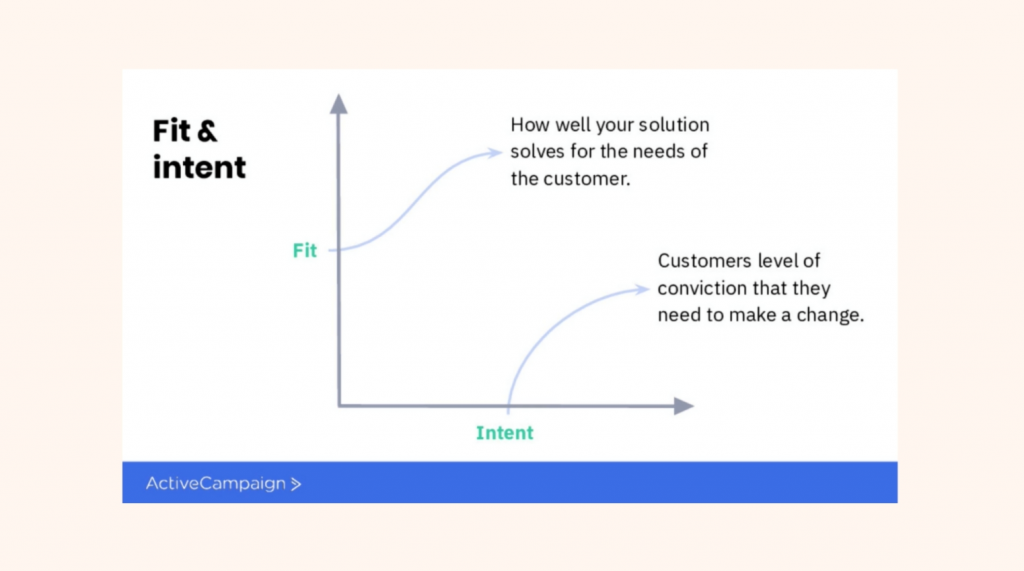 Source: Demio
Selling ice to Eskimos doesn't work, right?
Marketing specialists can also make these mistakes when creating lead generation content:
A wrong understanding of a customer profile
A poor understanding of customer's jobs to be done
Not identifying correctly customer pains and challenges
So instead of reaching the wrong audience and wasting effort on nurturing leads that won't convert, this is the time to have a more extended conversation with a sales department that knows customers the best.
Perhaps your target demographic would respond positively to SMS marketing and other more traditional forms of outreach, or maybe they only respond to digital marketing material. You will be able to generate qualified leads only by knowing what works for your audience.
To start generating better quality leads, your marketing department should sit together and work on the Strategyzer Canva to understand their target customer better.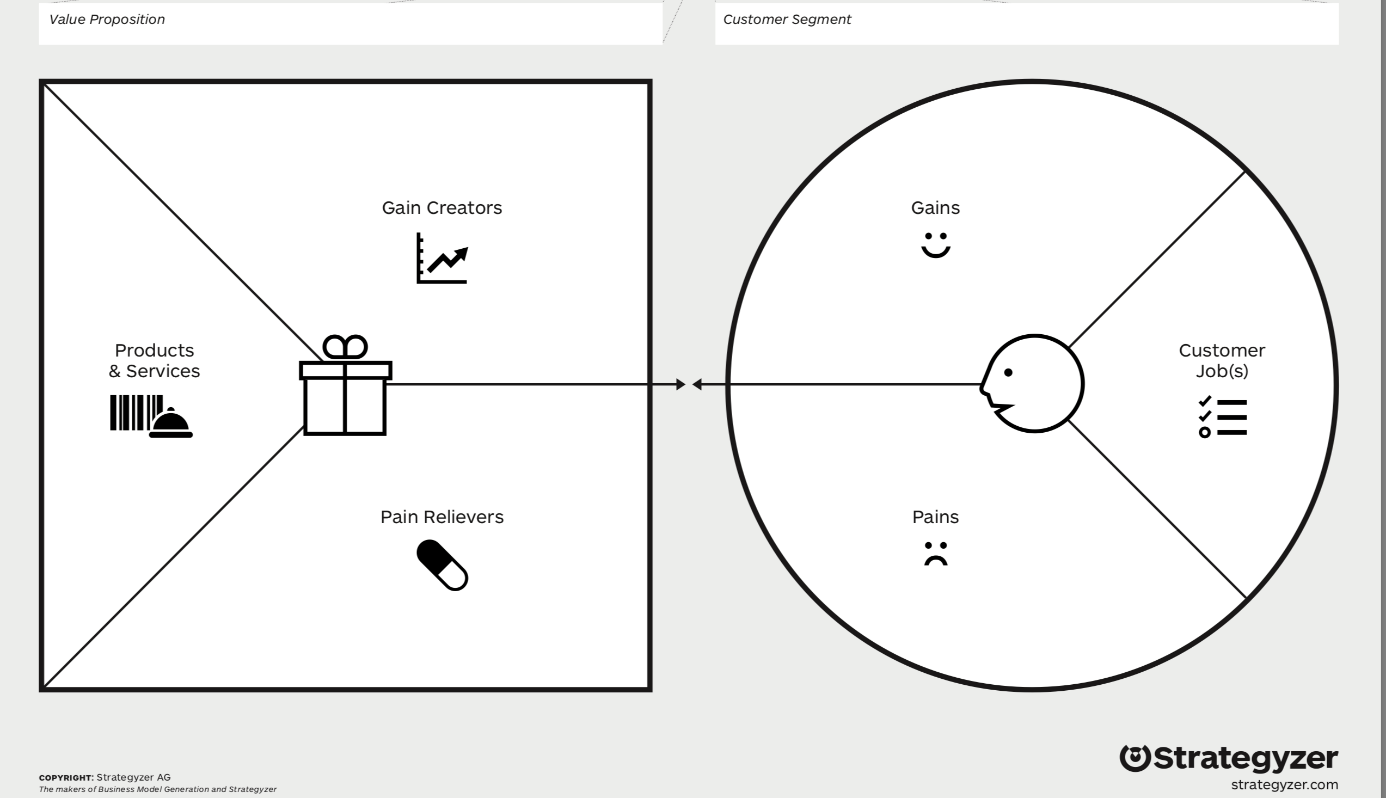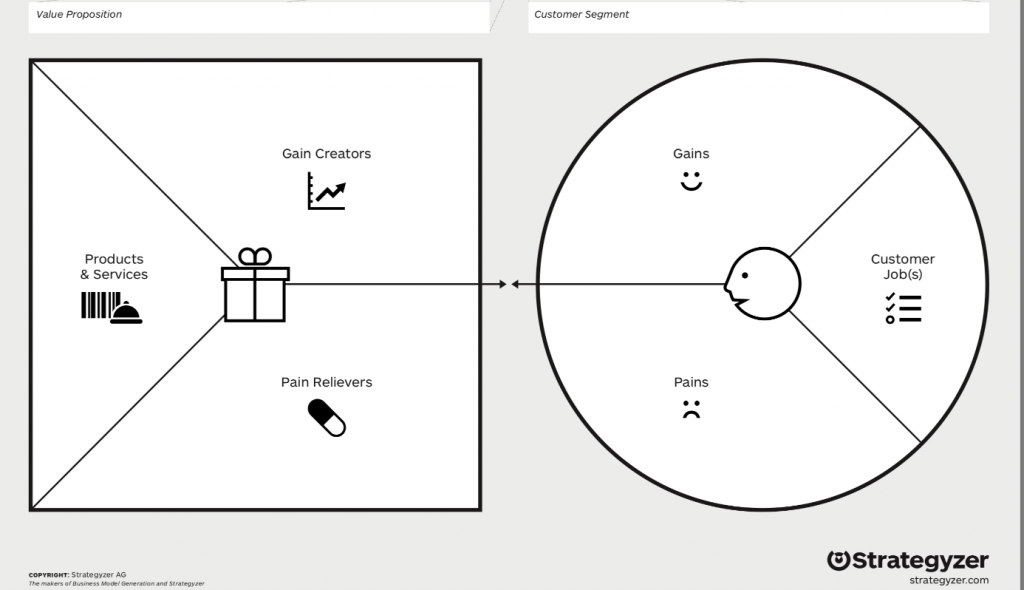 Source: Strategyzer
A bit of brainstorming will help define the audience that has a good fit for your business and create better marketing communication.
A sales team should be able to communicate to a marketing team what their lead qualification criteria are, what it takes for a lead to become a sales opportunity, and define together when marketing should pass leads to sales.
Making these aspects clear will help streamline marketing and sales automation for a maximum impact.
Creating sales enablement content
The majority of content created by a marketing department goes unused – a whacking 80%. One can seriously think about marketing efficiency in an organization and whether it makes sense to keep marketers' roles in place.
Instead of writing articles or recording videos no one wants to watch, you can leverage various tools like webinars for product marketing and sales enablement in order to gain a deeper insight into what drives the modern consumer.
Coming from a software development industry, our sales and marketing teams have identified case studies as highly converting content. For a B2B sector, where trust plays the most crucial role, case studies can easily convert visitors into sales calls without exposing them to 10 top of the funnel articles beforehand.
Take a look at how a software development company, Netguru, brought their case studies to the main page as this content tends to be highly converting for the tech industry.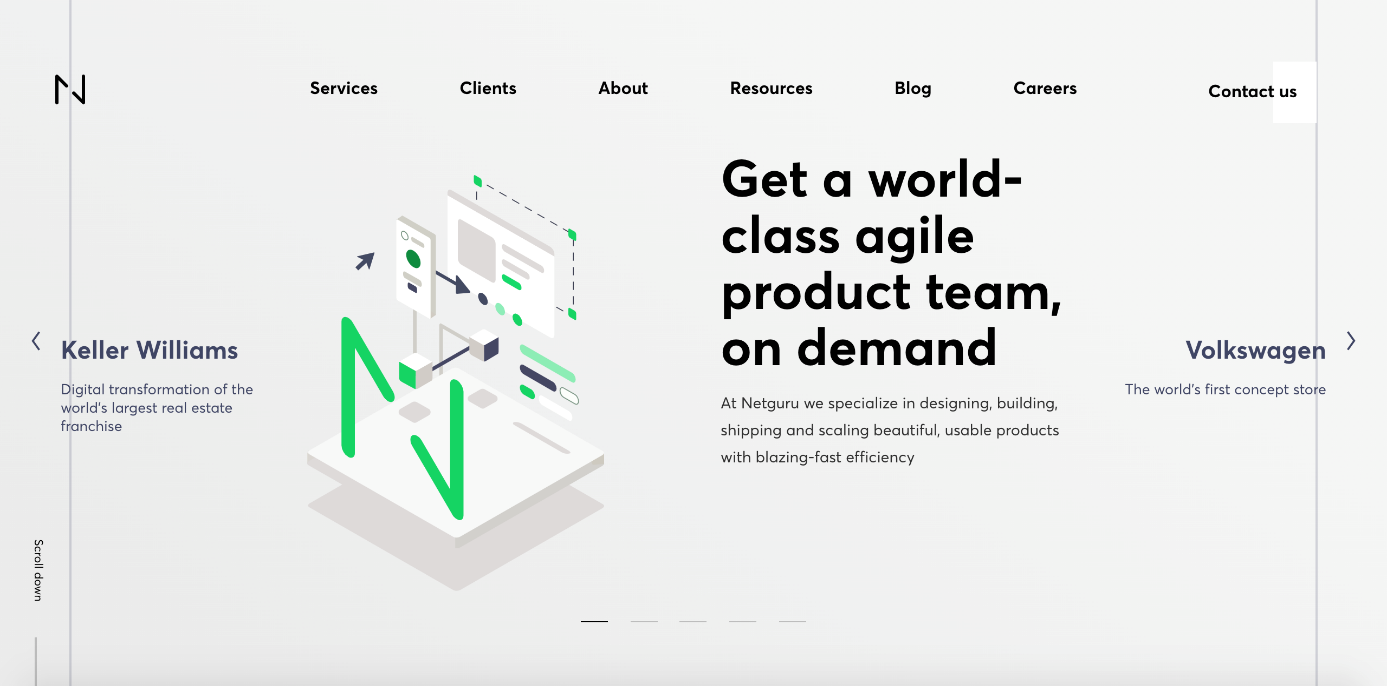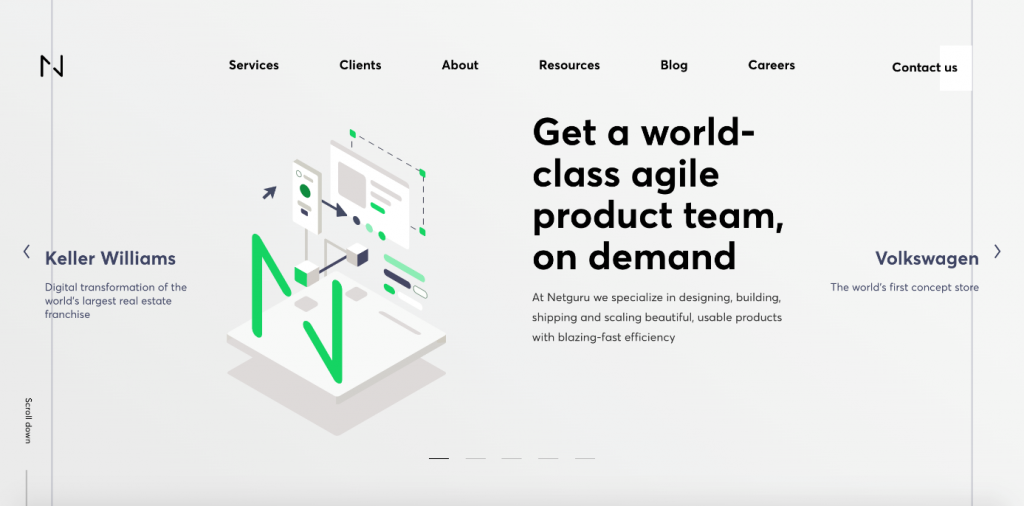 Source: Netguru
Having worked with several content teams, I have seen some curating content based on topic ideas from Google search or just a gut feeling. They later realized their content topics were a wrong choice as they did not resonate with their customers. This fact usually resulted in a high bounce rate of blog content.
Instead of speculating on what customers would love to read, they should have a casual conversation with sales to find out about clients' frequently asked questions and tailor content topics to answer these questions.
Alex Birkett, Growth Marketer at HubSpot and Co-Founder at Omniscient Digital, says this type of sales-inspired content can also be your secret weapon for driving growth via content.
"We typically interview sales as well as customer support staff when we begin working with clients," Birkett says. "These insights, combined with voice of customer research, help us produce content that hits on the biggest pain points of users. If we can align this to a keyword or a distribution channel, then it's typically going to be very high converting content," says Alex Birkett.
Analyzing customer insights
Sharing customer insights can help tailor better marketing communications. After all, where better to get information on your sales than from those who made the purchases.
While there are many tools you can use to analyze customer insights and data, you can follow online portals for reviews and advice on the best tools in order to get the latest updates on the technology you need. This will allow you to invest in the best tools for your sales and marketing teams.
In this case, you can get the right tool to collect and analyze customer insights.
There are a number of great tools you can use to help you with this, including:
Google Trends
YouTube Analytics
Social Mention
Klout
And more
In order to successfully analyze customer insights, you'll need to come up with a customer insight strategy which will allow you to generate data-driven reports and actionable insights for your sales and marketing teams. To do this, you will need to analyze:
The why – What are your main business objectives and priorities over the short, mid, and long term?
The when – Working out your timeframe for gathering data, analyzing data, communicating findings to stakeholders and mapping out key actions.
The limitations – What are the main limitations of the project.
Let's explore how sales can share their customer insights with marketing.
1) Record and share sales calls
Sales can share recorded conversations with their customers or even invite marketing to attend those calls.
2) Share access to CRM with notes
Marketing and sales teams usually use different tools to store leads. By getting access to the sales CRM, marketing can read call notes that sales reps make after each call. If they are using tools such as live chat or chatbots, it's easy to access collected information by going through the conversation history.
3) Hold ad hoc meetings
Get the two teams to meet together to discuss the challenges and pains their customers face. While a marketing team can help organize a framework for such a workshop, sales can contribute to insights. Both can start a discussion and write down key findings.
Social listening for sales and marketing
Your marketing and sales teams can use social listening to reach leads that are currently considering buying products.
First things first – let's define what social listening means in the context of cooperation between the two teams and how it can help you take marketing project management forward as a whole.
Social listening is the process of crawling the World Wide Web for mentions about your company or product. Social listening can also be used to reach users who ask questions related to the challenges your product helps solve. As a result, with the right nurturing, these leads can become clients.
As 80% of all B2B leads are using social media, social listening can become a powerful tool for both marketing and sales to generate and convert hot leads that are talking about your product.
Here are some steps to help your sales and marketing teams use social listening:
1) Identify keywords and sales-related conversations
Your marketing team can think of the keywords your customer persona can type about your product. Buyer intent is essential – clients that use the keywords closely related to sales convert better than those asking about more generic terms.
Both teams can also brainstorm some keywords related to the challenges or pains of your potential customers and make a plan of how to interact with users who use keywords in their social media posts.
This will also help you create a better social media calendar that will allow your marketing and sales experts to address the pain-points and solve concrete issues for your customers . Your marketing team can work on nurturing these leads before passing them to sales.
A great example would be a tool like Text Optimizer in the image below, uses semantic analysis to help you optimize your content for search intent.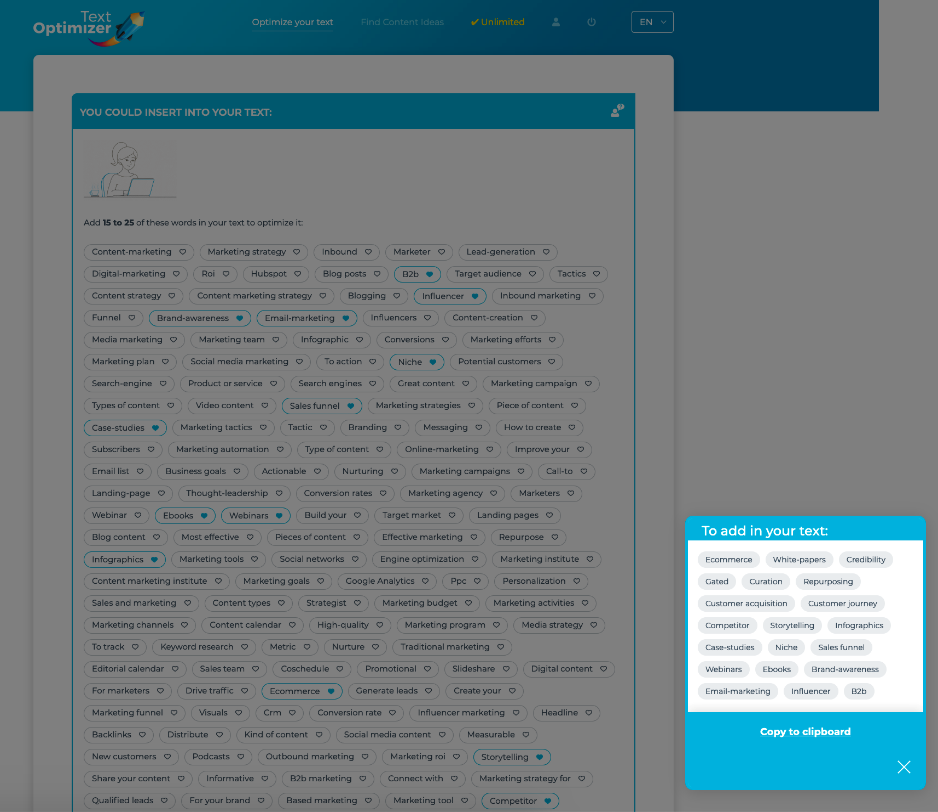 2) Keep an eye on the competition
People ask about alternatives to your competitors' products. Social listening tools can help you identify who is in the process of considering a purchase. By getting your sales to respond to these inquiries quickly can help generate a sales qualified lead right away.
3) Generate more customer insights
By analyzing questions with social listening tools, both sales and marketing teams can learn more about what customers are searching for and what they don't like about your competitors. These insights will also help you identify the key movers in your industry and allow you to become a better influencer to inspire and incentivize more sales.
Communication strategies and tools
Once sales and marketing teams have agreed to cooperate, they can prepare a plan for regular meetings and catch-ups to monitor progress, talk about challenges, and share ideas.
Your team can create their communication framework and even get advice from serial entrepreneurs on how to best market to your customers. However, you can always suggest using proven practices of bi-weekly and quarterly meetings or online calls. In both cases, you facilitate this process by offering your teams the right communication tools. Let's explore those!
Bi-weekly calls
During these calls, the teams share their recent achievements and progress with their tasks. Sales can talk more about their A/B tests with outbound and new clients they acquired.
Marketing can share some information about the new testimonials they received from their current clients and pending content campaigns.
Both can talk about how they can help each other better and resolve sales and marketing challenges together.
What tools can you use for bi-weekly sales and marketing calls?
Online communication tools: Slack, Google Hangouts
Live streaming tools: Zoom, Google Meet, or Whereby
Online collaboration tools: Miro, LucidChart, Strategyzer
Quarterly meetings
These meetings are more strategic than catch-ups, where teams talk about more operational aspects.
During quarterly meetings, you wrap up your success for the last quarter and reap the fruit of sales and marketing alignment.
The teams can share information about lead generation activities and how they helped generate more sales qualified leads, opportunities, and closed deals.
Sales can deliver a bit more context about the quality of leads, and you can work out a plan on things to improve.
Both teams can also plan for new campaigns they can perform together, and talk about the tools they can use to elevate your customer service experience in the long run as well. For example, organizing a meetup for potential leads or webinar promotion.
What tools can you use for quarterly catch-ups?
Tools for retrospectives: Funretro
Reporting tools: Databox, Searchmetrics.
Workshops
Apart from regular, pre-planned meetings, you can agree to meet for ad hoc workshops if you notice a need to discuss some topics in depth.
When starting with the idea of alignment between the teams, you can consider organizing workshops to discuss the definition of a perfect lead, customer avatar, or the process of passing leads from marketing to sales.
What tools can you use for workshops?
Presentation tools: Prezi
Collaboration tools: Trello, Asana
Survey tools: Typeform, SurveyAnyplace, Google Forms
Engagement tools: Slido
Webinar tools: WebinarJam, Demio
Action plan
1. Sign a service-level agreement (SLA) and follow it
Get marketing and sales to agree on the framework of cooperation and reporting on achieving the goals they set together, called SLA.
2. Arrange bi-weekly and quarterly calls
Keep both parties accountable for regular calls. Schedule bi-weekly calls in your sales and marketing calendars. Let sales and marketing define their challenges together and understand the way to overcome them.
3. Arrange ad hoc workshops
Go for an ad hoc workshop to let marketing and sales resolve challenges connected with B2B lead generation, product positioning, lead nurturing, etc. Leave space for education, debate, and discussion.
4.  Set up common goals together
Encourage your teams to avoid using phrases such as "we will ask sales/marketing" and "they, them, their". Work as one team and make sure silos no longer define how marketing is related to sales.
5. Use the right tools
Support your team with the tools they both want to use. Facilitate their work with team collaboration, communication, or drafting tools.
Wrapping up
Close cooperation between sales and marketing can have a real impact on your business bottom line. By implementing the plan and letting sales and marketing agree on their common goals, you set up a solid base for their alignment.
Sales and marketing can work together to generate better leads and convert more MQLs into SQLs, share customer insights, create and use better content together, and support each other on their way to achieving common goals.