How Google Analytics reports are useful in Digital Marketing
---
Around 5 billion people use the internet today, which accounts for 63% of the world's population. Out of these numbers, almost 4.65 billion people use social media. You need to have a good presence to reach the targeted audiences. If you wish to grow your business, digital marketing is impossible to ignore.
In this fast data sharing and advanced technology world, digital marketers need to understand Google Analytics' use fully. There are many ways Google Analytics reports are useful in digital marketing. You can generate ideas for business and figure out things like which social media is best for marketing.
What are Google Analytics and Google Analytics reports?
Google Analytics is a tool for web analytics that provides the analytics and statistics of web traffic inside the google search engine. It was launched by Google in November 2005 and is offered for free. It has and is helping people in digital marketing to improve their websites and generate sales.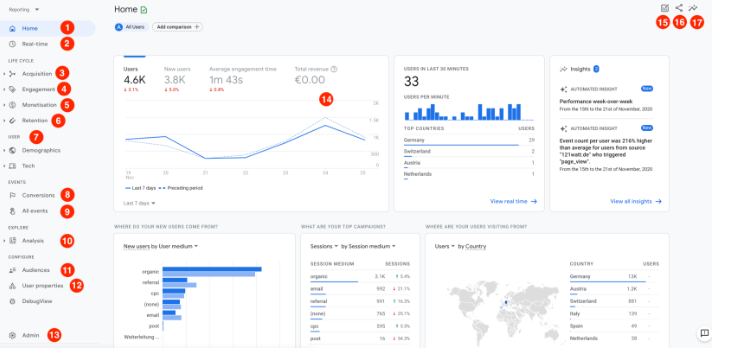 Google Analytics report is the tool that tracks and displays different Google Analytics metrics on a single dashboard page. You can create analytics reports using (GA) Google Analytics or Excel spreadsheets.
Google Analytics Metrics and Dimensions
Metrics and Dimensions are called the building blocks of the reports. Dimensions are attributes of the analytics data. For example, city and browser are dimensions.
Metrics are quantitative measurements of the data. Examples of metrics are users, sessions, bounce rates, and so on.
The table below illustrates the example of dimensions and metrics.

The Google Analytics Metrics are divided into ABC categories.
Acquisition Metric:
It is a metric that answers questions such as; How did users get to your website? And who they are?
Users -> People who entered the session and visited the website.
Google Ad -> People who came from the ads campaign on Google.
Organic Traffic vs. Paid Traffic -> People who came organically from search console vs. paid ads.
Behavior Metric:
This metric helps answer questions such as; How is the behavior pattern once people visit the website?
Bounce Rates -> The rates at which people visit the page and leave without interactions.
Page per session -> Average number of web pages visited within a single session.
Landing Page -> Helps find which page receives more Traffic.
Conversion Metric:
This metric is for e-commerce websites, and answers questions such as; How many sales were generated? How much revenue did you get?
Transactions -> Number of transactions.
Conversion Rate -> The percentages of people who participated in transactions.
Google Analytics Importance in Digital Marketing
Google Analytics provides valuable insight into the data, from visitor counts to social media impressions. So let's discuss how Google Analytics reports are useful in Digital Marketing:
Cost-free
There are many quality products on the market, and most charge you money. Google has offered Google Analytics to digital marketers for free. With this, you can use some budget to invest in other resources.
It can be set up easily, but a good setup needs more work. Investing time in a good setup will pay off exponentially for the business users.
Track online traffic
There are millions of users online daily. Some use the internet for entertainment while some for finding products and resources. With Google Analytics, you can track where the traffic comes from to your website. This data is valuable to online businesses.
You get answers to; Is your Traffic coming from the paid advertisement or organically? Are visitors coming from social media or Google Search Console? Which marketing channel did they come from?
You can understand your customer
For every business, data is an extremely valuable thing. Google Analytics offers you reports on how many people click links once they enter the website? How much time do they spend on the websites?
If you understand how users are using your website, you can change the way of interaction for an optimized experience.
Google Analytics collects data on the visitor's demographics, locations, and how they behave on the website. You can Traffic's behavior flow, and by understanding the pattern, you can create a marketing strategy to generate more sales on your website.
Automatic data collection
You can get necessary reports on answers to get more website traffic, which is done automatically.
For that, you need to set up a Google Analytics account and copy a piece of code on your website. Then Google Analytics will automatically start collecting data and generating reports.
Tracking your goals
The 'goals' feature in Google Analytics helps you see your business progress. Multiple goals for your website can be set, and they can be ebooks download, a number of transactions, newsletter subscriptions, etc.
If you own e-commerce websites, you can see the abstract of conversion rates and revenues. You can check the revenue of your website's products by date. GA also allows you to assess the session time taken to make a purchase.
The necessary data are within your reach so that you can do important things to improve your websites and increase website performance.
Understand what is causing bounce rates
Bounce rates mean the percentage of Traffic who left your website after opening one page. The more the ratio, the worse it is for your website.
It happens when online Traffic visits your website but does not find the necessary product they are searching for. It results in a decrease in website performance. And Google Analytics offers you the reports of pages with high bounce rates. Unoptimized websites or unattractive pages can also be the reasons behind bounce rates.
Customization of data report
You can create your custom report and analyze data. Digital marketers can customize dashboards, reports, and alerts to fit their business needs, and you can do that easily with the drag-and-drop interface.
GA allows you to share customizable reports to make more data-driven decisions quickly. It can also help export data in excel, google sheets, or any third-party tools the company uses.
Figure out the demographics of website traffic
GA provides insight into the website traffic's age, location, gender, and device of use. With these insights of data, you can figure out your target audiences.
You can make your website responsive, knowing which device your website visitors use. You can analyze the Traffic's interest and even improve your websites to meet the interests and requirements of the traffics. You can even figure out which country the visitors are coming from as well as the city they are from.
Generate new plans for business
Billions of searches are done in the google search engines. Accumulating and analyzing data from your websites open new doors for business opportunities.
With purely business-oriented goals, analyzing the old collected data and the new one helps you discover ideas that you never thought of. GA offers a feature that lets you see what your website traffic is searching for on your page if it has one. This helps you find new content ideas and product ideas.
Figure out which social media to target
Google Analytics helps you understand where your traffic is coming from, either from google ads, organically, or through social media. One great way to increase traffic to your websites is through social media.
You can choose the best platform for advertisement and bring people through social media directly to your website to convert them. For example, if the data shows your website has more customer engagement on Instagram than on Twitter, you can allocate more budget for Instagram than on Twitter.
Improve your websites
You can't improve your website without knowing what the things are that need improvement are? GA helps collect behavior data of visitors, which can be used to create optimized experiences for visitors.
If your website has increasing bounce rates on mobile, then it means you should improve your mobile version website. You can improve the site content by designing a better flow of content with the structure of internal linking. In-page Analytics is an important factor in creating a smooth experience for the user.
Google Analytics Limitations
GA (Google Analytics) provides reports that are useful data for digital marketing. However, every tool has its limitations.
GA offers reports on whole users, meaning it doesn't show you individuals' personal information. You do not get the raw data but get the information in summarized form. Google offers a paid plan to access raw data, and the cost will depend on the volume of data. GA tracks traffic differently from Facebook, Yahoo, or Bing.
Conclusion
You can track your website performance and help improve your website with Google Analytics. It provides you with website traffic data to help you create your digital marketing strategy, and you can keep track of which marketing channel they come from. And all these data are collected automatically by GA.
But remember to manage your analytics strategies and data flow, you must know how to deal with data. When you understand the basics, you can use it to generate traffics and sales.
Authors Bio: Keira Zelman 
Keira Zelmanis a parent-focused writer at MobileSpy.io. She focuses her efforts on helping children reach their full potential academically, in social and linguistic terms, and fosters and promotes the growth and development of parents and children. She aims to build a better and more positive environment for children through her writings.
---