---
HostArmada is a privately funded and independently owned company founded in North America with the sole purpose of offering high-quality hosting services for small, medium, and large businesses. It opened its doors in 2019 and ever since has been growing at unprecedented rates. This growth is due to the sheer amount of experience that the Management team of HostArmada brings, having worked in other famous web hosting companies and gained tactic insight on the market.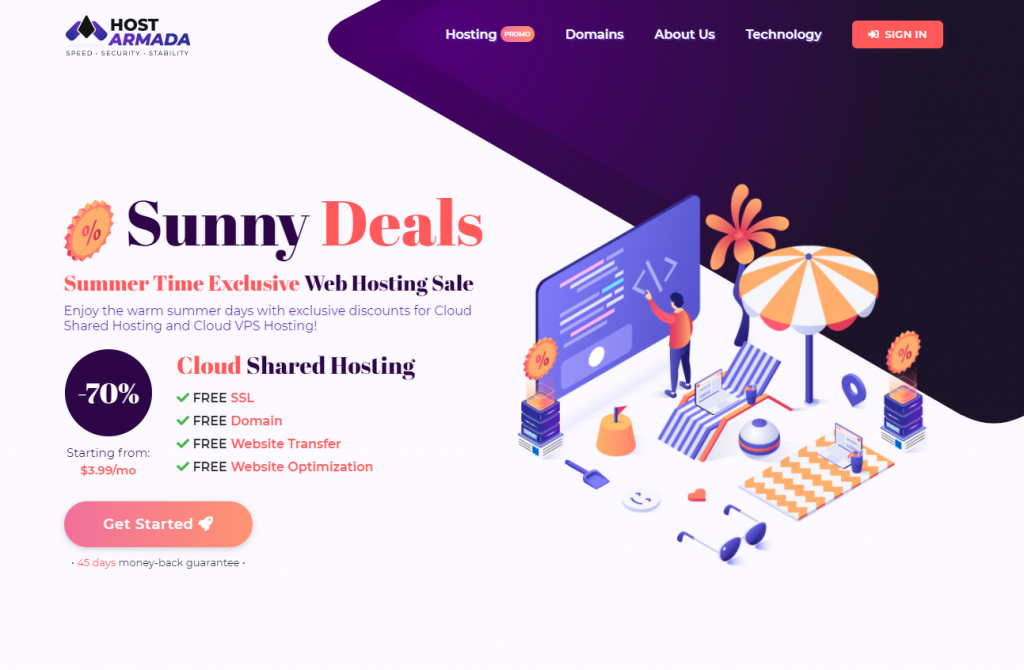 HostArmada is all about staying competitive and providing top-notch services to its clients. On top of that, they offer competitive prices, so they don't break their client's banks along the way. The type of hosting solutions provided by HostArmada are Shared Cloud Hosting, VPS Cloud Hosting, and Dedicated CPU Cloud Server Hosting. Each plan comes with a free domain transfer/registration, free SSL certificates, free website migrations, and a free 24/7 premium technical support team. Their plans are optimized for over 300+ open-source applications but are especially good if you are using WordPress – the most famous CSM globally, accomodating more than 40% of all websites.
Additional Features Include
Free website builder for people that are just getting started and are unfamiliar with coding
Free unlimited email service powered by SpamExperts
45 days money-back guarantee
Imunify360 service that offers pro-active and re-active malware and malicious script prevention
Fully Compatible with Cloudflare
A one-Click installer that has over 300+ open-source applications
Rich tutorial and knowledgebase section if users want to learn more about web hosting
LiteSpeed or NGINX web server based on your plan
Free daily backups
Nine distinct data center locations around the globe
99.9% uptime guarantee
Hosting Plans
Now that we went over all features, let's dive into their hosting solutions so you can get a better idea.
Shared Cloud Hosting
Shared hosting is the most affordable plan you can find that will be a great place to start your online endeavor. Shared hosting implies "sharing" resources with the rest of the users hosted on the server, which drastically cuts the price you usually pay if you use a Dedicated solution (such as a VPS or Dedicated Server). This fact should not worry you at all, as these servers are monitored 24/7 by HostArmada's system administrators, and you won't have any issues at all.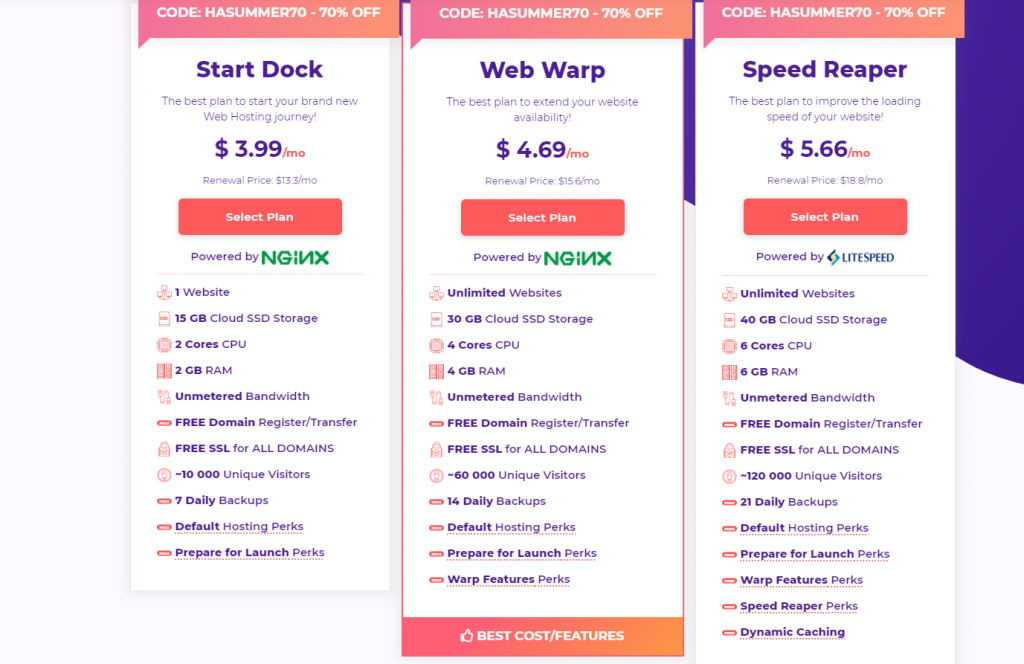 As we said, these plans target specific audiences – those who are barely getting started or those with small to medium-sized websites with fewer visitors. We do not recommend this plan if you have an established business with many clients/users, as you may end up running dry on resources, consequently reducing your conversation rate and increasing your bounce rate. Very bad for business!
Start Dock
The Start Dock plan is HostArmada's entry plan, perfect for you if you are just getting into website creation and want to bring your cool new ideas online. The hosting plan comes with enough resources for a new website and includes a free domain registration option allowing you to save some money. The plan includes the opportunity to create a professional email account, making your online journey much more authentic. As with all HostArmada plans, this plan includes free premium support 24/7 over chat, phone, and ticket. Powered by NGINX, this plan is not only affordable, includes great support and all the tools you need to start an online business, but it also increases the performance of your site by default, making it that much appealing.
Web Warp
The Web Warp is HostArmada's second hosting. The main difference between it and the previous plan is the ability to host unlimited websites under it. The plan is also powered by NGINX, making it great for speed, including free support, and gives you the option to register or transfer a domain name for free. We recommend this plan for people who want to expand their site portfolio and get a ton of features at an affordable rate.
Speed Reaper
Finally, we land at the Speed Reaper plan – HostArmada's most premium hosting solution and by far one of the most prestigiously built hosting solutions on the market. It incorporates the powerful LiteSpeed web server, 3x more resources than the previous plan, and is an excellent addition for people who have more sites with high traffic. We recommend this plan for people who are all about performance. LiteSpeed emphasizes precisely that, and you will find your sites running five if not ten times faster than with any other plan that does not have it.
VPS Cloud Hosting
VPS Cloud Hosting plans are designed for people running many businesses with many websites and high traffic. They offer dedicated resources and a dedicated IP address. You won't be sharing your resources with anyone else, which increases reliability and resource utilization and ensures your projects will never be resource-deprived. On top of that, their setup is very flexible as the HostArmada team is willing to help you set up extra services on top of the current ones that can benefit your projects and enhance them even further.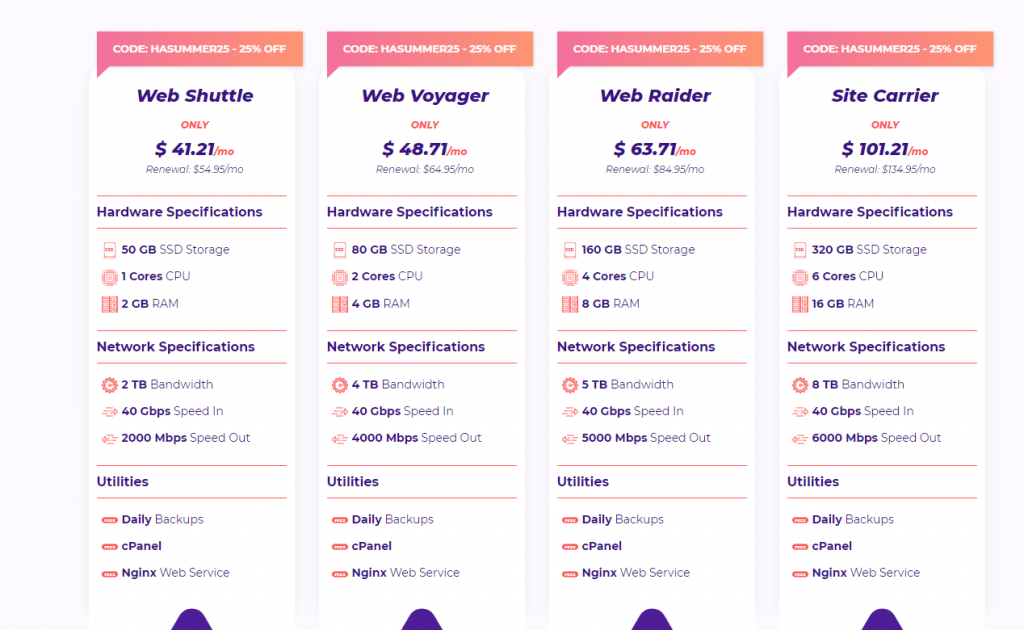 Dedicated CPU Cloud Hosting
The Dedicated CPU Cloud Servers are the most potent solution offered by HostArmada. Packed with dedicated resources such as RAM, CPU, and SSD storage, these monsters provide high reliability, performance, and stability for the heaviest websites. Not only do these machines include vast resources, but they are as flexible as the VPS cloud plans we went over earlier. This means that the HostArmada team can implement any software/service a user needs to improve or secure his precious projects.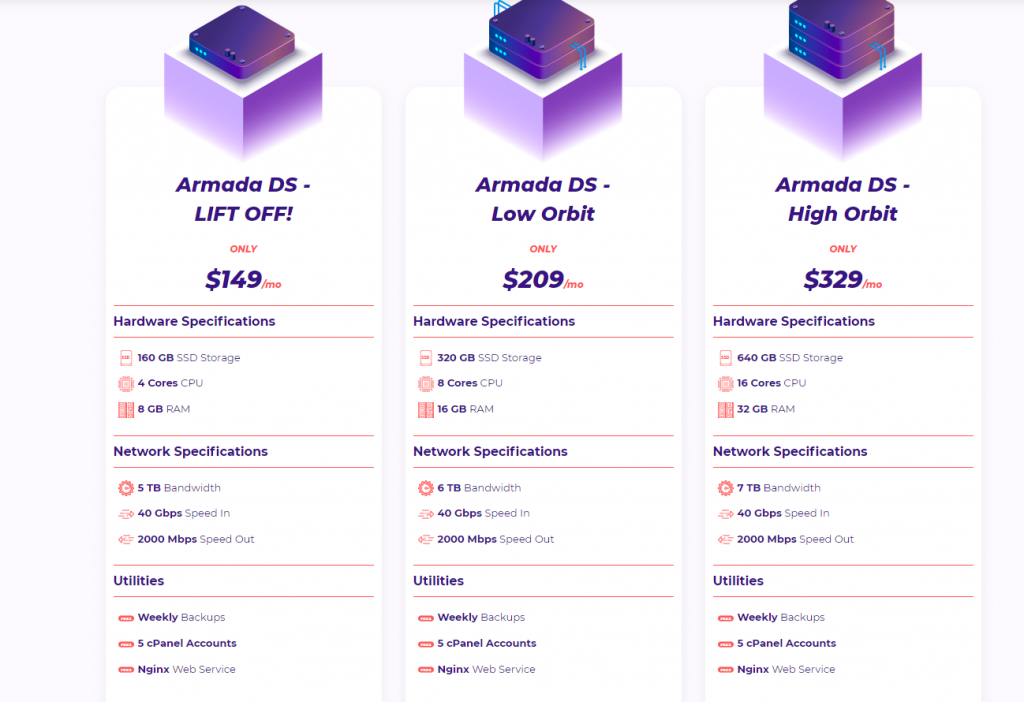 Security
HostArmada values security in very high regard. On top of a highly sophisticated FireWall, they have custom mod_security rules that they regularly update with the latest exploits, which means that your website will always be protected from the newest available hacks. Even if your site does get exploited, HostAramada has your back. They offer FREE malware scans and FREE malware removal. If the hack is way too severe and they cannot clean your site, they can restore your site before it was hacked thanks to their automated daily backup system.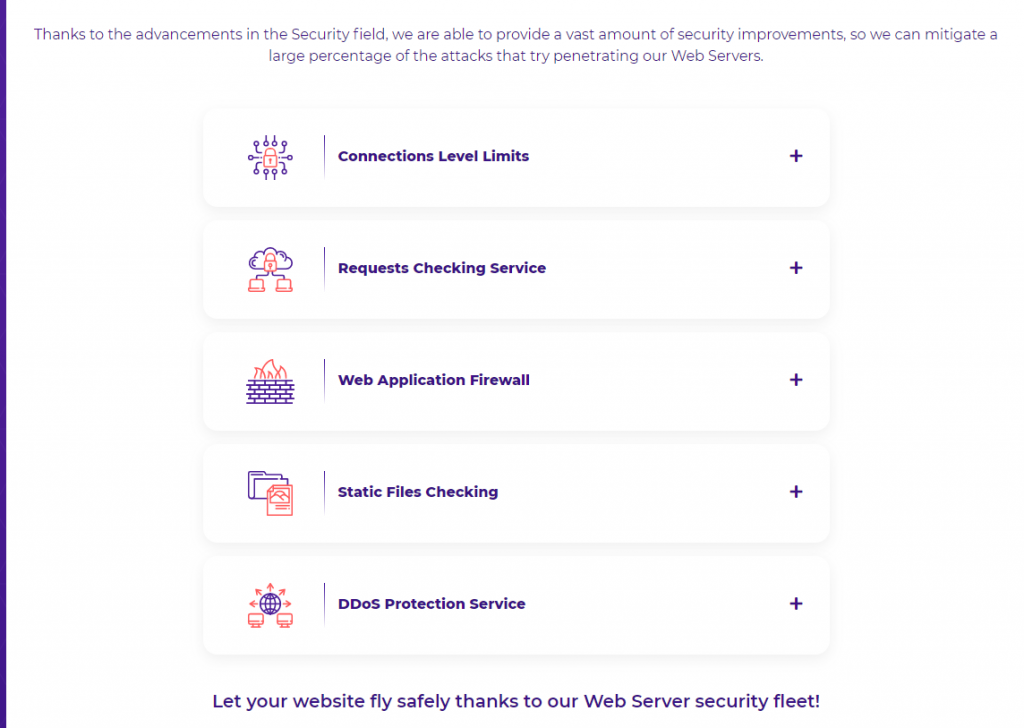 Your site will never be insecure in the browser ever again, as HostArmada offers free SSL certificates, and they force all the traffic on their server via HTTPS. This means that your visitors will always feel safe on your site because of the green padlock HostArmada's SSL certificates bring to the site.
Don't waiver if you hear shared hosting and feel insecure because you are sharing the server with other people. Thanks to CageFS and Account isolation, your account will be engulfed in its own "shell," and no one else on the server will be able to gain access.
Speed
Speed is something HostArmada is highly invested in because they know the importance of having a fast website, especially for search engines (Google, Bing, Yahoo). Their server setup incorporates high-speed web servers NGINX and LiteSpeed, and no matter which plans you use, your sites will be empowered by these high-performance services. On top of that, your projects will use powerful SSD drives, the latest PHP and MySQL version, latest available software (server software, third-party software, and cPanel).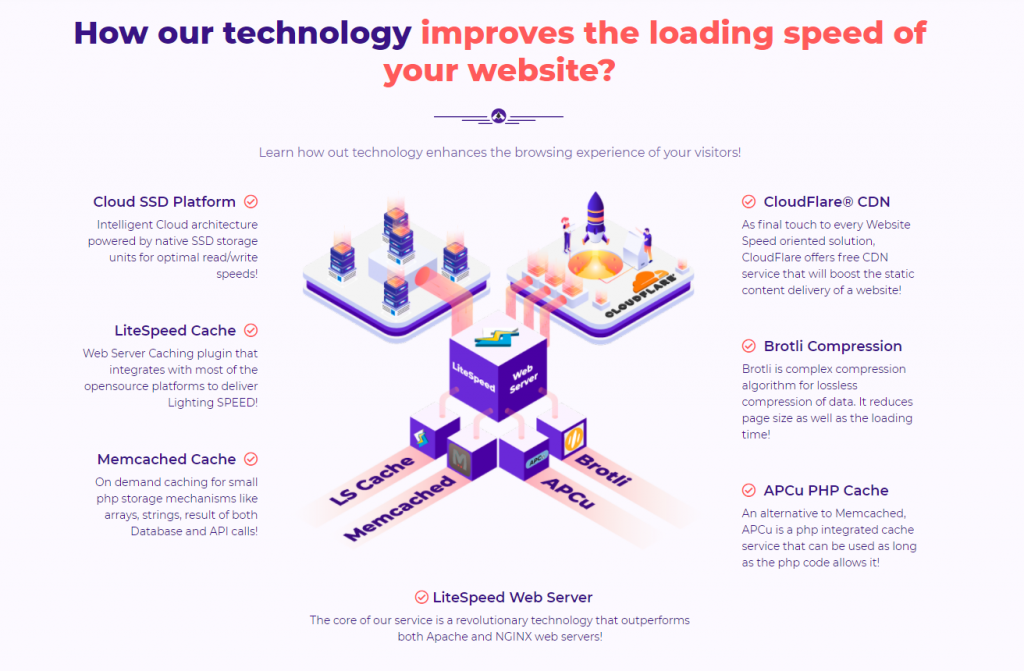 HostArmada's support team is always available at the client's disposal. It is willing to look at your site, optimize it as much as possible and recommend the best solution for even more speed. Their speed-enhancing technologies also include HTTP2/ Over QUIC(HTTP/3), Brothli Compression, and mod_lsapi.
Reliability
HostArmada offers a 99.9% uptime guarantee on all its solutions. This is an industry-standard, and you should disregard any claim for a hosting provider unless they don't mean to keep it. With 24/7/365 free human monitoring on all their servers, you can rest assured that your website's uptime won't fall below the golden standard.
Technical Support
HostArmada's technical support team is highly experienced, highly motivated, and exceptionally skilled. They are available 24/7/365 via phone, chat, and tickets and are very responsive, kind, and tending towards the needs of their clients. The most awesome thing about HostArmada Support is the fact that they will always go the extra mile and will often go to ridiculous lengths to help their customer and make sure their issues are resolved.
Final Words
HostArmada has truly won over our hearts, and we believe that they are one of the best Hosting Provider picks for 2021 (and beyond)! When it comes down to price, features, support, speed, security, and reliability, we feel like a handful of providers out there can deliver, and HostArmada is definitely one of them!
---