Google Adwords 101: 7 Secrets To A Successful Ads Campaign
---
Google Adwords: 
Let's see how this advertising tool operates.
Advertisers can use a webmaster's site.

This webmasters site integrates the advertisement on to its site.

Google's web crawlers crawl for that particular ad based on keyword.

As they reach the ad, they review the adjoined content.

Now, whenever a user clicks on the ad placed on the webmaster's site.

The site receives a portion of the revenue, and Google gains rest.

Advertisers get their product advertised through rich webmaster content.
Now, we come to an essential advertising tool for Google-Adwords
Google Adwords 101-The function:
Advertisers select the target audience, keywords, and other parameters through data provided by Google Analytics.

Once they decide the parameters, they submit their ads to Google with a list of keywords related to their products, services, and businesses.

Whenever a user searches for that keyword, an ad appears on the Search engine result pages(SERP) on the sidebar. Google charges the advertisers on a per-click basis.
Now that we know how it works? Let us discuss the seven secrets that can help you create a successful Google Adwords ad campaign.
Goal Realization:
While there is always the need for great marketing and advertising to any product or business, defining your business goals for advertising and marketing is essential. What are you searching for in your campaign is the realization that should be made,
The questions you need to ask:
Why do we need advertising?

What are the product features to be advertised?

Do we need branding and brand awareness among customers?

Do we need an e-commerce exposure?

What are the services we need to market?

How much marketing and advertising we need?

Why do we need Adwords for? What do we advertise?

Do we need advertising and marketing for Leads?
As you find answers to these questions, you will find the right reason to choose Google Adwords for your campaign, and it will help you to structure your account on the Adwords site for maximum optimization.
Knowing the Audience:
One of the most significant parts of strategizing any advertisement or even marketing campaign for that matter is knowing who to target and how to target, and that is the factor that often gets confusing. 
So, how can one identify the right audience for an advertising campaign?
Identify your potential audience through demographic parameters like age, gender, region, finances, etc. From all the settings, spending power is an important parameter. The spending power of your audience determines your product pricing range and your spending on the advertisements.
Understanding the online behaviour of your audiences is essential to learn what they are searching for and where they are searching? These statistics can help you configure your ad campaigns to specifically target users and consumers based on particular segments of customers.
You need to identify the consumers that prefer customizations of product and services so that the campaign can be designed in a more personalized manner.
Tools you can use to identify your audiences:
Website analytics
Social Media Analytics

Customer Relationship Management Platforms 

Market Surveys- online, offline, and face-to-face.

Advertising platforms

Google Analytics
Keyword Search:
As we discussed earlier, the services offered by Google Adwords depends on the list of predefined keywords related to your services, products, and business. Hence, you need to know the right keywords for your products.
Google provides a Google Keyword Planner for advertisers and marketers in-built in the Google Adwords for identifying the right keywords for your ads. Keeping the proper keyword density(KD) in your content relative to the campaign is also quite essential to your ads, and this is where Google Analytics can help you.
There are many other keyword planners available in the market other than the Google Keyword Planner, too, and each one of them can help you know the volume and competition of keywords in the current market.
Budgeting the CPC:
CPC is the cost per click, as Google charges you on every click that is done by users when they search for a particular keyword on the search engine, knowing the CPC helps you to get a grasp on the overall budget and increase active bidding on a specific keyword.
There are some unique tricks to keep the CPC budget in check:
Keep the volume of keywords high but limit the number of keywords. This will surely limit your gauge but will improve focus on the particular keyword.

Increase the number of keywords, but limit your volume. Though there will be a volume decrease, there will be more keywords to advertise with.

Restrict the number of keywords and volume. This will undoubtedly decrease CPC.
These tricks depend on the goals and vision of your campaign and on the type of audience you are targeting. Controlling the CPC can help you manage your overall advertising budget.
Structure of The Account:
Structure your Adwords account to keep the campaigns relevant to the audiences. There are several campaigns in your account according to the different sets of keywords that need to be updated from time to time. 
The best way to manage these ads campaigns is to structure your account into groups. Group your campaigns and update them from time to time for relevance and consumer engagements. These groups should represent only a few chosen keywords to enhance the focus on their optimization.
Creating Ads: 
The most vital part of your campaign is to create advertisements that can kill competition, right? To develop such killer ads, there are certain tricks you can use which can undoubtedly help draw audiences towards your ads,
Click-through rate(CTR) is a ratio of users who click on-site links to the number of total users who viewed your page or advertisement. It is needless to say that increasing the CTR can help you optimize your ads and campaigns for more traffic and audiences.
Use a limited time offer to push your audiences to improve your CTRs(Click Through Rate). In Adwords, the same can be done through countdown timers.
Image Source: Countdown Timer
Using product logos or symbols such as trademarks by the side of your ads or in meta description can improve your CTRs.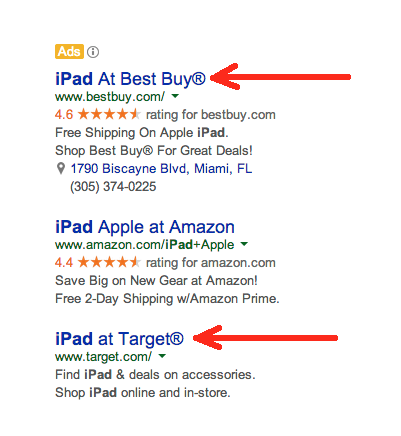 Image Source: Symbols
Use ad extensions from credible sources, and surveyors that provide reviews on your product can surely help users trust your product more and improve CTR.

Image Source: Add Extension
Using a Call-To-Action can undoubtedly help your ad attract more clicks and traffic.
Image Source: [eafl id="19682″ name="SEMrush CTA Blog" text="CTAs"]
Emphasize your keyword in the spotlight by using them into your meta tags and meta descriptions.
Landing Pages: 
This is your playfield and your court where you need to capitalize. Your landing pages are your biggest advertisers and advocaters. Whenever your defined keyword is searched, and a user clicks on your advertisement, the visible page will be your landing page. The landing page must be optimized for higher traffic, low loading time, and other features that will attract higher traffic. 
Some tricks to achieve high landing pages are:
Structure of the content to be readable.

Develop an easily loadable page.

Team up with a

software development company

to optimize your landing pages for mobile users and viewers.

Focus on the features of the landing pages.

Reduce form fields in the landing pages.

Introduce effective CTAs to improve conversion rates.

Use high-quality images to make pages visually appealing.

Use product demo-videos and other relevant videos, if needed.
Using these tricks will help your landing pages attract more traffic and also optimize it for more leads and conversion ratios. Optimization of these landing pages from time to time by replenishing the content according to the relevance with the audiences is necessary to keep the viewers engaged and help remarket the products.
As The Curtain Falls: 
With new emerging markets and stiff competitions, staying in a market without a proper ad campaign is like fishing in a pond full of pebbles. Google Adwords provides the right means and tools for advertisers to promote, advertise, and market their products to the right audience and for the right results.
But, to optimize Google Adwords and its tools for the best campaigning strategy, you should consider the above tricks and tools. These tools can help you strategize, set parameters, budget, and implement the right advertising campaign for your products and services. The secret still lies in the execution and understanding of the real vision and goal of your organization and business on the whole.
---