Effective Ways To Reduce Website Bounce Rate
---
A high bounce rate is certainly not something any website owner expects to see. But it might occur when you struggle hard to increase website traffic, generate leads and acquire clients.
But why?
It is mainly because the visitors or the potential clients leave the website immediately without giving you the time to convert them.
However, effective SEO strategies alongside other factors can help you reduce the bounce rate of a website. But before we learn about those factors, we need to understand how the bounce rate is calculated, and the reasons for having a high bounce rate.
How is the bounce rate calculated?
The bounce rate refers to the percentage of visitors who leave after visiting a website without browsing its other pages. By dividing the total number of single-page visits by the total number of page visits, we can get the bounce rate of your website.
The formula is,
Bounce rate % = Total number of single-page visits/ total number of visitors.
Why do you have a high bounce rate on your website?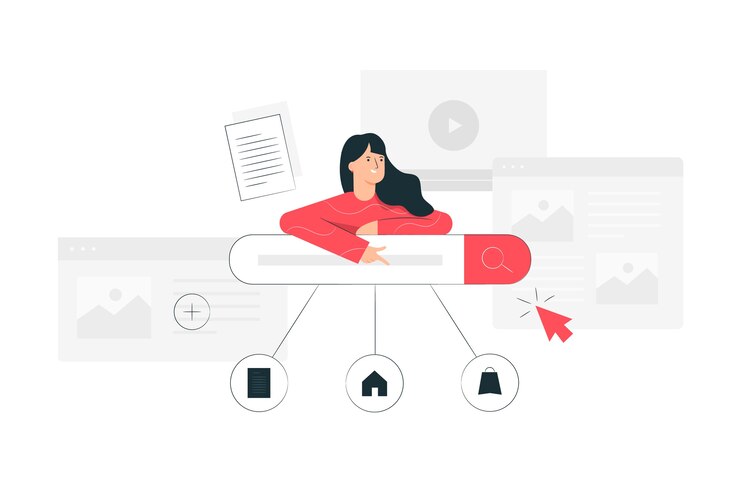 Identifying the reasons for high bounce rates on your website is the first step to reducing them. Following are the factors that impact website bounce rate-
Slow loading rate: If the visitors find that your website is not loading quickly, they will leave. A page has to load in 3 seconds. So you must check how much time your website is taking to load.
Irrelevant content: How relevant is your content to keep visitors on your website? If the content is irrelevant, the bounce rate will increase. So you must maintain the content quality before publishing it on the website.
Inappropriate title: You should use a title that accurately describes the content of your website. What if visitors arrive at your website merely because the title is interesting, and find different content altogether? They will leave the website immediately, thereby increasing the bounce rate.
Blank page: Technical errors are one of the main reasons why your website has a high bounce rate. Because of this, your website always displays a blank page whenever someone opens it. Consequently, they will leave your site immediately.
Not user–friendly: If users are unable to navigate your website, they are unlikely to stay on it. Thus, your website may experience a high bounce rate.
Not responsive: Can your website be accessed from any device? Users are likely to leave your website if they don't get a seamless browsing experience from the device they are using.
How to reduce website bounce rate?
Reducing bounce rates are essential for your website's success. A website has to be engaging and effective to boost conversion rates and generate more leads. Following the below-mentioned tips can reduce the bounce rate of your site.
Reach out to your target audience: When you conduct a thorough market analysis of your products, you get an idea of the target market for your products. But how do you attract your potential clients to your website?
To do that you need a landing page with keywords that are appropriate and relevant. Not to be forgotten that users use keywords to find your website. So, choosing the right keyword is essential.
You can always reach out to an SEO agency to assist you in keyword searching. When your website successfully reaches out to your target audience, the bounce rate naturally declines.
Keep the website content up to date: The purpose of visiting your website is to find out more about your products and services. To gain the trust of the potential clients the website content should be up-to-date with complete information.
Make it a priority to provide seamless user experiences: Your website is your only means of interacting with your customers. It is therefore absolutely crucial that your website does not confuse visitors. Handling your website should not be a challenge for your visitors. Otherwise, how would your customers buy your products or schedule services offered by you? Ensure your website is successful in providing a seamless user experience.
Make your website load faster: How quickly your website loads can also influence your bounce rate. If your website takes a long time to load, the visitors might leave the website immediately.
What should you do? Keep in mind certain factors that contribute to the slow loading of your website. Consider the size of the images you are using, the site server, and the multimedia content on your website. Check if any factor is slowing down the website loading speed. If so, then it's time to work on it.
Keep track of the performance of your website: Making your website effective is not the end of your responsibility. Keeping an eye on the performance of the website is essential. A single change to your website may affect your website's traffic. So make changes strategically that will help to reduce bounce rate.
Conclusion
A lower bounce rate is desirable for any website owner. It is, however, impossible to achieve 100% success without the assistance of experts. For this reason, it is advisable to connect with the company offering top SEO services in India. We hope that the tips we provided were helpful to you.
Bio/Signature: As a leading provider of web development and content marketing services in India, Esolz ensures positive conversion rates. Our content marketing experts strive to boost the visibility of your brand through effective content marketing campaigns. Whether you're looking for conventional PHP web development or high-end domain-specific app development, our experts can assist you.
---