Best B2B Marketing Strategies to Consider
---
The number of your competitors is constantly rising. And, to survive in today's oversaturated b2b marketplace, you need to build a solid brand and promote it widely. Now, with the rise of the internet and sophisticated tech solutions, building a solid marketing strategy has never been simpler. Today's b2b marketing is all about the omnichannel approach. It seems like a highly intertwined network of different acquisition channels, allowing you to take your client acquisition and retainment to a whole new level.
Here are some of the most effective b2b marketing strategies you should implement.
Invest in a Responsive Design
Your website design indicates how trustworthy you are. This is a place your clients will go to once they find out about you. They will navigate through your site, look for your contact information, open your product descriptions, check out your prices, and read your blog.
There are numerous factors such as the readability of your content, the availability of important information, and the visual appeal that impact their perception of your brand. And, their overall experience with your site will determine whether they will convert or not.
Now, to provide your users with the impeccable browsing and buying journey, you need to invest in a responsive website design.
So, start with your navigation. Don't bury your content somewhere in the depths of your site. It doesn't matter if you go with the "Simple Toggle Approach" or the "Multi-Level Toggle", you should make your navigation as simple as possible.
Another immensely important aspect of your site is the responsiveness of your content. For example, you should offer expendable content. With just one tap, a reader will be able to open and close different parts of your lengthy article and skim through it instead of scrolling endlessly to find the information needed.
Make your contact forms easy to tap on and fill out. They need to be short and to the point. There is no need to ask a bunch of irrelevant information.
Finally, make your site faster. Always keep in mind that most of your clients expect your site to load in less than 2 seconds and if it doesn't load in 3 seconds, they will dump it. So, use better hosting services, cut redirects, compress your files, or simply turn to Google AMPs.
Don't Underestimate the Power Offline Marketing
When you search for "traditional marketing," the first thing you'll come across is a bunch of articles on how it is dead or useless. However, this is not entirely true and here is why.
We live in the digital era, but this doesn't mean we should give up on everything we did or loved in the past. You shouldn't choose between digital and traditional marketing, you should merge them together to get the best from both worlds.
Take your clients from physical to digital. Use billboards, flyers, direct mail, and promotional products to add your email address, hashtags, or QR codes. This is an effective strategy for local businesses that are aiming to personalize their approach to customers, like Carbon 8 does with their printing. With just one quick scan, your clients will be able to visit your homepage, Facebook profile, product pages, or be directed to your contact form.
You could also use the opposite technique- to promote your live events online. If you're throwing a party for your clients or hosting a seminar, make sure you promote them on social networks. Once the event is over, share the photos and ask for impressions.
Have a Solid Content Strategy
Logically, b2b and b2c content marketing are not the same.
Businesses asking for your help won't waste their resources frivolously. They will hire you only if they see that you can either save or make them money.
And, your content needs to tell that to them. Here is how.
Tell them your story first. Have a clear proposition value. Tell them how your business was born and emphasize what sets you apart from your competitors. Write a case study about your client's success and add your major clients' testimonials.
Know who your potential clients are. You need to know what their goals, worries, preferences, location, job title, and experience are. Most importantly, you need to understand their intent. For b2b businesses, this is an immensely important part of your research. It allows you to make data-backed content strategy, establish your tone and voice, hook your audiences' attention and keep them engaged.
Take a

look at what your competitors do

. Analyze what type of content they create, how they promote it, and where they share it. What about content curation- how often do they publish content? What keywords do they rank for? Do they work with influencers or not?
Keep track of trends in your niche. Today, with the rise of AR and VR, writing an article is not enough. You need to turn to more engaging and interactive forms of content.
Understand your sales funnel. Different stages of your relationship with your customers

require different types of content

. For example, in the awareness phase, you should deliver content that educates and builds relationships, like tips, whitepapers, webinars, and podcasts. During the evaluation phase, you should provide F&Q, case studies, or product webinar, as well as offer them free consultation, demos, or coupons in the purchase stage.
Focus on lead nurturing. You shouldn't bombard your clients with a lot of content that will persuade them to buy something. Instead, be natural.
Creating awesome content is not enough. You need to

promote it widely

, as well. Share it on social networks, publish guest posts, post on Q&A sites, and do broken link building. But, don't invest in all these channels equally. Do your research and see what works for you.
Be Active on Social Networks
In the past, social media marketing was believed to be a b2c marketers' thing. But, this cannot be further from the truth. Once implemented, it will help you build a recognizable brand. You will give them the opportunity to see the human side of your brand and meet the people behind it.
Social networks help b2b companies make the strong connections with clients. They allow you to reach out to your potential clients all across the world, irrespective of their location or time zone. Also, they will help you lessen the costs of customer acquisition and relationship building, without having to cut any corners.
Social media and content marketing simply go together. Your social profiles are a great way to spread the word about your business and promote your content to a wide audience, for free. Take their engagement to the next level with some interactive and fun forms of content, such as quizzes, live videos, awesome explainer videos, photos, etc.
You should share company news, some amazing projects, as well as your partnerships. If an influencer mentioned you in their piece of content, tag them and reshare the post as soon as possible. Don't forget to raise your brand's authority using social proof. Share your major clients' testimonials, make their reviews and ratings easily visible, and regularly post user-generated content.
Conclusions
Building a solid strategy is the key to boosting the effectiveness of your b2b marketing practices. With the help of these techniques, you'll manage to boost your ROI, turn your leads into conversions, and build a solid brand.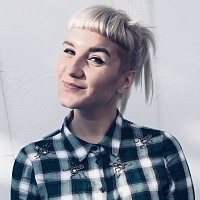 Lauren Wiseman is marketing specialist, contributor to bizzmarkblog.com and entrepreneur. She helps clients grow their personal and professional brands in fast-changing and demanding market, strongly believing in a holistic approach to business.
---