Best 14 Ecommerce Marketing Tools to Grow Your Online Store
Are there any necessary benefits of using eCommerce marketing tools?
Well, it surely has!
We all know that running an eCommerce business isn't an apple pie. From maintaining the inventories to running ad campaigns or increasing customer engagement, it requires a good deal of time.
But, we can maintain all of these without losing the extra hours or sacrificing efficiency. The time-consuming tasks like keyword research, SEO ranking optimization, content idea research, customer data analysis, etc. It can be automated by using the right tools.
For this reason, we are going to introduce you to some important marketing tools that will help you overcome multiple obstacles in running your eCommerce site.
But before that, let's understand multiple categories of eCommerce marketing.
Types of Ecommerce Marketing
There are multiple ways to promote products and services to the target audiences. You need to focus on all of them to achieve the ultimate success of your digital business.
1 Social Media Marketing
Online has changed the way we communicate and conduct business. Today, businesses can connect with customers through both online and traditional communication methods such as electronics or print media.
Besides the businesses, nowadays, the audience can also engage with the businesses. And it becomes possible because of the increasing popularity of social media websites. The audiences can share their opinions, connect with other like-minded people and learn about new products and brands.
As a result, businesses now can get a better understanding of what their customers want and need only by analyzing their customer's behavior on social media sites. It will help the businesses to grow and expand even more.
2 Email Marketing
Email marketing is a powerful way to build brand affinity and drive sales. As it's a direct communication method, it is incredibly efficient to keep in direct touch with your audience.
It also allows you to build a bigger and better customer base. But to generate the maximum ROI from these target customers, it's important to use email marketing the right way.
Unlike the other communication methods, you can engage with your customers directly by implementing email marketing on your business. In fact, it is the most powerful, efficient, and time-saving method of staying engaged with your audiences.
So, build on your relationships by sending relevant content that keeps your audience interested and coming back for more. This will allow you to build brand value and increase your eCommerce revenue while also generating a steady stream of new leads.
3 Content Marketing
Content marketing is a powerful form of marketing that gets people to interact with your brand. It is used by marketers to connect with their customers. But, you have to focus on the audience's interests to get better ROI from content marketing.
As you create content for your business, it's important to think about how your content can help you establish a stronger brand and build a better online presence.
Overall, content marketing has changed the way people communicate and thrive online in the last couple of years. It has allowed marketers to connect with their customers in new ways and to create new opportunities to engage with them.
4 Influencers Marketing 
Influencer marketing is a technique of collaborating with influencers and brands. In general, the deal is like the influencer has to promote a product or service of a brand.
This marketing method is one of the most powerful ways to increase brand awareness and drive sales. By the way, your success mainly depends on which influencers you are dealing with and how they are promoting your products.
Best 13 ECommerce Marketing Tools to Grow Your Online Store
In this section, we will present 13 best eCommerce marketing tools to grow your online business.
1 CTX Feed – WooCommerce Product Feed Manager Plugin

One of the most important tasks of eCommerce marketing is promoting products on multiple platforms. If so, your product will be visible to the target audience. However, if your products don't reach the target customers, they won't get to know about your products.
For this reason, you need to create a product feed and add product data on multiple famous platforms for the promotion. In this situation, CTX Feed – WooCommerce Product Feed Manager will help you to generate product feed without any hassle.
You might think that maybe you need advanced programming knowledge to generate the feed.
But, you don't need that at all!
Because with the help of this WordPress plugin, you can easily update all the product data on multiple platforms such as Google Shopping, Facebook, Instagram, Bing, Tiktok, and hundreds more channels.
Key Features
Generate unlimited product feed.
Advanced category mapping options.
Automated feed update functions.
Compatible with multiple feed file types.
100+ pre-optimized templates.
2 Semrush – Flexible Digital Marketing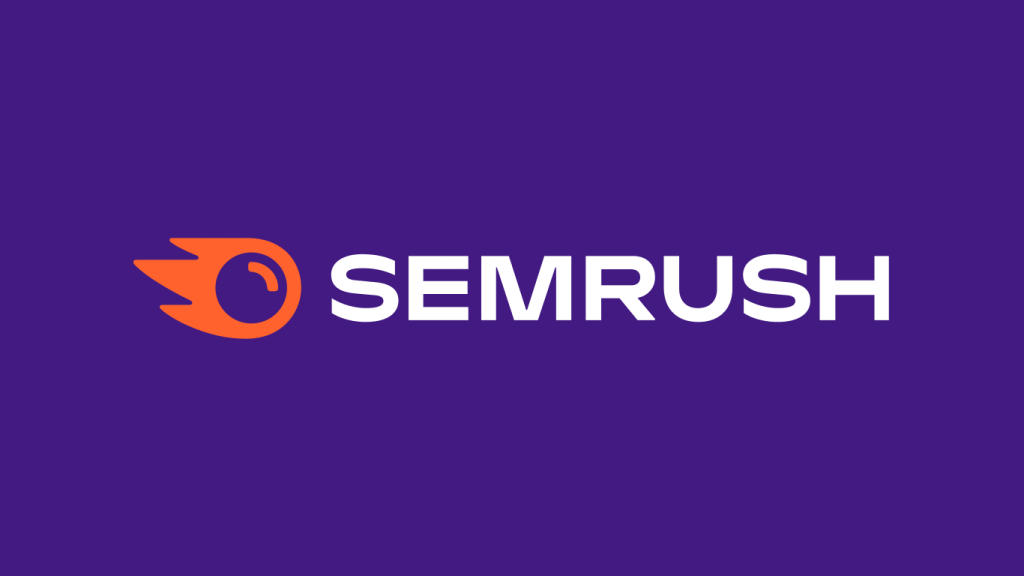 Semrush is a successful Ecommerce marketing solutions provider company. They have provided services to their customers for the last 13 years. Currently, Semrush is serving 10 million customers in 143 countries.
As an eCommerce business owner, you have to perform several SEO activities like keyword research, domain analysis, backlink analysis, etc. These activities are required to get more traffic than your competitors.
And you can perform all of these only by using Semrush. Semrush provides multiple keyword research facilities such as organic research, keyword magic tool, keyword gap, and more.
It also has powerful auditing tools like site audit, on-page SEO checker, and log file analyzer. Along with that, it will help you in analyzing your marketplace competitors.
You know, a better SEO ranking is very important for your website. Because if you can rank higher on the SERP, you will get more visitors.
Key Features
Optimize site based on local and on-page SEO.
Social media management for brand awareness.
Powerful content marketing strategy.
Proper market and competitor analysis.
3 BuzzSumo – Generate Effective Content Ideas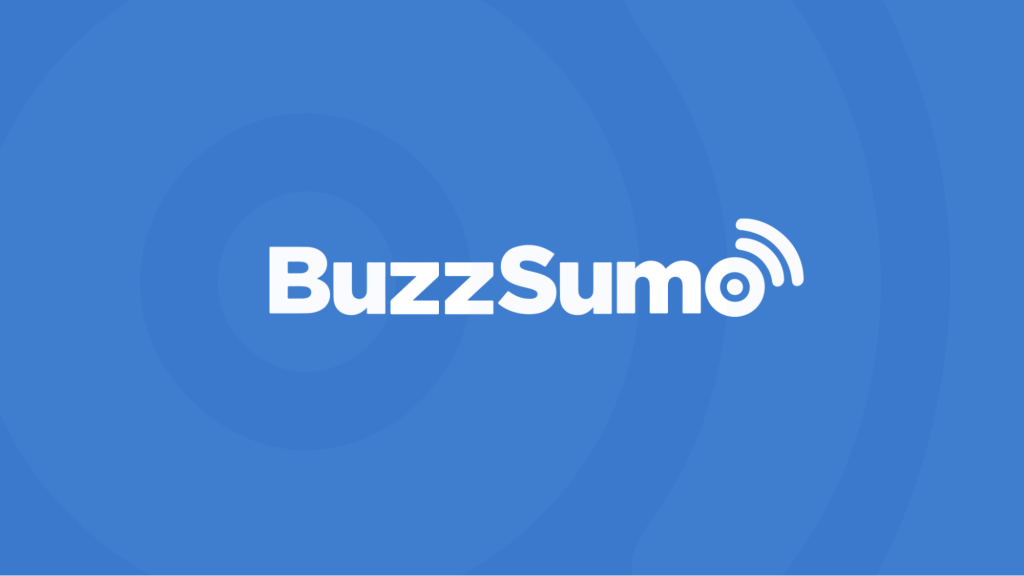 Generating content ideas isn't an apple pie. You have to spend countless hours on research to find an appropriate topic. Overall, you can say that it's so difficult to find clear content ideas based on your products and services.
You can choose BuzzSumo to solve these issues without any hassle. BuzzSumo is a powerful content marketing tool that helps people generate compelling content ideas.
It provides trustworthy services to thousands of multiple businesses. With the help of this tool, you can generate content ideas from the latest trends. You can filter content-type based on your audiences. BuzzSumo allows you to scan the past five years of content data for better comparison.
Generating content is not the end. You have to promote your content to reach target audiences. But how can you do that?
You can easily promote your content with powerful influencers with the help of BuzzSumo. Because BuzzSumo helps its users find the most prominent influencers based on your eCommerce brand.
Key Features
Find influencers for your business.
Extensive trending ideas for content.
Optimize keywords based on business demands.
Better competitor analysis opportunity.
4 Ahrefs – Better Search Traffic Improvement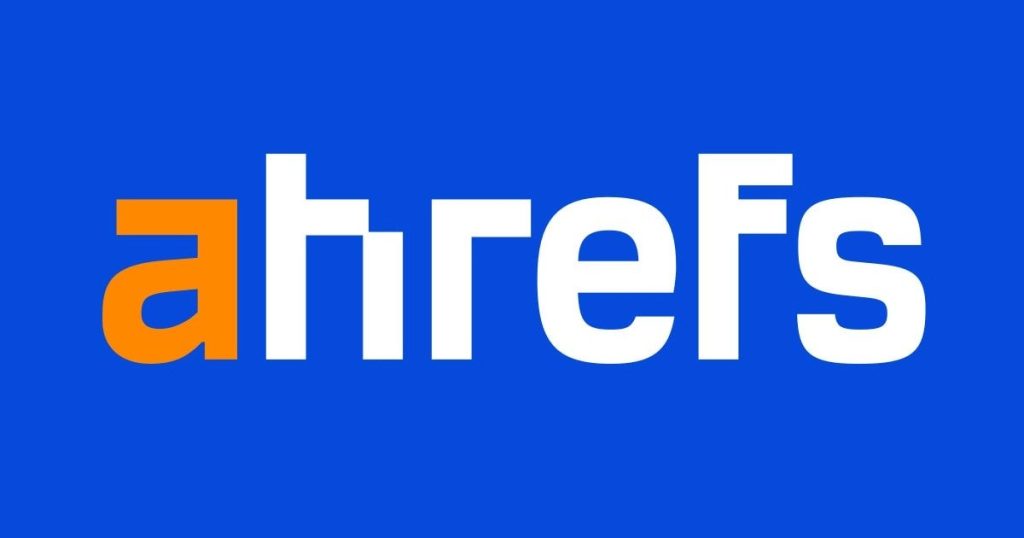 To succeed in any business, whether digital or regular, you must analyze competitors in your marketplace. It's very difficult to develop a proper business strategy plan without research in digital marketing.
Ahrefs helps you in this situation because they have multiple research tools such as organic traffic research, paid traffic research, backlink checker, etc.
So you can easily track which types of keywords your competitors use and pages with higher traffic. Also, you can analyze the websites that link to your competitor's sites.
In addition, you will be able to research seven billion+ keywords with the help of keyword explorers. So, there's a huge possibility of finding better keywords for your content.
Suppose you want to research keywords for a specific country. Ahrefs can help you in this section too. Ahrefs Keywords Explorer will provide keyword data from 171 countries.
They provide keywords not only for Google but also support other search engines such as YouTube, Amazon, Bing, Baidu, etc.
Key Features
Effective Competitor Analysis.
Immediate SEO performance tracking.
Audit your website
Ranking updates for mobile and desktops.
5 Google Analytics – Advanced Customers Analysis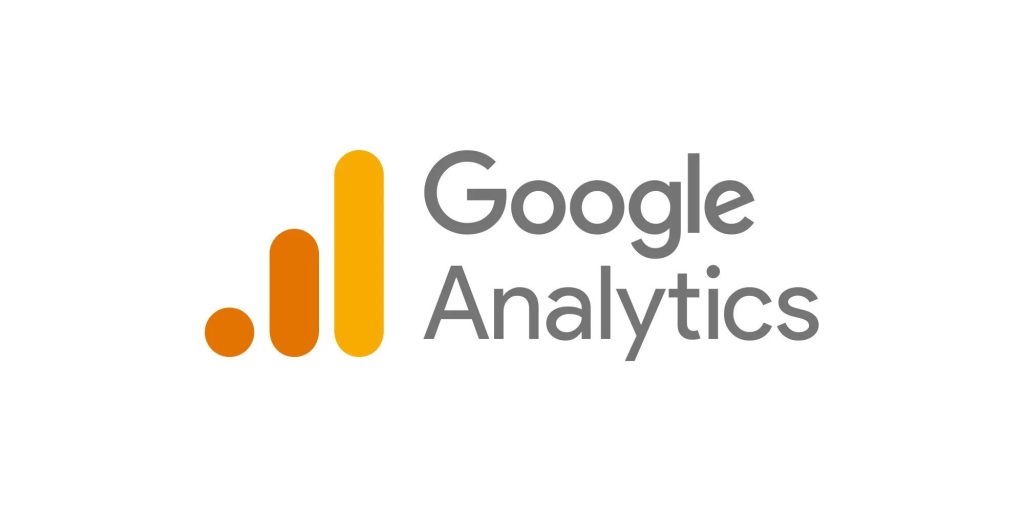 For the growth of any eCommerce business, gathering information about how the consumers interact with your website is essential. When you analyze accurate data, then you can easily customize and improve your eCommerce store based on user demands.
Google Analytics is a free tool to help you monitor user data, like which devices and platforms they use. Google's machine learning will help you predict future customer activity and provide new ideas.
The built-in automation features automatically analyze data and provide you with better insights to make further changes. These changes will help you to boost your business growth.
The advanced machine learning system of Google provides more presided and organized data on customer's journeys. So that you can easily understand the customer's behavior on your eCommerce website.
With the help of Google Analytics will be able to the performance of multiple campaigns such as Google Ads, search ads, and Display and Video 360.
Key Features
Advanced automation data analysis.
Better conversion and engagement reports.
Integrations with other Google services.
Deep custom data analysis.
6 Google Surveys – Authentic User Data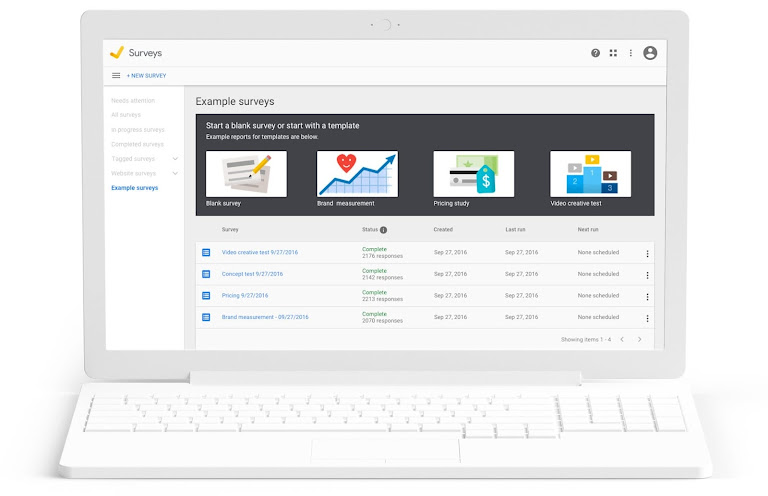 As an eCommerce business owner, you must understand what your target customers actually demand. You can customize your business only if you get the proper idea about them. When you can successfully satisfy customers' inquiries, they will tend to convert into a buyer.
With the help of Google Surveys, you will be able to get essential data about your target customers. Thus you can easily make necessary decisions to improve and update your eCommerce store. It will help you a lot to save time on traditional market research.
Customer engagement is essential for any eCommerce business. Because it creates a successful and trustworthy relationship between customers and owners, you can get real answers from the customers from Google Surveys. As a result, you'll get real customer insights.
One of the major benefits of Google Surveys is its ease of usage. Any organization or individual can use surveys without any complexity.
Key Features
Provide insights from real people.
Properly analyzed data.
Fast and authentic data from market research.
7 HubSpot – Fully Compact Marketing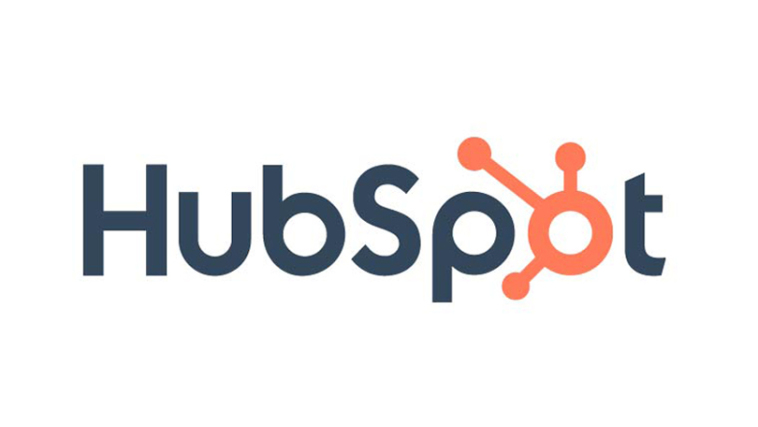 Nowadays, digital marketing has become an enormous thing. If you run an eCommerce business, you must have ideas about digital marketing. eCommerce marketing has different sectors such as SEO, email marketing, content marketing, etc.
But the real problem comes when you are going to manage all of them separately because it needs a proper strategy and enough human resources.
So that you can choose HubSpot, HubSpot provides all the digital marketing solutions in one platform. You can save time by managing marketing work and providing a better customer experience.
With the help of HubSpot, you will be able to create blog content and promote them on multiple channels. So customers will get to know about your eCommerce product and services.
Also, this tool provides powerful Search Engine Optimization features to upgrade your eCommerce website's ranking search results.
Key Features
Advanced marketing automation service.
Proper landing page development.
Email marketing and contact management.
Social media management system.
8 Moz – Progressive SEO management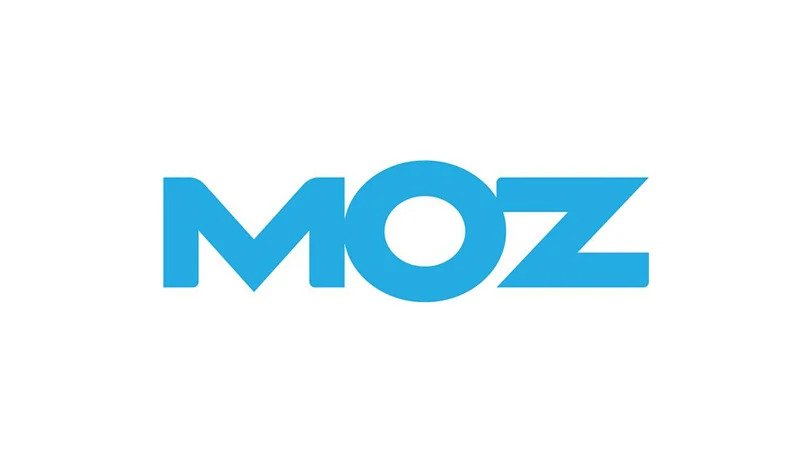 The eCommerce websites get comparatively more engagement than the other websites. Because a large number of people visit those websites in order to purchase products.
In fact, most people search for those products on multiple search engines too. You should promote your products on those platforms. To promote your products on those search engines, you have to rank your websites on the first page of search results.
In this situation, Moz helps their users to improve the website's Search Engine Optimization. From researching keywords to website audits, Moz provides multiple SEO services free of cost. However, finding the best keyword for your content customization is not an easy task. Invest your time and use Moz to find the most powerful keywords.
Moz has almost 500 million keywords. So you can choose the best traffic-boosting keywords for your eCommerce website from there.
Besides that, you won't become successful in your eCommerce business without analyzing your competitors. You can get ideas about your target audience's demands and the conditions in the current marketplace. Moz will also provide you with your top competitor's data and keywords gaps from the market.
Key Features
Most effective SEO tools.
Access 500 million keywords.
Strategic analysis of competitors.
Influential Backlink data for SEO.
9 Mailchimp – Advanced Email Automation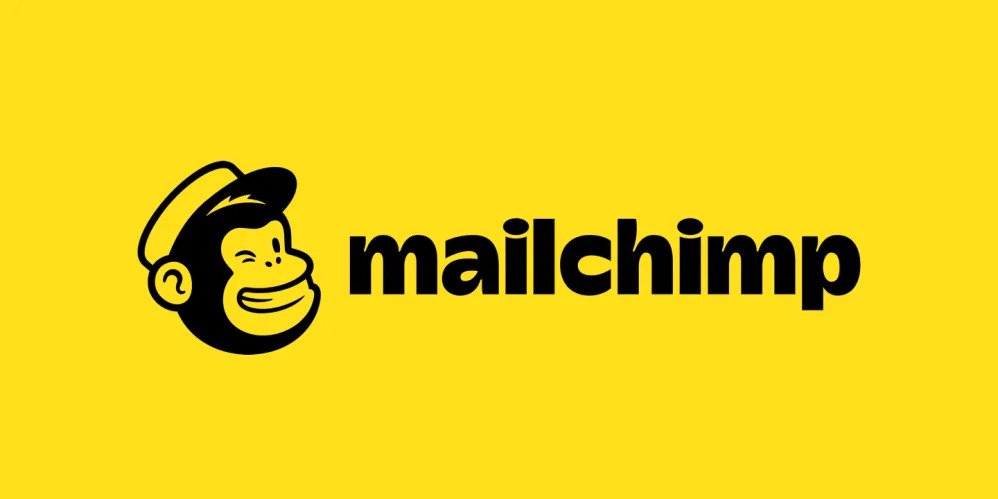 Communication with the customers is one of the core parts of any eCommerce business. You can promote your products and services to the target customers through email communication.
And Mailchimp is the best solution to stay connected with your audiences. This email marketing tool helps you establish meaningful communication with your customers. You can send multiple updates, discounts, upcoming features, etc., about your products to the customers.
Mailchimp has multiple pre-designed email templates where you can easily design email only by dragging to drop the elements. Also, you will be able to choose code for your own email builder.
In eCommerce, there are various types of customers who come to purchase products. Mailchimp has automation features to send emails according to your customer behavior and interactions. Which will create better engagement.
Besides that, the landing page is also an essential part of your eCommerce business. Customers are redirected from social media pages or search results to your website landing page. So, landing pages create the first impression for your website.
Mailchimp has a powerful landing page builder with a pre-designed template. So you can easily design your landing page in a short amount of time.
Key Features
Advanced email automation service.
Design lucrative landing pages.
Free website development.
Proper audience data analysis for marketing.
10 Hotjar – Efficient Heatmap Generator

Your eCommerce website user experience plays a huge role in the overall growth of your business. Because an eCommerce website displays all the products for your customers and determines the buyer's journey.
If the customers are not satisfied with browsing and purchasing on your website, then it will create a bad impact. If you want to avoid those bad impacts, you have to track the user's behavior pattern. And you can do it by using Hotjar.
Hotjar is an essential user activity monitoring tool. It will help you locate where your customers mostly click and scroll on your website. Also, you can locate where your customers stop scrolling and leave your website.
So that you may quickly get the ideas about the necessary improvement of your website interface and functions, customers will get satisfied with your website.
Hotjar can identify user behavior on multiple devices such as smartphones, desktops, and tablets. This tool created website heatmaps for multiple famous companies such as Microsoft, Adobe, Panasonic, Nintendo, etc.
Key Features
Proper identification of user activities.
Upgraded website heatmap features.
Integrated with thousands of popular apps.
Reliable customer service.
11 Optimizely – Simplify Marketing Strategy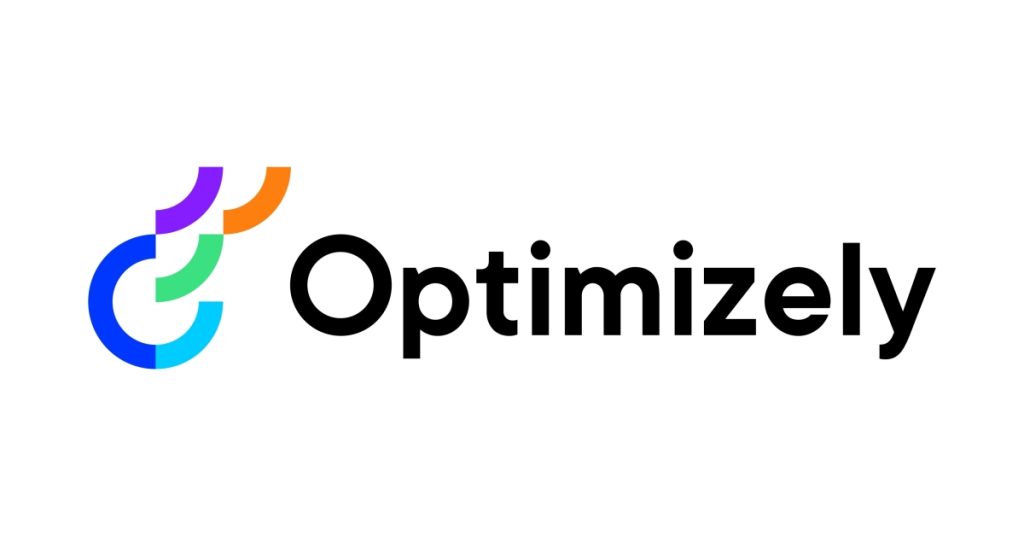 When you are running an eCommerce business, you need to maintain a proper marketing strategy for your products and other services. Because without a stable plan, you cannot reach your targeted customers.
As a result, customers will never know about your store and products. But Optimizely will help you to do your everyday marketing tasks without any difficulties.
The marketing team can easily maintain marketing campaigns. Optimizely has various functions for campaigns, such as dynamic calendar, campaign layering, playbook templates, etc.
Content management is an essential part of any digital business. You can easily generate influential content based on your target customer's demands.
When you generate content, it will be stored in the powerful CDN server of Optimizely so that your content will be delivered to the audiences faster than before.
Key Features
Advanced web A/B testing.
Proficient campaign management functions.
Multi-site and multilingual eCommerce development.
12 Canva – Design for everyone

Nowadays, images and designs are significant parts of websites. Every successful marketing campaign requires well-designed banners, posters, and images. Also, for a social media campaign you need lucrative designs.
Suppose you can't design these essential aspects of the campaign properly. Then customers might not get good ideas and interest in buying products from your store.
Where Canva is a freemium tool to simplify your designing task more professionally. The main benefit of using this tool is you don't need any advanced design knowledge to customize designs for multiple campaigns.
Because Canva has multiple pre-designed templates for various categories such as social media posts, covers, YouTube thumbnails, business cards, certifications, presentations, resumes, etc.
Key Features
Efficient templates with drag-to-drop functions.
Well-developed mobile interface.
Real-time collaboration with the team.
Plenty of pre-designed templates
13 Zoho – Professional CRM Optimization

You must provide better customer service to improve your eCommerce business. Zoho is one of the prominent customer relationship management solution providers.
With the help of this tool, you can easily connect with your customers with live chat, email, social media, etc. Also, Zoho provides auto-generated notifications when customers reach out to your business.
Proper analytical data is very important for any eCommerce business. When you get the idea about customer interaction and sales performance, you can take the necessary steps for further improvement.
Zoho will provide you with real-time analytical data about sales and conversion. Also, this tool is integrated with multiple software such as Mailchimp, Slack, Zoom, Zapier, etc.
Key Features
Real-time analytical data.
Integration with multiple software.
Powerful marketing automation.
Proper performance management.
14 Saral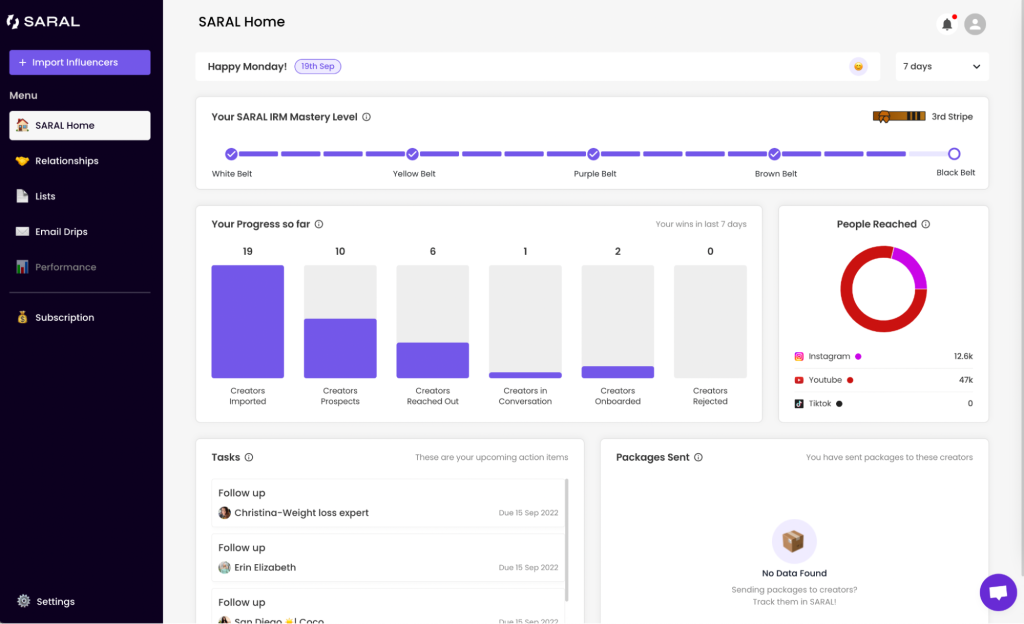 SARAL eliminates the need for a bunch of other tools by bringing together everything from Discovery, Outreach, Tracking, and Management. Its highlight is the relationships board which puts your creators front-and-center for you, so you never miss out on a relationship. They have a spam-free outreach tool built-in to the app so you can automate sending 100s of emails and follow-ups to influencers.
They have some other time-saving features like auto-finding influencers, automated shipment tracking, a handy chrome extension, and reminders that make you great at building and maintaining long-term relationships with creators.
The best part is it's one of the only platforms that offer a free trial and does not need you to commit for a full year upfront. So you can test it out, and only keep paying a modest $199 monthly fee if you find it valuable. SARAL is the least risky way to try influencer marketing for your brand.
Key Features
Discover thousands of influencers in your niche in just a few clicks.
Create an application page and turn customers into ambassadors.
Send automated emails and manage conversations with these creators
Look at metrics, and fair fees, and save creators on the go with a free chrome extension!
Ship Free Products, Generate Tracking Links, and Track Performance.
Conclusion
Whether it's an offline business or eCommerce, marketing is essential for businesses. So, you might need to use these tools for marketing purposes.
To help you with that, we have discussed some most prominent eCommerce marketing tools in this article. Hopefully, it will help you to do marketing tasks with better flexibility.
Also, there are multiple marketing techniques such as email marketing, social media marketing, etc. Implement these techniques and enjoy the extensive growth of your business.
Author Bio: Fahim Muntasir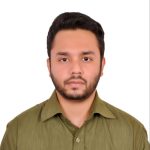 Fahim Muntasir works as a content writer at WebAppick – a giant WordPress plugin development company. His specialized sectors are WordPress, WooCommerce, Google Merchant Center,eCommerce, and other topics.