An Ultimate Review of FlexClip Online Video Maker
---
Do you know FlexClip? It is one of the best video editors that you can find on the Internet. It has thousands of effects and functions that will fascinate you. We invite you to know in detail about its characteristics, functions, plans, and much more.
What is FlexClip?
FlexClip is an online tool that allows you to edit videos with professional quality. The software with a web environment has its functions, features that are easy to use and make your rigs attractive. It is a compact means of editing that does not consume your PC, Mac or Laptop resources. Best of all, you can use it wherever you are as it is an online tool.
What can FlexClip be used for?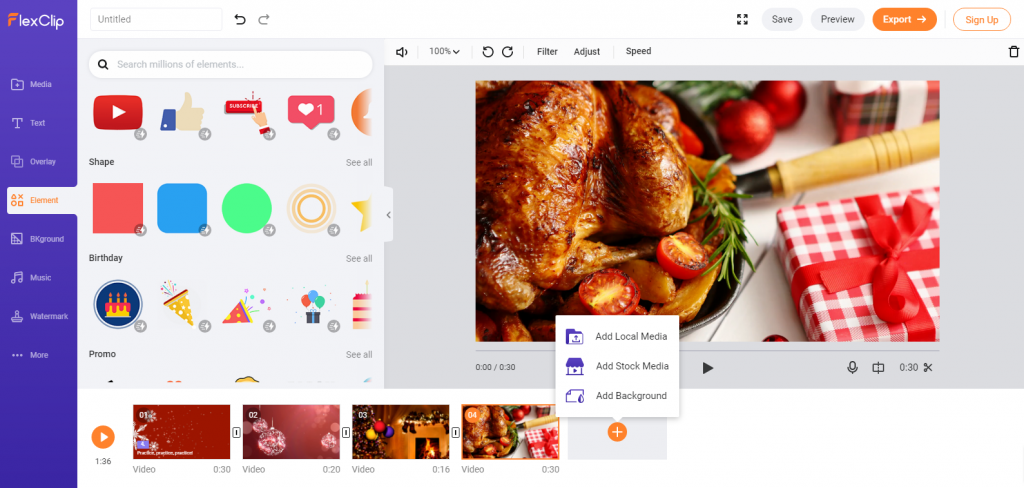 FlexClip features are great in the video editing field. To give you an idea, here are some of them that describes what it can be used for:
Video editing: it is an online platform for digital video editing that accepts various types of extensions.
Watermark: You can watermark your editions to promote your personal logo.
Voice editing: you can not only do video editing, but you can also modify audios so that you can later implement them in your videos.
Screen recorder: You are allowed to record your screen for making tutorial videos.
Slideshow maker: Be able to make a fancy slideshow with your own photos and clips.
Basically, the functions of this software are for all kinds of users. You can use it as a producer or for leisure. It is a very useful medium with which you can promote your digital productions, share your ideas and do online marketing of your services and products with audiovisual media for your own website and social networks. The preset templates are perfect if you are a newbie to video editing. It is an excellent online tool.
Key Features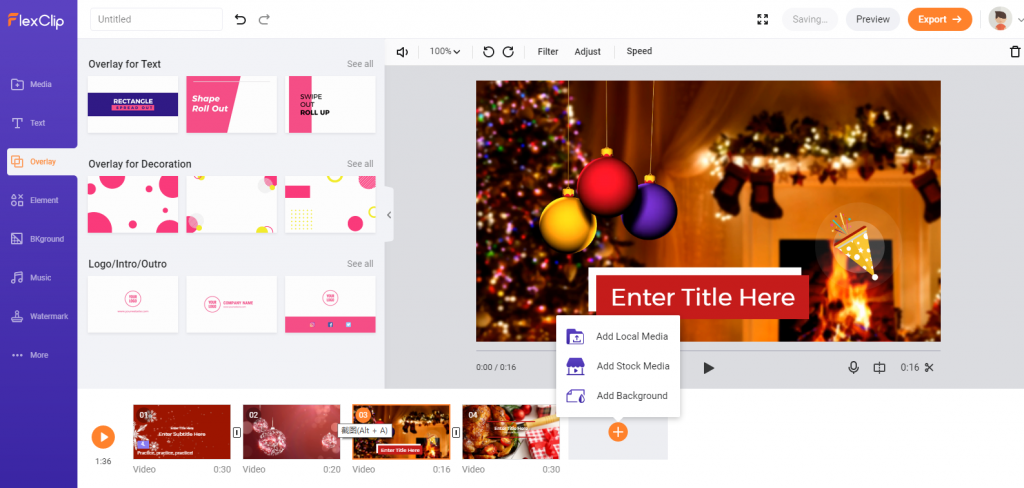 FlexClip stands out for being easy to manipulate, the most prominent being " Quick Editing. " But, there is not only that one. To give you an idea of the FlexClip specifications, we mention the most important ones:
The first feature is that it is completely free software with professional features. You will not have to pay subscriptions or monthly payments to use it.
The interface is very clean. In short, the storyboard is very intuitive and you can make your clips, retouch music, edit photos and include them in your videos.
There are very basic tools for new users. Suppose you still don't know anything about editing. In that case, you can practice with these little tools such as trimming sections of clips, adding text with styles, putting a mute to the videos and including your own audio, removing and putting watermarks, among others.
You should not worry if you find a video in FLV format. FlexClip accepts many extensions such as FLV, AVI, MP4, among others.
Another outstanding feature of FlexClip is its function that allows animating the texts within your clip, making your audio-visual production work more attractive.
It supports preview in real-time so that you can see the editing progress and make corrections easier.
You can edit and download videos with Full HD quality. The resolution that it accepts is between 480p to 1080p.
Simple interface: The interface is straightforward, so you can edit videos without having prior experience using other programs.
Save your projects online: FlexClip offers you the option to save the video project to your online account so you can continue editing it wherever you go.
Advantages
FlexClip has many advantages included the following:
It is one of the free and professional online video editing tools. Each user has extra privileges within this platform at no additional cost. To be able to use it, you just have to register and enjoy it.
Another advantage is integrating basic and advanced editing functions that allow you to work with quality, render quickly, make professional cuts. You can also make combinations of animated texts, including voices, remaster audios and add subtitles. The tool is very versatile and useful.
If the background sound of one of your videos bothers you, you can use the voice-over mode and place the new audio inside your clip. You can also make your own audio with mixes and settings to record vocals.
The included templates are another outstanding benefit. It comes with music, backgrounds, tiles, short clips, effects, and more.
Disadvantages
The only downside to using FlexClip is that when editing your video, you will need to select a short section, simply put, the software will not support long edits unless you subscribe to the plans described below. Therefore, you will have to work in a fragmented way.
Plans and prices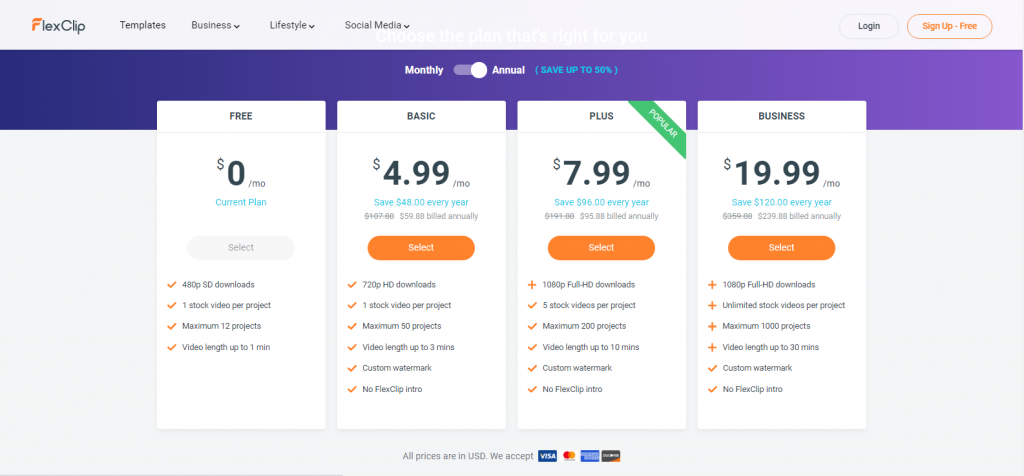 FlexClip has no subscription cost, no plans, or monthly payments. The video editing software is completely free, and each of the Premium functions is available to each user who registers within the web platform. If you prefer, there are also paid plans, which give you extra privileges. These are:
Basic Plan: it has a monthly cost of $ 4.99, which allows you to download videos with 720p HD resolution. It also allows you to create a single video of up to 3 minutes long per project and a maximum of 50 clips from cloud storage and make your personalized brand.
Plus Plan: it has a monthly cost of $ 7.99, which allows you to download videos with 1080p HD resolution. It also allows you to create five videos up to 10 minutes long per project and a maximum of 200 clips from cloud storage and make your custom branding.
Business Plan: it has a monthly cost of $ 19.99, which allows you to download videos with 1080p HD resolution. It also allows you to create 1000 videos up to 30 minutes long per project and a maximum of 1000 clips from cloud storage and make your custom branding.
Q&A
What platforms does FlexClip support?
It is a web-based platform. Therefore it is compatible with the most popular browsers like Google, Firefox and Safari.
Does FlexClip offer guides, tutorials, or customer support?
Yes, the official website offers thousands of guides and video tutorials.
What is FlexClip generally used for?
It is for making and editing videos.
Who are the main FlexClip user groups?
Anyone who wants to make a free video.
Conclusion
As you can see, video editing is easy with the help of FlexClip. FlexClip is a powerful tool that will allow you to grow your personal brand, create your clips with just a few steps and best of all, you can do it for free. Now give it a try!
---