An Essential Guide to Text Marketing
---
Text marketing is an essential tool for your overall marketing strategy. It helps you develop relationships with new customers and strengthen relationships with current customers. Each customer is different and that's why having separate and distinct marketing tools is valuable. 
Text marketing offers a plethora of tools for you to reach customers where they already are – on their phones. It's important to ensure that your marketing strategy dictates the use of these tools. Every marketing decision you make should come directly from your overall marketing strategy, otherwise, you end up doing things that don't amount to much. 
What is Text Marketing? 
Text marketing is pretty simple. It's when you market to customers using text message. You've probably seen or heard of these types of marketing campaigns. Restaurants, retail stores, even large tech companies use them as a way to engage customers. 
Mass Text Message
Broadcasting, or mass text message, as it's more commonly referred to, is one way you can utilize text marketing. Mass text message allows you to reach thousands, even hundreds of thousands, of customers at once. It's important not to get mass text messaging confused with group messaging. 
Group messaging is a poor substitute for a mass text message. Mass text message sends thousands of messages at once but sends the message to each person individually. And mass text message sends responses directly to the sender, rather than everyone originally messaged. 
Mass text messages are a great way for companies to send out information in a timely manner. Such information can be anything from a store opening or a product launch to offers and deals to information about a crisis that will affect customers' interaction with a company. So, no matter the type of information you choose to convey with a mass text message, it's sent securely. 
Text Marketing Keyword Campaigns
There are two main types of keyword campaigns. The first is a single message keyword campaign. The second is a multiple messages keyword campaign. Even though there are two types, both start out the same. You advertise keywords in various places – print and digital – for customers to text. A quick example is if a pizzeria named Rocco's Pizzeria advertised the following: 'Text ROCCOS1 to 50505 to receive 25% off your next pizza purchase.'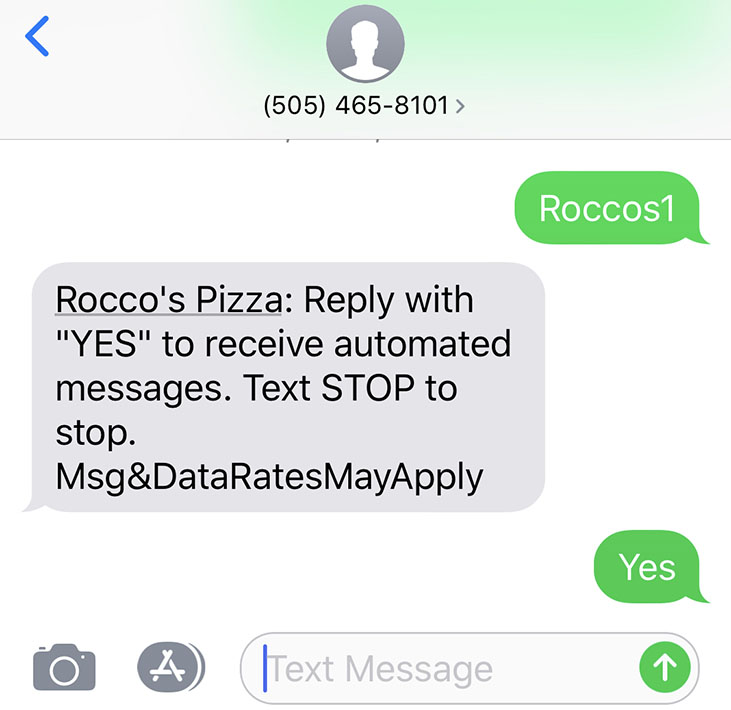 Keywords
The keyword used in the campaign is always customizable. In the example above, it's 'ROCCOS1'. Keywords just need to be relevant to your customers. Something that will stick with them. Something they will remember. If a pizzeria is named 'Rocco's', then making the name of the restaurant the keyword works well. 
Another great part of keyword campaigns is that you can run as many keyword campaigns as you want at the same time. As long as the keyword is different, many campaigns can be run at once. This works well if you have multiple marketing goals set out in the overall marketing strategy that you're using keyword campaigns to accomplish. 
Short Code Versus Long Code
The number used in the example above with Rocco's Pizza is a short code phone number. Shortcode phone numbers are 4-6 digit phone numbers that are only used for text marketing. They are easy to remember for customers and are easier to type in a text message than a long code phone number. 
Long code phone numbers are what you typically think of when you think of a phone number. These are the traditional 10-digit numbers that people use for personal phone numbers. Long code phone numbers can also be used in keyword campaigns. 
When you decide on a keyword campaign, you'll need to decide whether a long or shortcode phone number is right for you. When making your decision, there are a couple of things you need to know about shortcode phone numbers. 
Shared Short Codes and Dedicated Short Codes
Shortcode phone numbers are considered "vanity numbers" just like vanity plates. Therefore, they are harder to procure. There are two types of shortcode phone numbers. The first is a shared shortcode. The second is a dedicated shortcode. 
Shared shortcodes are exactly what you'd think. The shortcode is shared amongst many companies for use in-text marketing keyword campaigns. Since many companies are using one shortcode, the cost of the shortcode is much less. However, in recent years, phone companies have cracked down on shortcodes as a way to crack down on text message spam. 
Text Message Spam
Because the shortcode is shared among many companies, if just one company is caught spamming customers, the shortcode is reported to the carrier as spam. And of course, phone companies want to preserve their good relationship with customers, therefore they crackdown on shared shortcodes and the companies that use them. 
Dedicated shortcodes, on the other hand, don't suffer from the same stigma that shared shortcodes do. Since the shortcode is specific to a company, a phone company can easily track down spam messages and shut down the shortcode that's sending them. It's less risky for the phone carriers. 
However, although dedicated shortcodes are in some ways better, they are infinitely more expensive and harder to get than shared shortcode. There is a long process of applications, fees, and investigation associated with procuring a dedicated shortcode. 
Consider ROI
But if your company is going to use the shortcode in a way that generates more revenue than getting the dedicated short code costs, then go for it. It's a great way to set your company apart from the crowd. 
Don't be too relieved though about using a shared short code, they also cost a decent amount of money and you still have to go through a detailed application process. In the end, though, what you need to consider is the ROI of using a short code – whether that's dedicated or shared. 
Single Message and Multiple Messages Keyword Campaigns
The single message keyword campaigns are simple to understand. When a customer engages with a keyword campaign (texts a keyword to a number), they receive one message in reply. A multiple messages keyword campaign, on the other hand, asks the customer who engaged with the campaign to opt-in to receive messages now and in the future.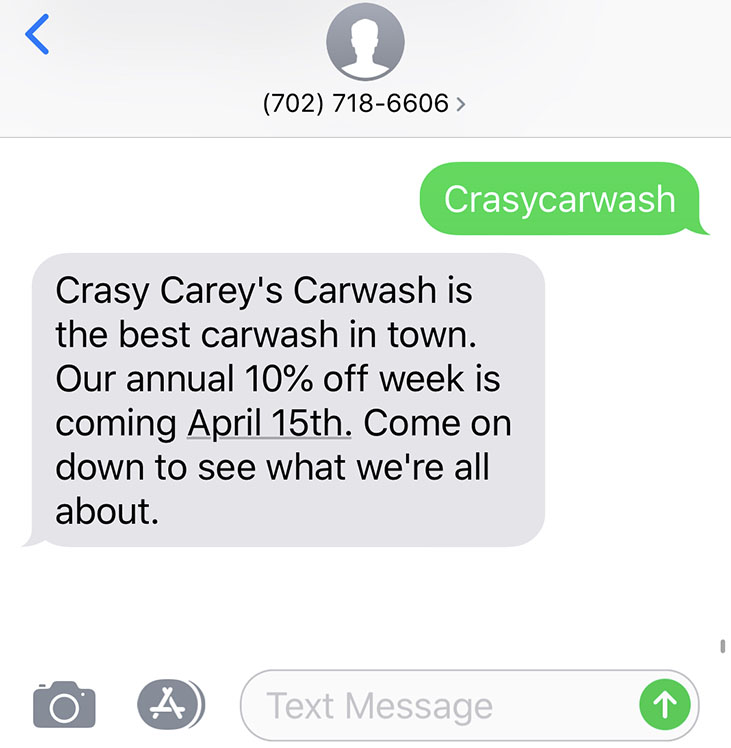 This is part of the legality of text marketing that we'll get into in more detail later. However, for now, what you need to know is that multiple message keyword campaigns must opt-in customers to send them messages. A multiple message keyword campaign can engage the customer in as many messages as a marketing campaign calls for. Multiple message keyword campaigns are also good for future mass text messaging efforts.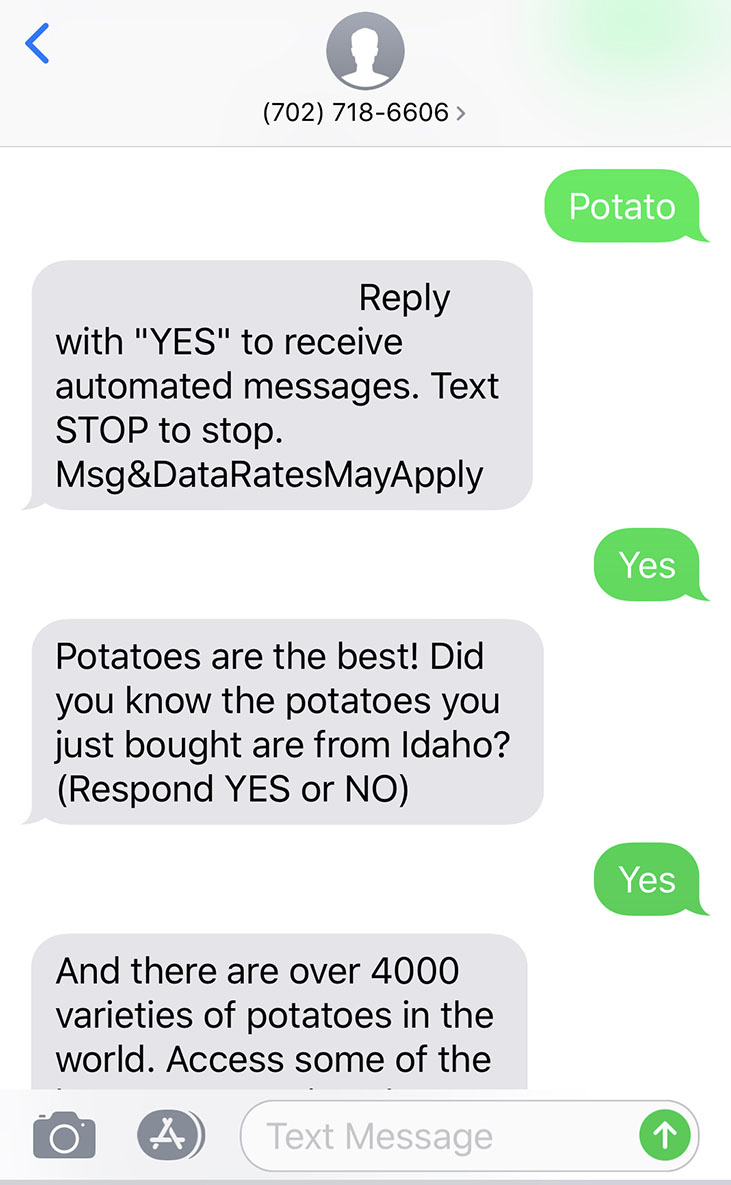 Text Marketing Opt-in
To send text messages to customers for anything other than a single message keyword campaign, a customer must opt-in. The opt-in asks for a customer's consent to receive text messages from a company. Customers must acknowledge their agreement to a company's text messages. 
The opt-in message asks customers to reply with YES, their NAME, or their EMAIL to receive text messages from the company. Each way is appropriate. A company decides which to ask for based on their marketing goals. 
Text Marketing Legality
Text marketing is highly regulated, but the most important law to know surrounding it is the Telephone Consumer Protection Act. The TCPA outlines what is and isn't allowed when text marketing to customers. It's the TCPA that stipulates opt-in procedures and how customers can report spam text marketing. 
The bottom line – don't send spam text marketing. Spam text messages are any unsolicited messages. This means that a company can't just get someone's phone number and start texting them. They have to have the customers consent. 
Customer Consent
Consent is extremely important. And you need to be very explicit about it when you send text marketing messages. The TCPA outlines a customer's right to opt-out of messages, even if they previously opted-in by replying STOP to any message. 
This protects customers from receiving unwanted text messages from a company. Unlike some other marketing methods, such as email marketing, the opt-out is immediate upon the customer's removal of consent. Companies can be fined or even sued if they refuse to follow the customer consent guidelines outlined in the TCPA. 
Use Text Marketing to Your Advantage
For text marketing to be as useful as it possibly can for your company, you need to use the right tools at the right moment. That's the wonderful thing about text marketing. Mass text messaging and keyword campaigns employed at the right moment help your company thrive. 
Many text marketing platforms can help you with your text marketing journey. Some companies do all of the text marketing for you, and others just provide the platforms and tools you need for text marketing. Consider what you want in a text message platform and then research platforms based on the criteria you've laid out. 
Finally, text marketing is an opportunity for your company to thrive. Choose the best text marketing tools for your business. Align your text marketing with your overall marketing strategy and choose a platform that fits. In the end, text marketing is a great way to reach customers and improve your business. Take advantage of this opportunity. 
Author Bio
Carrie Duford works for TextSanity, a text marketing company, as the head blogger. She's blogged for companies such as Intermountain Healthcare and Brigham Young University News. Her published blog posts range from health and wellness to linguistic research to CRM technology. With such a diverse professional blogging background and no shortage of interests, Carrie is always looking for new ways to expand her horizons whether that's teaching herself how to code or learning how to implement the National School Lunch Program where she lives. You can find her on LinkedIn.
---