A Comprehensive Guide on Content Crafting & Marketing
---
What is content marketing? Why should you be investing your time and effort in it?
How do you use it to market your services? What are some easy ways to market your content?
These are some of the questions that might be running through your mind. This comprehensive guide on content marketing will help you learn useful stuff related to content crafting and content marketing. So, make sure you read on till the end.
What Are Content Crafting And Content Marketing?
Content crafting is the process of creating content for a specific audience. Content crafting helps you create relevant, engaging, and quality content that will help you build your brand identity and drive more traffic to your website.
Content crafting is essentially creating something that your audience will think is interesting enough to share with their friends or on social media. It can take many forms – it could be an article, video, or image – but it should always be something that keeps them coming back for more.
The trick to content crafting knows what type of content will perform best in your industry. For example, if you're a personal trainer looking to build your brand online, then you'd probably want to create articles about fitness topics that are relevant to your target audience.
Content marketing is a process of creating, publishing, and distributing content to attract and retain customers. Content marketing helps you to attract more visitors to your website by promoting great content that can be shared on social media sites.
Content marketing is a strategy that helps businesses invite and retain customers. It uses content to attract attention, build trust and credibility and create conversations. Content marketing can create demand for a product or service, educate customers on a topic or generate leads through outreach to prospects.
Why You Need a Powerful Content Marketing
You don't have to be a marketing expert, but you do need to know how to market your business. So the first step is creating an effective content marketing strategy.
It's a fact: people are spending more time than ever on their phones and tablets. And that means they're spending less time with traditional media like TV and newspapers.
Several studies and surveys have shown that the world's population is spending more and more time on handheld devices. They don't show interest in watching television or reading print newspapers.
And that's great news for marketers. If you can get your content in front of them while they're scrolling through their feeds or chatting with friends, you'll have a much better chance of building trust and converting leads into customers.
Content marketing is a powerful way to attract your target audience and generate leads. But it's not easy to create compelling content that will resonate with your audience and bring them back again and again.
If you're in the business of selling a product or service, the goal of content marketing should be to develop an audience that wants to buy from you. This means creating content that solves their problems and answers their questions.
This is where many businesses fall short – they don't know what their customers want or need. So how can you build a strategy that will help you reach your goals? To make this happen, you need to know about the important elements that make content marketing more effective.
What Makes Content Crafting and Marketing More Effective
There are some important elements that can take your content crafting and marketing efforts to the next level. Let's check them out!
1. Content Strategy: Content strategy is an organizational roadmap that outlines how you will create, distribute and measure your content. It helps you identify your target audience, define their needs and wants, and devise ways to reach them through various channels. A powerful content strategy pays back for your content crafting and marketing efforts.
2. Content-Length: Some of you may disagree, but writing content of the right length is critical for the success of your content marketing efforts. When you maintain a good balance between quality and quantity, you can attract prospects better.
Using an online word counter can be helpful in writing content of the correct length. For instance, you can write Meta titles and descriptions while observing the specified character limits. Likewise, you can make sure to discuss important elements in your blog post without falling short of words.
A word counter tool brings you many other useful features to make your content look flawless. For instance, the grammar check lets you pinpoint grammatical errors and misspelled words. You can correct such mistakes before making your content live. Likewise, you can make headings and subheadings look prominent using title case, sentence case, upper case, and lower case.
You can also increase or decrease the text size, change font style, and check word density using an online word counter tool.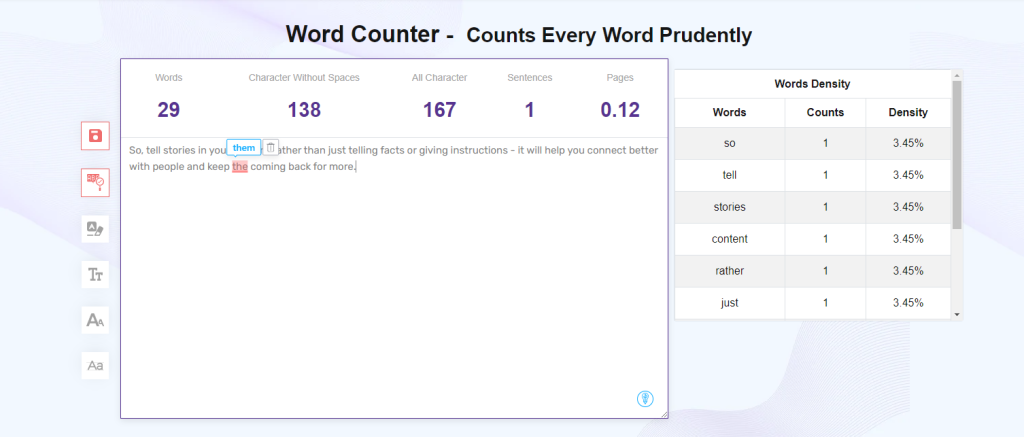 3. Storytelling: The human brain loves stories; they are a powerful tool for connecting with your audience emotionally. So, tell stories in your content rather than just telling facts or giving instructions – it will help you connect better with people and keep them coming back for more.
4. Visuals: Images can say thousands of words without using any text. Visuals like info graphics help people remember what they read better than plain text does, so use images when creating your content and make sure they are relevant.
5. Consistency: Produce content regularly and publish it to your website, blog, or social media accounts. This creates a steady stream of fresh content that keeps people coming back for more. Consistently publishing quality content helps you retain readers for several years. They become loyal readers of your blogs.
The most effective way to ensure consistency is by creating a publication or blog that regularly features new content. This is especially important when it comes to social media; if you're constantly posting new stories on Twitter, Face book, and Instagram, then you'll keep people coming back for more.
6. Targeted Audience: With online content marketing, you have complete control over who sees your content – unlike traditional advertising, where you have no idea who sees your ads and how many people are exposed to them.
You can reach out to specific groups of people based on their demographics, interests, and other factors that matter most to your business. So, keeping your targeted audience in mind is crucial to boosting the effectiveness of your content marketing.
7. User-Generated Content: User-generated content (UGC) is one of the most effective ways to increase engagement with your brand because it builds trust between users and businesses by showcasing real people who used your products or services. So, make sure to utilize user-generated content when you next craft content.
8. Quality Content: You can't expect your audience to care about your brand if you don't craft quality content. The best way to do that is to create great content that speaks directly to them and their interests.
9. Email Marketing: Email marketing gives you another opportunity to reach customers right when they're interested in what you have to say – and when they're most likely to buy something from you too.
Make sure every email includes a call-to-action so customers know exactly what they should be doing next (and hopefully how they can get involved with your brand).
These are the important elements of content marketing. If you pay attention to these considerations, you can definitely make your marketing endeavors successful.
---