A/B Split Testing With Google Analytics: How it Impacts on SEO
---
Being much more than just an online search engine, Google helps businesses improve their online presence to grab more opportunities for growth. The credit goes to its powerful tools that help businesses run an effective online marketing strategies to achieve the desired goal.
Google Analytics is one of those tools. The tool makes it possible for businesses to access vital data related to the performance of their websites. Google Analytics insights help you get details of numbers of users, the most interacted content, etc. Apart from this, A/B split testing is another crucial task that one can do with Google Analytics.
Understanding A/B Split Testing
As the name suggests, A/B testing is a testing method that one can conduct to compare multiple variations of websites to find out the right outcomes. Be it heading, subject line, title, color, or other elements, A/B testing lets you compare everything to find the best outcomes.
If we talk about A/B testing benefits, the entire process can be automated. The results of the test you can either see directly or can get automatically through newsletters.
A/B testing also serves as a robust tool that provides a complete solution for business in increasing traffic, sales of products, conversion rates, or ROI.
The necessity of A/B Testing
A/B testing becomes vital in the case when you are revamping your existing website and confuse about design, headings, colors, etc. In other words, you are keen to use perfect elements for your website to increase its conversion rate but puzzled across the multiple available options. In this case, running an A/B testing will help you decide which particular design, color, or other element suits your website.
How to Conduct A/B Testing with Google Analytics?
As we already talked above, Google analytics allows performing A/B testing. Here, we are going to explain various steps that you can go through to carry out testing successfully. Take a look at one-by-one to understand everything clearly.
Log In to Google Analytics
To conduct A/B testing, you should have an account with Google analytics. If you don't have one, you should create it immediately. Once you create your account successfully, you should then log into your Google Analytics account.
Goal Setting
Now the next step for you is to create your goal that should be based on the test that you are seeking to carry out to improve the conversion rate of your website. For instance, if you are keen to test a website design that can easily catch the attention of visitors, you can then just set your URL as your goal to conduct testing. All you need to do is to now create your individual goal and then, you can also navigate for experimenting in the content menu tab. 
Set Experiment
Now, your next step is to set an experiment to initiate the process of A/B testing. Here, you will get various options to create an experiment. You can make a selection of the right option based on your specific requirements.
If you are not sure about two different titles of the same content, you can set your experiment accordingly to find out the perfect option. It helps you know the appropriate title for you, which lets you generate higher revenue.
Set your Objective
Every test should have a clear objective. So, now it's time for you to set your objective. You should be clear about the exact percentage of visitors that you are interested to include in your experimental work.
And you should include it while setting your objective. It's advisable to keep the overall percentage of 100%. Because Google can adjust your visitor flow automatically based on the performance of your website.
Once you get into the next step, you can get an experimental code from the leading search engine Google. You can insert this code on either your own or can pass on to the webmaster that will insert it.
Google then starts the process of testing once your code gets inserted properly. In case, if you don't insert your code in the website, you will spot an error. Make sure your Google Analytics tracking code gets inserted properly to track your test. You will also be able to analyze the experiment that you have done after the approval of everything.
The A/B test either takes 2 weeks or a maximum of 3 months to complete. Therefore, you need to keep your eyes on your Google Analytics account to get the final status.
Impact of A/B Testing on Search Engine Optimization
Every change in your website tends to impact your SEO outcomes, be it content, image, or others. This is the reason why most of us think whether or not A/B testing affects search engine optimization. Many people also believe the fact that such type of testing also hurts the online ranking of websites.
But, this is not the truth. The answer is A/B testing doesn't have any impact on SEO, only if practiced in the right way.
Cloaking of any website content makes it inevitable to get penalized from Googlebots. Cloaking is a practice that involves offering multiple URLs or content to users or search engines. This is something that Google never likes and penalizes those sites that involve doing the same.
Meanwhile, in the case of A/B testing, Google itself suggests some guidelines that you can follow to minimize the impact.
Take a look at some effective techniques that prevent you from getting any impact of digital marketing of your website while running A/B testing.
You should use a rel= 'canonical' tag to help Google understand that the page is duplicate. So, your page will not be indexed.

It is a good idea to use 301 redirect that serves as a permanent redirect and also possesses the ability to preserve a large percentage (approx 90%) of link juice.

You should avoid running A/B testing for a longer time.
Conclusion
So, whenever you wish to revamp your existing website, you should never forget to conduct A/B testing. It's less time-consuming and helps you achieve your goal by increasing the conversion rate. As far as the impact of A/B testing on SEO is concerned, you can follow the above practices to avoid any such impact on your website's ranking in Google SERP.
Author Bio: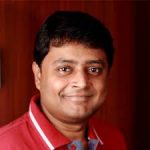 Venkatesh C.R.
Venkatesh is a serial entrepreneur with a distinct passion for taking nascent businesses to great heights. An early entrant in the mobile application technology, Venkatesh grew his flagship company, Dot Com Infoway (DCI) to be recognized as one of the world's leading digital marketing, web, and mobile app development & marketing company. 
Additionally, Venkatesh is the Co-founder of Magzter Inc., the world's largest and fastest growing cross platform global digital magazine store. An inspiration to all DCI teammates, Venkatesh drives multiple businesses and priorities with uncanny ease and enthusiasm. He is often heard saying, "Everything is possible, especially the impossible," to his colleagues.
---