7 Ways to Spice Up Your Social Media Marketing in 2020
---
In an analysis by We Are Social and Hootsuite, they found one thing clear: social media use will only grow. One million new users joined various social networks every day in 2017. 
For years now, brands have leveraged on these convenient platforms as a way to connect and build trust among their target market. This has often led to new and innovative marketing strategies, but also brand fatigue and content overload. 
For your brand to stand out in 2020 and beyond, it is paramount that you have a clear and innovative social media strategy that blends technology, human connections, and savvy marketing techniques.
1 Build communities
There is a shift in people wanting more authentic and meaningful connections through their social media platforms. This makes sense because social media's primary purpose and thrust have always been to connect its users in virtual communities. 
Brands that understand and plan their social media strategy around this will have much more success in engaging with their target audience over "selfish" brands that merely use social media as a platform to promote products and services.
Building a community around your brand means moving away from content that isn't engaging and doesn't encourage two-way communication. It also means that brands need to start really listening to what users are saying and commenting, not just creating posts to sell something. 
This 2020 is the year that brands should make it a point to engage and build human and authentic connections with their audience. In turn, social networks should reward accounts with high engagement with better visibility on their platforms. 
In addition, the community you build will also reward your business or brand with their trust, loyalty, and even the coveted word-of-mouth marketing.
In 2019, Mark Zuckerberg revealed that Facebook is focusing on being a platform for building communities and putting Facebook Groups at the centre of the app. Social media savvy brands should take advantage of this evolution in social media by creating their own Facebook Groups to build their communities.
2 Offer seamless social shopping (social e-commerce)
According to a study by GlobalWebIndex, 28% of users use social media to conduct their online product research. It only makes sense then from a user experience perspective to provide further convenience and ease to customers, converting them without getting them to jump through more hoops than they have the patience for. 
This is where a seamless shopping experience comes in. Soon, customers won't need to leave their social media sites or apps to buy products. In fact, Facebook and Instagram have already started rolling out in-app purchasing to businesses.
Source:  Instagram Shopping
While these business features have not yet been rolled out to all regions and brands, it's only a matter of time before social e-commerce becomes the norm. In the meantime, be on the lookout for shoppable posts, more video stories that contain links, and short-form product videos.
3 Customer Service
The next piece of social media (and, in fact, overall business) strategy you'll want to focus on is customer service. After all, with higher engagements from your community and groups, and a focus on seamless social shopping, you wouldn't want to neglect to have a support system for these efforts. 
The last thing you'll want is to increase your traffic and engagement but end up with irate customers. The cost of ignoring the customer service piece of your 2020 strategy is high: 78% of consumers say that they consider a brand's customer service reputation as an important factor when choosing to make a purchase.  A whopping 53% of American shoppers also report posting positive comments on social media after receiving great service (according to Replyco). Your reviews are often the first thing a new prospect looks for when deciding whether or not to buy from you. One of the easiest ways to influence what is being said about you is to ensure every single customer is treated to the best service possible.
The benefits of social media and an increasingly mobile world come with a cost—customers are becoming increasingly impatient and expecting faster turnaround time for their concerns and queries. Studies from the Northridge Group have shown that 42% of customers expect a response to their question within an hour; 17% of them expect a response within minutes.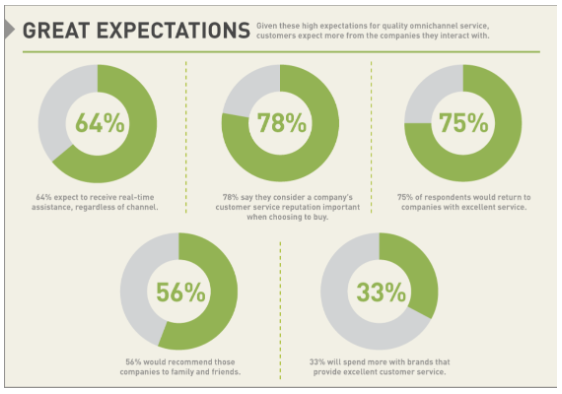 Source: Zendesk: Bridging the omnichannel customer service gap [infographic]
Customer service can also help you identify what customers want so you can make the necessary changes in your future strategy. Pay close attention to their pain points, feedback, and questions—all these are valuable information you can use to improve or even create new products and services.
If you haven't yet, 2020 is the year to focus on social care and customer service as a whole. Brands will do well to be accessible online and ready to answer questions. Otherwise, a much more support-savvy competitor could snatch your market all too easily.
4 Focus on personalized experiences
People have become increasingly careful and discriminating about the personal information they share online and to brands or businesses. For instance, consumers have become suspicious of social networks and websites that ask for their personal data. 
However, there is one caveat—people don't seem to mind giving out their details as long as they see value in it (for example, tailored experiences or customized product recommendations). Many marketers consider personalization as one of their biggest challenges for 2020. 
Consider this: almost 80% of customers say that personalized content increases their chances of purchasing. Meanwhile, 74% of consumers report being frustrated when brands present them with promotional material that doesn't speak to their interests. 
In the future, AI and machine learning could help brands serve completely customized and personalized experiences to their markets: think of a webpage that changes its content and even design in real-time depending on who is browsing.  
However, we're still some ways away from a genuinely one-to-one personalized world. What brands should focus on in 2020 is to ensure that whatever is shown to customers should feel personal. 
Invest in community managers for your social media accounts, engage with your users one-to-one, and create a distinct brand voice and tone that's warm and human versus robotic and cold. 
5 Create video content
Video content will continue to dominate in 2020 and will, in fact, account for about 82% of internet traffic by this year. At the same time, social media platforms are pushing brands to produce video content, especially Story Ads, as these are proven to drive engagement and clicks better than other content. 
Instagram, Facebook, and Snapchat are dominating Story Ads, and Twitter is getting into the game by offering six-second video ads. According to a recent Twitter-sponsored study by EyeSee, these short, no-sound videos with clear branding promote better ad recall and message association versus TVC style videos. 
Video is also one of the best tools for social commerce. After watching a video, 64% of users are more likely to buy a product online. In 2020, you can start by upping your Story game on your social media accounts and tagging your products in your Stories–giving your audience an easier time to discover what you have to offer.
Bonus: Keep an eye on TikTok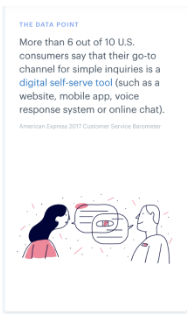 One particular video platform that's gaining a lot of traction, especially among Gen Z, is TikTok. This video platform from China is shaping trends as it offers a fresh platform for highly creative and engaging content-led and created by influencers, especially micro-influencers. 
The popularity of TikTok may well hinge on its "authenticity" and the lack (at least for now) of hard-sell approaches compared to Instagram's curated and filtered feed.
6 Build relationships through private channels, but automate the easy stuff
People are moving to private channels to escape the noise and impersonal clutter on their feed. In 2020, brands should start exploring the opportunities provided by this shift to private messaging platforms like Facebook Messenger and WhatsApp for building relationships and trust.  
However, always keep in mind that people have shifted to private channels to avoid spam and promotions. So, make sure that whenever you connect with your audience, you're always adding value to that connection. 
Customer support through live chat is one of the more common use cases for private channels. In fact, chat is the preferred support channel of millennials. At the same time, customer satisfaction ratings are often higher versus other support channels, according to HelpScout, due to its conversational and personal nature. 
However, this shift to private messaging will take a toll on most brands' human resources, so savvy companies will use a blend of automation and human connection to deliver value. Chatbots are best for answering frequently asked questions, while more sensitive and complex issues are escalated to humans. 
7 Authentic micro-influencers
Influencer marketing is still an essential social media marketing strategy in 2020. However, brands will need to switch up their approach, from getting the biggest names their marketing budget can afford to micro-influencers who are perceived to be much more authentic and, therefore, trustworthy. 
This is all in line with the broader shift towards more personalized and authentic experiences. Working with micro- and nano-influencers means you can zero in on niche topics, interests, location, and even values, to really target a specific segment of the market. 
Plus, micro-influencers tend to hold stronger connections and engagement with their followers, and are, thus, better able to lend your brand the kind of personalized touch and stronger trust signals that customers of 2020 and beyond are craving.
Social media marketing in 2020 is shaping up to be an exciting and challenging undertaking for any business, whether big or small. 
Marketers and business owners need to remember that the audience of today is craving for more than promotions and advertisements when they're scrolling through their feed—they want genuine connection, personalized experiences, and real added value. 
The savvy brand that understands and strategizes around this can reap the benefits of social media as a powerful platform for communicating brand value and engaging with potential and existing customers.
Author Bio: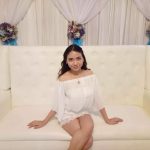 Keely is an Online PR Specialist at Spiralytics, a full-service agency that specializes in marketing that's backed by data science. She is a young, energetic professional who enhances her company's voice and presence through online and offline channels. Keely considers writing as one of her hobbies. She can combine creative thinking with performance analytics that drives traffic and awareness across various industry verticals.
---