6 Solid Facebook Messenger Marketing B2B Strategies You Need to Try Today
---
Unlike B2C marketing, you're dealing with people who are in-the-know when it comes to B2B marketing. They're also doing business in the same industry as you, so marketing to them may entail different factors compared to B2C marketing. To that end, chat marketing has become a boon for B2B marketing.
Facebook Messenger is the world's most popular chat platform, and businesses everywhere use it as well. That makes Facebook Messenger marketing a fertile ground for B2B prospects, leads, and customers.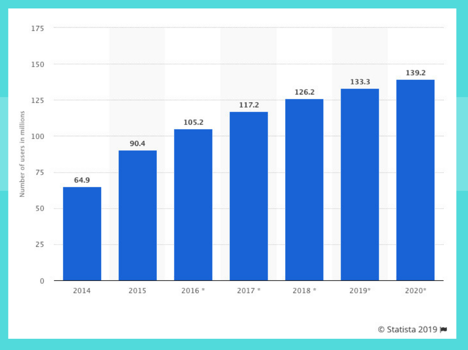 Source: Facebook Messenger Marketing Statistics
Even though messaging apps like Facebook are popular, only 1 out of every business automatically engages with their customers via chatbot messaging.
It is a relatively new marketing trend, but it works very effectively, considering messenger has 70%-80% open rates and 20% click-through rates. Top marketers like Mari Smith and Neil Patel have already started taking advantage of chatbot marketing and they're getting incredible results.
So if you're ready to jump into Facebook messenger marketing and needs to try some unicorn hacks to grow your business, here are some of the most effective B2B marketing strategies for Facebook Messenger.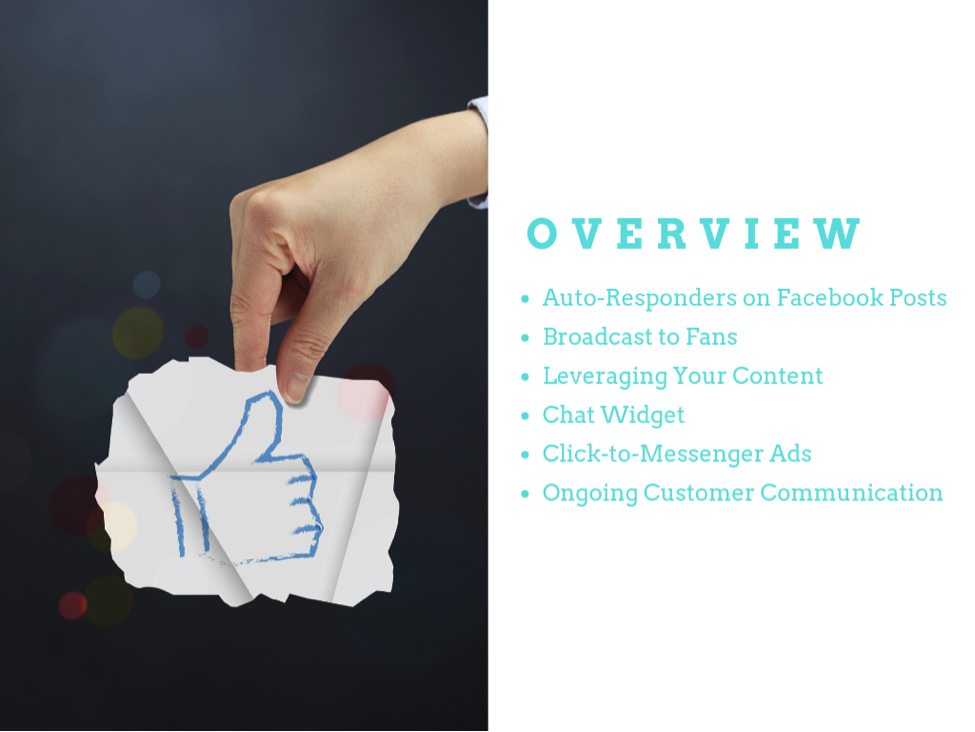 Auto-Responders on Facebook Posts
Setting up an auto-responder on your Facebook posts lets you automatically send a Facebook message to people who comment on an organic Facebook post. This is a great lead generation tool as it engages with only people who show interest in your content.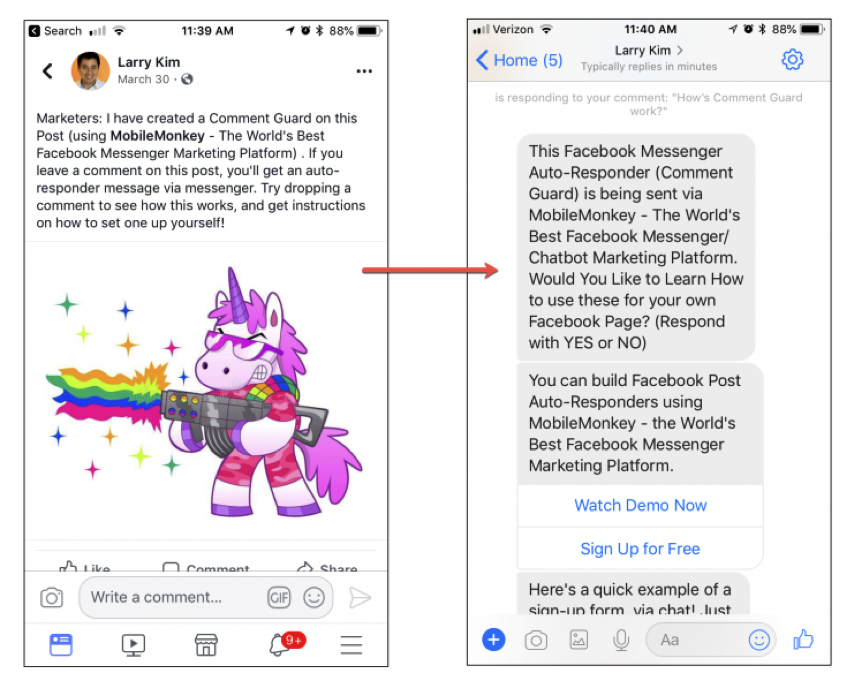 Using a Facebook messenger marketing platform like MobileMonkey, if readers then choose to reply to the message with a desired response, like saying yes to whatever you're offering, then they become a lead by being added to your contact list. You can then send them more promotional messages in the future.
Auto-responders are free to use and proven to be effective lead generation tools that are okay to use in Facebook. In fact, since Facebook's algorithm rewards engagement, the more people who comment on a post, the more it appears on other people's newsfeeds.
You then get even more engagements on your post, and your auto-responder sends messages to even more people, thus giving you even more leads. It creates a snowball effect that benefits your Facebook Messenger marketing.
All you need to do is create posts that are designed to get high levels of engagement, like quizzes, polls, and surveys, as well as posts that ask for opinions, GIF replies, and so on.
Broadcast to Fans
It's email marketing in chat form, but with higher open and click-through rates. Of course, make sure to apply for subscription messaging first before proceeding with chat blasting so Facebook doesn't flag you for spamming. But once that's taken care of, you should be able to send promotional messages featuring your products and services to everyone on your contact list.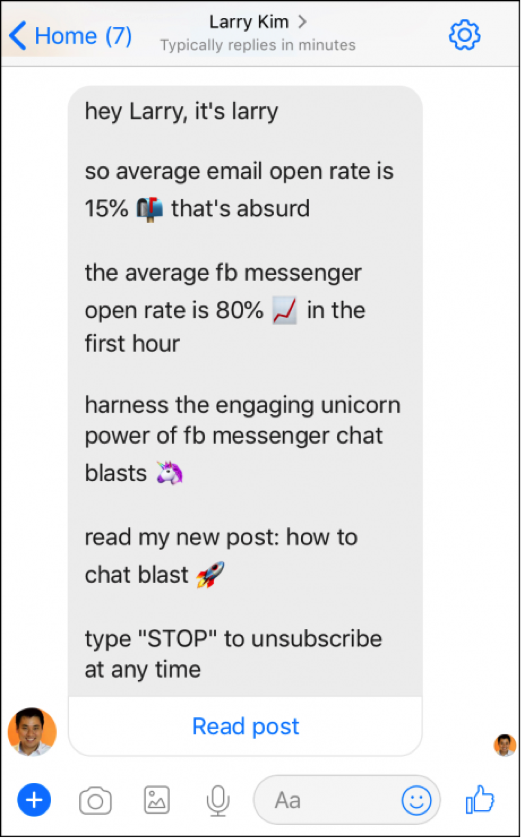 Based on my experience, a 70% open rate is normal for broadcasts to fans. The response rate is also about 3-4 times the click through rate in email.
Leveraging Your Content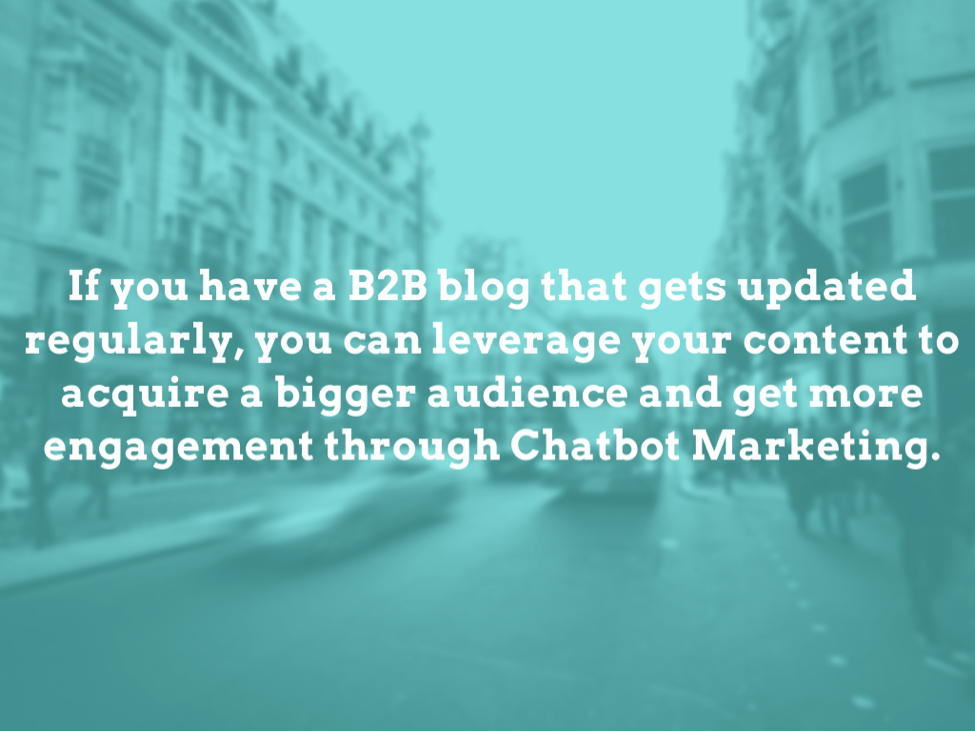 If you have a B2B blog that gets updated regularly, you can leverage your content to acquire a bigger audience and get more engagement. Promote your most popular and most helpful content through your Facebook page and chat blasts, especially if your audience has shown considerable interest in those topics.
You can create informative guides and FAQs on your blog that address the most in-demand questions and comments on your page, then promote that to bring more value to your audience. You may then get more engagement on those posts, which can then trigger your auto-responder to bring new leads in. Now that is definitely adding more leverage to your content.
Facebook Messenger Chat Widget
Make your business easier to reach by having a Messenger plugin like Wp-Chatbot installed in your website. It says you're always on hand to address your visitors' questions and concerns. Your chatbot can handle simple inquiries, and live chat takeover lets you intervene for more pressing matters.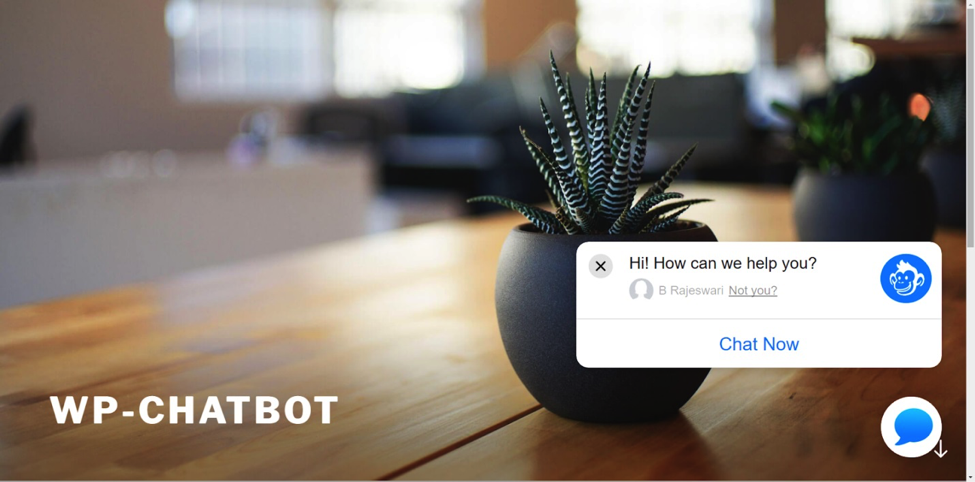 While it would be fine to not have one and just have people go to Messenger to contact you, having a chat widget on your website lets them take one less step to contact you, letting them know that you care about them that extra bit and are willing to be there for them.
Click-to-Messenger Ads
Unlike most other Facebook ads, a Click-to-Messenger ad focuses on the conversion action being "Send Message" that lets whoever chooses to click on your ad to directly contact you from there. The advantage of this is whenever someone does choose to message you directly from the ad is added to your contact list, letting them be open to your promotional messages.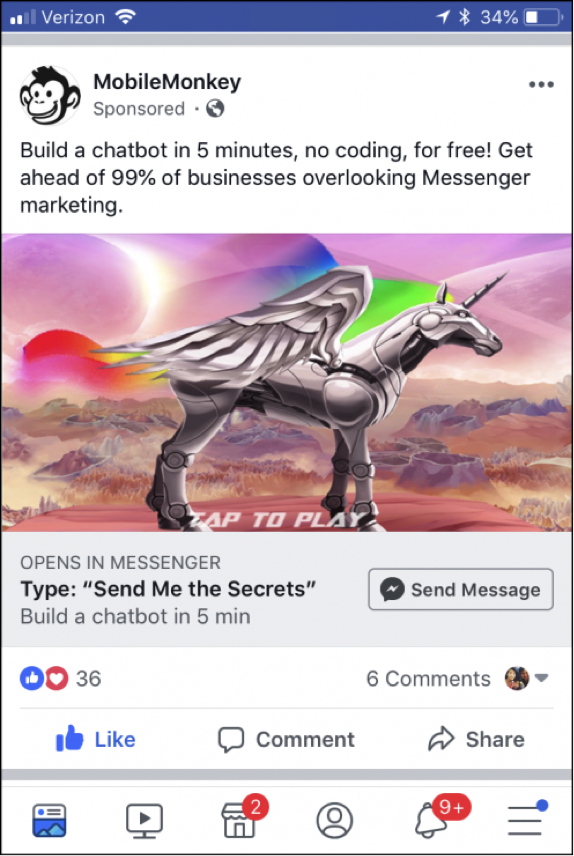 You also get their contact information, like their name, email address, phone number, what they like or dislike, and so on. Not only does this let you contact them further, but you also get data on their preferences, so you can further target them for whatever you wish to promote. To that end, Click-to-Messenger ads are great for lead generation and conversion.
Ongoing Customer Communication
Whatever your marketing strategy is, it must have long-term value for it to be truly effective. Therefore, continuing to engage with your customers (without inundating them with spam) is crucial to getting that value. You do that by providing them with helpful information and content they want to look at, as well assisting them with their problems whenever they come up.
All interactions with customers should be aimed towards reinforcing your value proposition, and you mostly do that by being helpful and sociable. Particularly in B2C, staying in touch is a good way to maintain business relations and get more value out of each contact.
Author Bio:
Larry Kim is the CEO of MobileMonkey, the World's Best Facebook Messenger Marketing Platform and free chatbot builder. He's also founder of WordStream, Inc., the leading provider of Google Ads, Facebook Ads and keyword tools used by over a million marketers worldwide. The company employs over three hundred people and manages billions of dollars of ad spend on behalf of tens of thousands of customers. WordStream was acquired by Gannett for $150 million. Larry is ranked the #8 most popular author on Medium. He's a contributor to CNBC and Inc. Magazine. Key interests include: Chatbot Marketing, Google Ads, Facebook Ads, entrepreneurship and startups. He received Marketer of the Year awards from Search Engine Land, US Search Awards, and PPC Hero.
---