5 Ways to Manage the Brand Image Consistency
---
With numerous free tools and online resources, promoting your business online has never been simpler. However, when investing in digital marketing, you should look at the big picture. Its goal is not to entice people to buy from you once. On the contrary, every interaction with your target audience, from your content to social networks, needs to embody your business' values and mission and inspire them to come back to you. This is why you need to build a solid brand image and work on its consistency.
1.    Analyze your target market.
When working on your brand image, you need to tailor it to your target audience's expectations. This is why you need to conduct your market research regularly. Observe your major competitors, as well as the most reputable companies in your niche, to see what strategies they use to address their customers. You should also collect your customers' feedback continuously. Set up surveys, pay attention to your business' reviews, and listen to them on social networks to see what they think of your brand.
Collating information about your target audience interests and behaviours will help you create highly targeted marketing campaigns that bring them value. Above all, you will be able to tailor your brand's voice, visual appeal, and content to their needs and boost their user experience.
2.    Build a comprehensive brand guide.
Most well-established brands create a clear brand style guide to make sure their brand vision is always communicated clearly and consistently. Walmart, for example, has exhaustive corporate brand guidelines. They have covered basically every aspect of their branding efforts, from the consistency of their editorial voice and the choice of fonts to the ways their logo should be used in print or online.
Of course, your business doesn't need to have the reach or popularity of Walmart to create a brand style guide. Whether you're establishing a consistent brand image or polishing it up, you will find this technique effective. It should include the elements of your brand, such as its mission, value proposition, the use of logos, voice and tone, colors, typography, media formatting, and image styles. This guide should be easily accessible to all your teams so they can ensure that your brands distinctive assets are applied correctly and consistently across channels and markets.
3.    Develop a recognizable brand voice and personality.
No matter if you're sharing a post on social networks or writing an exceptional piece of content, you need to maintain a consistent brand voice and tone. This is one of those aspects of your branding that depend on a wide range of factors, including your target demographic and your brand's "personality". For example, when targeting Millennials, make sure your language on both your blog and social networks is open, direct, fun, and friendly.
You should make sure you deliver a consistent brand image across all your social networks. This is especially important if you're expanding your business to global markets. In this case, you need to consider cultural nuances and invest in creative transcreation and localization service provider to ensure that your creative assets and messaging is adapted to your target audience and, at the same time, still reflects your brand's core values.
4.    Use your design elements consistently.
Visual elements play an incredibly important role in building a strong and recognizable brand image. This is exactly why you need to make sure that your logo and other design aspects of your brand are used consistently across all business promotion channels. Let's take an example of social media. Your distinctive brand assets should always be applied correctly, whether it's your logo/brand stamp, colour palette, font or filters, this will ensure that you boost consistency on social networks.
How to make your posts that highly consistent? First, create a shared folder on your business' network, or invest in an enterprise asset management tool, where all your employees and partners can easily access, edit and adapt your visual content both online and offline. Second, ensure that the orders for your promotional products are managed by a single person or department. Finally, make easy-to-follow social sharing templates to help your team create a consistent brand image on these channels.
5.    Choose your content wisely.
Content marketing is still the foundation of your branding efforts. Creating high-quality, engaging, and industry-specific content gives you the opportunity to engage your target audience effectively and position yourself as a trustworthy source of information. People will see the importance of your content and come back to your site to keep up with the latest posts.
To make the most out of your content, you should make sure you have a detailed content calendar and think of the right topics in advance. Your topics should be tailored to your niche and readers' needs and expectations, as well as make sense for your brand. They should be created around the major industry developments and trends, especially when your organization has an expertise in this field. Your posts should answer your readers' questions, be easy-to-follow, and visually appealing. Be it videos, infographics, or articles, just make sure you always use the same fonts, filters, and tone.
Your brand image is essential for your business.
Building a recognizable and unique brand image brings numerous benefits to the table. Its consistency projects your company's professionalism boosts your authenticity and keeps your teams aligned with your brand's core values. Most importantly, it helps you build trust among your target audience and inspire them to stay loyal to you.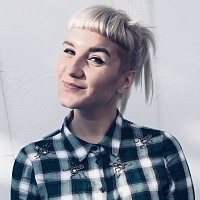 Lauren Wiseman is marketing specialist, contributor to bizzmarkblog.com and entrepreneur. She helps clients grow their personal and professional brands in the fast-changing and demanding market, strongly believing in a holistic ap
---