4 Social Media Design Tactics to Expand Your Online Presence
---
Does your social media feed and content design draw attention or are they so unremarkable they're almost boring and easy to scroll through?

If you answered "Yes," it's time to tweak and improve your social media posts.
Poor design can turn off your audience or cause followers to ignore you. You'll lose loads of opportunities to engage potential customers and strengthen your online presence.

However, boosting your online presence takes more than ensuring your images follow the photo dimensions for every social media platform to create compelling and engaging content.
Learn more about four effective social media design strategies to help you build and maintain a solid online presence below.
1. Establish a cohesive and consistent design
Ensuring your social media designs are cohesive and consistent can help boost your brand recognition.
After all, not being consistent with your color scheme, for instance, can cause social media users to confuse your brand with other companies, or worse, they won't remember your business.
Adopt a visual theme, branding elements, and other components that scream "It's me" to maintain cohesiveness and consistency in your design.
For example, use a similar image filter and editing style on your social media pages to ensure your content and page designs fit with your branding.
The tricky part is that ensuring consistent and cohesive social media designs is only half the battle, especially when your activities span across several social networks.
Speed up your content creation and design using modern Social Media Marketing (SMM) platforms such as Vista Social.
The platform offers robust tools for planning, creating, editing, and scheduling your content across your connected social media pages.
Create your social media posts and preview the content on the platform.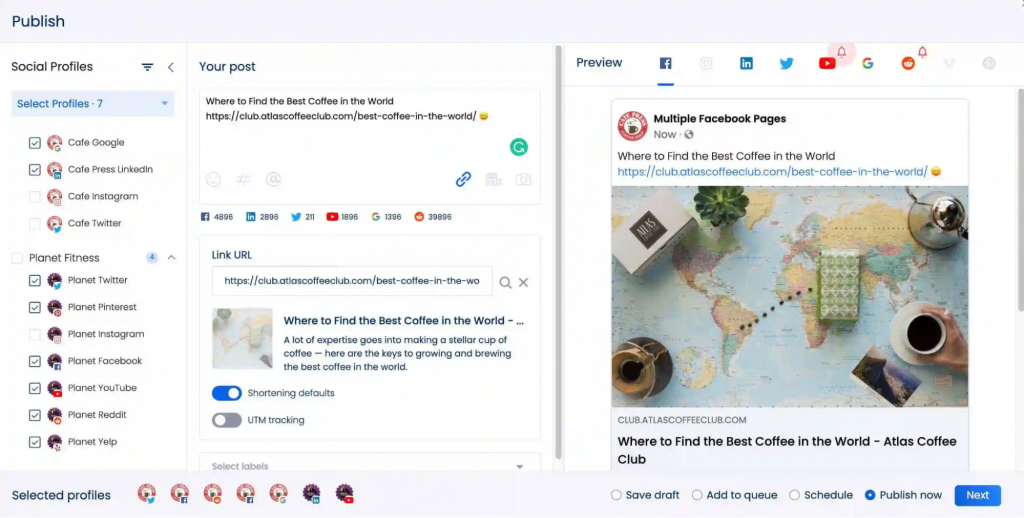 Image source: vistasocial.com.
You can also edit your images easily with the platform's built-in editor before posting or scheduling them to auto-publish on your preferred dates and times.
The tool simplifies your efforts to create, design, and write compelling content for social media.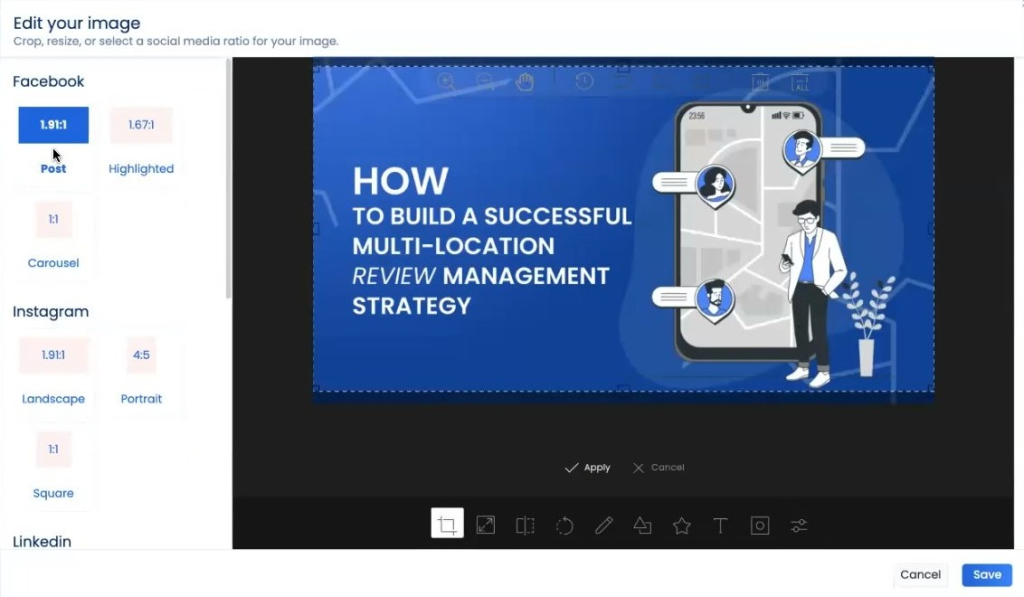 Image source: vistasocial.com.
Vista Social offers other reliable SMM features, from a Smart Publisher that posts content for you to reporting and analytics tools to track and measure your content performance.
Regardless of your social media platform, Hootsuite or Loomly or Vista Social, ensure consistency and cohesiveness in your social media designs.
Doing so can increase your brand recognition, drive engagement, and expand your online presence.
2. Design your content for each social media platform
Social media networks have specific sizing and content recommendations and guidelines.
While you have creative freedom to design your pages and content your way, you'll need to follow each social network's image and video guidelines for optimum visibility and engagement.
For example, YouTube and Facebook videos follow a landscape video format.
For Instagram Reels, you'll need to film the videos in portrait orientation since IG Reel formats are intended to be viewed on mobile devices and smartphones.
Also, know the best-fitting content types and designs for each social media platform and audience group.
For instance, sharing long-form, written content isn't ideal for visual-heavy platforms such as Instagram and Pinterest.
Share text-based posts on Facebook and LinkedIn, or better yet, post a short snippet from the content and include the link to the entire article on your website.
Save you and your team from the hassle of figuring out which designs fit best with particular social media with templates.
Leverage popular ecommerce marketing tools such as Snappa.
The tool provides a library of ready-made social media graphic templates for Facebook posts, Pinterest Pins, Instagram Stories, and other social media content.
The templates are appropriately sized for specific social media platforms.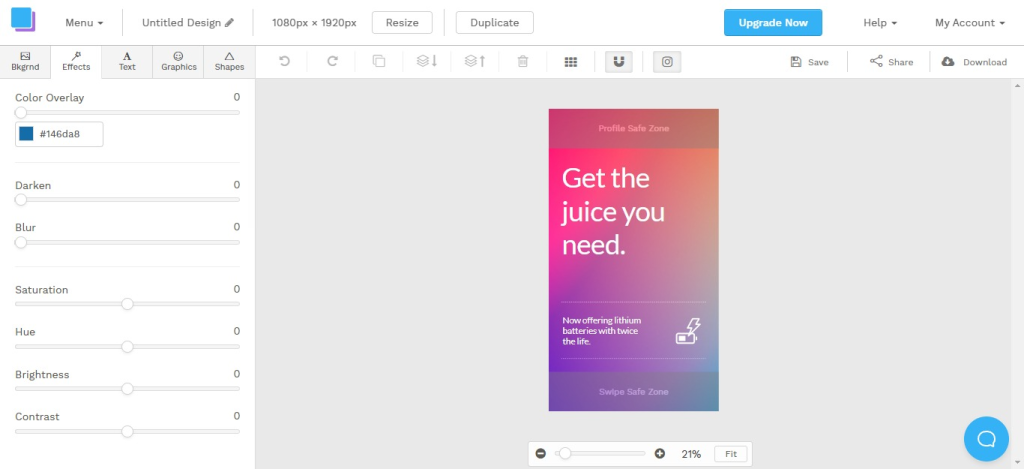 Image source: snappa.com.
Use the graphic design and editing tools to build on the highly customizable templates.
Customize your templates to create content that fits your social media branding and marketing goals—from driving engagement to amplifying your online presence.
Ensure your content tracking strategy includes monitoring and measuring your social media content performance. It can help you understand what designs work (or don't work) and tweak them accordingly.
3. Follow basic design rules and best practices
Creating captivating and stunning social media content doesn't mean throwing basic graphic design rules out the window.
You can easily create unique and eye-catching content to draw more eyeballs to your social media feeds while following design best practices.

Below are a few design tips for creating engaging social media visual content.
Use a color palette that reflects your brand's personality while evoking emotions from audiences and drawing attention to your content.
While you can throw in bright colors to catch your audience's eye, maintain a good balance, so your visual content doesn't look overwhelming and chaotic.
Leverage contrasting colors and elements to highlight essential aspects of your content, such as your core message and Call-to-Action (CTA).
The Instagram post from Spirit Animal Coffee is a classic example of using contrasting colors (dark subject and text colors against a light-colored background).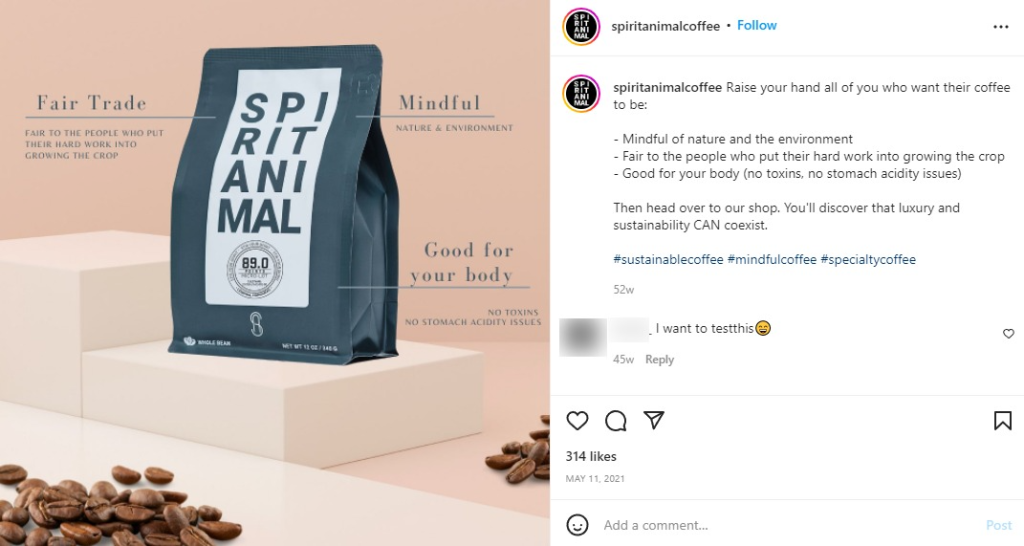 Image source: instagram.com.
Contrast can complement and connect design elements and strengthen your image's main idea or subject and other visual content.
Opt for simple, easy-to-read typography to keep your message and content clear and comprehensible. Focus on legibility over aesthetics, explore various font sizes, weights, and colors, and avoid getting too text-heavy by adding icons to your description and captions.
Streamline planning, producing, and collaborating with your team with reliable project task management software. It can help you create your social media content easily.

You'll have the tools to organize, prioritize, and manage your visual content creation and design tasks efficiently.
4. Use the right tools
Creating social media content can take a lot of work, but you can streamline the process with the right tools.
Some of the essential tools to help you design engaging social media content include:
Graphic design tools
Video editing apps
Meme generators
Infographics creation platforms
Stock photo libraries
Find the best-fitting tools that support your content creation and design processes. You'll free up time and resources better spent on more critical aspects of your social media and overall marketing initiatives.
For instance, creating a mini-tutorial video on how to buy SEO articles as part of your digital marketing company's content strategy can be a breeze with an easy-to-use video editor app.
Nail your social media designs
While your social media design is only a part of your entire strategy, getting it right can do wonders for your marketing, engagement, and brand awareness efforts.
Learn a thing or two from tried and tested social media design tactics. You can design your social media content and pages to effectively drive your expected results, and solidify your brand's online presence.
---