What is Breach and Attack Simulation, and How Can It Level Up Your Cybersecurity?
---
We live in a world where continuous threat assessments are essential for anticipating attacks by malicious predators and attackers. To those who haven't been the target of a cyberattack, the term cybersecurity can seem cliched. The only people who believe cybersecurity is a waste of time and money are those who haven't been hurt.
Cybersecurity is often seen as an after-the-fact activity rather than as a proactive one. Because attackers are always developing to keep one step ahead, this approach reduces overall efficiency. Therefore, cybersecurity initiatives are often walking behind attackers.
Breach and Attack Simulations (BAS) are becoming more popular for assessing cyber resilience as companies aim to keep one step ahead of cyber attackers. Like automated, continuing penetration testing, the technology is designed to discover holes in an organization's cyber security automatically.
Moreover, Breach and Attack Simulation technologies have been recognized by a recent Gartner report as one of the best solutions for CISOs to consider, given their effectiveness in testing against known threats.
So, what are Breach and Attack Simulations, and how can they improve your cybersecurity?
Read More: USSD Code To Check If Your Phone Is Hacked or Tapped
What Is Breach and Attack Simulation?
It is a sophisticated way of computer security testing. It is also called BAS. By simulating attack situations and strategies utilized by cybercriminals, simulations discover security flaws. This ensures that a company can examine potential entry points or weaknesses in their software solution's design or development.
It is based on how opposing force(OPFOR) operates, combining those ideals with enhanced testing processes. Software testing is not to be confused with the breach and attack SimulationSimulation, and the simulations show how a cyber attack might be used to reveal flaws in software.
While it's tempting to dismiss the value of breach and attack simulation, pay more attention during the production phase of the software solution. Every year new harmful tools and viruses are developed to attack digital infrastructure.
Because of the fast-paced evolution of the software engineering industry, new applications, programming languages, and more are frequently released before they are fully functional or safe. Consumers today believe that a system that does not receive frequent upgrades and debugging is not well supported and is vulnerable.
What Are The Types of Breach and Attack Simulation?
Breach and Attack Simulation is a new system that simulates automated attacks, simulating the types of attacks that cyber attackers are likely to use. These fake attacks can assist a corporation in identifying potential security weaknesses as well as testing observation and precaution ability.
Breach and Attack Simulation technologies are divided into three types depending on the techniques required.
Agent-based vulnerability scanners are the first. This method does not use protocols like SSH to test for known vulnerabilities but executes agents directly on the target device. These agents, which are scattered among several PCs and deployed inside an organization's LAN, are to map out the various routes via the network that a cybercriminal could take.
The second sort of Breach and Attack Simulation evaluates the organization's security by injecting malicious traffic into the internal network. Using a database of attack scenarios, virtual computers are set up as test targets within the network. The BAS sends assaults between these devices, then tries to see if the company's security systems can perceive and block the communication.
Multi-vector simulated attacks fall into the third category, and they are the most complex and realistic simulations available. A lightweight agent is installed on a workstation in the network using this black-box approach.
Cloud-based assessments employ various attack strategies, both inside and outside the LAN, to get past the security measures.
How Does Breach and Attack Simulation Work?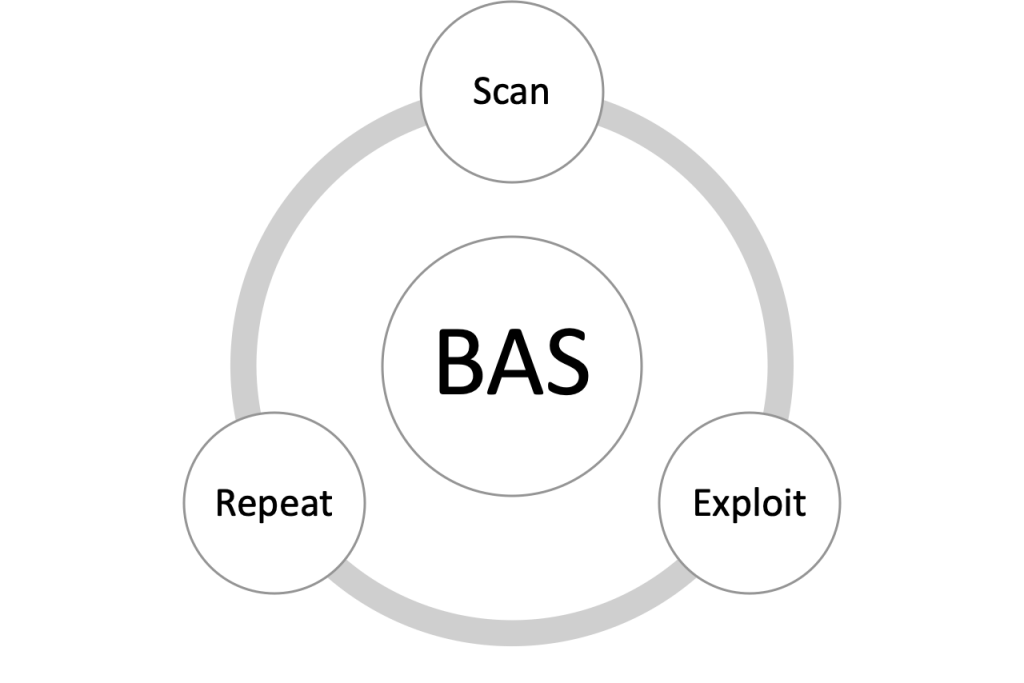 Breach and Attack Simulation seeks beyond typical testing approaches by simplifying how you can execute security control checks. SaaS platforms are common in modern BAS platforms. Unlike traditional penetration tests, where humans undertake hacking attempts, the cloud-based Breach Simulation and Attack Simulation Apps automatically execute the tests.
Why Use Breach and Attack Simulation?
The key motivation for deploying Breach and Attack Simulation is to get a definitive response to whether or not their systems are protected and safe. Even to the most conscientious security teams, it occasionally occurs that certain security products are mistakenly turned off or are not functioning as intended.
Furthermore, most major firms employ a variety of security systems that can or can not be functioning well or collaborating properly. Security tools will change nearly frequently in such context, as vendors upgrade their devices to react to the shifting threat landscape.
Simulation testing for cyber attacks is the only way of guaranteeing the security of a company's network and systems during those changes. Breach and Attack Simulation tools are the most cost-effective approach to conducting that testing regularly.
Advantages and Disadvantages Of Breach and Attack Simulation
The automation component of BAS is a significant benefit. As opposed to one-off testing, when staff may be more aware of faults, automated and regular testing can identify and address potential vulnerabilities more quickly.
Automated testing is especially beneficial in larger organizations with continually changing networks, such as when new tools are introduced or other activities. Testing may detect faults quickly and efficiently in complex networks, and some BAS technologies can be set up to run continuously, allowing vulnerabilities to be found almost immediately.
However, human cyber professionals are usually far more inventive in their attack strategies. Breach and Attack Simulation is limited in its capabilities, as it can only test known attack simulations. Consequently, penetration testing simulated attacks performed by highly qualified security professionals to find weaknesses in company systems can reveal a lot more than BAS.
With Breach and Attack Simulation, IT teams can become overburdened with notifications regularly, particularly if there is no straightforward method to distinguish ordinary concerns from crucial warnings.
Future Of Breach and Attack Simulation
Despite the ongoing development of automated breach simulation tools, they are responsible for ensuring that Breach and Attack Simulation stands out compared to other security testing solutions.
Moreover, as the threat landscape evolves, the technology's ability to run continuous tests at low risk and assist firms in identifying vulnerabilities in their cybersecurity infrastructure will only encourage more companies to adopt it.
Wrapping Up
Breach and attack simulations can safeguard corporate assets by identifying attack strategies across all attack channels and offering prioritized repair recommendations.
Breach simulations provide nonstop safety and enable preservers to adopt a more aggressive approach to maintain security across all parts of a security environment continuously.
---