SMS Marketing: The power of "Significant change" to drive more sales
SMS isn't just the easiest way to communicate with friends. It has become a big part of our life also. Let's take an example that goes like this:
A friend serving as a conversation starter:
Message sent, Message read.
That is a rare situation. Text messaging has evolved beyond casual conversations; they've become a part of every business strategy. Hence, it has become an effective tool for marketing teams as well.
Digital marketing is growing fast – In a world where we are constantly bombarded with marketing messages, SMS has the advantage of being both personal and immediate.
SMS Marketing has become increasingly popular due to its high click-through rate. It has a higher open rate than email marketing, making it an ideal way to reach potential customers.
It is also becoming more sophisticated, with features like segmentation making it easier to target customers with relevant information. And as more businesses start using this technique, we expect to see even more innovation in the space.
Why use SMS Marketing to drive sales?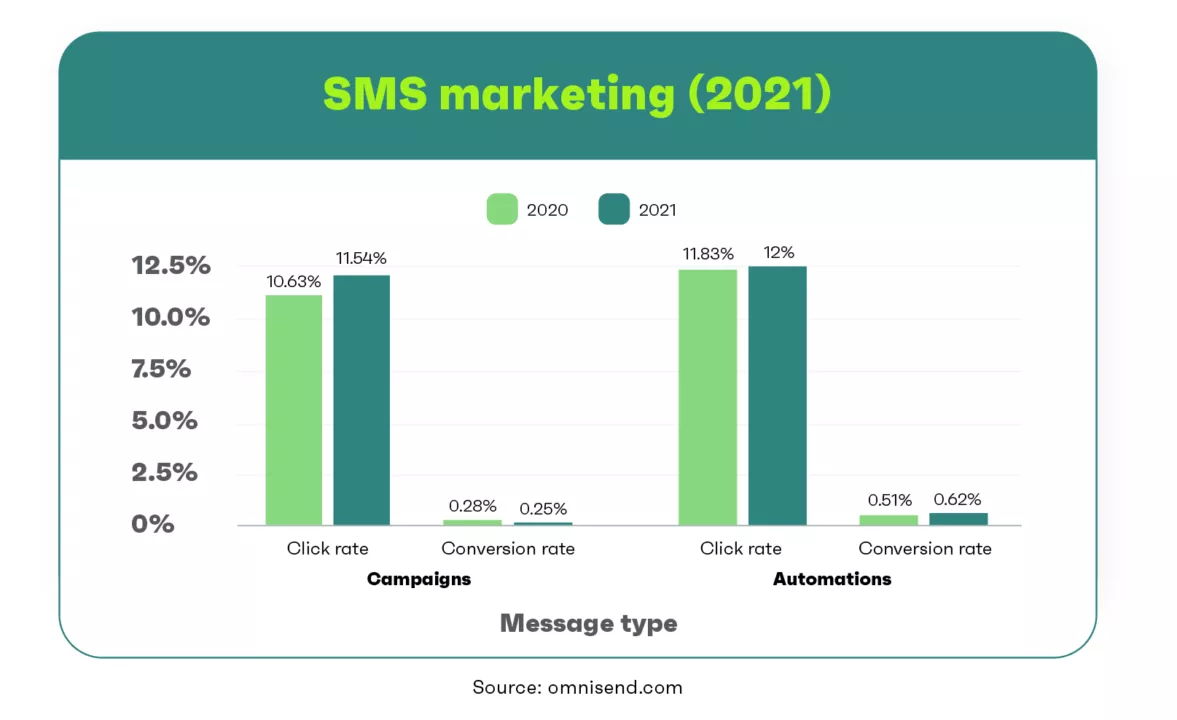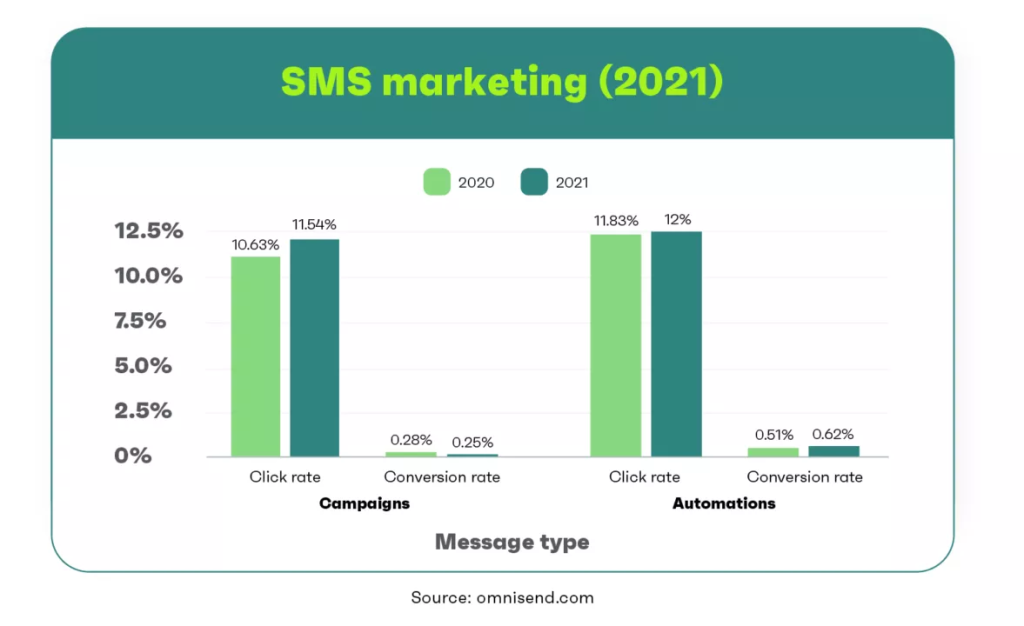 SMS marketing is a tool that is used to reach and engage with customers. It can promote sales, discounts, or new product launches. Marketers can use it to increase customer loyalty and brand awareness.
There are several reasons why it is an excellent idea for your business. For one, it's incredibly effective to reach your target audience. With nearly everyone owning a cell phone these days, you can be sure that your message will reach a wide variety of people.
Another reason to consider SMS marketing is its cost-effective marketing method. Unlike other marketing channels such as television or radio, you won't have to spend much money on advertising space or time.
Who doesn't want to boost sales through a platform where their customers are?- it's time to give an SMS marketing strategy some considerable thought.
If you're ready to switch to SMS marketing, there are a few things to consider.
First, you'll need to find reliable SMS marketing software. There are many different companies out there that offer this service, so take some time to research your options and find one that fits your needs.
Next, you'll need to create a list of potential customers you think would be interested in receiving your SMS messages. Once you have a list, you can start sending out your messages. Be sure to personalize each message to be relevant to the recipient.
Finally, be sure to monitor your results so that you can see how well your SMS marketing campaign is working. Keep track of how many people open and read your messages and how many sales you make. It will help you fine-tune your campaign and ensure it's as effective as possible.
Text messages have a high deliverability rate, meaning that your message is more likely to be seen and read by your target audience. They are also typically read within minutes of being received, increasing the likelihood that your message will be seen.
Benefits of SMS Marketing
SMS marketing is a powerful tool that can help businesses increase revenue, engagement, and deliverability. Here are four benefits of SMS marketing:
1. High Deliverability
Text messages have a high deliverability rate, which increases the likelihood that your intended audience will see and read your message. The likelihood that someone will see and respond to your message increases because they are frequently read shortly after being received.
2. Increased Customer Engagement
Text message marketing provides businesses with an opportunity to increase customer engagement. SMS messages allow businesses to reach out to their customers and provide them with information about sales, product updates, or discounts. Additionally, SMS messages can encourage customers to participate in surveys or contests.
3. More Revenue
SMS marketing can help businesses increase revenue by providing customers with information about sales and discounts. Additionally, businesses can use SMS messages to upsell customers on products or services.
4. Time-Sensitive Messages
SMS is a great way to send time-sensitive information to customers. For example, businesses can use SMS messages to remind customers about upcoming events or deadlines. Additionally, SMS messages can provide customers with information about flash sales or discounts.
A 5-Step Formula for SMS Marketing Campaign
Now that you've got an SMS Marketing approach let's review some essential step-by-step practices to ensure your SMS Marketing campaign succeeds.
1. Use the popup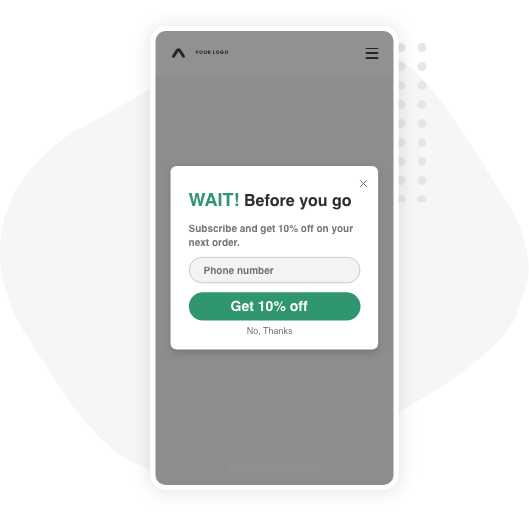 Popups are typically used to capture email addresses or phone numbers. They can deliver special offers or promos. Creating a popup is easy. The hard part is getting people to sign up for your email list or phone number.
You can collect their phone numbers by providing special offers, discounts, free delivery codes, e-books, and other things to website visitors. Run effective SMS marketing campaigns to help build relationships with your website even if they decide not to buy immediately.
The best way to collect phone numbers using popups is to use tools. They allow you to create beautiful popups that can be triggered when someone clicks on a link or ad. You can also use them to create forms you can embed on your website.
2. Sending a well-crafted welcome message
Sending a greeting message to new customers is a great way to build a relationship with them. Making a good connection with potential clients requires an excellent first impression. A welcome message is a powerful way to engage with customers, learn more about them, and help them understand what to do next to utilize the product successfully.
Customers appreciate it when brands take the time to send personalized messages. It could include using their first name, mentioning past interactions, or tailoring messages to their interests.
It will show them that you want to give them a good deal and help you build customer loyalty. The most effective way to generate quality leads through SMS marketing is to send personalized messages.
3. Keep customer conversation engaging
Once you've started a conversation with a customer, it's essential to keep it going. Sending regular updates and messages will keep them engaged with your brand. You can send timely and relevant messages and keep them informed about new products, services, or promotions.
However, keeping the conversation engaging is essentia, so customers don't feel like they're being bombed with marketing messages. A direct connection can spark several potent consumer engagement initiatives.
Asking questions is a great way to encourage customers to reply to your messages. Emojis can add personality to your SMS marketing messages and make them more fun to read. Just be careful not to overdo it!
Each touch point offers an opportunity to interact positively with your customers, engage them in conversation, and advance them to the next stage while enhancing their overall experience.
4. Boost your new product marketing and promotions
Use SMS marketing to promote new products or services to your customers. It is a great way to increase sales and build excitement for your brand.
You can also use SMS marketing to announce sales or discounts and send coupons or vouchers to encourage customers to buy your new products. Everyone likes a good deal! Use SMS marketing to amplify discounts and promotions to increase sales.
The following ways can help promote your product as successfully as possible:
Choose the days that will best showcase your product.
During the launch, create exciting content to broadcast daily.
Throughout your product launch, offer exclusive deals.
With an automated SMS campaign, companies can make it simple for customers to discover more about their products. The first message can include the product's features, while the subsequent messages concentrate on additional details and purchasing possibilities.
It is an affordable and effective way to reach a large audience quickly. SMS marketing can target your customers with specific messages and offer them exclusive deals.
5. Use an SMS marketing software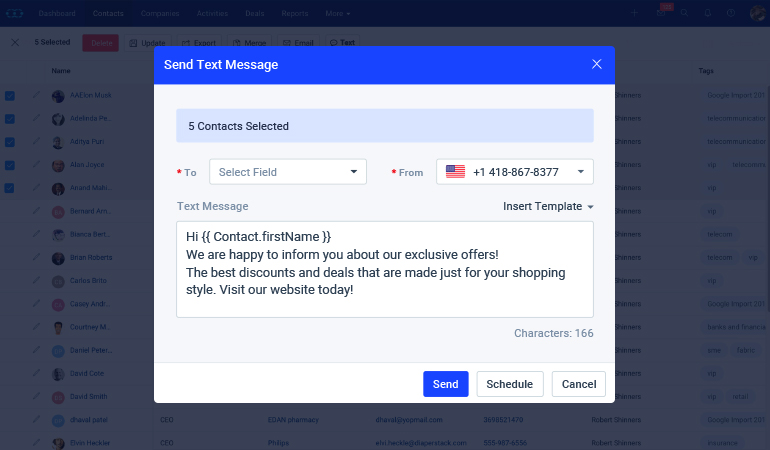 SMS marketing is a great way to reach your target market and increase sales. You can send text messages to customers or prospects using an SMS marketing software program, promote special offers, coupons, or discount codes, and remind customers of upcoming events or deadlines.
Delivering excellent client experiences is simple when SMS is integrated with your CRM software. It makes perfect sense to include SMS functionality in your Software solution. Here are some instances of using SMS in your CRM to make a good impression.
The power to automate your messages and send many at once is vital. Additionally, many software lets you embed text messages into email automation workflows.
Integration of CRM with text messaging can boost performance in many ways:
Boost sales
Utilize SMS surveys to gather insightful comments.
Provide customers with quicker and more accurate service.
Expanding your business database
Boost participation and consumer loyalty
You can get crucial analytics and reports from SMS marketing software to determine the impact. You can tweak your text advertisements and test various strategies to acquire the best ROI with that information.
6. Win back customers with SMS
Your customers are the lifeblood of your business. So, you must do everything possible to win them back if they've abandoned your store. One way to do this is through SMS marketing.
Sending a quick text message to customers who have abandoned their shopping carts can effectively remind them about what they're missing out on and encourage them to return and finish their purchase.
If you think beyond essential logistics messages, SMS can be an excellent tool for re-engaging with clients. The possibilities are endless: broaden your views with text messages to win back consumers.
Use SMS marketing to follow up with customers who have abandoned their shopping carts. It is a great way to recover lost sales and boost your bottom line.
That's a lot of potential revenue that businesses are losing. The good news is that you can do something about it. By sending automated text messages to cart abandoners, you can encourage them to return and complete their purchase.
There are a few things to keep in mind when crafting your cart abandonment campaign:
– Timing is everything: ensure you send your message soon after the customer has abandoned their cart. The sooner, the better.
– Offer an incentive: include a discount or coupon code in your text message to sweeten the deal.
7. Never stop testing
Don't consider your first attempt success or the subsequent attempts. Reviewing the analytics and results from your SMS marketing initiatives will help determine what is working well and what needs to be improved.
Keep testing new messages, promotions, and workflows to find the optimal SMS approach for your business. Finding the message that interests your customers and generates the most revenue for you will need some testing of different message formats.
And here's the thing: if you don't evaluate the effectiveness of your marketing, you'll never know if you're receiving the highest returns for your investment. The possibilities for engaging clients through text message app marketing are limitless once you start thinking about concepts.
You've Got Their Attention!
One of the most complex challenges business faces is figuring out how to interact with their audience. It is essential to get engaged with your customers. The best way to keep them engaged is by sharing the news, responding, appreciating them, and encouraging them to return by implementing the best SMS marketing step-by-step.
Nurturing solid relationships with customers is essential for a business to succeed. Because the impression you leave behind on customers after the business deal becomes your trademark.
The more you utilize SMS messaging and evaluate your findings to figure out what to change going forward, and the more effective this marketing strategy can become.
By following these, you can ensure that your text message campaign is successful. So don't wait; start sending those messages today!
Author Bio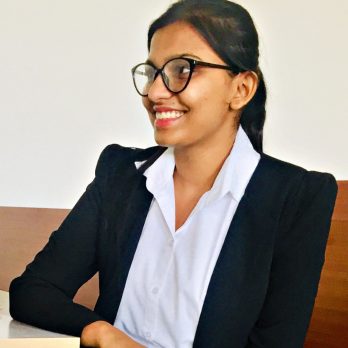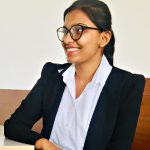 Garima Nahta is a Digital marketing specialist. She likes singing and enjoys the thrill of exploring a new place every time. You can connect with her on LinkedIn.