How to Improve Brand Credibility through Digital Marketing
---
The number of small businesses investing in digital marketing keeps rising. So, just developing a killer website, investing in SEO, and promoting your business on social media is not enough. To stand out in the overcrowded digital marketing landscape and stay competitive, you need to use digital marketing to build a solid brand.
A customer-centric brand that builds stronger relationships with your target audiences.
A brand that is recognizable and authoritative.
Think about it. Why do we always choose big brands like Nike, Coca-Cola, or Ikea over their cheaper alternatives? Because we trust them.
Here are a few tips on how to take your digital marketing efforts to the next level and use them to build a credible brand that stands out.
Create Compelling Content
By publishing educational and engaging content that solves your customers' problems and gives unique insights, you will position yourself as a valuable online resource. Most importantly you will inspire them to come back to you again for more tips.
In addition to publishing articles on your blog, you should also contribute to major sites in your niche. These influential sites with a greater following will put you in front of wider audiences and increase your authority. Above all, earning a link from such sites boosts your SEO efforts and helps you rank higher in the SERPs.
Make sure your content is written in a simple language that reflects your brand values and speaks to your audiences. Back it up with relevant statistics and always make sure it's helpful to the people reading it. To engage different audience segments, you could also experiment with multiple types of engaging content. Infographics, case studies, different forms of videos, slideshows, whitepapers, and eBooks may also help you present your data effectively.
Provide Exceptional Customer Support
In today's era of marketing personalization, building a customer-centric marketing strategy is a must. This is the only way to gain your customer's trust and boost their satisfaction with your brand. For example, did you know that over half of your customers will stop doing business with you after just one negative experience? 
That insanely high figure actually gets worse with more than one poor experience, and after as few as two negative encounters with a brand, that figure shoots up again, to a whopping 80% of customers going elsewhere. Can you afford to lose any amount of customers, nevermind 80% by providing them two bad customer service encounters?
Now, there are numerous ways to improve your customer support.
Start with checking your business information, such as your NAP data (name, address, phone number), links to your social media and site, and email address across all platforms and sites you use. By making this information up-to-date and consistent, you will ensure your customers can connect with you easily. To avoid the problems that changing a phone number usually causes, many businesses choose virtual numbers. For example, in Australia, these are 1300 numbers. According to the 1300 Numbers Guide, these numbers are fully portable and have multiple answer points, meaning that you can change your address and take your phone number with you. Another benefit of these numbers is that, irrespective of your location, a caller will always be charged at the standard local rate.
Use social media listening. Your customers use these channels to voice their opinions about your brand. Logically, you should use social media monitoring tools to track your brand mentions (both direct and indirect) and ensure you answer both positive and negative feedback in real-time. By participating in your customers' discussions and helping them solve problems faster, you will retain them and even turn them into your brand advocates.
Chatbots are also important in your digital marketing toolbox. Sure, I'm not talking about annoying popups we see when we land on a site. I'm talking about AI-powered tools that are constantly learning your customers' language and adapt to it accordingly. They never lose patience and give straightforward answers to your customers' questions. This is why the majority of customers prefer to talk to them for quick communication with your brand.
Leverage Word-of-Mouth Marketing
Today's customers don't trust traditional ads anymore. Instead, they trust online reviews as much as personal recommendations. Precisely because of that, you need to use word-of-mouth marketing to establish a solid brand image and build your target audience's trust.
Now, start with claiming your Google My Business listings. There are also numerous local business directories you should register on to encourage your customers to rate you and review your business.
Create online surveys, too. There are numerous awesome platforms that may help you do so effectively. Don't leave these stats unused. Instead, publish the results to increase your brand transparency. Creating and publishing case studies that show how you managed to solve your customers' problems may also increase your trustworthiness.
Ask your loyal customers to write testimonials. You can use them on your website's product pages or homepage to make your brand more relatable. If they see your customers' positive opinions about you, your potential customers will trust you more and will be more likely to buy from you.
Finally, encourage user-generated content. Inspire your satisfied customers to take creative photos or videos of your product and share them on their accounts with your hashtag. You should promote them on your social media profiles and even website to make them more visible. 
Work with Influencers
Influencer marketing can be defined as a form of word-of-mouth marketing, but it still deserves an independent section. Your customers want to interact with the real people that use your products. People they trust. And, this is where influencer marketing shines. Simply put, your goal is to identify and connect with an influencer that is relevant to your and connect with them.
Now, there are numerous ways to work with an influencer. For example, you could send them your top products. If they like it, they will review it on their blog or social networks.
If you're hosting a giveaway, then you could hire them to promote your products to increase the program's visibility.
Remember, their follower base is not the always the indicator of their relevance. You need to find a person that targets the same audiences, someone that speaks your customers' language. Sometimes, it's more effective to work with micro-influencers than social media celebrities, as they're everyday people your customers can relate to. Some recent stats claim that their content has 60% higher engagement rates.
Over to You
Today's online marketing landscape is fierce and the only way to survive is to stand out. You need to create a solid brand around your business. To emphasize your uniqueness. To align your products, customer service, and marketing tactics to your customers' expectation. And, I hope these tactics will help you!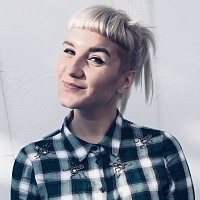 Lauren Wiseman is a marketing specialist, a regular guest author in adlbweb.com, contributor to bizzmarkblog.com and entrepreneur. She helps clients grow their personal and professional brands in the fast-changing and demanding market, strongly believing in a holistic approach.
Photo by rawpixel.com from Pexels
---