How To Facilitate Conversions In Law Firm Marketing
---
You're running Attorney SEO and content marketing for law firms to get more clients. The better your pages and content rank, the better your visibility. The more high-quality your content and backlinks, the more likely search engines and users to trust your law firm.
However, reputation and audience building aren't much use if you don't make it easy for people to convert. So, users decide they want to hire, contact, or subscribe to your law firm's offerings—what now? Where do they go? Who do they call?
Sometimes, this confusion is enough for people to give up at the last minute. So, if you want people to become law firm clients, you must ensure it's easy for them to do so. Likewise, if someone were interested in signing up for your email list, they shouldn't be taking so much time just looking for the submission form.
In other words, you must ensure conversion happens as quickly and smoothly as possible.
What Is A Conversion?
In law firm marketing, conversions happen when an audience performs the desired action. This desired action could be becoming a law firm client, signing up for an email list, following your social media, or subscribing to your legal blog. The conversion depends on your specified goal.
Becoming a client is an end goal, but you could lead potential clients through several CTAs and conversions until they finally hire your law firm. For example, you can attract people to your law firm website through your legal blogs, convince them to sign up for an email list, follow them up in emails, and eventually become your client.
When Do You Need To Facilitate Conversions?
The goal of digital marketing is to get people to convert. Aside from providing your audience with something to look at, websites and online legal content are meant to aid these conversions. Sure, you want readership on your blog and a following on your social media, but every strategy needs to convert people for it to truly benefit your law firm.
This means for every strategy that requires a user to do something, there needs to be an avenue that will allow them to easily do so. So, for example, don't just ask people to "sign up for our newsletter" without at least telling them how to do that.
Now that their interest is peaked, you need to direct them toward your desired action. Otherwise, people won't know what to do and either fail to convert or give up on it entirely.
How To Facilitate Conversions In Law Firm Marketing
Creating content, optimizing keywords, and polishing your site design are ways to attract new audiences. However, you still need to ensure that the conversion goes through. For example, if you've convinced someone to sign up for your email list through well-written legal content, you need to provide ways to direct converted audiences to your desired action.
Here are a few ways to do so:
Tip #1: Clear And Impactful CTAs
Calls to action (CTAs) are a great way to provide instructions on what steps your audience should take. They're brief statements that encourage a user to take a specific action. For example, you might have seen these CTAs written as "consult with a Personal Injury Attorney near you!" in legal blogs or spoken as "subscribe to our channel for more legal content!" in videos.
CTAs can be used anywhere. Here are a few examples of their usage:
Content: You could incorporate them into your content, telling your audience where to find more or where to contact you. These CTAs can be seen in blogs and social media posts, urging viewers to browse or look around.
Landing pages: This is a great way to walk a user through the process of signing up for your offers. For example, you tell them precisely what they need to do to subscribe to your email list.
Contact and transaction forms: Encourage a user to send you messages and inquiries! If you have a case submission form or a live chat feature, help your audience by directing their attention to it or explaining its benefits.
Tip #2: Links And Buttons
Links and buttons can be used to highlight CTAs. For example, you can create hyperlinked images that say "click here". Some text CTAs can also be hyperlinked, often seen in legal blogs. Buttons are also used in email newsletters, allowing you to redirect users to where you need them to go.
Sometimes, just giving instructions isn't that going to be effective. For example, while you're asking your audience to subscribe to your law firm email list, you might as well direct them to the exact landing page where they only need to input their data and be done with it.
That said, here are a few ways linking can facilitate conversions on your law firm website:
Better navigation
Directing audiences to specific pages
Bringing in traffic to landing pages
Tip #3: Enticing Offers/Benefits
When people convert, they expect a particular benefit from doing so. After all, if it's not valuable or helpful to them, there would be no point in getting out of their way to convert.
Don't just tell people they should subscribe to your email list or hire your law firm. Instead, you need to explain or show why doing so will help them. For example, if you're offering people your legal newsletter, include reasons why doing so is worthwhile—like getting legal news, information, updates about your law firm, etc.
Let's take a look at a few examples of how this can be done:
Attorneys can assess case viability, investigate, build solid cases, and represent you in negotiations. Hire a Pennsylvania Personal Injury Lawyer right now!
Subscribe to our newsletter for more legal news and updates!
Visit our website to find out about California Personal Injury Laws.
Bottom-line
Getting more clients is the end goal of law firm marketing. All your social media posts, blogs, keywords, and backlinks contribute to growing your law firm's clientele. So, making sure the conversion happens is also as important as all the other ways you're trying to get your target audience's attention.
So, make sure to plan out every point of the law firm lead generation process, from catching their attention to getting them to finally send you an email.
Author's Bio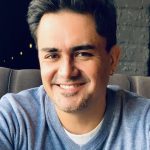 JC Serrano is the founder of 1000Attorneys.com, one of the few private enterprises certified to process lawyer referrals by the California State Bar. His marketing strategies have continuously evolved since 2005, incorporating ever-changing SEO strategies into lawyerleadmachine.com.
---