How to Collect and Use Customer Testimonials for Email Marketing + Examples
---
Quality customer testimonials can almost be considered priceless in the world of marketing and business. Positive word of mouth truly is an important and effective way to promote your products and services.
Existing customers are essentially walking advertisements if they are happy with your service, and this is crucial. Why? Well, as a start, 72% of consumers won't do anything until they have heard or read a review. Further to this, consumers that see or listen to testimonials are 58% more likely to purchase.
Most people won't leave a review without a bit of guidance or an incentive. So to use testimonials as part of your strategy, you have to first get some good ones, then make sure your potential customers see them. This is one of the many email marketing tips that can help to turn your email communications into valuable lead generation tools.
A great way to do this is by including testimonials as part of your email marketing strategy. Learn how to create some powerful visual ways to communicate this in your emails then let's dive into some great ways to do this with examples from other successful brands.
Customer testimonials as part of your marketing strategy
The goal of your marketing strategy is to provide your customers with the information they need to make an informed purchase decision. Customer testimonials are an effective way of doing this as they let people know of others experiences, instead of having the potential consumer "take your word" for it.
In addition to communication, testimonials build trust and credibility. Your customers want to know that you can do more than just solve their problem; they want to know that you can do it better than the competitor can. Customer testimonials tick this box as well.
So if someone enjoys your product or service, encourage them to leave a positive review or testimonial. Potential buyers will naturally trust a previous buyer more than they will trust your marketing collateral. In addition, a testimonial adds more weight to the decision making process. You also need to ensure your service is top-notch because happy customers encourage more customers and purchases, and the cycle continues to grow.
Trust is key
Trust is crucial for any business. Once you have gathered some customer testimonials, you can use them to help build trust with other potential consumers and use them as a standard section in your email template. In the case of the emergency kits for families supplier JUDY, trust is vital as they sell a product that's designed to keep you alive in the event of a disaster.
JUDY shows their email recipients that they are the best quite cleverly with just a single testimonial designed to look like a social post: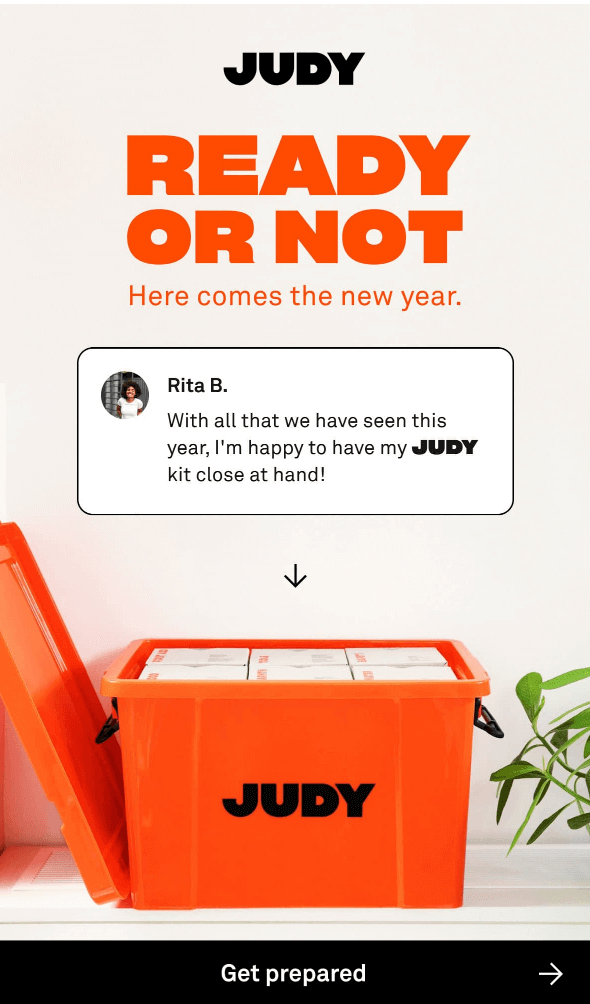 Source: Really Good Emails
With just one simple statement, JUDY keeps things simple while also encouraging people to buy straight away. This creates an extremely impactful message. It's also clever when you consider that JUDY is not cheap, and we know that placing testimonials next to expensive products drives conversion rates by a huge 380%. You can make it easy to gather the testimonials that you then tweak to utilise in a strategy such as this.
The subtle testimonial
So maybe you don't want to be this blatant or pushy with your testimonials. Along with knowing how to end your email well, you can include your testimonial in a less prominent position. This can be useful if you happen to sell to other businesses and want a less sales-push form of B2B marketing.
The meditation app Calm is a great example of the best way to place the testimonial at the bottom of the email, just under a promotion for a 30% discount: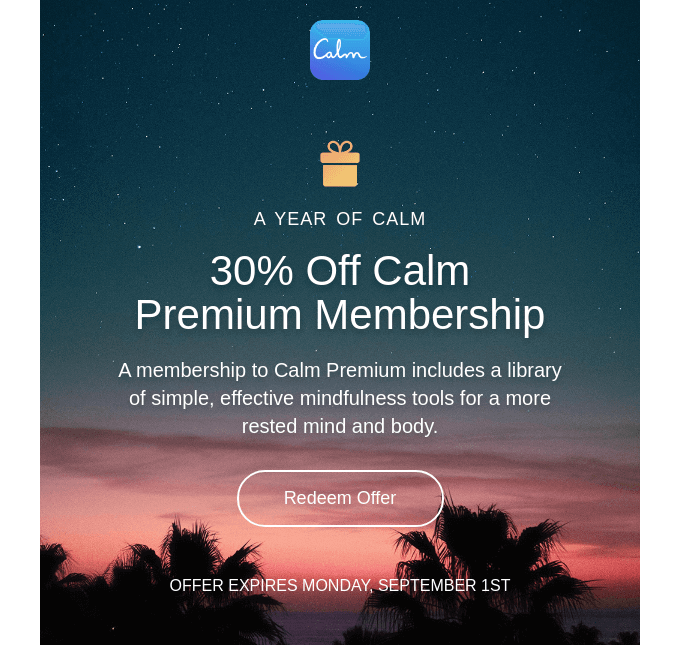 Source: Really Good Emails
There are two reasons why this email works well:
The discount is the first hook-in that allows you to click through and sign up
The new daily lesson and customer testimonial will catch those who are still on the fence but scrolling down
Also, notice the CTA button under the testimonial? It is the evocative "Get inspired" to keep things exciting and transformational, which suits the overall message of the app! The closing parts of your email, even including the signature, are important elements that communicate to consumers.
Why should people believe testimonials?
So how do we know that real people really said whatever the testimonial states? For all we know, the business wrote something flattering about themselves, and it wasn't really "Mandy Newton from Cincinnati".
So for the sceptics, denim brand Everlane includes the social handles of each person that left a glowing testimonial: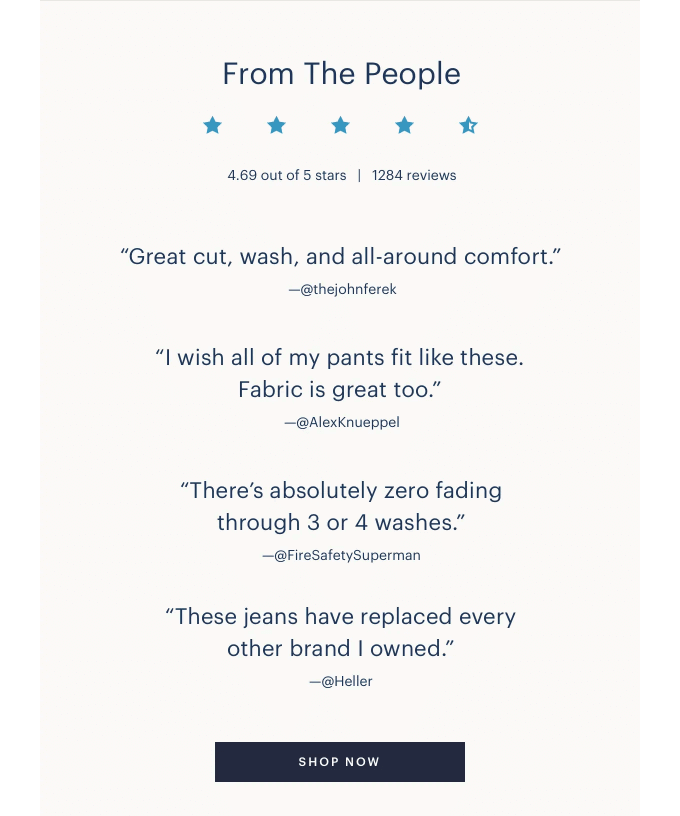 Source: Really Good Emails
This removes the doubt as it gives the non-believer a chance to go and see if a real active account made this (we checked them – they are real.)
Plus, to double down on how legit they like to be, Everlane state that their jeans have a rating of 4.69 out of five based on 1,284 reviews. Being honest in this way help to tick the box we mentioned in the first point; trust.
Do it with video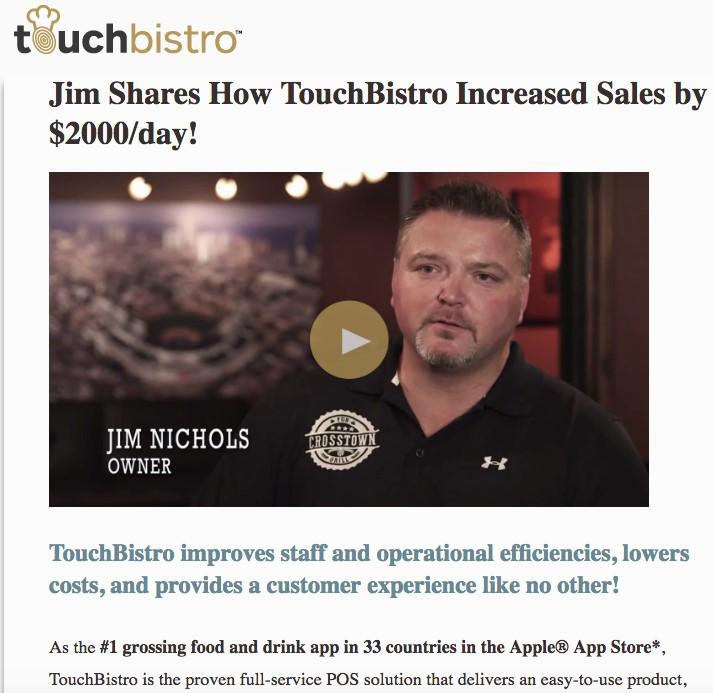 Video testimonials are the next best thing to hearing from a real person 1-1 that they love your product. It's easy to add a thumbnail of a video to your email, and these assets often garner high click-through rates. Better yet, video testimonials lead to higher marketing conversion rates. In an email, the trick is to use a compelling thumbnail and make sure the experience of clicking on the video to watch it is as seamless as possible.
In this example, TouchBistro features a highly believable and relatable customer testimonial video, alongside text about the impressive results he's achieved with their product. The thumbnail (Source) You might be thinking, "my business doesn't have the budget for fancy testimonial videos." You can check out tools like Vocal Video, which make creating and hosting remote video testimonials fast, easy, and inexpensive.
All reviews are good reviews (but some are even better)
In our final example, let's talk about how any customer testimonial is a better option than no customer testimonial. As long as your reviews are credible (and preferably not scathing), you show that people are engaging with your brand. In saying this, it is obvious that there are testimonials that can be more valuable than others.
If you have a testimonial from a verified public figure, it carries more weight and should be highlighted. Turn these people into an ambassador for your brand, much like smart mattress brand Eight Sleep managed to get some higher value reviews and highlighted them thusly:

Source: Really Good Emails
It's hard to go past how powerful that heading is, and when you are a company that speaks about how their products help people improve performance with great sleep, this particular group of professional recommendations help a lot.
The CTA is also very well written as it mentions the possibility of a journey for the consumer, which makes the act of purchasing much more than simply buying something.
The primary things to remember
Along with these examples, there are plenty of ways to get creative and design a quality customer testimonial email that is effective. Keep these key points in mind when you design one for your business:
Your testimonials need to sound believable, as credibility is everything
Include various perspectives to cover the multiple pain points your customer may have. The testimonials you select should answer these potential issues.
If you have testimonials from someone of note, make sure these are highlighted
Couple testimonials with other points of interest, like a discount offer
Actively gathering customer reviews is a worthwhile way to spend some time, as you are gaining valuable content that helps your business snowball get bigger as it rolls down the hill. You can drive customer testimonials in the form of user-generated content (UGC) at scale to make this easier. Consider compelling, persuasive testimonials as little nuggets of gold that will sway your email subscribers towards a new sale for your company.
---