How to Apply Affiliate Marketing to Improve Margins as a Dropshipper
---
Affiliate marketing is an ideal marketing campaign that helps to develop merchants' business size faster and stably. This marketing model allows store owners' products to be advised through the affiliate advertising sources such as social media channels, websites, etc.
And for an affiliate, it's an excellent way to earn passive income. As long as a consumer purchases a product through the unique link or coupon associated with the affiliate's recommendations, he or she will be paid commission for every successful referral order.
What Is Affiliate Marketing
Affiliate marketing is the process by which an affiliate earns a margin for marketing another person's or company's products through their blog or video. The affiliates simply search for a product they have a passion for. Then they review and promote that product and earn margins from each sale they make.
Affiliate marketing always involves three persons, the seller or product creators, the affiliates or advertisers, as well as the consumer. Affiliate marketing tries to make use of the abilities of a variety of individuals for a more effective marketing strategy while providing contributors with a share of the profit.
Dropshippers also can earn this kind of profit. When you purchase products that are part of an affiliate program, you can be the affiliate to get commissions from those suppliers thus increasing your margins.
Note: Dropshipping is a much more straightforward online business model. When you are dropshipping, you have an online store, without dealing with stock and orders.
Why Be an Affiliate Marketer
Being an affiliate marketer has many pros, let's check them one by one.
1. Earn Passive Income
Your "regular" job requires you to be at work to make money, however, affiliate marketing offers you the opportunities to make money while you sleep. How? To be an affiliate for other companies' or entrepreneurs' products.
By investing an initial amount of time into an affiliate marketing campaign, you can get continuous returns and benefits on that time as consumers purchase the product over the following days and weeks. You'll receive money for your work long after you've finished it. Why? There will be customers visiting your blog or social media account and purchase from time to time.
2. Have No Customer Support
If you are an individual seller or you own a company offering products or services, you have to deal with your consumers and ensure they are satisfied with what they have purchased.
Thanks to the affiliate marketing project, it's never your responsibility to provide customer support or handle customer satisfaction. The whole work of the affiliate marketer is to link the seller with the consumer. The seller or the company deals with any consumer complaints after you receive your commission from the sale.
3. Work from Home
Affiliate marketing is the perfect solution for someone who hates going to the office. You'll be able to launch campaigns and receive profits from the products that sellers create while working from a comfortable environment such as your own home. It is a job you can do without dressing yourself and putting yourself in makeup.
4. Provide Convenience and Flexibility
As an affiliate marketer, you're essentially becoming a freelancer, so you get ultimate independence in setting your own goals. You will not get stuck in redirecting your path when you feel so inclined, choosing the products that interest you, and even determining your work hours. This convenience and flexibility mean you can diversify your portfolio if you like or focus solely on straightforward campaigns. You'll also be free from company restrictions and regulations as well as an underperforming team.
Tips to Use Admitad Affiliate for Dropshippers
As a dropshipper, if you also want to apply affiliate marketing to earn margins for your dropshipping business, an affiliate project, such as Admitad is a great option. Now, let's learn how to use Admitad affiliate.
What Is Admitad Affiliate
Admitad is a series of partnership projects. It is a network of publishers and ambassadors. It supports dropshipping (you can choose this option when registering), and you can use this money-saving site with dropshipping apps like DSers.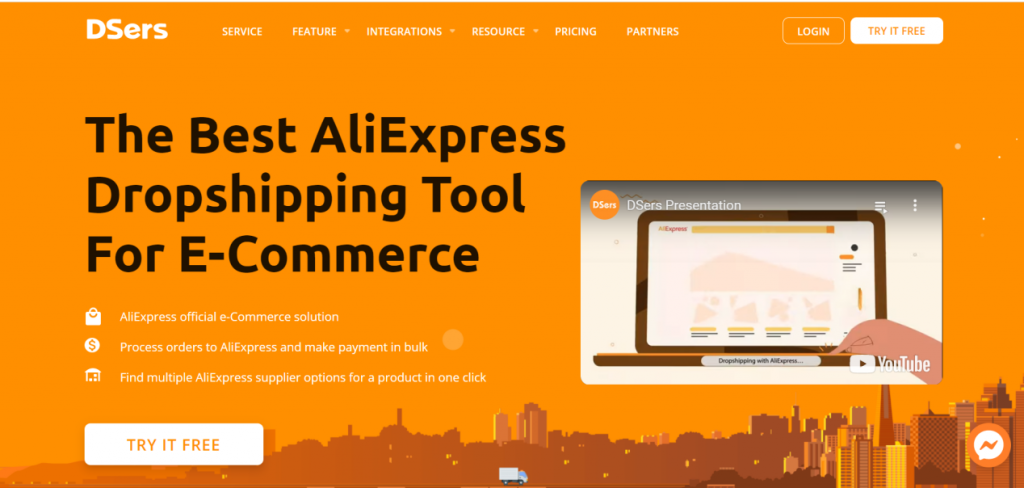 DSers is the simple but powerful dropshipping solution that helps over 150k merchants start and grow their AliExpress dropshipping business. It's compatible with several e-commerce platforms including Shopify, WooCommerce, and Wix, allowing store owners to manage multiple stores on one page with DSers and switch to any other stores faster than ever.
With its Supplier Optimizer feature, you can source high-quality products from reliable dropshipping suppliers on AliExpress easily and safely. And push them to the e-commerce stores with a few clicks. In addition to mass supply program, DSers, whitelisted by AliEpxress, helps place 100s orders to AliExpres in bulk in seconds. Thus, DSers helps you save a lot of time.
Create an Account
Admitad brings publishers and advertisers together in one place and helps them find each other, which can help you increase your profits, and DSers makes that quite easy. You just need to create a completely new publisher account on the Admitad website via DSers link. It will direct you to Admitad main page. In the process of account creation, you need to make sure to create an account as a Publisher.
Place Orders
Once you have created an account, you will get a personal Admitad affiliate number to enter in the dedicated field in DSers. Then you can place orders to AliExpress via DSers. To ensure that you can get some cashback from orders you placed with the AliExpress supplier, you need to make sure that the order payment is completed within 72 hours after placing the order.
Profit Passively
Then, Admitad will help you to check whether the products you purchased on AliExpress are part of their affiliated program or not. If yes, it will add money to your affiliate account for each of them. The amount you earn all depends on the products you purchase. The more you buy, the more you earn and your earning can be withdrawn quite easily.
Use DSers Affiliate Marketing
Time and money are some of the main concerns of any dropshippers who are willing to grow their business. It is always vital to make sure that your orders arrive on time as well as that the delivery doesn't cost you all of your margins. Also, it helps to avoid customers complaining about why they still haven't received their orders and to be able to keep growing your e-commerce dropshipping business. DSers helps you to select and set your favorite shipping methods according to those elements. Thus, when you receive an order, you won't lose any precious time looking for the best shipping option and can simply place the orders as soon as you receive them.
Conclusion
To summary, affiliate marketing is a potential tool for all-size businesses, especially small-medium businesses that helps store owners advertise without any upfront cost.
And with affiliate marketing, your dream of earning a piece of profits and saving costs is not just a silly fantasy. It is a completely achievable reality. Especially for a dropshipper. However, the fact is you should pay much attention to doing some research to make preparations for starting up. Hope you will succeed as soon as you start.
---