How are Mobile Apps Transforming Digital Marketing?
---
At present, digital marketing is one of the most convenient and robust forms of marketing. It allows marketers to connect with people from all across the globe. So, if you have such a marketing strategy, mobile apps are a great tool to complement it. Apart from bridging the gap between you and your customers, it will benefit you in other ways as well. 
For instance, with the aid of a mobile app development company, you can always inform your customers about the new offers and arrivals. Therefore, before starting the digital marketing campaign for your brand, we suggest you build an app for that. 
Why are mobile apps necessary for digital marketing?
We are living in the time of smart phones undoubtedly. We use most of the data through the apps on our smart phones. Hence, it is essential to build an app to accomplish success in the field of digital marketing. It will bring you innumerable benefits. Here, let us share the top reasons to choose a mobile app for digital marketing.
You will witness a better response with mobile apps
If you have an app on your side, it will be easier for you to respond to your customers. Also, the response would be effective, as well as timely. A mobile app will also help you to track the rising demand of the customers. Moreover, if you are doing digital marketing, sometimes you need to access some of the information of your customers. During those times, apps can be the source of your required information.
Besides, if the app is efficient enough, it will help you to stay in the competition in various ways. However, you have to make sure to incorporate all the salient features in your app.
Be inventive when it comes to approaches
If you're into a business, you have some existing customers in your bucket. They will get in touch with you at some point, and that where the app steps in. If you have an app on the board, customers will find it easier to get in touch with you. To be specific, the app will make the procedure of contacting simpler, and that is a significant part of digital marketing.
Besides, if your customers can reach up to you without any hurdles, it will be a great thing for your business. You should know that the convenience of the customers is a vital part of building your business.
Personalize your content
If you can tailor your content according to the preference of your users, it will impress them. User-experience is one of the vital aspects that you should address. There are numerous ways by which you can personalize your content. It can be based on the interest, location, behavior, and culture of the user. The best option for you is to discuss all these things with your mobile app development services provider. They are the one who is going to execute your plan of personalization.
However, you have to comprehend the preference of your customers. There should be a section in the app where a user can mention his or her preferences. After that, you can personalize your content according to that. It can attract a considerable number of users to your business.
These apps will provide instant updates
Staying in touch with your customers is a part of digital marketing. It helps to gain the trust of your users and ensures a long-term relationship with them. And nothing can come better than an app when it comes to providing updates to your customers.
Thus, you can incorporate the feature of both in-app notifications and push notifications into your app. These features will impress your users, and they will recommend your business to other users as well.
Help you to build customer loyalty
Building customer loyalty is one of the fundamental purposes of digital marketing. And if you have a mobile app for your business, this will become easier for you to build loyalty. The reason is that a mobile app lets you stay connected with your customers. The app will send constant notifications and reminders.
Moreover, these reminders are one of the convenient ways to increase brand awareness. Letting the customers know about your products and services will motivate them to make a purchase. Hence, it will also ensure your brand recognition.
Mobile apps are a great engagement tool
Business-to-customer communication is one of the foremost aspects of digital marketing. Similarly, reverse communication is equally important. To be precise, it motivates customer loyalty. When a customer notices that you are giving importance to their complaints and concerns, they become happy.
So, you can see that a mobile app is crucial; it plays a pivotal role in maintaining a critical relationship. Besides, it comprises support systems as well as online help desks, which will allow you to maintain a relationship.
An app will enhance your visibility
It is quite a common fact that mobile apps are one of the commodious mechanisms to enhance visibility. Almost all of us spend a lot of time handling our smartphones. Thus, compared to computers and mouth-recommendations, people prefer to check all the things on their smartphones.
Besides, you can reach up to them even if they are surfing the internet in their leisure time. So, it is quite visible that a mobile app will attract the target audience. Additionally, it will improve the overall limpidness of your business.
Some points to keep in mind while using your mobile app to improve your digital marketing?
Mine the customer data through your app. It will help you to make the right decision. You will be able to find the trends so that you can approach them according to that.
Use push notifications to inform about the updates. Besides, the push notifications will provide reminders to open the app if someone hasn't opened it for a long time.
Make sure to simplify the use as well as the signing up process. Also, the user interface should be effortless. It will motivate the users to use your app, and that is important for digital marketing.
Strategies and long term metrics will help you to witness conversions. Therefore, you should give importance to them. They will provide you with some significant insights which will allow you to grow your business further.
Thus, creating an app for your business is a good idea. It will work as a power booster if you are planning to try your hands in digital marketing. Hire a reliable app development company, and make sure to discuss all your requirements with them to come up with an efficient mobile app.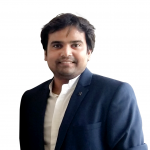 Author Bio:

Rushabh Patel is a Founder and CEO ofSiddhi InfoSoft, a leading web and mobile app development company focused on creating experiences that connect, perform & inspire. We believe in delivering perfect business solutions by adopting the latest and trending technologies for web and app development projects.
---