5 Ways To Build An Interactive Blog
---
Creating a blog is all about engaging with your readers and building a relationship with them. However, readers are often bored with the same picture+text format. They want more interaction, personalization, and are always looking for a better experience. The good news is you can now render exactly that.
Bring a dash of interaction within your blog with these 5 tactics:
Quiz
Have you ever clicked on a quiz and left it unfinished? I don't think so. Building an interesting quiz is a popular means of interacting with your readers, getting to know them better, and keeping them longer on your blog (which helps in ranking better.) 
Many tools like Quizr help to build a quiz easily. Your quiz will be up and running in no time.
Interactive Chats
Having a chatbot to coax your readers into subscribing to your blog instead of a dull subscription form would be a welcome change. Such chatbots help to initiate a conversation with your readers and make the entire experience more personalized which may help to get you return-visitors and make them stay longer. 
Conversational marketing platforms like drift combine automation with real people and would help you to bring in the interaction element. 
Mix up your media
Have you ever thought of providing your readers with a mixed bag of media? Do you think embedding other media in your blog would be a good idea? I surely do.
To give you an example: Cater to users who prefer listening than reading by making a podcast out of your article.
Timelines, 360 videos, animated infographics
I'm sure you must've heard of 360 tutorial videos. They're fun to learn with. Similarly, Timelines and animated infographics also bring in a dash of refreshment and would make an otherwise mundane blog interactive.
Content on cards
Have you scrolled through Pinterest and found it rather easy to do so? I'm sure you have. The moment I click into the universe of Pinterest, I lose sense of time (not exaggerating.)
Scanning cards with blog titles is much more appealing and more comfortable than going through an entire list of the same. You can give your blog such a visually appealing design that'd make your readers stay longer and keep coming back for more. 
Related: 5 Common content marketing mistakes 
Take a look at your blog design, if you haven't already. Try to incorporate the above ideas to make it more interactive, and drive more engagement from your target audience.
Author Bio: 
Nishant Asnani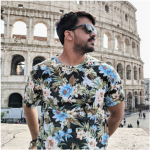 Nishant is the Director of Chimpzlab.com, a content marketing agency that specializes in providing consultancy to brands from ideation to deployment and marketing. Having worked directly with some of the top brands in E-commerce, Fashion, BNFI, Consultancy and Advertisement over the past 6 years. He enjoys sharing his thoughts and insights about communication practices,
---