5 Creative Ways to Display Your Products on a Homepage (with 7 Great Examples)
---
In the world of ecommerce, grabbing your audience's attention is increasingly important. The sooner you can spark an interest, the more likely you'll inspire a conversion.
In this post, we'll look at creative ways to display your products on your homepage and ensure they get noticed.
Display Your Product Categories
If you offer more than one product, displaying your product categories on the homepage can be a great way to direct traffic. Some of your visitors may know exactly what they're looking for, while others will want to browse and get to know your stock.
True, there's always the menu, but people will always be more likely to click if the link looks inviting. Take a look at Real Thread and the way they've featured their categories. They are nestled under the Our Products heading and surrounded by captivating imagery.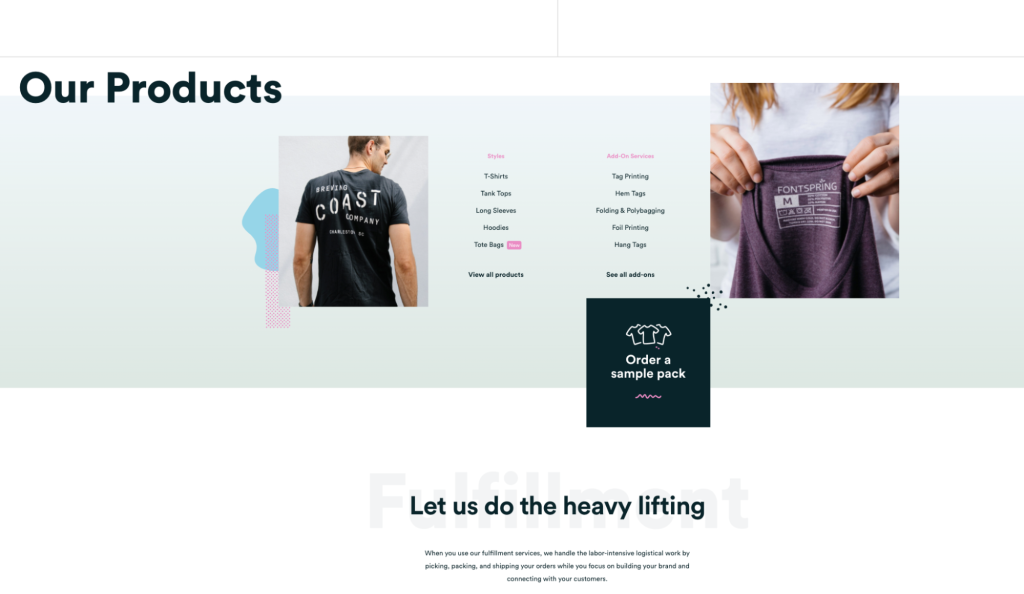 Source: realthread.com
It's a great choice if you also offer customization like this brand does. They have also featured their add-ons under the same heading. 
Showcase the Benefits
A rule of ecommerce marketing you should always stick to: highlight the benefits of your products, as opposed to their features.
Customers will want to know what the purchase will be doing for them and how it will solve a problem. Those who want to learn more will always check out the Features page. But your homepage should do a good job of clinching a sale.
Hootsuite has done a marvellous job in this regard. They've described the benefits of using their product (a SaaS product, true, but you get the idea), and they've also added some social proof to underline their points.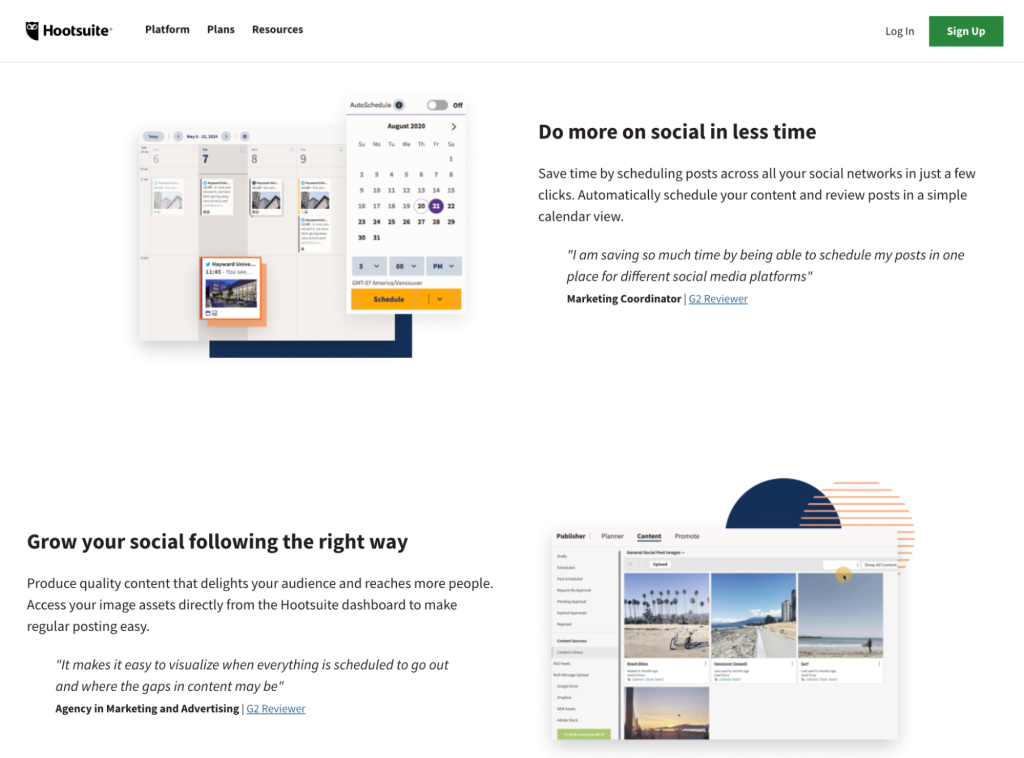 Source: hootsuite.com
Add Some Social Proof
Speaking of social proof, using it on your homepage in the form of user-generated product images will certainly help boost the appeal of your stock.
No matter how well you shoot your products, shoppers will always want to see how others have used them, worn them, styled them, liked them. Your pro photos are there to show the product in the most realistic light. UGC photos serve to help a customer imagine using the product themselves.
Take a look at Isabella Oliver's gallery of UGC images on their homepage. They all look highly professional, but they are still shot by their lovely customers. This instantly allows access to more diverse models and will highlight the items in an entirely new light.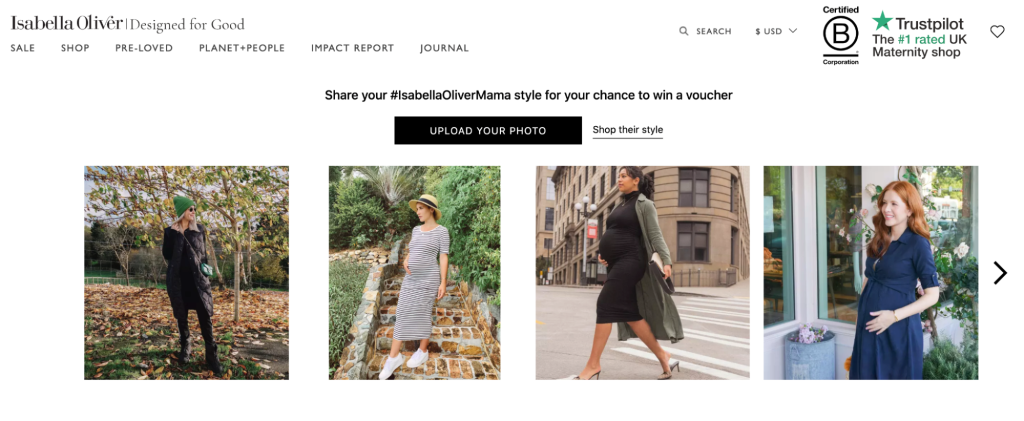 Source: isabellaoliver.com
Show Your Most Popular Products
Your most popular products are popular for a reason. And since your target audience already likes them, it's always a good idea to show them on your homepage. This will help those who have come across your brand for the first time get to know you better and make an inspired purchase.
To achieve the best effect, make sure to keep changing these products regularly. You don't have to display a huge number of them, but to keep your page fresh and interesting, a bit of a switch-up can go quite a long way.
Impossible has a brief section on their homepage that displays their most popular products.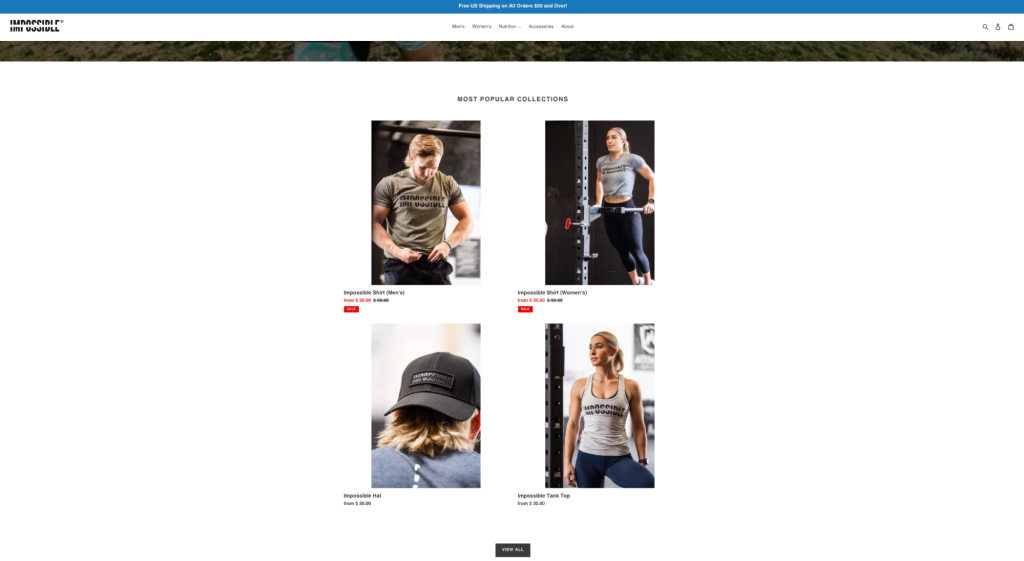 Source: impossible.co
It serves to demonstrate what customers can expect from their products and allow them to start their browsing process there.
Use a Video
Finally, you can choose to display your products or provide more information about them by using a video on your homepage.
Homepage videos, as well as product videos, are always a good idea. They can communicate value more effectively, and they always speak louder than the most professional images and copy combined.
As for the kind of product video you choose, the options are numerous. For one, you can show the manufacturing process of a product and tell a more meaningful story. This is what Purple did with great effect. Their video takes visitors behind the scenes and helps them become more invested in the purchase they're about to make.
On the other hand, you can also try shooting a value-based video. It should still feature your products and showcase them as they are being used, but the video itself should go deeper than a product video. Born Primitive has done an amazing job here. Their homepage video features numerous products, provides motivation, and showcases the brand's values.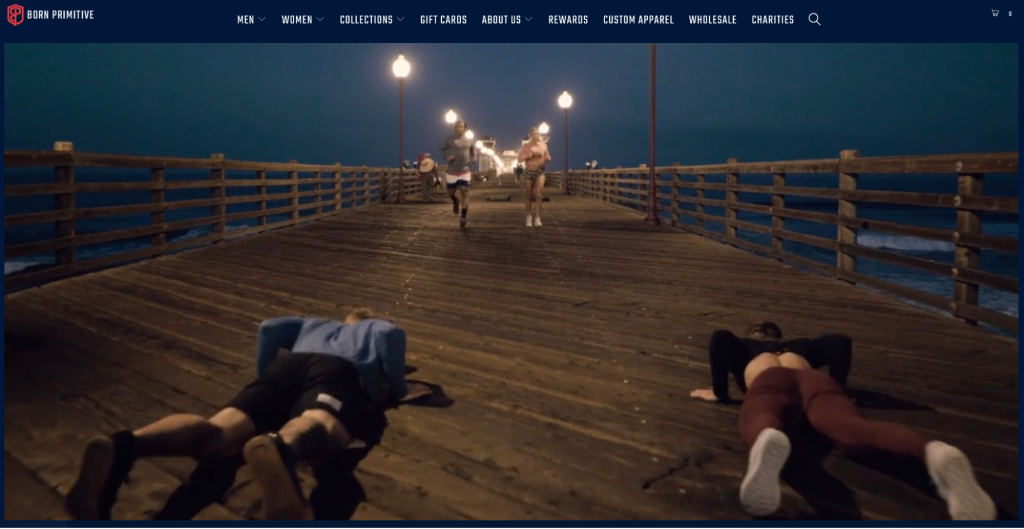 Source: bornprimitive.com
Finally, Calendly showcases their product in action in a very creative way. This is a great choice if you're selling a digital product. It will allow you to both do a product demo and highlight the benefits in a meaningful and digestible way.
Final Thoughts
Consider these options for displaying your products on your brand's homepage, and test which option will work best for your audience. It may need some time to figure out which works best, so some A/B testing might be warranted.
---