As blogging is becoming more popular day by day the number of hosting users is increasing too which makes every hosting providers get customers easily. Every hosting providers are in the race of becoming popular and to gain the right place in the market.
Talking about blogging, it is a free and mostly used platform for those who want to share ideas, teach something, show something, sell something and a lot more things you can do. One can just need a proper hosting and a domain (domain can be purchased from anywhere). The number of bloggers has been increased statistically from the last 2–3 years, so I can say in the upcoming years it will be at the top on the internet.
But wait! If you are a blogger then do you know just writing a few articles and purchasing a domain is not sufficient enough in order to get massive success in blogging. As every blog requires storage like our phone/computer requires to store some kind of data. I am talking about a hosting which is essential for a blog. Blogspot (Google product) provides a free hosting but it has some limitations, if you are managing your blog through WordPress then there will be surely a requirement of paid hosting which would provide you storage and unlimited bandwidth.
You've been seen a lot more hosting our there in the market which claims to be of providing unlimited bandwidth and storage, but do they actually provides? Literally not every one of them does, very few of them are there who are loyal with their service. Some of them are as costly as they are not affordable for the beginner. So here we came up with the best and cheapest hosting i.e WPX Web hosting, let's see what it actually provides you.
WPX Hosting Review
Earlier WPX hosting was known as Traffic Planet Hosting.
WPX was started back in 2013 by a man I've already read too much about "Terry Kyle". He has been in the business since 1998 and that time is more than enough to understand your customers and their problems, of course, if you are a business standard person.
This experience helped Terry to better understand and initiate what people would love to have. I think that's the reason why thrive themes official recommends WPX hosting. He has earned this respect.
As you need a faster website to get your visitors a proper attraction so that they could visit the website again and again whenever they need. Now let's see some of its features before reviewing it.
WPX Hosting Features
If you are the one who has an interest in managing WordPress hosting services, then you might be looking for a fast hand quick loading time. The only reason why people get to subscribe to the higher Hosting plan is to get the advantage of it (like unlimited bandwidth and speed).
WPX Hosting Speed Test: One of the best WordPress themes is Avada is been installed on the website to check the hosting i.e WPX Hosting performance.
The Avada is then installed in the fresh WordPress website by applying HostGator web hosting paid up to the date is compared to WPX web hosting, and we got the following result which shows the difference,
Other Hosting Load time: 3.60 seconds
WPX Hosting Load time: 1.97 seconds it seems to be faster than others.
As the improvement in WPX Web Hosting done far from the last. It has many new features which will surely make your mind attract towards it.
As you can see Upgrading from entry-level web hosting to the faster-shared web hosting like WPX Hosting you will come to know it is a dramatic change in your website as it will become faster than before. When you notice the conversion rates and ratings you need a faster and high-speed web hosting. Website speed is the most important thing is the bandwidth which is provided by web hosting.
Website WordPress Backups
WPX Web Hosting provides you with a backup feature so as to get your data back. As in some cases, it happens that data gets lost which makes a huge loss to the website owner. Here WPX helps you to automatically store your data of up to 14 days so that you can retrieve it with to your WordPress account. The best part about WPX is you can use external plugins like BackupBuddy and you can store the files by yourself.
Free Website Migration (For WordPress)
If you are the owner of the WordPress website then you might be taking care of having a faster website and wondering to get faster web hosting service. There are several tools and plugins available in WPX hosting which can be migrated to the WordPress website. As the process is somehow complicated.
WPX Hosting provides you with a free migration service which makes your WordPress website impressive. The migration service gets implemented with 24 hours which is not too bad. WPX team converts your website from an older website hosting to the WPX hosting at a very short time span. The migration-related to your web hosting is included in the WPX Hosting.
WPX Hosting E-mail Service
The thing you get with WPX Hosting is email service through which you can get complete guide about how to install web hosting on your WordPress website. This allows you to send email service when there is an installation process of a web hosting through the domain name. You can choose your email so to get directly get in touch with WPX Hosting providers.
One of the best part about using WPX Hosting is you can read your complete emails using webmail on your smartphone there is no need of computer always.
Straightforward Direction Dashboard
As many of the web hosting dashboard is very important as it shows complete details for their related to your web hosting. Every dashboard of other web hosting providers is somehow complicated compared to WPX Hosting provider. As it includes deep details about your account. You can also post your query over there where you can get a ticket which shows your entry.
If you are a person who always want to check the speed of website and bandwidth then you can check there on the dashboard.
24/7 Support
As web hosting is important similarly the support which we get from that provider is much more important. Meaning of the Other web hosting did not provide 24/7 service which is not acceptable by everyone because everyone needs a customer support system.
Is WPX Web Hosting providers have already worked on that and they provide 24/7 throughout the year customer care service which seems to be user-friendly. Which customer service is absolutely amazing as they provide live chat with the customer dealing problem with their hosting.
Other Features
Besides the features mentioned above, you get some extra cool features. The following are some of the cool features which you can get with your web hosting.
Extra plugins
Browser file manager server access
WordPress website support
You can use third-party CDN to get some extra discount on WPX Web Hosting.
You get Free SSL certificate
DDOS protection is there
Extra SSD storage service
Free domain privacy with hosting
User Experience Of WPX Web Hosting
Many users who are using WPX Hosting for their WordPress website from more than 5 years say that they are pretty happy year with these web hosting as they always use to upgrade their service and don't make there customer nervous. Sometimes I used to use 24/7 customer care service which seems to be more accurate and useful for WordPress website.
If you build your website using WordPress account then you get some extra free plugins and cool features which might make your website look amazing and much secure. If you are looking for a perfect web hosting provider who will provide you with high-quality web hosting at a very cheap price then WPX website hosting is made for you.
Sign up with WPX Web Hosting
If you are going to sign up for WPX Web Hosting then they provide some cool features like if you buy hosting on hourly basis then you can get up to $189 discount, which is a good deal. If you are looking for the best website hosting did you can go and sign up for it by paying annually.
While signing up for a new web hosting you can get an option to attach your domain name with it which is worth. Personally, I suggest you do it manually and separately so that the web hosting and domain will work on different bandwidth.
Installing and migrating a WordPress website
If you want the website of a WordPress and looking to buy a web hosting from WPX Hosting providers then you can request to the customer care for the help of migration from the older to the new one hosting it is a very quick and easy method to do so.
and if you are new to WordPress then you don't have to care about it as you can directly install hosting of WPX on your WordPress account which will directly connect you to your website. Make sure you purchase a domain name which will help you to identify it quickly.
The installation process of WPX Web Hosting on your WordPress website is very easy as you don't have to worry about migration it automatically detects your website when the installation process goes on. It has a very clean installation process so it makes the user-friendly and easy to use.
WPX Hosting Plans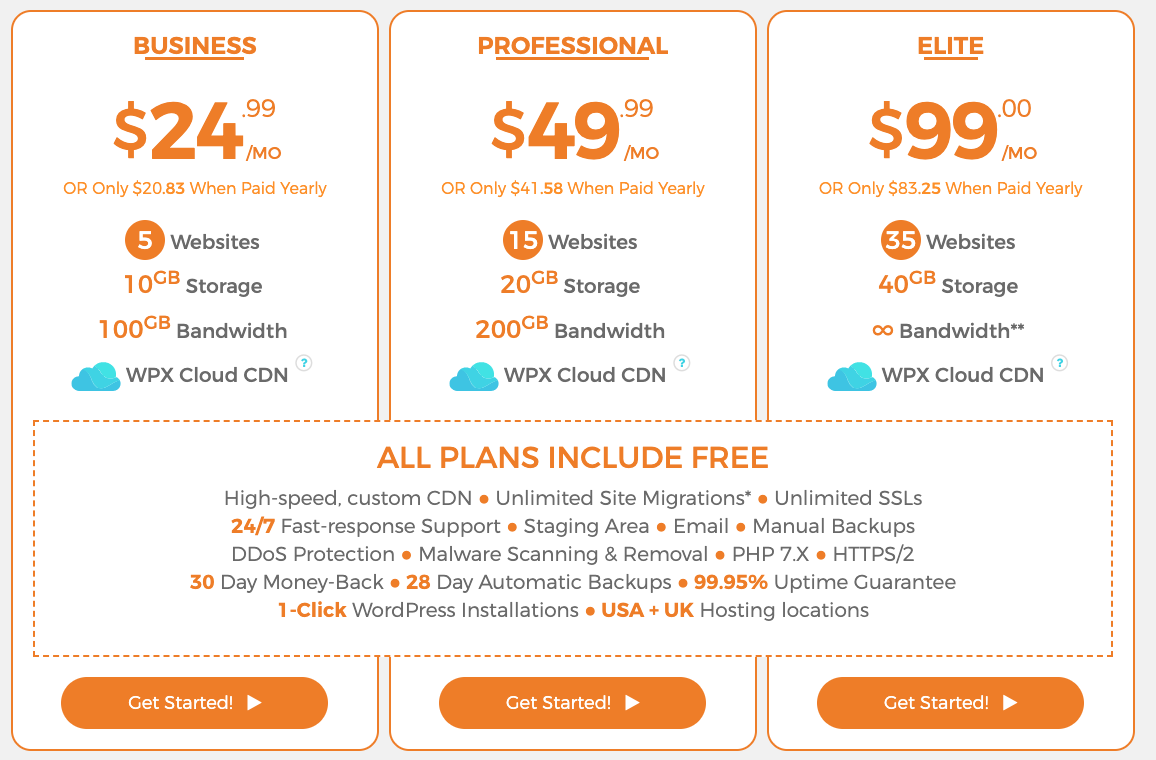 WPX Web Hosting providers has make it easy by giving only 3 and the most valuable player has to the user which makes it user-friendly. The only difference you would see between these three plants are the number of site you want to connect with hosting, the amount of storage you want on your website, and the bandwidth you would require for your websites.
It is very easy to see that the plants get starts from $24.99 which seems to be the most affordable plan of WPX Hosting provider. Following are the detailed information about all the planets of WPX Hosting provider.
Business Plan (For Small Website Or Blog)
The Business plan starts from $24.99 / month which is as less as it seems. You can access up to 5 websites through this plan. You get up to 10gb of storage where you can store all of the data. Domain cool feature about it is its bandwidth as you get up to 50 GB of bandwidth service which makes your website faster.
Professional Plan (most popular package)
Professional time starts from just $49.99 / month which is less costly than the other web hosting. You get a chance to access 215 websites using a single web hosting. 50 GB of storage and a hundred GB of bandwidth makes your website faster and more valuable. You get dedicated Ram installed in it so that you can access to your WordPress account faster.
Elite Package (The Power User Suite)
This package is specially made for the professionals and big companies who sales their product online and need much bandwidth and storage. The Elite package is available at $99.00/month. In the Elite package, you can access up to 35 websites at a single hosting. 50 GB of storage and unlimited bandwidth makes it more value for money. If you are working professionals are trying to find the best hosting then this package is just for you where you can store all of your content.
Is WPX Hosting Good Value?
Compared to the leading managed WordPress hosting services like Kinsta, WPX Hosting is more affordable. The price is lower and you get more for your money in terms of the number of sites you can host. However, if you don't need all the power and benefits of high-performance WordPress hosting, then a high-quality shared web host like SiteGround might be a better value option for your requirements.
You can also, for comparison, read the below reviews of other web hosting companies.
WPX Hosting Review: Conclusion
WPX Hosting is a fast web host that is very easy to use. If you want to upgrade your website's hosting provisions or start a new project off on the right track, then WPX Hosting is a great option. As we have seen about WPX Web Hosting and have also taken a look towards its packages which provides a great value for money. If you are just a beginner then you can go with a small package.