Wix eCommerce vs. Shopify: Know the Difference & Select the Better eCommerce Platform
---
Planning to start an online business? You will find that Wix eCommerce vs. Shopify is the match-up between two popular platforms. Now the challenge is which one to pick when you have the two best options to select from. Wix is a well-known website builder, especially known for its exclusive design.
On the other hand, Shopify is an immensely popular option for those who want to turn their businesses into successful online shops. Basically, both Shopify and Wix provide ready-made websites to the users with online stores.
Confused which one is an ideal eCommerce option? This article and many others crown Shopify as one of the best e-commerce platforms for building a full-fledged online store. But how does it compare to Wix commerce website builder?
1. Wix eCommerce vs Shopify eCommerce: Pros and Cons
Wix eCommerce Pros:
Simple editing interface: It has simple and easy drag-and-drop functionality that makes it easy for users to build online stores.
Affordable eCommerce plans: The plans of Wix are cheap and include

everything you require to sell online. No hidden costs.
Useful apps: Apps like Ecwid can be plugged in or added to your store that offers you more eCommerce tools. 
Wix eCommerce Cons:
Limited Scalability: It is not designed to sell your products in bulk. Wix is a great website builder but its main motive isn't eCommerce.
Shopify eCommerce Pros:
Multiple payment options: It has a lot of payment options including Stripe, PayPal, its own fully-integrated payments system.
24*7 support: Shopify provides 24*7 support via live chats, emails, and phone. You may contact anytime.
Powerful eCommerce tool: When it comes to in-built eCommerce features, Shopify is a great market leader. For example, Abandoned Cart Recovery feature is associated with every plan.  You can exploit more of Shopify potential, but you may need to actually learn how to work with it.
Shopify eCommerce Cons:
An expensive option: Shopify can be quite expensive but the plans are transparent.
2. Which has Better Design?
In an online business, design matters a lot. If we take a look at this Wix eCommerce vs Shopify eCommerce match, we find both offer a great collection of free as well as paid templates. The advantage of Shopify themes is that their focus is on boosting online selling.
Speaking of mobile compatibility, Both Wix and Shopify themes are responsive, it means your online store is going to work well, no matters which device your clients are using.
It is worth mentioning that according to the stats, 69% of online shopping in the United States is done through mobile phones and this ratio is going up day by day.
In case, if you are a small trader who is looking for a user-friendly platform then Wix is a great choice. On the other hand, if you want to build a fully-fledged online store, Shopify should be your priority.
3. Which eCommerce Platform Gives Value for Your Money?
Wix eCommerce vs Shopify comparison could not be completed without taking a look at their pricing. Let's find out which one offers better value for your money.
Wix has three plans:
Business Basic: $20/month

Business Unlimited: $25/month

Business VIP: $35/month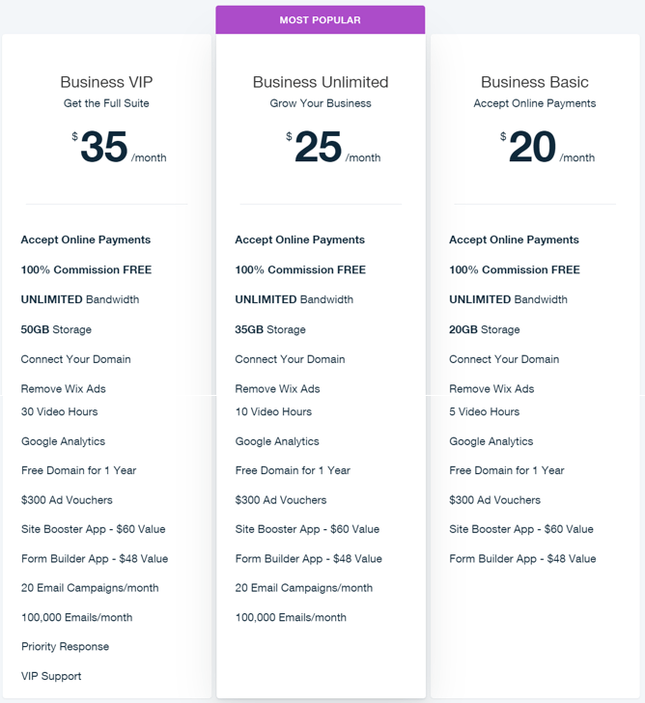 Similarly, Shopify also offers three plans:
Basic Shopify: $29/month

Shopify: $79/month

Advanced Shopify: $299/month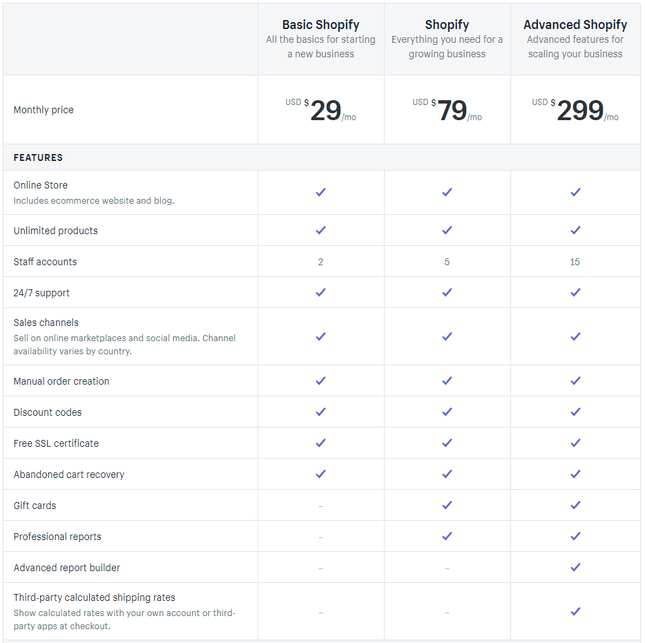 Both platforms provide a great way out to start an online business.
4. Wix eCommerce vs Shopify: Conclusion
Shopify and Wix both are excellent online business builders. Which plan you need to pick depends on your business size and ambition.
If you're planning for a fully-fledged online business, Shopify is the better investment. It works with the biggest brands around the world including Tesla Motors and Budweiser.
Whereas, Wix eCommerce is a great option for new online sellers. This option is suitable for smaller businesses with limited products, whose main focus is not online selling.
Overall, Shopify is a better website builder platform. It includes several payment options, quality sales features, better themes, and makes it easy for fresh users to build an online store. Choose an eCommerce platform as per your online store desires and give a boost to your business. If you want to know how to make money with Shopify the folk over at the Nicheologist have a great guide aptly titled: Making Money With Shopify: a Blueprint for New Online Sellers
---