Ways to Use Social Media SEO to Improve Your Search Engine Visibility
---
Did you know that in one minute, 571 new sites are created on the Internet and 70 new domains are registered?
And this is literally in a minute. You can't even imagine what the average website is created in a year. All in all, the competition for better search engine visibility is fiercer than ever. Even for reputable sites, it's a never-ending battle. This is where forgotten tactics like social media SEO can give you a competitive edge.
In general, social signals/links do not have a direct impact on a website's search engine rankings. They are easy to handle, so search engines don't give them much value. However, search engines have an unexpected effect on search engine rankings.
Specifically, social media agency works like this:
Web pages that receive social support get indexed faster by search engines. The problem is that content sharing needs to be active and accessible to the public.
The likelihood that other sites will link to your content increases when it is posted on social media. Links are an important driving force in search engine rankings.
A strong social media presence can build brand awareness and improve your reputation. The more popular your site is, the more searchers will be.
In fact, social media optimization certainly affects search engine visibility. But it takes more than just creating a social media profile. Here are tips to help you profit from social media.
Impact of Social Media on SEO
The contribution of social media on SEO ranking is indirect. The shared links in the social platforms improve brand visibility. Their influence on SEO is by below directions:
Comprehensive content delivery
Extended lifespan of social media posts
Boost organic traffic and online visibility
Improve brand recognition and reputation
Promotes local search engine optimization (SEO)
The sharing on social media websites does not have any place in Search engine optimization ranking. Even then, when your content is shared by many from social media, it creates social signals that assure that your posts are helpful for visitors.
The findings from CognitiveSEO have found that after examining 23 million social media shares on the chosen channels, an ambiguous link has been discovered on SEO and social media. The comments, links, and share your posts receive are important signals that Google and different social engines use for ranking the website.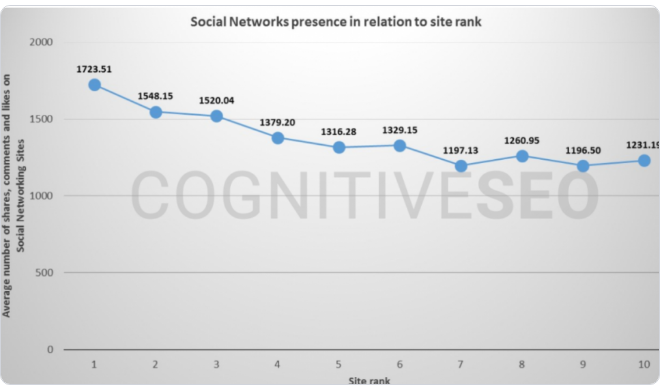 (Source: https://cognitiveseo.com/blog/11903/social-signals-seo-influence/)
Nevertheless, the links are useful, search engines such as Google rely on them because it is the link from different authority websites. Regardless, the better ranking pages on SERP are those with additional social shares.
How to Use Social Media SEO for More Conversions
Check the Content and Connect Agents of Influence
When it comes to ranking for your website or blog, the most important criterion that search engines track is inbound links. That is, there is a special relationship between the organic search result and the number of high-quality inbound links.
With the help of social networks, you can greatly increase the reach of the audience that will see your content. This will provoke an increase in the number of clicks, likes, and reposts. If we reduce this to a formula, it turns out:
More reposts = More inbound links = Higher ranking in search results
Several secrets allow you to "light up" in social networks and get more reposts. Here they are:
Post long posts: They are more often saved to your wall than short ones. In our communities, blog posts perform this function.
The post must contain at least 1 photo: Subscribers like to save beautiful pictures on their walls, hence a lot of reposts.
Subscribers also tend to drag useful lists and colorful infographics onto their walls.
The Skyscraper technique can be applied to valuable materials that assure that the blogs are ranking well.
Stand out with YouTube Videos
Most of the search results are text. Therefore, if a video "falls" in them, it stands out noticeably on the page. This means that it is likely to be clicked on more often, even if it is located lower on the page.
To apply this trick, create awesome videos and post them to your YouTube channel. Be sure to include the popular search term of your potential customers in the title of your video. It could be a hot question or just a phrase they often enter into the search bar. It is important that the content of the video answers the question asked or covers the chosen topic.
Optimize your Landing Page
A landing page is essential to your social media marketing campaign. With the right approach, you can convert a significant number of leads.
Keep in mind that what works for your competitors may not work for you. First, it is important to understand how landing pages work, and then you can optimize them for your task.
What is a Social Media Landing Page?
This is a landing page designed for a social media audience with a specific purpose. Depending on your goals, a landing page can take one of the following forms:
Click-through landing page: The purpose of such a landing page is to convince the visitor to go to another page with a single click. The most important thing that distinguishes a Click-through Page from other types of landing pages and explains its name is the lack of a lead form. When a visitor clicks on a CTA, they are taken to the next step in the sales funnel.
Landing page for lead generation: Its purpose is to obtain the name and email address of the visitor in exchange for providing some valuable information.
Landing page for mobile applications: If your goal is to increase the number of mobile app downloads, then an optimized landing page will help you achieve this.
Arrange Contests and Promotions on Social Networks
Nothing excites the audience like a chance to win something. By hosting a social media contest, you can increase your follower count, increase brand awareness, expand your subscriber base, and drive engagement.
Before you start, it's important to define your goals. It will determine what kind of competition you want. For example, if you want to increase your follower count, members will need to subscribe to a specific profile in order to qualify for a prize.
Another example is lead generation. If the goal of the contest is to generate leads, users will be required to provide their email addresses. Running a social media contest is also a great way to get user-generated content to use in the future.
Use the Right Platforms
The choice of a social network depends on your goal as well as your industry or niche. It makes no sense to spend a lot of time on a social network where you see neither conversions nor engagement.
Ask yourself who your target social media audience is and find out which social media platforms they are most active on. Those are the places you must focus on.
Note that when scrolling through their social media feed, users expect to see a certain type of content. Here's what content works best on major social media platforms:
Facebook: Videos and Featured Content
Twitter: news, blogs, and gifs
Instagram: High-quality, high-definition photos, and videos
LinkedIn: Professional Content, Jobs & Company News
Pinterest: Pictures and Infographics
By deciding on the type of content, you can create better content that converts.
Conduct Analytics and Tracking on a Regular Basis
If you don't analyze and track social media conversion rates, you won't know if you're doing it right or not. Tracking allows you to understand where and what you need to improve. You will be able to identify your most effective social media channels and specific areas where you need to put more effort.
To track social media conversions, you can use Google Analytics. This analysis will help you link the results to the goals of your campaign and understand if you are on the right track or not.
Value Comes First
Most of the users of social networks do not use them for the purpose of viewing advertisements. Many of them have also learned to selectively ignore branded content.
To get the maximum return on your SMM investment, remember to provide value to the user first. When you give a person something of value, they will not complain when they see an advertisement for your product or service later.
Concluding Remarks
Standard SEO services are the prime preference when it is about search engine visibility. Definitely, social media SEO is necessary for building authority.
Above are the tips that will assist you to stay ahead in the search engine results, generate links to secure more traffic, and give a boost to organic search performance.
Have you implemented the above tips already? Which tip has worked for you? Are you experiencing any boost to ranking? Do share your thoughts with us. Comment below in case of any query. Thanks for reading!

Author Bio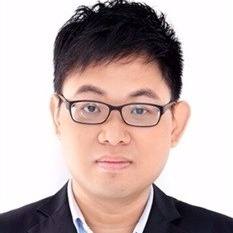 Morris Edwards is a Manager at Awebstar, a digital marketing company in Singapore which is dealing with website design, SEO, mobile app development, logo designing, social media marketing, and more. Connect with him on Facebook, Instagram, and Awebstar.com.sg
---