Top 6 Best Tools For Social Media Monitoring
---
Social media monitoring helps to analyze people's behaviors and the topics and products they are talking about to make their interests and indulgences beneficial for marketing purposes. In this article, I will talk about how social media monitoring works and the best tools for social media monitoring.
What Is Social Media Monitoring?
Social media monitoring means using tools to look at and listen to everything that is being talked about across the internet. Some also call it Social listening, social media measurement, buzz analysis, online analytics.
How Does Social Media Monitoring Work?
The answer to this question is a bit more complex than what is social media monitoring. Most monitoring tools crawl sites and index them and do the monitoring that way. Some social media sites, like Twitter, are crawled in real-time.
However, other sites are crawled every 10 minutes or every day or less frequently, depending on how important they are. In addition, some tools themselves do the crawling, and others make use of data providers.
Which Websites Get Monitored?
As the term social media monitoring suggests, the tools monitor the different social media platforms. But that is not their limit. The tools crawl all sorts of websites that contain blogs, news sites, forums, review sites alongside Facebook, Google+, Youtube, and Twitter.
How To Use Social Media Monitoring?
The social media monitoring tool gathers many keywords, hashtags, and URLs by crawling on different web platforms. Now, you can put these collected data into a wide variety of usage.
You can see keywords that you enquired about and discover which are the trending words for you.
You can do sentiment analysis of consumers and track their sentiments about particular topics.
You can observe when people are talking about your brand.
You can isolate and identify key influencers who are talking about your brand or your competitor.
You can use a smart notification alert to notify you when someone mentions your brand on the internet.
You can compare benchmark statistics that you gathered from social media.
You can understand how effective your marketing campaigns are.
5 Tools For Social Media Monitoring
Keyhole
Keyhole Is a social media monitoring tool that helps you monitor your Instagram and Twitter accounts. You can look at keywords, URLs, and Hashtags using Keyhole. You can prefer to seeing data in real-time, or you can view them as historical information. You also can view heat maps that allow seeing levels of activity in different parts of the world.
Hootsuite
Hootsuite is a social media tracking tool that offers a wide range of platforms for social media monitoring. And it is free of charge. The Hootsuite tool allows you to track activities across multiple platforms such as Facebook, Instagram, Twitter, Google+, Linkedin, WordPress, and Foursquare. You can also check your Post performance Hootsuite.
Twitter-Counter
Twitter-Counter is also a social media tracking software; you can use it for tracking your Twitter stats. You have the option to track thousands of Twitter users; there are some buttons, widgets that you can add to blogs, websites to check the amount Twitter followers, and most recent visits to Twitter.
Digimind
Digimind helps you see the perception of different keywords. For example, it analyzes the Neutral, positive, and negative perceptions of different keywords. You can also understand the public perception of your brand versus the competition.
TweetReach
TweetReach is a social media monitoring tool that allows you to monitor the reach of your Tweets. With TweetReach, you get to measure the influence of social media discussions. This software pushes you towards your most influential followers. Moving towards these followers eventually leads you in a profitable direction.
Social Champ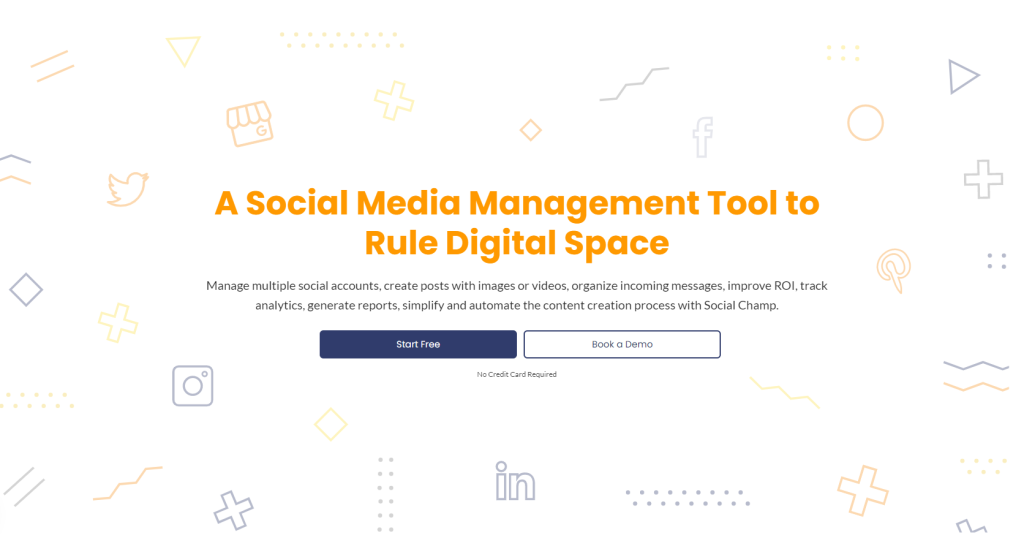 Social Champ is an all-in-one social media management tool with automation support for all prominent social media platforms. With this tool, users can easily create, edit, publish, and schedule their social media posts in no time. Apart from scheduling and posting, the tool also allows you to track the performance of published posts. You can also view top-performing posts and repost them directly from your dashboard. Social Champ also provides you with presentation-ready PDF reports with graphs of weekly and monthly performance. The tool also offers a free plan, and paid ones start from $29.
Some Worthy Mentions
Just mentioning only 4 or 5 of the social media monitoring tools limits the explanation of their functionality. Here are some other tools that are worth mentioning.
Talkwalker offers above 50 filters for monitoring conversions across 150 million different data sources. These sources include blogs, news sites, forums review sites, etc.
Reputology helps monitor different review sites like Google, Yelp, Facebook reviews from one single dashboard. It helps you locate activities across different storefronts and respond accordingly.
Sprout Social is popular for the analytics it provides for increasing social media engagement; for instance, if you want to get Instagram followers, it will give you proper analytics.
To Conclude
Social media monitoring has very beneficial applicability. If one can track different, popular keywords, URLs, and hashtags, one can strategize marketing plans and profit from them. The given examples of the top five Social media monitoring tools will give you the idea to use them effectively.
Author bio:
Ani Johnson is a passionate blogger. She loves to share her thoughts, ideas and experiences with the world through blogging. Ani Johnson is associated with EmblemWealth, DreamLandEstate OnlineHealthMedia & FollowTheFashion.
---