RecordCast, the Best Online Screen Recorder [Free]
---
A screencast is a digital video recording of what is happening on the screen, often accompanied by audio or text comments explaining the actions. Most of the time, it is used to demonstrate the program's capabilities or service, create training videos, and demonstrate computer problems and methods of solving them. There are many programs for recording screencasts, but most of them are paid or difficult to master. We want to present you with a free way to record such a video without any effort.
What is RecordCast?
RecordCast is an online video capture service for screen content that works directly in your browser. Therefore, you can use this service regardless of the operating system, but the main thing is with a Chrome browser.

How to record a screen with RecordCast
With RecordCast, it is very easy to record a screencast. On the main page of the service, we press the button Start recording, and then video recording starts without any registration. It is possible to record audio comments from a microphone or system audio, but the clip's length should not exceed 10 minutes for now. 
As a result, a special frame appears at the top of all windows, indicating a panel with control buttons. You can select one of the presets and click the "share" button.
To finish the recording, press the Done button, and you can choose to re-record the screen, download the video (no registration required), or even edit this screencast now.

How to edit a screencast with RecordCast
I believe you are good at you can record screen with RecordCast without any modification, but a few simple tricks can give your videos a great advantage to hold others' attention and increase their understanding. For example, you can choose to add arrows, text, and highlights to draw attention to a particular screencast. 
After you have finished your recording, feel free to edit your record with RecordCast. With RecordCast's video editor, you are free to add animations, images, music, and more to your videos. It is also available to cut and edit unpleasant pauses and silences.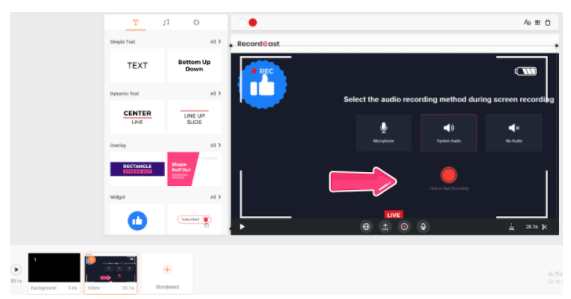 Its important features are:
Free.

No need to install software or register, as long as you can use the Google Chrome.

After the record, you can directly edit the screencast, which is convenient and effective!

The screencast quality and file size are not bad.
Final words
RecordCast is an excellent tool for capturing video of what is happening on the screen. Simple, convenient, working on any operating system, it can be useful to demonstrate a solution to a computer problem, create video tutorials, or the functions of a program or service.
---