MiniTool MovieMaker Review- A Great Free Video Editor for Beginners
---
The newly released smartphones and hand-held camcorders appeal to people's need for a better camera to take photos and record HD and 4K videos because videos are the key to blending images and sounds to make us feel emotionally connected. Now editing videos is not limited to photographers and videographers, because everyone wants to show the world a part of their life through sharing a stylized video.
There is a long list of video editing programs out there for different budgets and skill levels. For beginners and the semi-pros who want to turn the original video footage into a more stunning video, MiniTool MovieMaker is an easy-to-use and powerful free video editing software that can meet your needs.
This free software includes a variety of basic video editing operations, like trimming, spitting, add audio, and add texts to video. The UI is straightforward you can understand how to edit the footage without needing to need to view the online user manual. In case you are not sure about the operation, you can click the Manual option in the help menu at the upper right corner of the main UI. 
We are glad to find that, MiniTool MovieMaker offers some advanced features, for example, full support for 4K clips, mute video, advanced timeline, transition library and speed controller to make your video more creative and look professional. 
To save your time, you can choose a video template from the library if you want to create video invitations, record love stories,  make a wedding video, send a festive greeting or make short slide shows. Of course, you can use other editing components in a slightly more advanced way of adding video effects and transitions, and so on.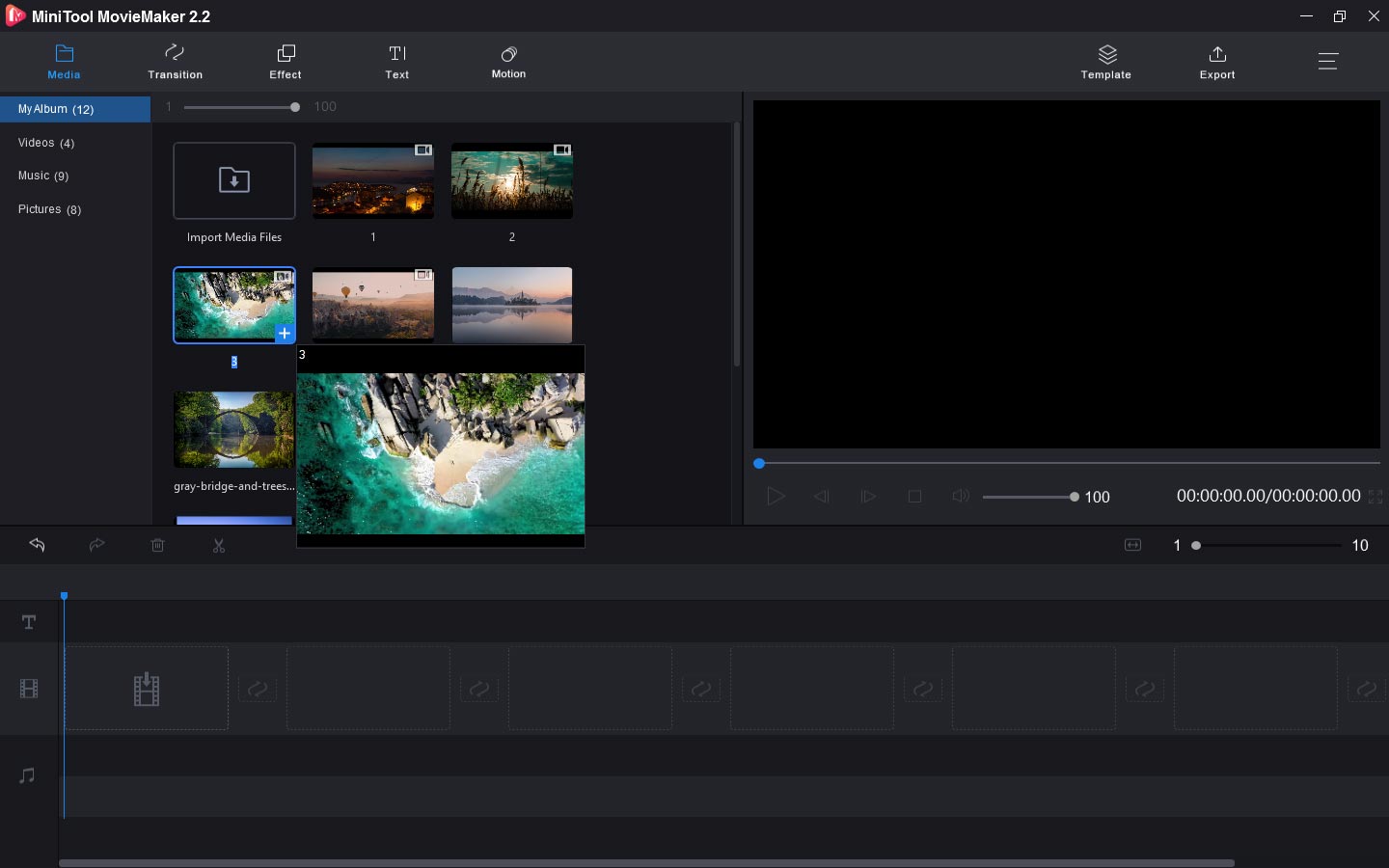 How to Use MiniTool MovieMaker
Step 1 Import the Media 
MiniTool MovieMaker supports uploading media files in almost any popular pictures, audio, and video formats for a project. It even provides good support for 4K UHD solution clips. You will find that all the loaded files are displayed in the program interface.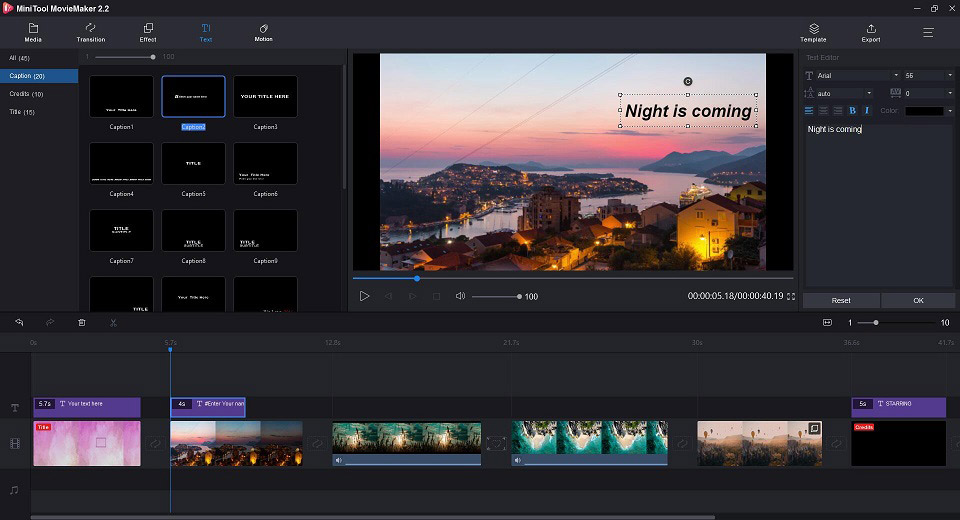 Step 2 Edit the File on Timeline
The timeline is divided into up to three parts, including the text track, image/video, and audio tracks.
Drag and drop the selected files from the media library to the timeline and you can edit and arrange them right away. Using templates is a good option, as you simply customize an existing project. All the operations only cost a few seconds.
Switching to full resource mode offers more free rein, but things remain simple. You can zoom the timeline to find the video scene you need.
Main Features
Split video, trim video, merge video etc.

Add customized animated texts, subtitles and end credits to video.

Ready video templates for you to choose and save editing time.

Support different video transitions, and filters.

Make slide show with images and audio.

Accelerate, slow down or reverse the video.

Add audio to video, mute the background noise of video etc.
You can choose from different video transitions including Wipe, Diagonals, Iris, Page peel, Reveals, etc. A transition lasts for one second by default, but customization options are provided to adjust them to last a longer time.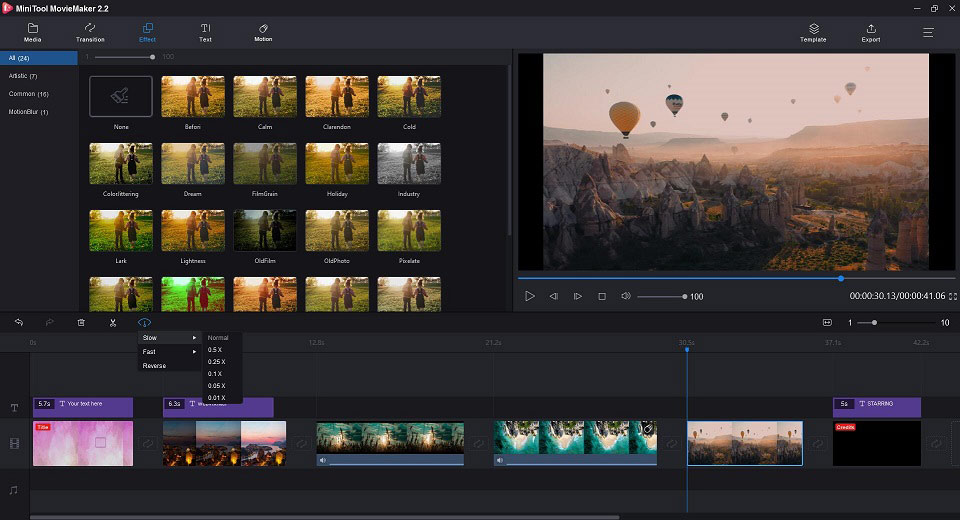 During the video production process, you can play the video in the preview window. If you want to speed up or slow down the video, simply select the video clip in the timeline and then press the speed icon. From there you can choose different speed options, including normal, 0.5X, 0.25X, 0.1X, 0.05X, 0.01X,2X, 4X, 8X, 20X, 50X.
When the work is almost done, you can add audio to the video. If you only need a part of the audio, choose it and drag the playback head to the target place and click the scissor, then right-click the unnecessary part and hit the Delete key to remove it.
Step 3 Preview and Export the Video 
When you are satisfied with the work,  select the export option to get a video in different resolution/size and popular video formats, including MP4, AVI, WebM, MOV, WMV, HD MKV and TS. Or you can save the video as MP3 or export a short video as a GIF animated picture. 
Final Words
It's a safe assumption to say that MiniTool MovieMaker is an easy-to-use and feature-rich video editor. With the modern and intuitive interface, users can do basic video edits by drag and drop and give the videos a stunning look. At this stage, the software lacks some advanced features that are available in paid-for video editing programs, but it is a shortcut for people who are new to video editing and can save a lot of time for people who are looking for quick and easy results.
---